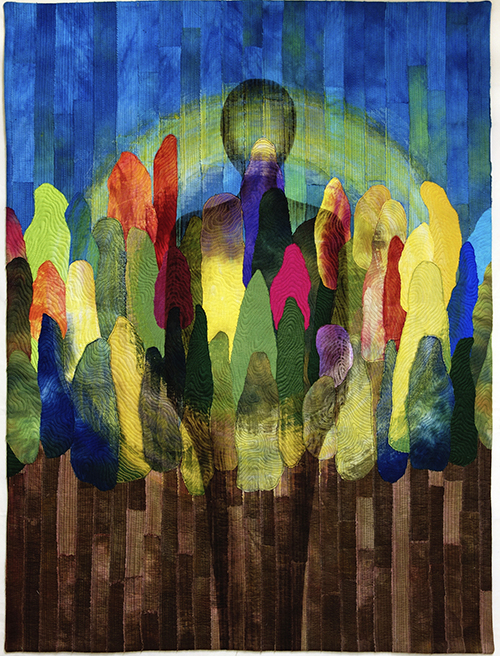 Ecosystems are Organically Connected (40" x 30") by Eunhee Lee.
Artists in this international group create a new quilt after given a prompt every two months, and the results were shown on the website ClothInCommon.com. The two themes here are "Reflections" and "Ecosystems." Although the artists' homelands, experiences, and interpretations of the themes are quite different, they share a reverence and concern for both local and broadly-based communities.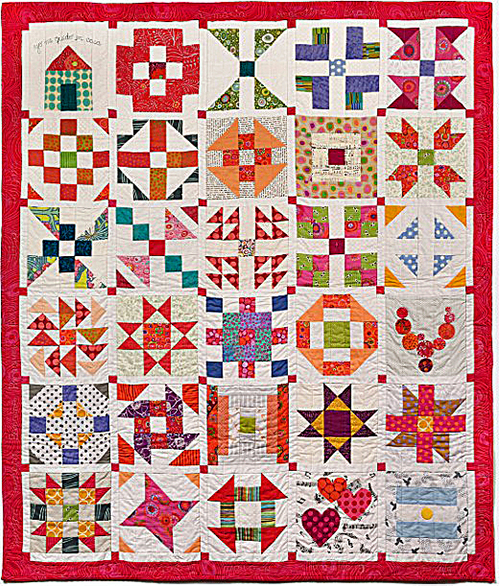 A quilt made by Cecilia Koppmann.
Collective Digital Quilt—Quarantine Quilt Project—Quilting Together to Keep it Together
Curator Clementina Koppmann
Organized by Quilters de Mexico
At the beginning of the quarantine in Argentina, Cecilia Koppmann was inspired to begin creating a quilt made of blocks that would accompany her during isolation and keep at bay the feelings of uncertainty and fear. She shared some of her work on social media, and over 500 people from 26 countries joined her daily as she shared quilting ideas on her blog and they created their own works. This exhibit brings together many of those quilts.
Colorful Characters, Cultural Collisions
Curated by Teresa Duryea Wong
Japanese-born artist Ai Kijima fuses sweet, iconic cartoon characters with dashing movie heroes and fierce anime/manga superstars. She carefully cuts out the desired images from discarded fabrics and constructs large-scale, quilted collages with hundreds of overlapping images in a mash-up of memories and fantasy. The results touch on pop art, mystery, make-believe, and sweetness.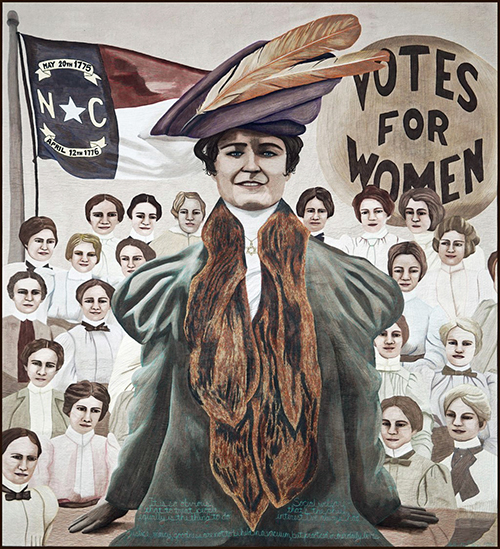 Federation Gertie (57" x 51") by Hollis Chatelain.
"Deeds Not Words": Celebrating 100 Years of Women's Suffrage
Sponsored by eQuilter.com with additional support from Karey Bresenhan and Nancy O'Bryant Puentes
Curated by Dr. Sandra Sider and Pamela Weeks
A touring exhibition of studio art quilts to commemorate the one 100th anniversary of the 19th Amendment to the U.S. Constitution, granting women the right to vote. Twenty-eight award-winning artists from across the United States accepted the invitation to create new works celebrating women's suffrage, along with one artist whose 1995 quilt on the 1848 Declaration of Sentiments is included.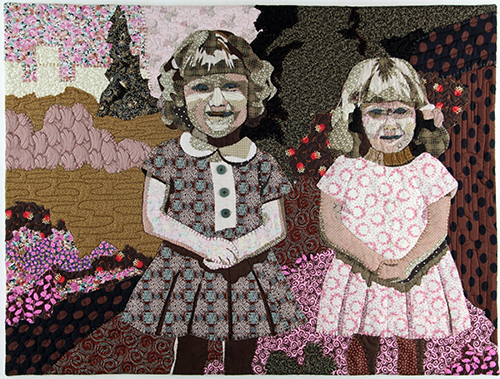 What Will Be (30" x 39") by Karol Kusmaul.
This exhibit is a collection of collaged and quilted faces and figures created by artist Karol Kusmaul. Some are imaginary, some are of family or friends, but each one has a story. Karol has been teaching and practicing portraiture for years. Her method is to draw spontaneously with her scissors, and then let the new and recycled fabrics guide her decision making.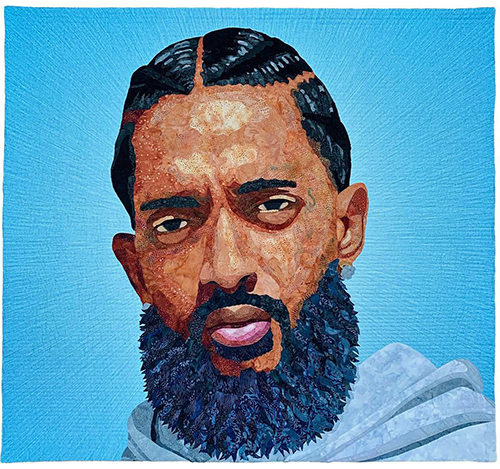 Face the World (38" x 42") by Nate Robbins.
Artists from around the world incorporate influences from their own cultures into the design and technique of their quilts. The prestigious, long-running international showcase includes a variety of recent quilts from international artists.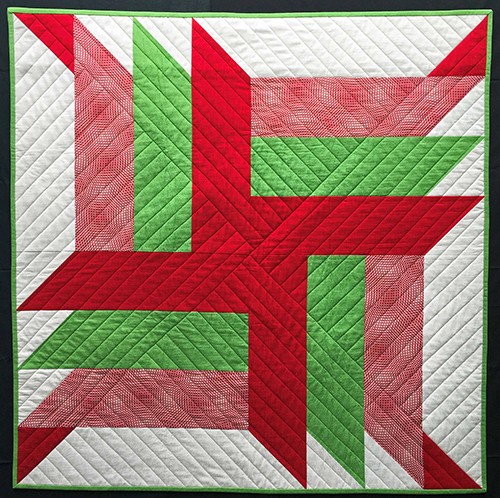 East Meets West (36" x 36") by Sharon Davidson, quilted by Gracie's Petunias Quilts. Design source: Buzzsaw block from McCallsQuilting.com
Curated by Kathleen Mitchell
"Barn Quilts" are all over the U.S! Take a drive across rural roads and even cities and towns, and you will find quilt blocks painted on barns, silos, homes, fence rows, and other structures in bright, cheery colors…far larger than any stitched blocks! In this exhibit, take a "Sunday drive" with the family, and play your own game of "I Spy."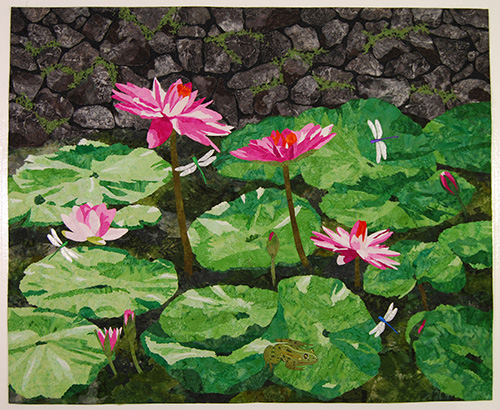 Izzy's Lily Pond (36" x 44") by Kaye Iverson.
Flowers remain a popular design source and motif in all artistic media, including quilts. This annual exhibit showcases all floral-themed quilts, created in a variety of styles and using a number of techniques.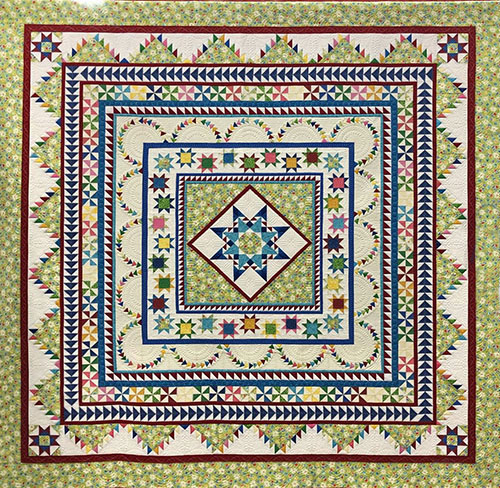 Brenda's Halo (98" x 98") by Brenda Miller & Robin Price/Sweet Home Quilting. Design Inspiration: Sue Garman pattern "Halo Medallion," a 2017 Block of the Month for The Quilt Show.
In the American Tradition
Contemporary quiltmakers often look to the art form's rich tradition for inspiration in their own works. This exhibit features recently-made quilts that incorporate traditional blocks, styles, and/or techniques.
Zena Thorpe makes beautiful quilts by hand. She is an expert of hand appliqué, hand embroidery, and hand quilting. Her quilts have won various major awards, and her Crowned with Glory – Right Royally was recognized as one of the 100 Best American Quilts of the Twentieth Century. See many of her masterful works in this career retrospective exhibit.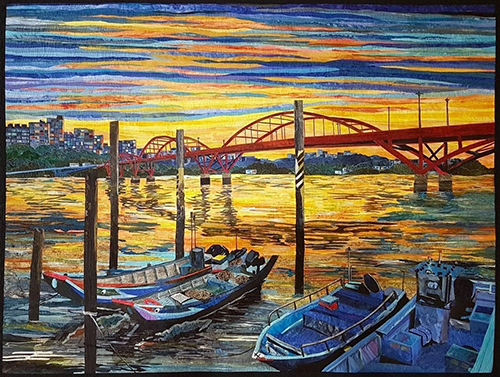 Distance (49" x 63") by Li-Hui Yin. Design source: Photograph by the artist.
From valleys and volcanoes, and mountains to monuments, landscapes often inspire artists. This exhibit showcases newly-made landscape quilts for which artists used a variety of technique and styles: both hand and machine quilted, including appliquéd, pieced, or wholecloth quilts.
Overflow (30" x 26") by Patricia Marek.
Houston, Texas is a vibrant and diverse city, full of inspiration for any artist. From street art to natural wonders and from amazing foods to international languages, the fourth largest city in the U.S. defies easy classification. The SAQA Houston Circle called on its members to interpret their home city in an art quilt. The works portray Houston as a resilient, welcoming, modern, and changing metropolis.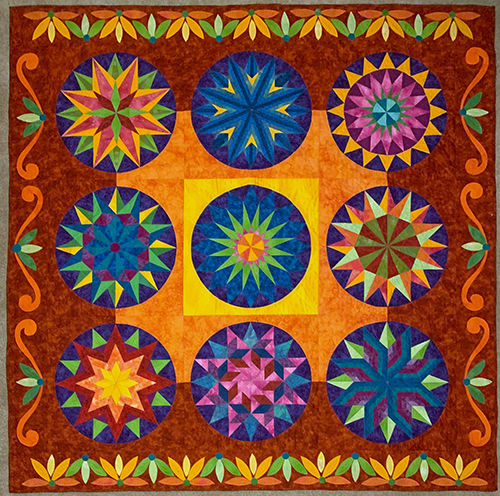 Sizzle—Hot! (72" x 72") by Barbara Black. Design Source: Becky Goldsmith pattern, a 2019 Block of the Month Quilt for The Quilt Show.
A look back (and ahead) at the life and work of quiltmaker Barbara Black. She began in 1985 with simple baby quilts from pre-cut fabric, and today creates challenging quilts filled with small pieces and complex design. This journey shows her progression from new quiltmaker to quilt artist. Precision piecing and beautiful color and design are the hallmarks of Barbara's passionate quilt journey.
Noah and Matilda Quilt Along – Reproducing an 1851 Antique Treasure
Curated by Dawn Cook-Ronningen
The original antique 1851 quilt was sold at auction. It is unique because of the inked family names and dates, appliqué blocks, and detailed border with original embroidered details. The quilt photos and patterns were available on Dawn Cook Ronneingen's blog. They shared their work as it progressed on social media.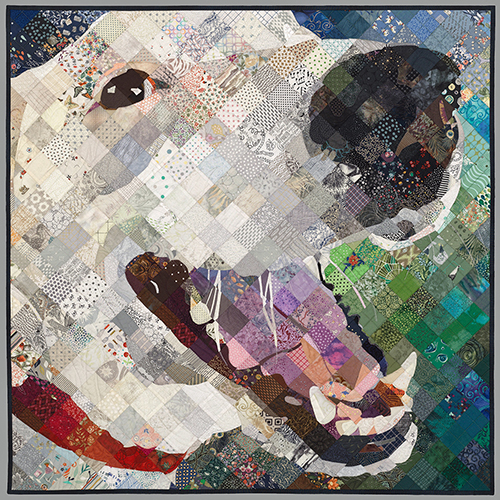 Lady Teela, of Amherst (38" x 38") by Timna Tarr. Design source: Photo by Micheala Tarr.
Creating portraits of farm animals began as a way for Timna Tarr to explore making photo-realistic quilts. She realized that the images highlight the dignity and individual personalities in each animal. The construction process starts with an enlarged photograph and ends with the piecing of the eye. Timna says she needs to get to know each animal before tackling the "window to the soul."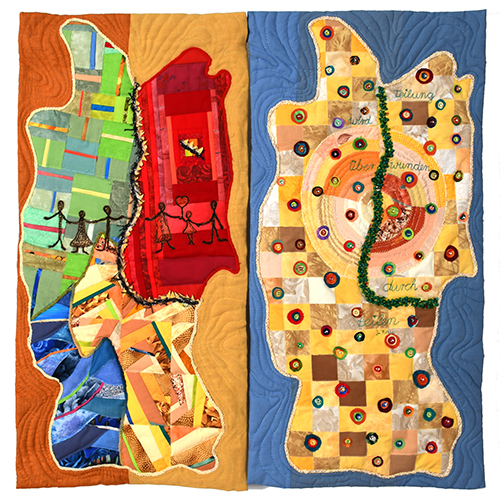 Germany Divided—Reunited by Erika Beetz
This exhibit showcases modern and traditional quilts that commemorate the 30th anniversary of the fall of the Berlin Wall. The personal emotions and experiences of division, travel restrictions, ceasefire agreements, and reunification—as well as the wounds that division has left in some—are represented. Here, 15 leading quilters from South Korea and Germany express these social and political themes.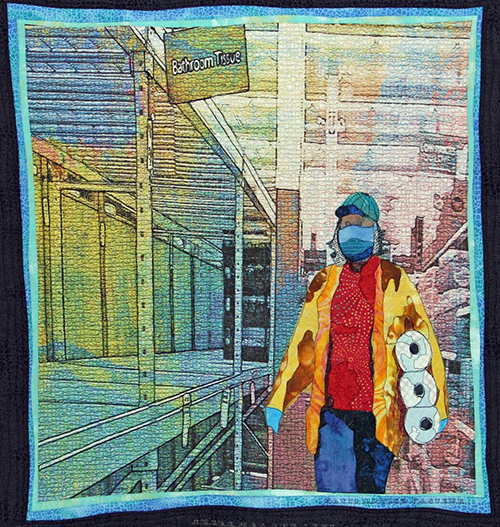 There Was One Left (27" x 28.5") by Patti Louise Pasteur.
Quarantine Quilts–Creativity in the Midst of Chaos
Juried by Dr. Sandra Sider (Curator of the Texas Quilt Museum and Editor of SAQA's Art Quilt Quarterly)
Organized by Quilters de Mexico
Many quilters in self-quarantine have turned to…making more quilts! Art quilt historian/scholar Dr. Sandra Sider has collected quilts inspired by or made during the pandemic, which show how artists saved their sanity in these uncertain times. Each artist addresses the quarantine/isolation experience and its effects on their creative thinking. Dr. Sider's book (Schiffer) about quarantine quilts with a catalog of this exhibit, will be available in June. Contact her at sandrasider.com