Prospective Exhibitors Market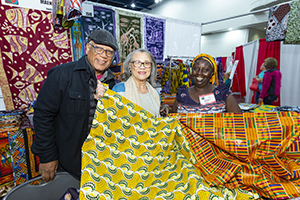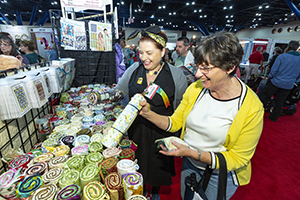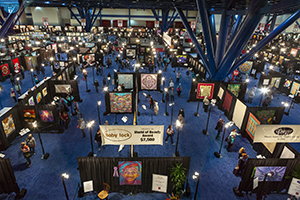 Why should YOUR business consider 
being an exhibitor at International
Quilt Market?
First and foremost, Quilt Market is the only trade show for the worldwide quilting, textile, and soft crafts industry. Since its founding in 1979, Quilt Market has drawn thousands of people from all parts of the world to Houston each fall and to the spring edition of our show, which is held in different cities across
 the country.
Quilt Market features more than 1,000 booths offering quilting and sewing supplies: fabrics, patterns, notions, batting, threads, books and magazines, computer systems and software, dyes and paints, sewing and quilting machines, stencils, ribbons, trims, and embellishments, frames and equipment, plus finished goods and gifts. Other Quilt Market exhibitors offer items for businesses like bags and packaging supplies, Point-of-Sale systems, website software, and marketing or promotional items.
If your company produces goods in any of these areas—or offers a related product or service—you could benefit from exhibiting at Quilt Market and getting your products in front of the thousands of retailers who attend the show to make purchases for their business and to get information on new and interesting products being offered.
In addition to business owners and buyers, Market credentials are also available to industry professionals—teachers, designers, sales and marketing representatives, book publishers, longarm quilters—and members of the media. That means the potential for industry-wide exposure of your products and company. Outside of making sales, Quilt Market exhibitors also benefit from making connections with designers and teachers who might have an interest in utilizing their product, and with publishers and media who can offer coverage.
Quilt Market also includes a schedule of classes, seminars, and events, many of which provide exhibitors
 an opportunity to showcase their products. Exhibitors can participate in Schoolhouse Series, where they can present a 15- or 30-minute session to attendees about new products and/or techniques. And Sample Spree allows exhibitors to offer current samples of new products for immediate sale the day before the show opens.
Exhibitors are also eligible to present Take & Teach mini classes, which are hands-on demonstrations by representatives of Market exhibitors, and focus on specific techniques and applied use of new products, skills, or marketing ideas.
During show hours, exhibitors have the option of participating in Demo Alley, a special area of the show floor in which exhibitors can demonstrate their products or techniques for attendees in person and on
 the spot.
Exhibitors can also participate in Sneak Peek, which features new and upcoming products on display at premier spots along the concourse of the convention center—the first area buyers see before they step onto the show floor.
Quilt Market also has countless opportunities for networking and making connections with others in the industry. Whether your business is established or new, you can benefit from meeting potential new customers or collaborators, or simply introducing your business and products to those in attendance.
If Quilt Market sounds like a good fit for your company, follow the steps below to submit the required materials. We look forward to hearing from you and hope that you will be able to join us at Market as an exhibitor.
All Market exhibitors must be wholesale suppliers to the quilting, soft crafts, or needlework industry. To maintain the high standards set for the Quilt Market, we require the following from prospective exhibitors:
A letter from you indicating the quilt show/s in which you are interested, and stating that your company meets two specific criteria:
– Your company has been producing or selling this product and/or other products in the wholesale quilting business for one year or more; and
– Your company agrees not to sell directly to consumers or consumer groups at your established wholesale prices.
A recommendation letter from a business associate in the industry.
Product samples or photo/s of the items to be sold wholesale, such as a catalogue, a sample pattern, or other substantiation of the line of products to be cleared by the Market Screening Committee. Please only submit items that do not need to be returned.
An invoice showing wholesale transaction.
The requirements for Spring and Fall International Quilt Markets are the same.
PLEASE SUBMIT YOUR REQUEST LETTER AND OTHER REQUIREMENTS TO:
Quilt Market Screening Committee
7660 Woodway Dr., Ste. 550
Houston, TX 77063
We will notify you of the action taken by the Screening Committee through letter, fax, or email.
If your company has been accepted as a new exhibitor, you will also receive a Market contract following your acceptance. The contract packet contains information on booth types and prices. You can also exhibit at the Quilt Festival if you have passed the Market screening process.
If you require further assistance, please call Rose Reyes at (713) 781-6864, Ext. 125. You may also submit your screening information electronically to roser@quilts.com.