HOUSTON – September 16, 2019 – Quilts, Inc. – producers of the International Quilt Market and International Quilt Festival trade and consumer shows – announced today that Rose Reyes has been promoted to Director of Exhibitor Services.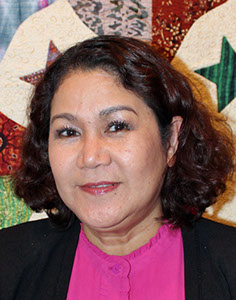 In that capacity, Reyes will continue to expand her role as the primary contact with exhibitors at the two annual editions of Market (Houston and a rotating city) and two of Festival (Houston and Long Beach). She will send out contracts, communicate with existing and potential exhibitors, and both investigate and implement ideas to make the exhibitor experience smoother and more beneficial overall.
She recently oversaw a switch to all-online booth contracts for the shows, and the expansion of the Sneak Peek area of new products to Quilt Festival.
"Her customer service skills are excellent. And we are already seeing the benefits in the entry of data for the contracts for our shows," says Ruth Polanco, Quilts, Inc. Vice President of Shows and Show Director.
"We are also proud of the way Rose provides exceptional customer service," note Quilts, Inc. President/CEO Karey Bresenhan and Executive Vice President Nancy O'Bryant. "That's the lifeblood of any show. She has done such a fine job of taking care of our exhibitors that we often receive notes of praise from them, citing examples of how she has gone out of her way to help them."
"I came to this company with zero knowledge of quilting and the quilting industry," Reyes says. "Through the 15 years since then, I have picked up concepts, product knowledge, and experiences that made me appreciate what the quilting industry is all about, how it impacts quilters' lives, what boundless artistry it generates, and how it transcends barriers to create a community of people that shares the same love of quilting."