Enter Your Quilt for Display at Our Shows!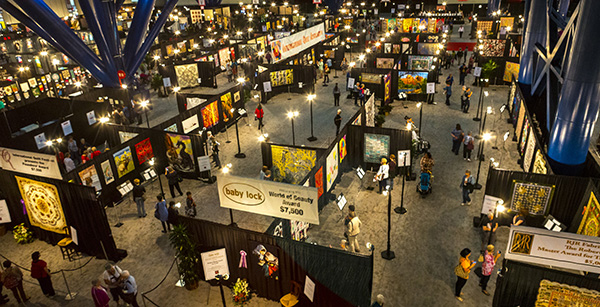 Note: All quilts pictures are from the 2022 exhibits.
Note: All quilts pictures are from the 2022 exhibits.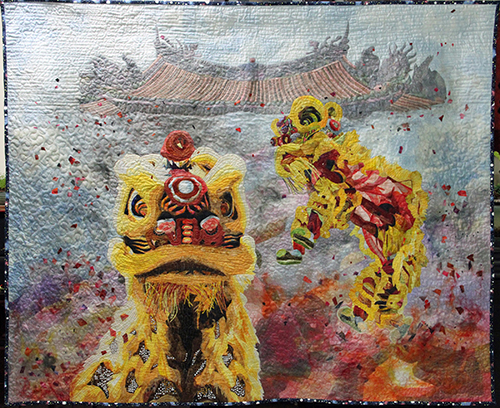 Lāng-Sai, Lion Dance (58" x 48 ») by Ling Wan Wu
Traditional performing arts in Taiwan, especially during temple fairs and festivals, it is scene of lively actions and pray for auspiciousness.

Artists from all around the world incorporate influences from their own cultures into the design and technique of their quilts. This prestigious, long-running international showcase will include recent quilts by international artists who create works inspired by such.

- Limit two (2) entries per person.
- Each work must measure a minimum of 24" on each side.
- The quilt can be NO LONGER than 94" ON A SIDE.
- There is a nonrefundable $20 submission fee per quilt.
- The works must be completed between 2020 and 2023.
- Will be shown at the 2023 International Quilt Festival in Houston, TX.

Call opens for submissions on January 2, 2023.

Click here for rules >
International Quilt Festival/
Houston 2022
Special Exhibits welcomes queries from artists and curators about proposing exhibits for future shows throughout the year.
We welcome proposals for 2022 and beyond.
Once the proposal is complete, it will be submitted to a selection committee to be reviewed.
For further information, please email the Special Exhibits Manager, Becky Navarro, at beckyn@quilts.com.