SAQA: FUR, FANGS, FEATHERS & FINS
From the Studio Art Quilt Associates
From amphibians to apex predators, celebrate wild animals in their natural environments. This exhibition showcases birds, fish, mammals, and reptiles doing what comes naturally. GO WILD!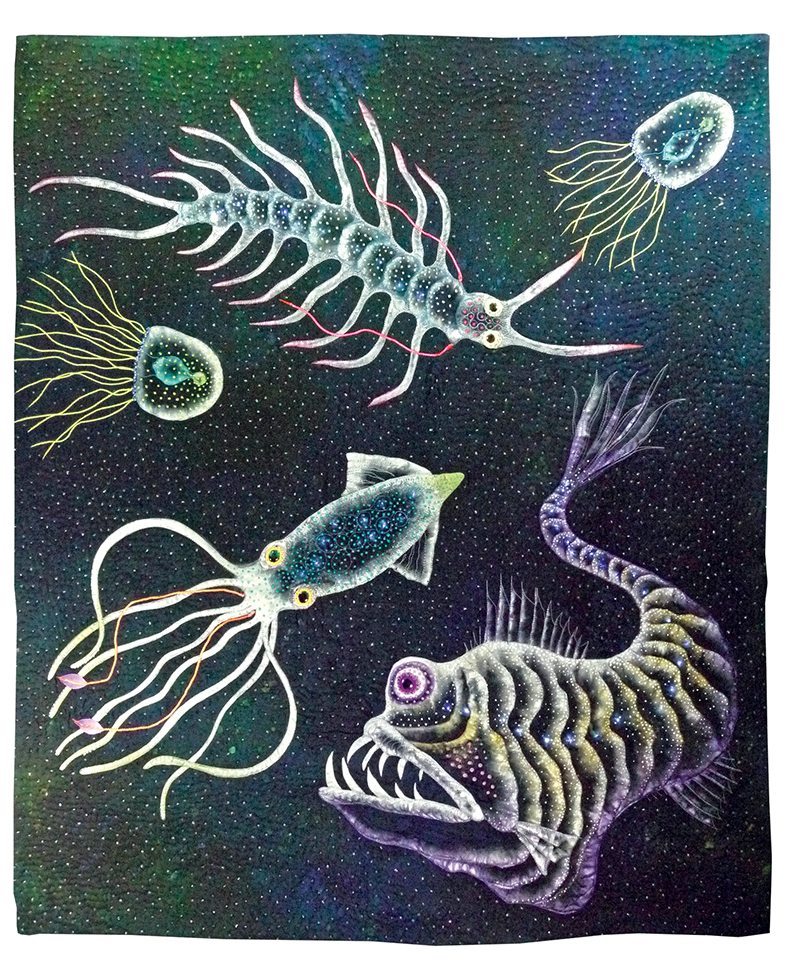 The mystery of the deep is evoked by this collection of extraordinary creatures. Created on artist-dyed silk with stenciled oil sticks, the pieces are accentuated with hand-couched cording and glass eyes. The background is hand stitched with hundreds of clear glass beads.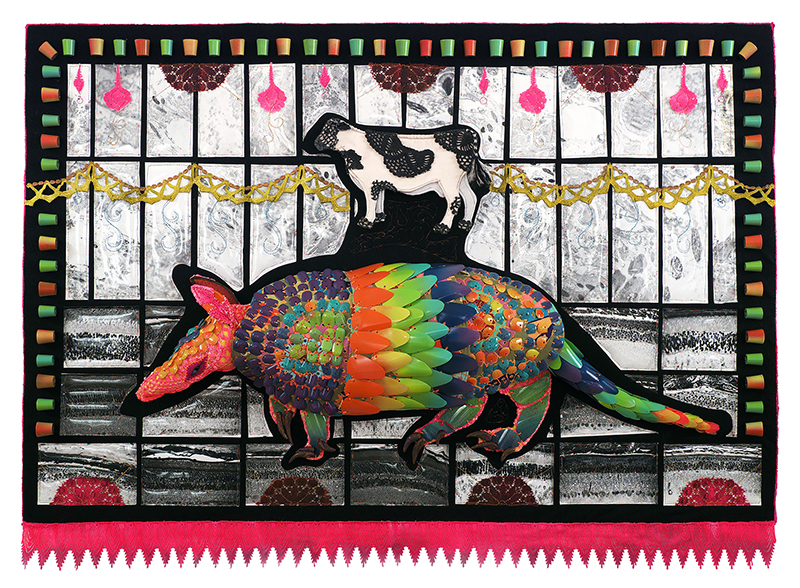 The Armadillo and the Cow
Growing up in New Mexico, I'd never seen a real armadillo until, driving back from my sister's graduation, we passed one dead on the side of the road. I expressed great sadness for the poor dead baby armadillo. My sister, whose college years in Texas had provided many opportunities to see this familiar form of roadkill, laughed and said that it wasn't a baby, it was an adult armadillo. With great indignation, I informed her that full-grown armadillos were about the size of cows. Despite the incredulity of everyone in the car, I continued to insist. Clearly, the children's alphabet book that had informed my knowledge of armadillos was not a reliable scientific source. This quilt is a cheeky homage to something my family will never let me live down.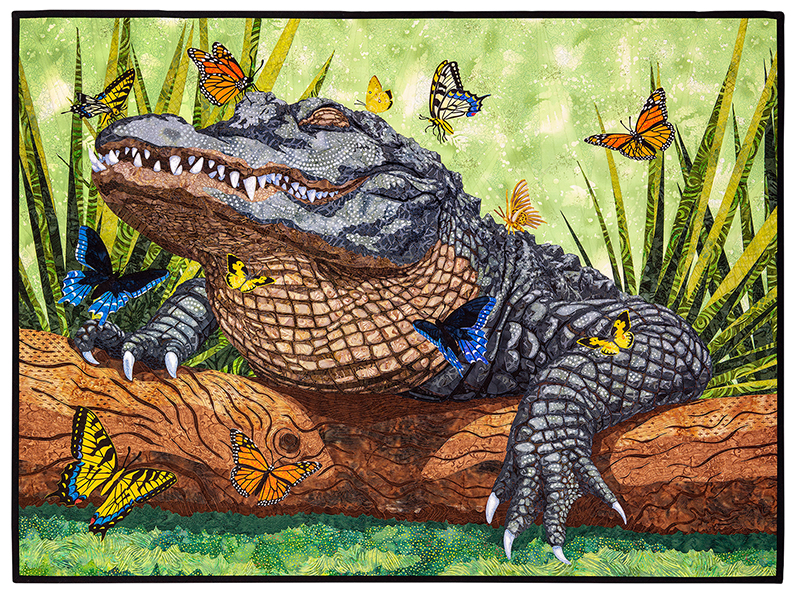 Her skin might be leathery, but this lovely lady enjoys soaking up the sunshine. That big, toothy grin says she's living her best life out in the Floridian swamps. Even apex predators need beauty sleep! The kaleidoscope of butterflies native to Florida is treating this gorgeous gal to her very own "princess" moment. These butterflies are all found in my own backyard and neighborhood. The alligator, fortunately, is not.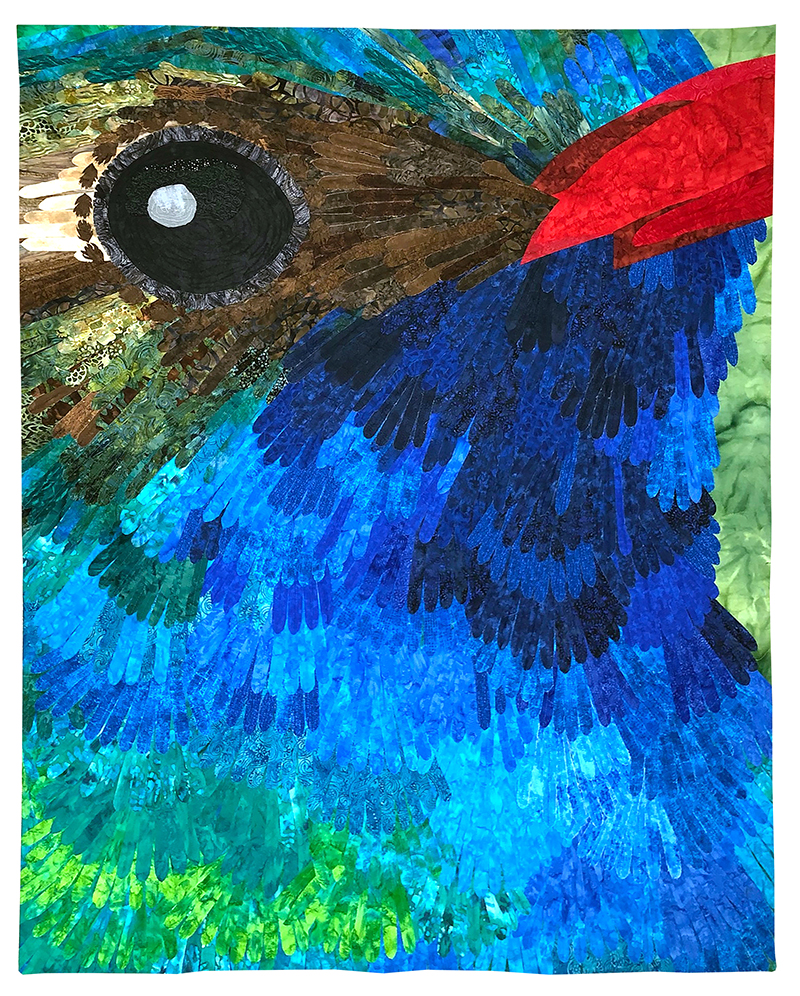 My quilts tend to be nature-based. I've been exploring the concept of enlarging smaller images, allowing the details to be more pronounced. The tiny, broad-billed hummingbird measures about 4 1/2" in height, so I chose to scale up this bird enough that the viewer can identify it without needing to see the whole bird. Over 800 feather barbules were made in this piece.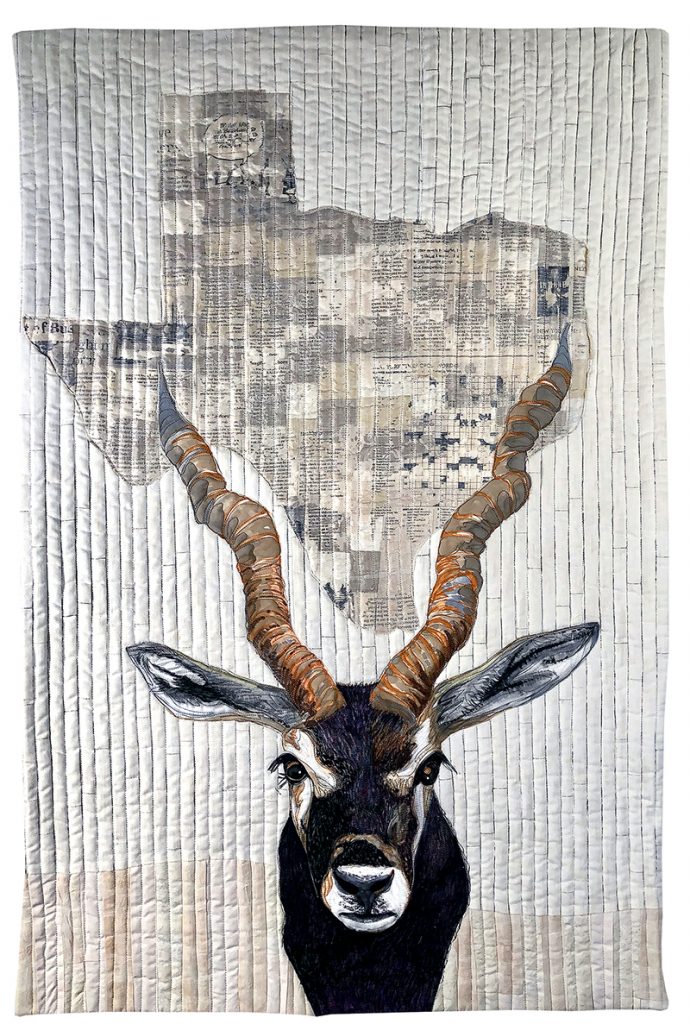 Buck is a wild blackbuck antelope who resides in the Texas Hill Country. He has very distinct facial markings and spiraled black horns. Blackbuck antelope were first introduced to Texas in the early 1900s from India.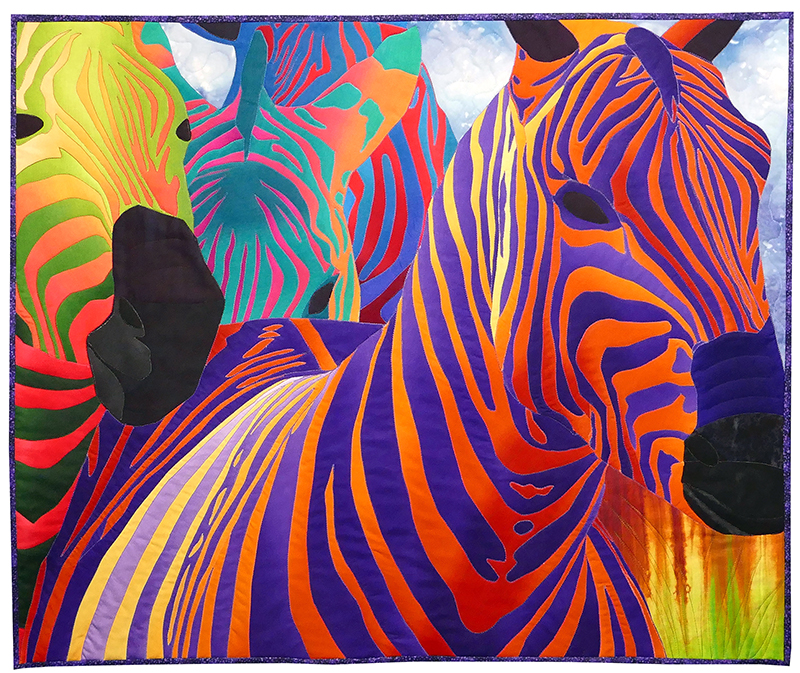 Celebrate the Beauty of Diversity
Diversity is a core element of America's openness, freedom, and creativity. This quilt builds a beautiful fabric by juxtaposing opposites and a rainbow of colors. Yet, as in chaos theory, a subtle but important change occurs at the edges of the figures. Colors begin to merge just as cultures, races, and ethnicities slowly merge, reminding us of the rich, exciting country diversity has created. I hope for a return to an appreciation of the incredible ideas with which we are blessed. When we listen to and care about each other, we can build a better society for all.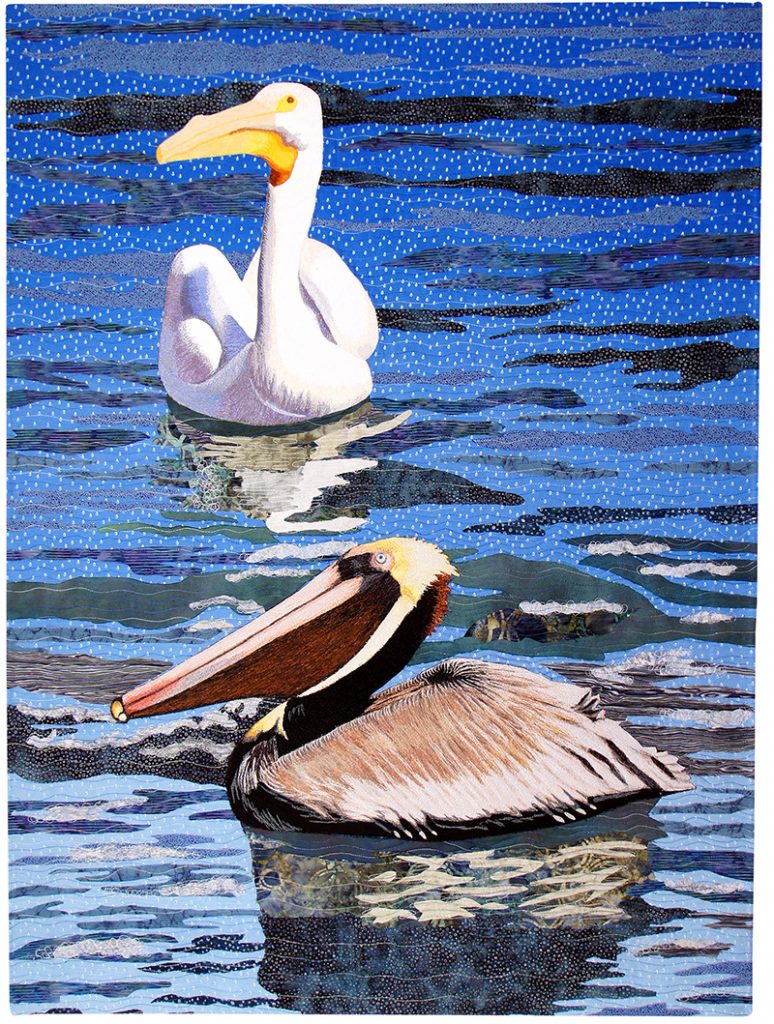 This piece is based on my photograph of a brown and a white pelican, which I spotted on a trip to the Texas Gulf Coast. White pelicans are found throughout North America's inland and coastal waters, while brown pelicans are confined to its warmer southern coasts. Their large flocks fly in formation before settling in noisy groups on the water. Pelicans' distinctive bills are not used to store food, but to scoop up and strain out the small fish they eat. It is amazing to watch brown pelicans plunge from high in the air to catch prey or glide slowly just above the water. White pelicans tend to float on the surface while searching for their favorite fish. Brown pelicans became endangered in the 1970s due to pesticide runoff, but through conservation efforts, their numbers have increased.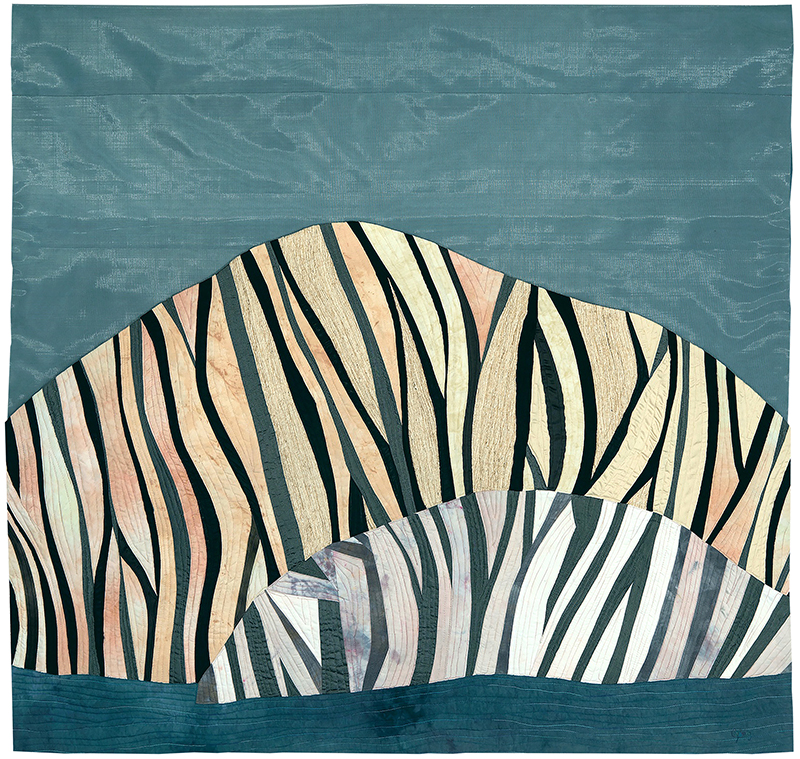 Coastal Passage: Beautiful Victim
A dead whale was found wedged under a bridge in the Oakland Estuary at dawn. In a strange way, I saw beauty in the decomposing mass of the marine mammal. I proceeded to replicate a portion of the color and texture of the carcass. It was towed to the Marine Mammal Center, where biologists determined it died from trauma, and it was identified as a juvenile female fin whale. Of the endangered whale species, she is one of more than 80 whales confirmed as being killed each year by ships off the coasts of California, Oregon, and Washington. Collisions with ships are a major cause of mortality for blue whales, humpback whales, and fin whales. With small populations, every death makes a difference.

Mini marshmallows, orange cheese, or pre-chewed Chiclets stabbed through a securely closed safety pin and dangled from some old string—this was fishing back in the summer of fourth grade. The end goal was to never ever touch a slimy fish, much less eat one. Instead, Laura and I were content to sit on the toasty-warm stone bridge above Mill River and feed the fish below. With a tug on the line, they would nibble the bait, spit it out, and escape unharmed. Time slipped by, and we became bait for mosquitos. With sunburns and scraped knees, we'd skip home with stories of the ones that got away.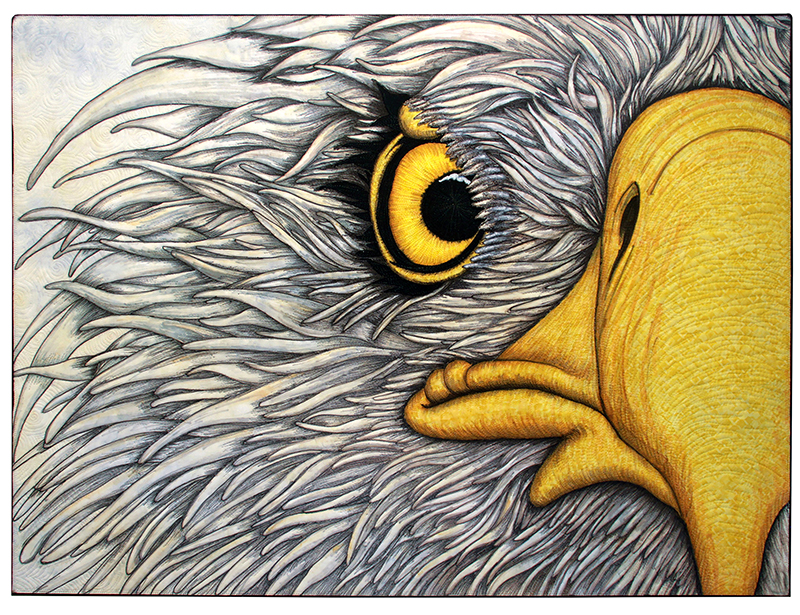 It's no wonder that the bald eagle is the symbol of the United States. I wanted to capture the majesty of this bird of prey. Animals are constantly alert to the environment around them. Most use their sight to survive, but not all animals see the world in the same way, and eyes are unique to each species. Philosopher Martin Buber said, "An animal's eyes have the power to speak a great language." This quilt is part of a series in which I want to capture the allure and power of different animals and their eyes, be they mammals, birds, reptiles, or insects. To me, animal eyes are a large part of their distinctiveness and character, and I love the challenge of recreating that in my art.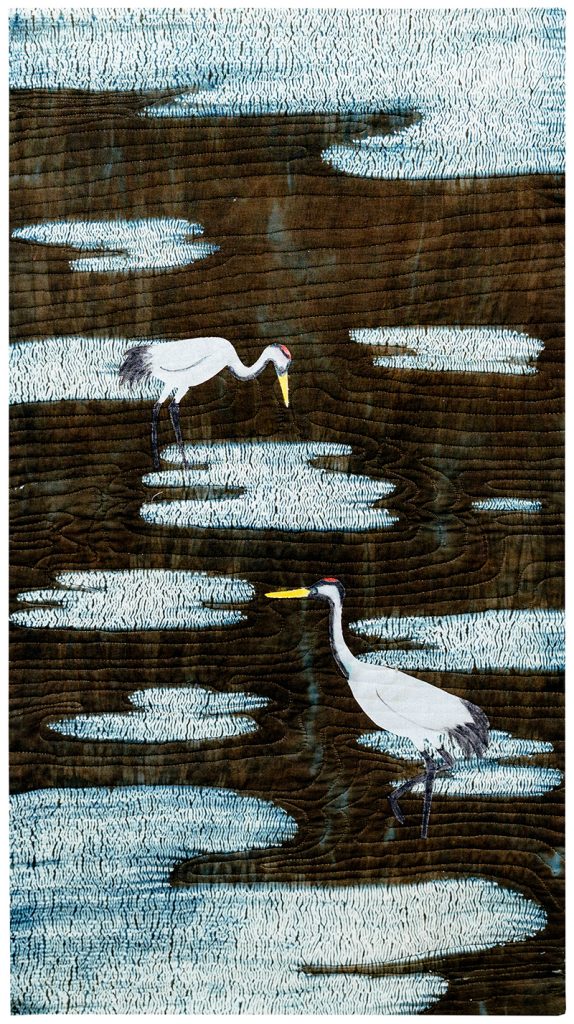 Every summer I spend time on the Oregon Coast. One year our house faced the bay, and at low tide, the cranes would arrive and stand at attention in the mud.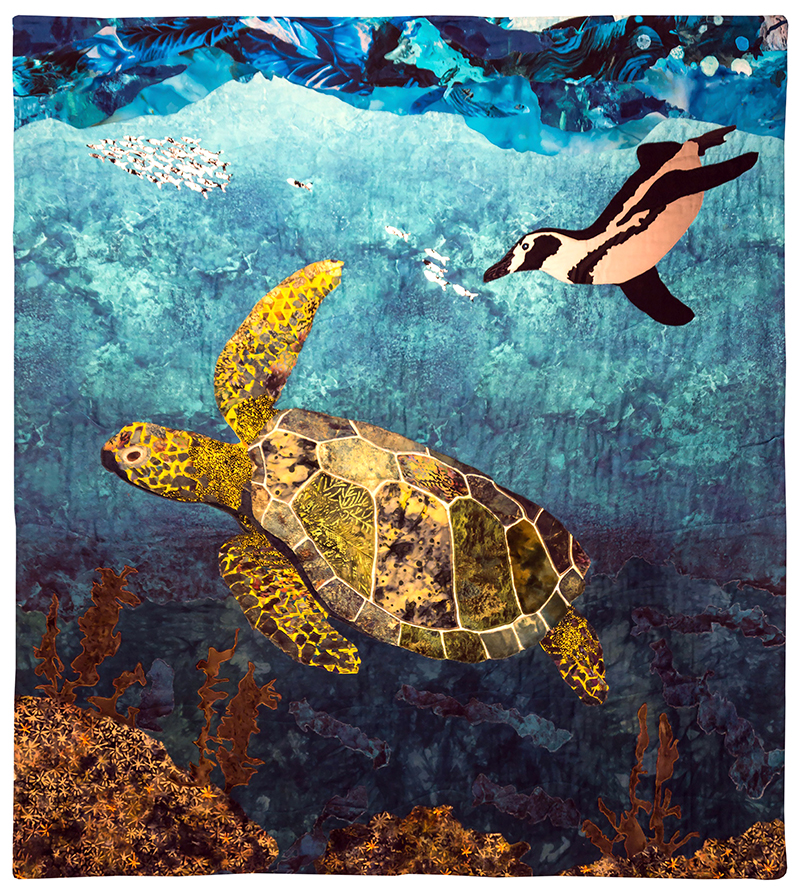 These two creatures actually appeared in the same field of view in the Galapagos Islands, begging to be captured in fabric. The dichotomy of seeing Antarctica and the equator meld was magnificent to experience. Both are so clumsy and awkward on land, yet graceful and elegant in the water. Their existence is loved, admired, and worthy of celebration.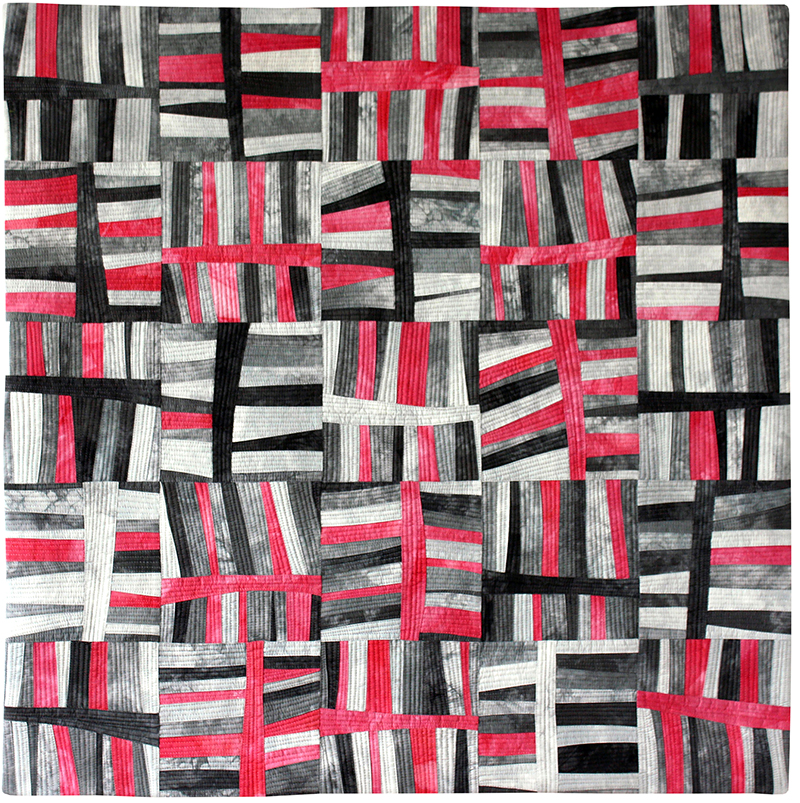 Flying Colours: Galah Gala
Galahs are a gaudy mob and gather in a swooping haze of grays and pinks.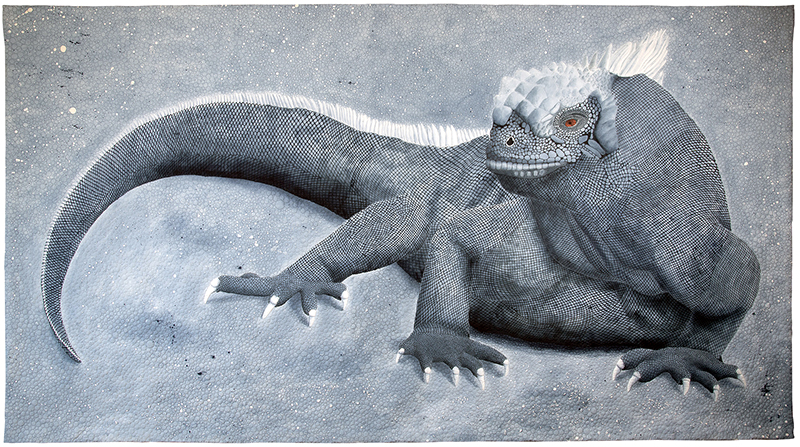 The Galápagos marine iguana has evolved the unique ability to eat algae from the ocean in an area where food is scarce on land. They are classed as vulnerable due to their extremely limited range, and they are especially impacted by El Niño climate patterns. I find their spiky faces fascinating and really enjoyed individually painting and quilting each scale and point.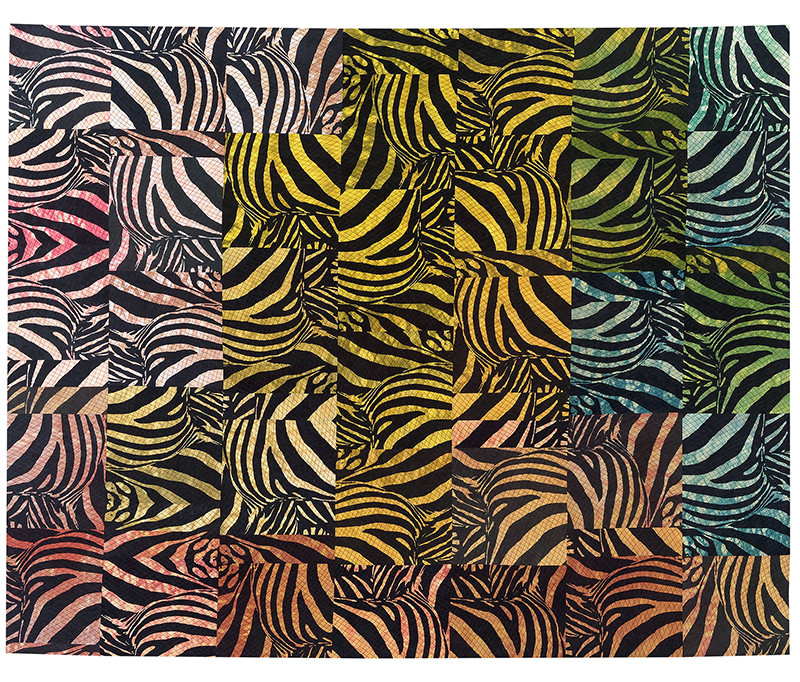 This image is distilled from a photo that I took of a herd of wild zebras on a trip to South Africa. It remains an indelible memory.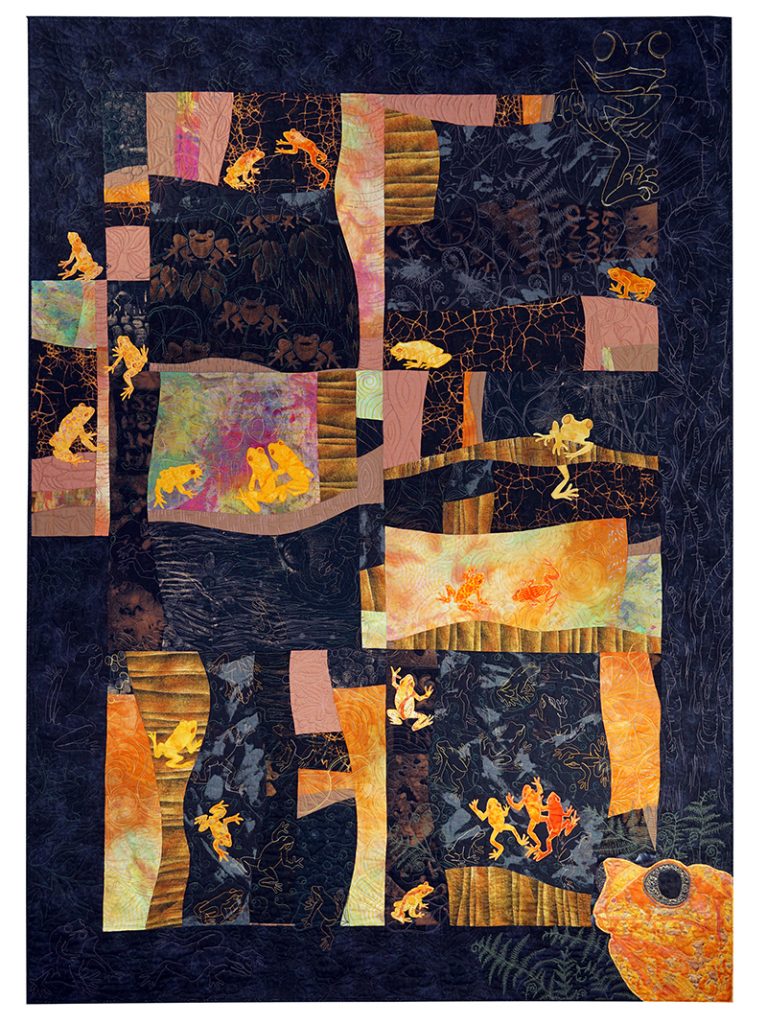 Golden Frogs of Monteverde
The tiny Monteverde golden toad is famous worldwide for its rarity and beauty. Its glamor was nature-made, but its mysterious decline was due to humans. Golden toads, also known as "little jewels of the forest floor," were never widespread, but they were once abundant in the highly elevated tropical cloud forest area above the Costa Rica town of Monteverde. No one has seen a golden toad since 1989. Scientists believe that rising temperatures may have driven this species to extinction.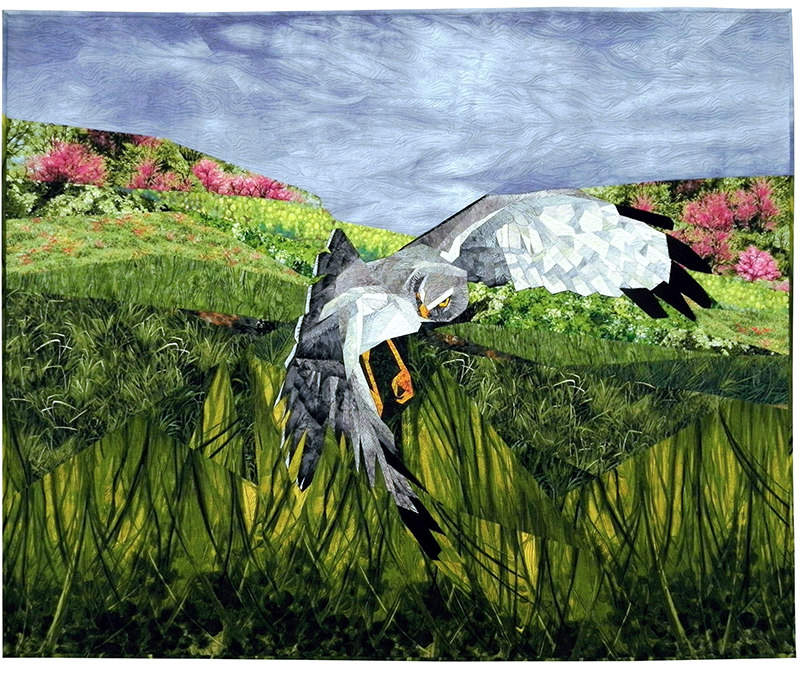 The northern harrier is a ground-nesting, low-flying hawk with a distinctive owl-like face. As they are permanent residents here in Kansas, I see them often. The males are snowy white underneath with inky black wingtips. This scene is very like one I saw last spring near where I live, but I have only memories—no pictures. Bird photographer, Ashok Khosla, graciously gave me permission to use one of his photos as a reference.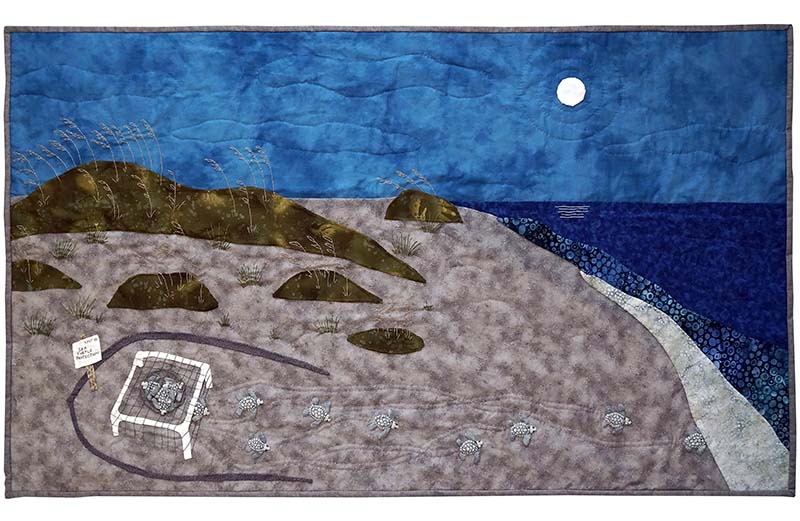 It's Time! Maureen Phillips
After protecting a nest from predators, it is a thrilling moment for conservancy volunteers to watch endangered baby sea turtles hatch and rush toward the ocean under the moonlight.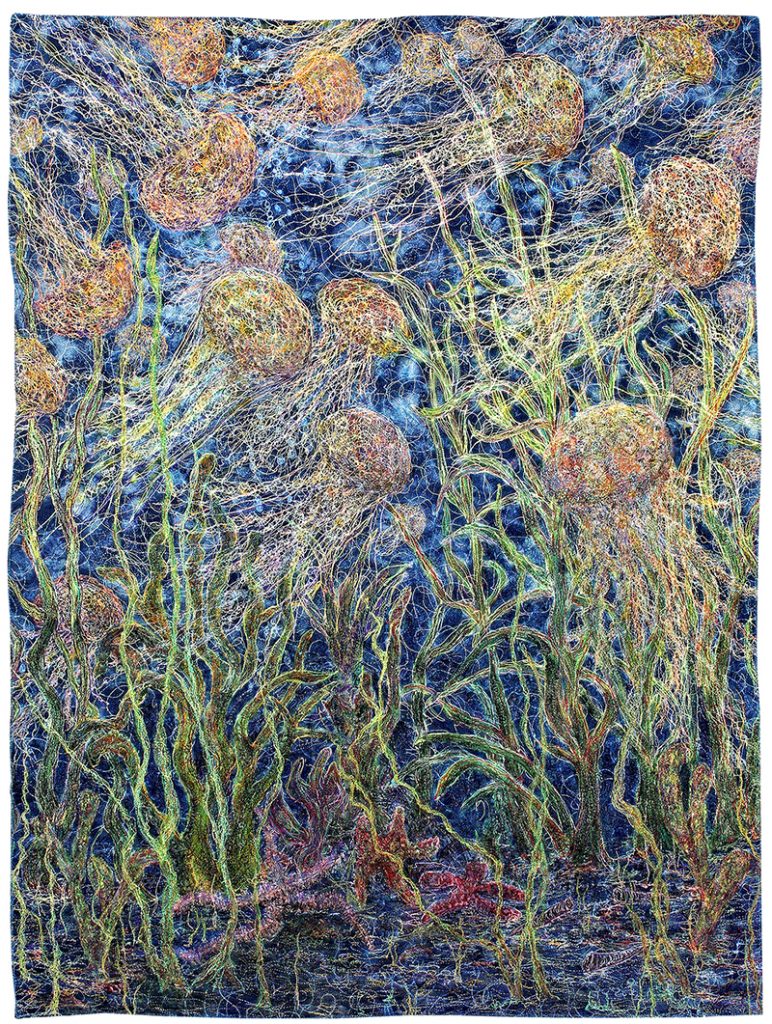 Jellies, Stars, and Screws
The cold coastal waters of Tasmania, Australia have an array of fascinating and intriguing sea creatures. In Jellies, Stars, and Screws, a jellyfish bloom propels its way through a kelp forest, sea stars scavenge the bottom of the seabed, and screw mollusks hide from the predatory sea stars in the depths of their shells. Jellyfish are the oldest multicellular animals on the planet and have existed for around 650 million years, whilst brittle stars, sea stars, and mollusks have roamed the sea floors and rock pools for between 400–500 million years. It is truly amazing that jellyfish, brittle stars, and sea stars can clone themselves and regenerate their body parts; brittle and sea stars can amputate one or more of their appendages to escape predators (a process called autotomy), and sea stars can use autotomy for asexual reproduction.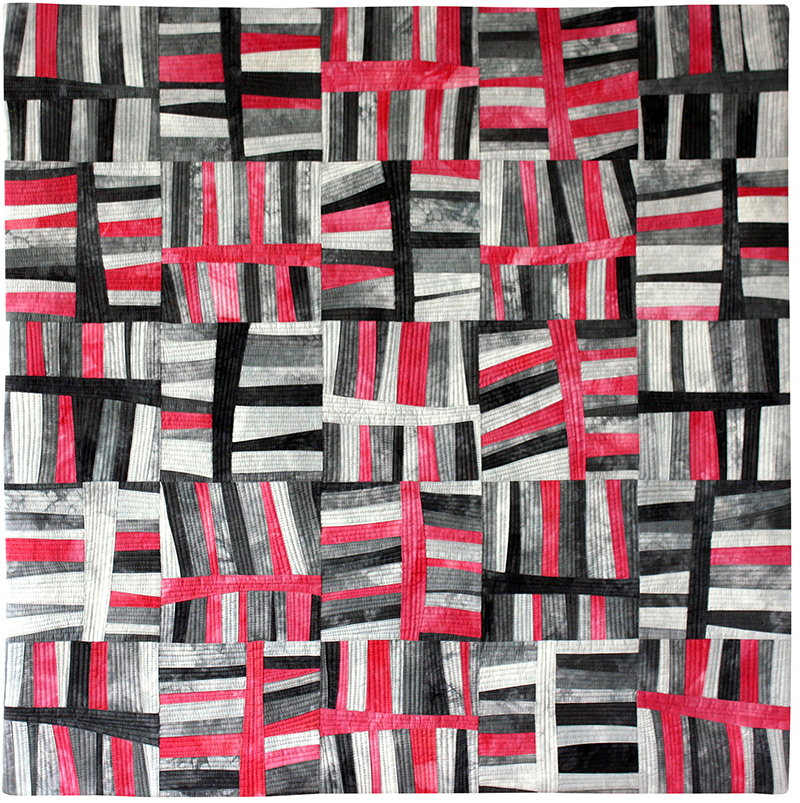 The extraordinary leafy sea dragon, a relative of the sea horse, is found only along the southern Australian coast. They have no natural enemies, primarily because of their camouflage. They are beautiful and benign. Their numbers are diminishing as mankind threatens our oceans throughout the world.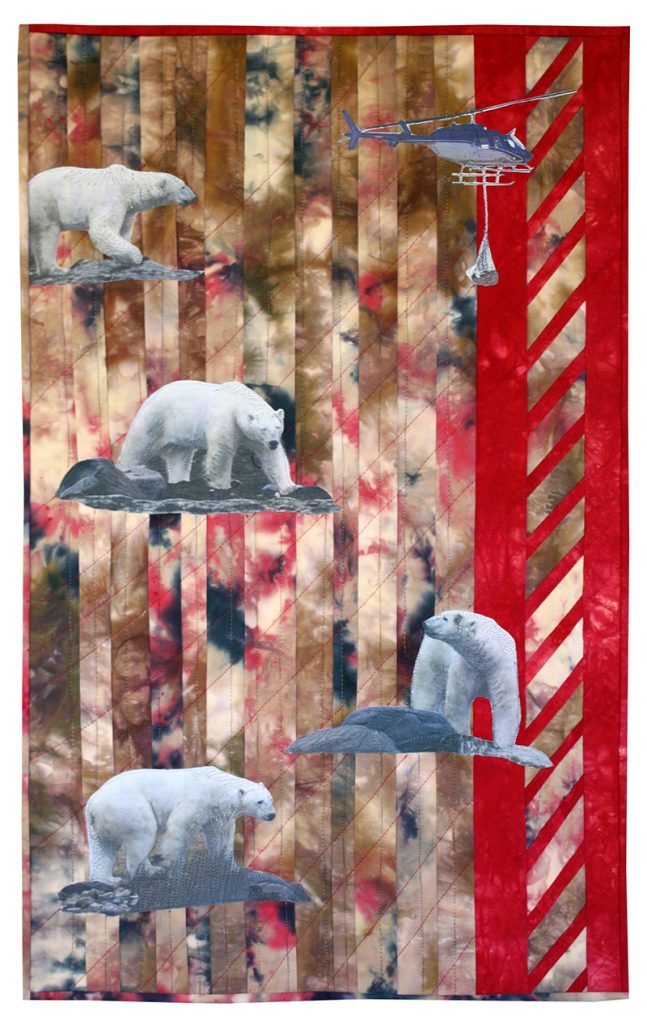 Life in the Cold was inspired by a trip to the Polar Bear Research Center in Churchill, Manitoba, Canada. I enlarged images of the bears and the helicopter, then printed them onto fabric. When polar bears get into trouble, they are taken by helicopter and relocated. With the warming of our earth's climates, their area for survival is shrinking.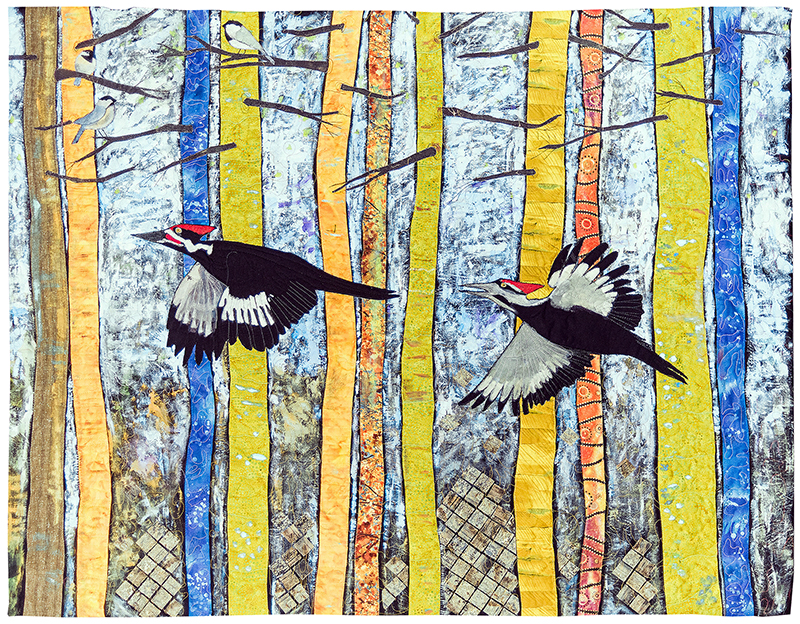 The forest rings with the cries of the pileated woodpecker. Their distinctive drumming carries a long way as they hammer likely trees searching for grubs. As this mated pair flies through their kingdom, a trio of skeptical, irreverent chickadees looks on, ready to chatter their gossipy opinions about their royal "betters."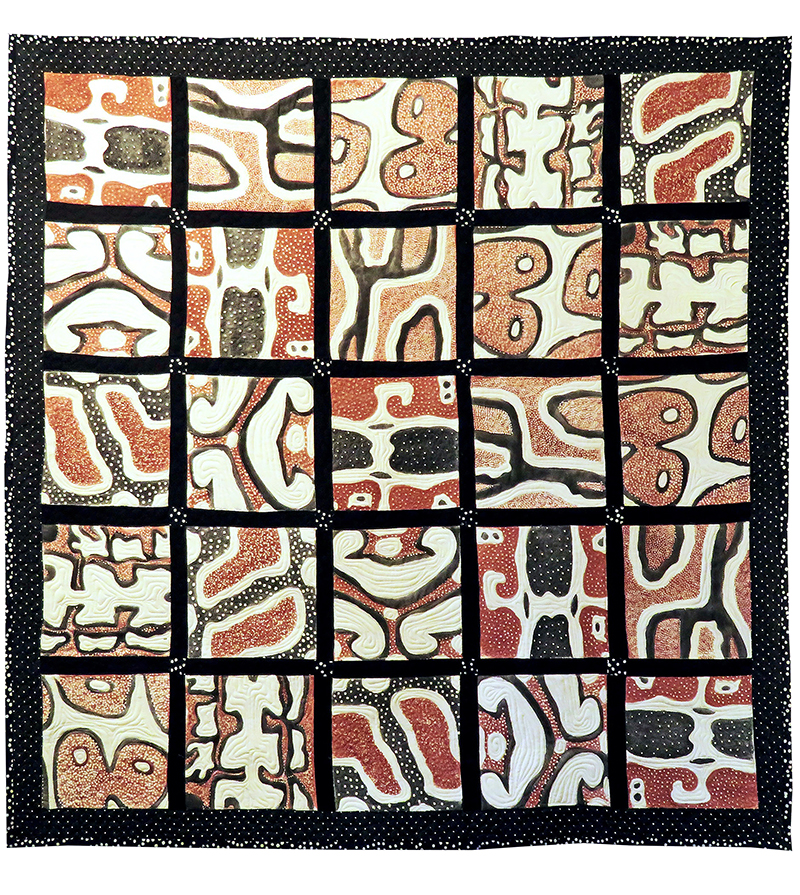 Lost in the Land of Lizards
A lizard's beaded skin can have wonderful camouflage patterns that are sometimes pretty dramatic. I designed the stencils for this quilt top with a variety of patterns inspired by lizard skin.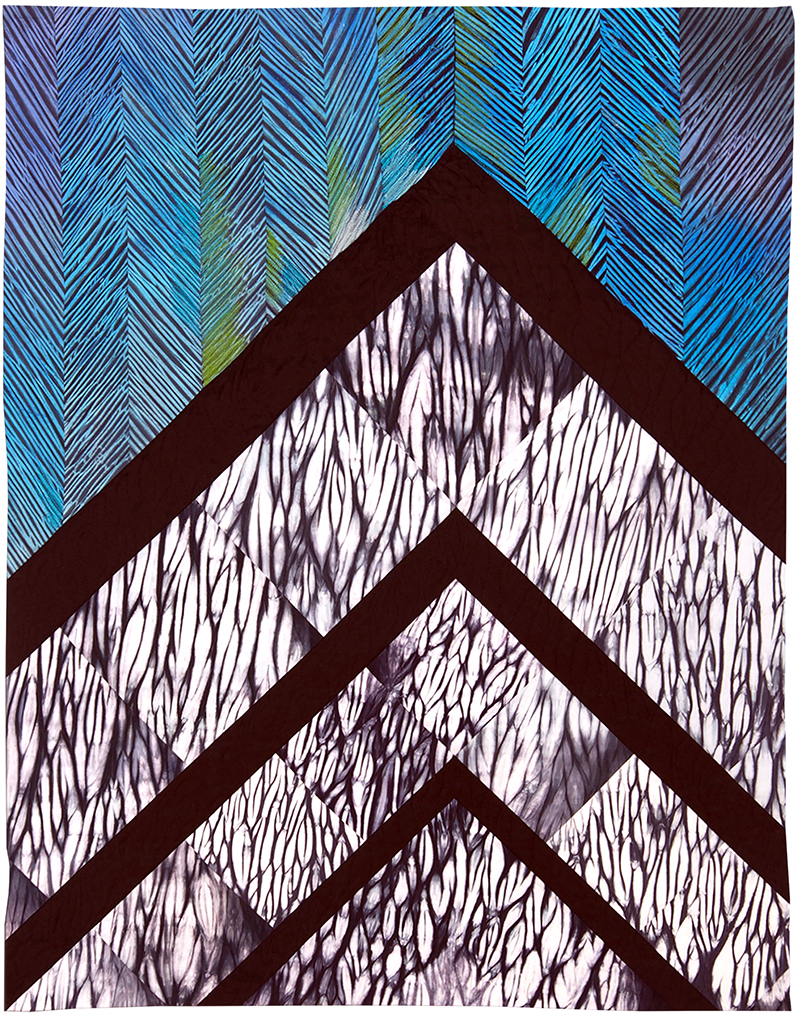 In Ireland, the magpies look like they have tuxedos on—until they take flight. Then their wings have an iridescent shimmer as the sun catches their feathers. It's always a surprise to see that glimmer from a common black-and-white bird!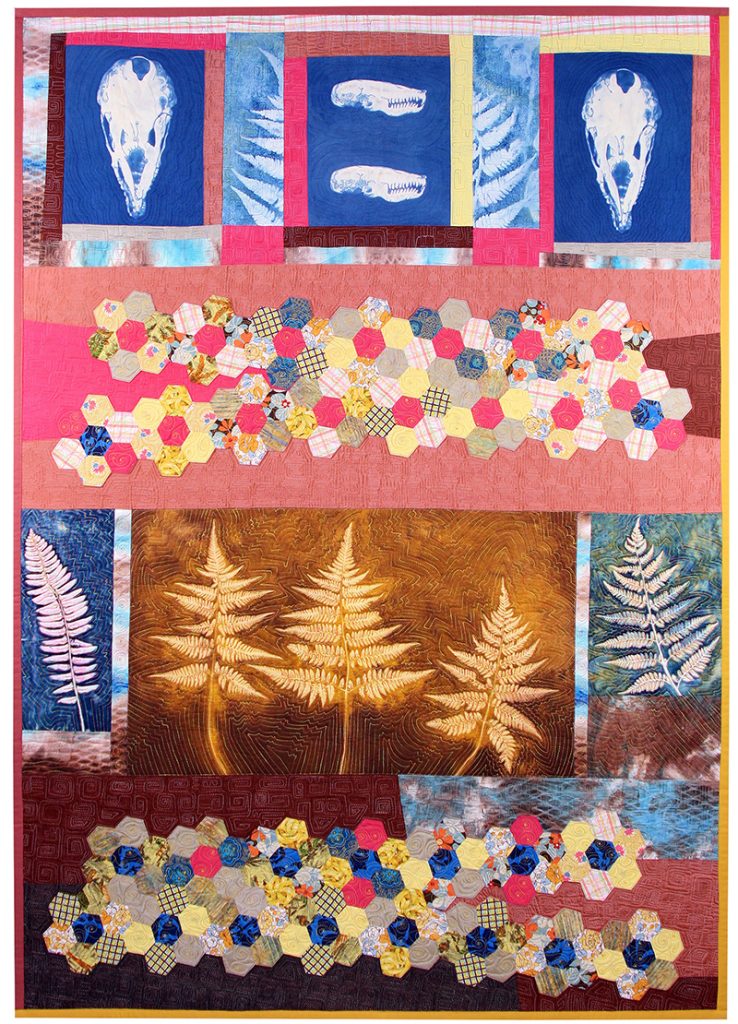 The small mammals that make their homes in my suburban habitat interest me, and I enjoy observing them as they go about their daily routines. Their eventual demise and skeletal remains sadden but also intrigue me. For years I've worked on an ongoing series of quilts made with imagery from the skeletons. For this piece, I took macro photographs of an eastern mole skull (Scalopus aquaticus), which I used to make prints. I also made prints of the ferns that grow in the area where I observed mole activity. Hand-stitched hexagon panels loosely represent their underground tunneling activity.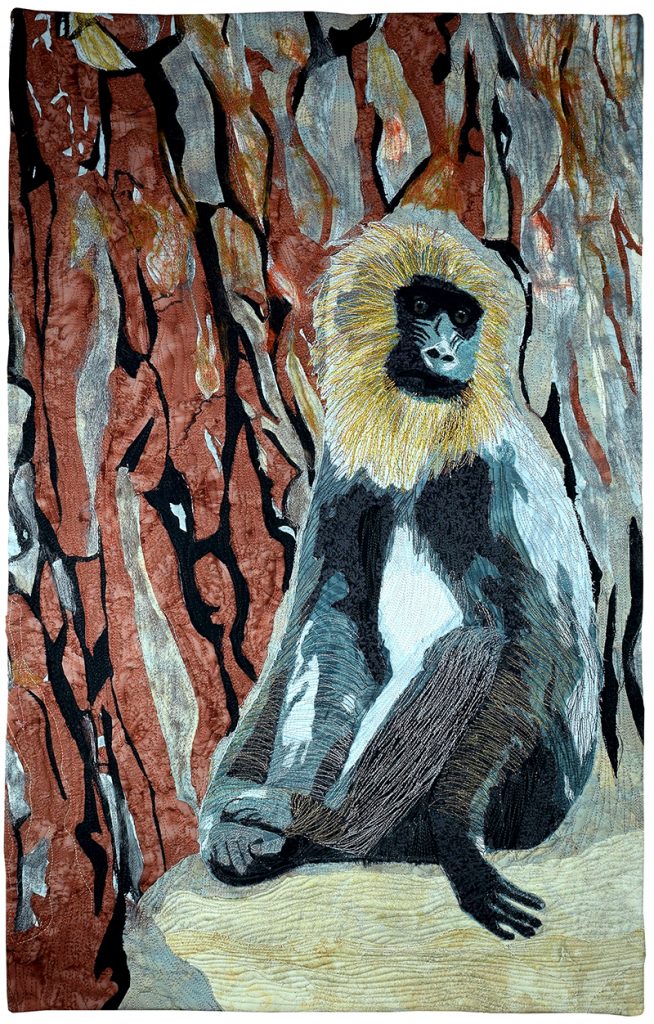 This monkey lives in a safari reserve in Tel Aviv, Israel, where he can roam freely. He was very playful, and I caught him hanging out in the trees with his friends. He has a bit of an exasperated expression. Maybe his kids were driving him mad, or maybe a visitor to the safari upset him. He was probably ready for a nap but was disturbed by some noise. In any event, he came by to see what was going on outside his habitat. He sat down beside this tree and just stared back at us.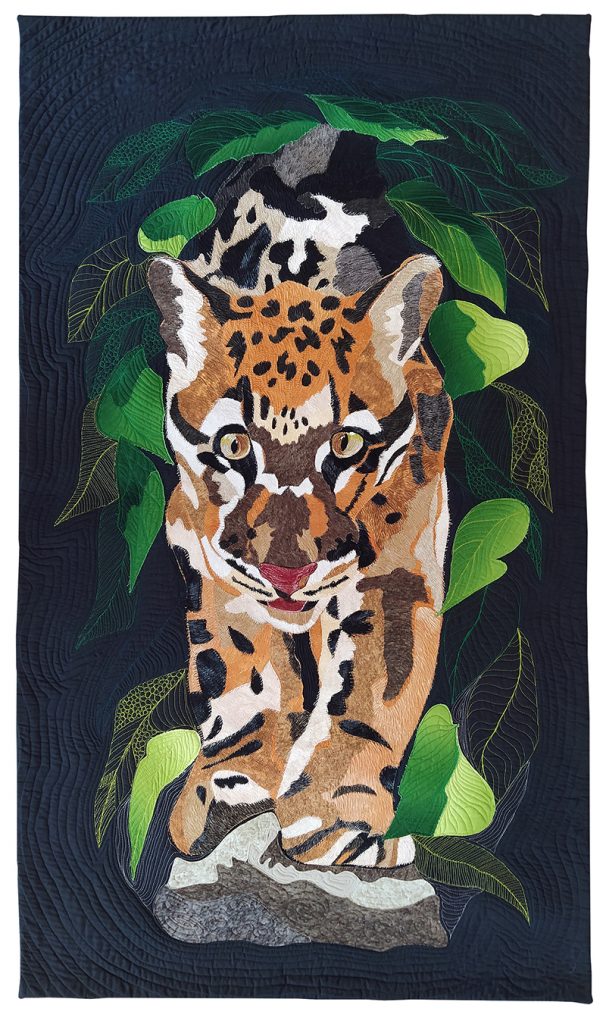 This piece is part of a series of quilts about endangered species. The aim is to raise awareness and protect them. The clouded leopard lives in India, China, Myanmar, Indochina, Sumatra, and Borneo. Taiwan's subspecies became extinct in 1990 because of human selfishness. I'm a biologist and a quilter. In my quilts, I fuse my two passions, helping those who view my art become aware of the damage we are doing to our environment.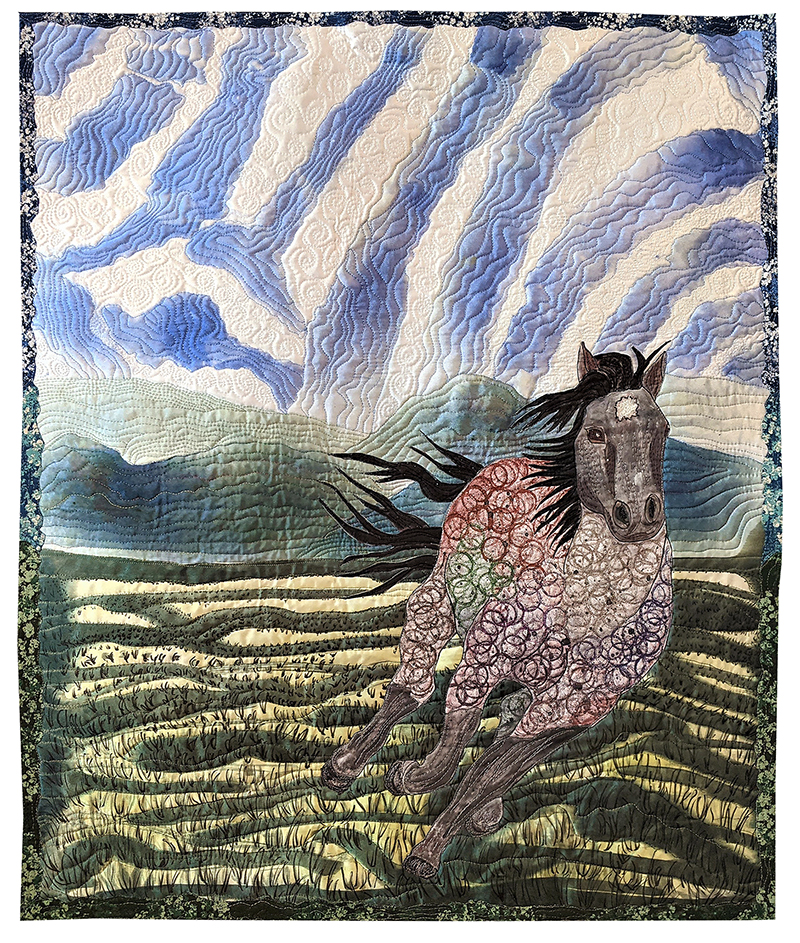 On the vast plains of the United States, wild horses have roamed free for hundreds of years. These majestic animals graze in herds that include roans, bays, blacks, sorrels, buckskins, grays, palominos, and black-and-whites. Roans are horses with hair of many interspersed colors. It is estimated there are around 500,000 wild horses left in the world today. Limiting herd size while maintaining genetic viability and managing resources, such as water, are controversial issues. Sparse spring rains bring rapid growth for desert vegetation. With the worst drought season ever looming in the western United States, the green plants will soon turn brown, watering holes will dry up, and an extreme fire season awaits. Onaqui Roan is based on photos by local wild horse photographer, Kent Keller. (Photos used with permission)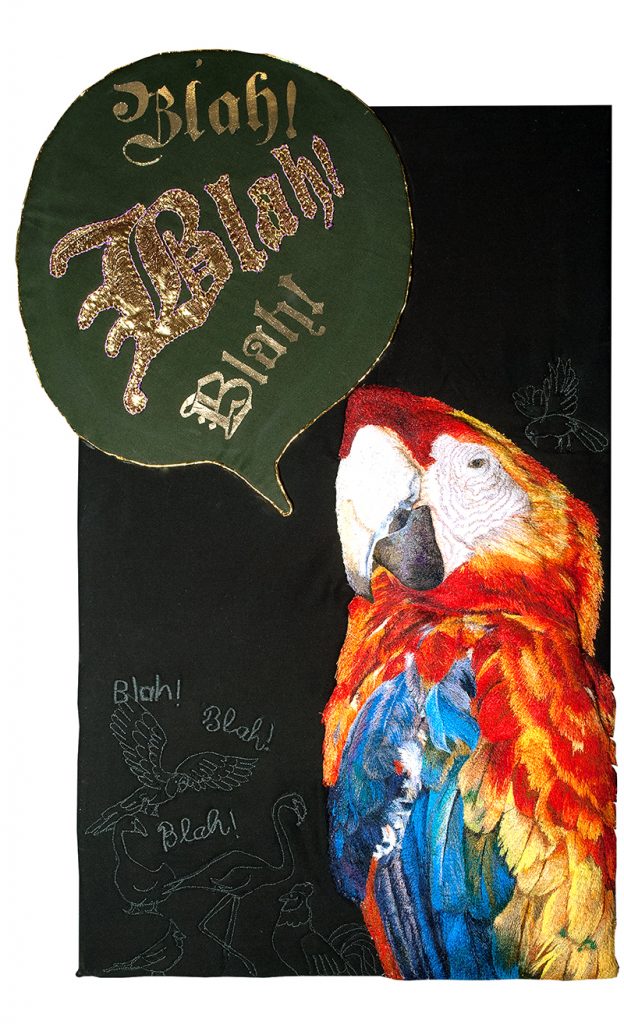 Jayne Bentley Gaskins Fetterhoff
It's not hard to find overdressed, self-appointed experts making loud proclamations on any number of subjects. They look good, they're charismatic, and being eloquent, they sound good too. Their words, however, lack substance and are rarely based on fact. Sadly, other creatures caught up in the pageantry parrot this empty rhetoric without a second thought. Is that where we get the term birdbrain?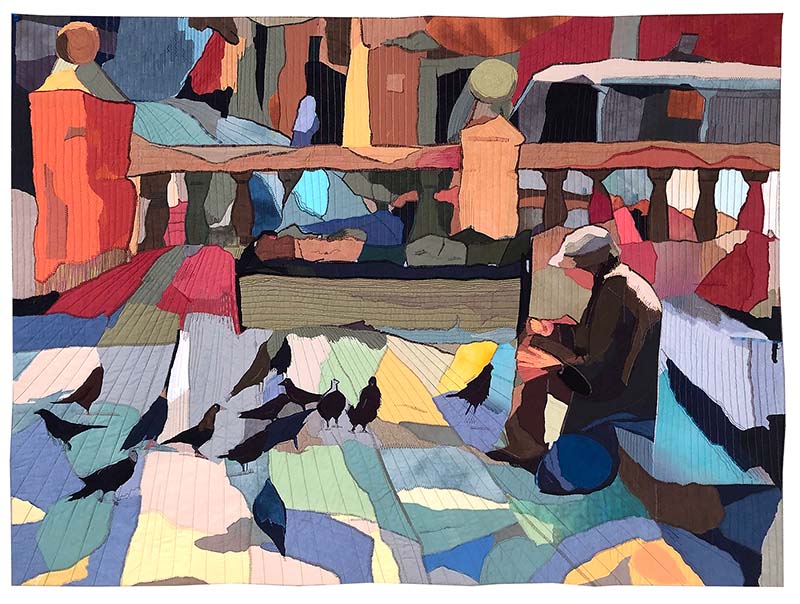 On an excursion to a village cathedral several summers ago, I captured a photograph of a plainly dressed man feeding birds in the church courtyard. In the busy midst of buses, shoppers, and tourists, the birds and the man shared a simple and probably frequent communion. The scene reminds me of stories of Saint Francis of Assisi—known to townsfolk as Poverello, "the poor one"—so I named the quilt Poverello and the Birds.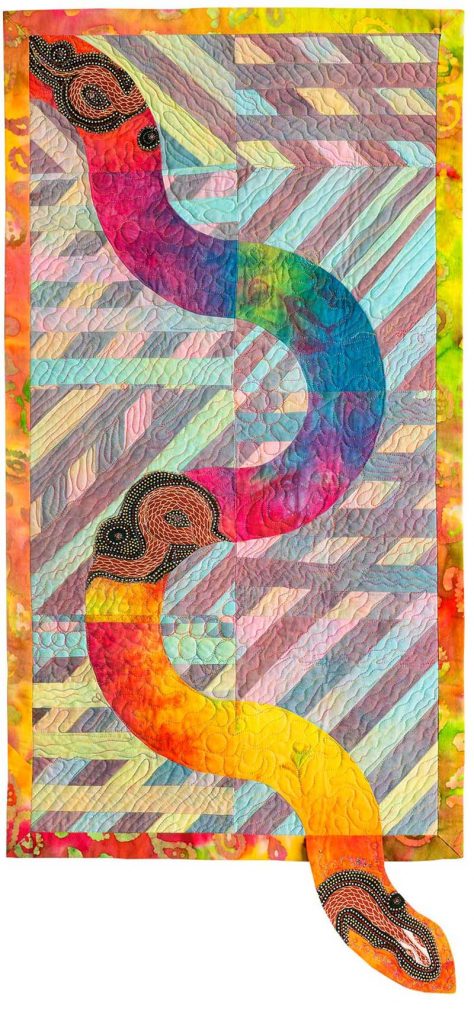 Before people let pet pythons loose in the Florida Everglades, there were many species of animal wildlife. The alligator was the top predator, but now the python is vying to take its place. Pythons can constrict alligators of up to 10 feet—only giant alligators can escape. The cunning python hides so well that it's nearly impossible to cull its overflowing numbers. When given the opportunity to view these pythons, they are impressive. Their muscular, shiny bodies wind in and out of graceful curves. However impressive, it is sad to realize that the Everglades are now dominated by these dangerous snakes.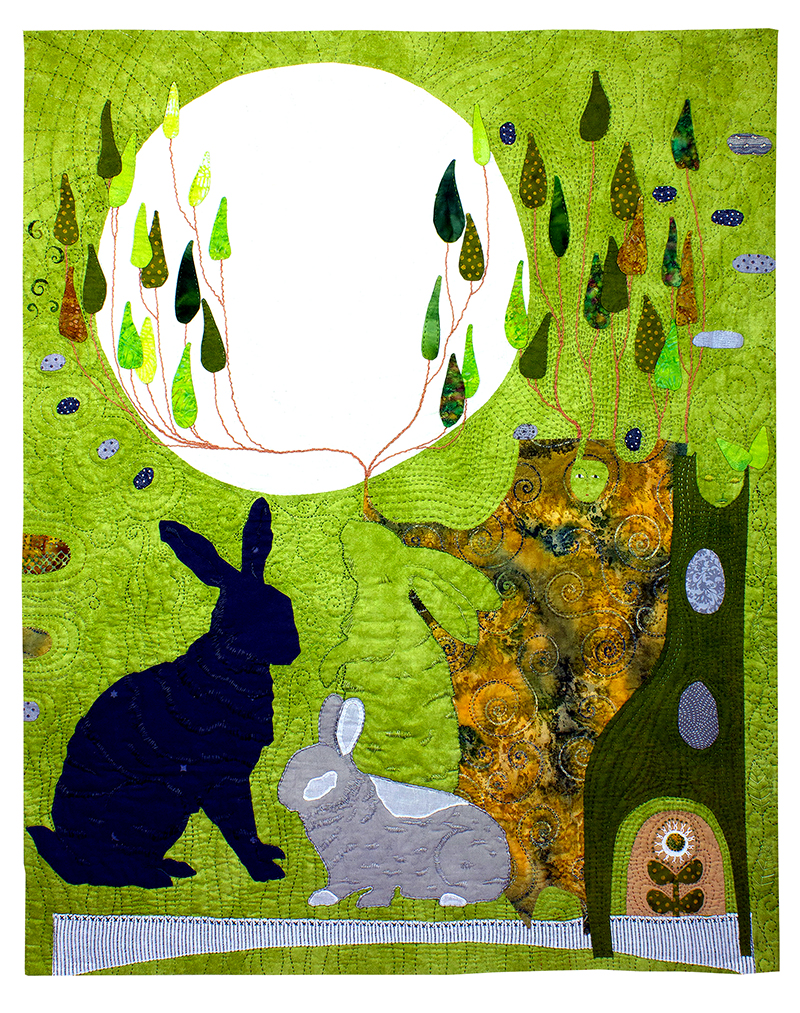 Every morning begins with a walk in the woods or along the riverbank, where I closely observe the color and shape of leaves, or the yearning branches absent of leaves. Each season has surprising delights. This spring it has been rabbits—more than I've ever seen before. They have become a symbol of renewal for me, a symbol of hope.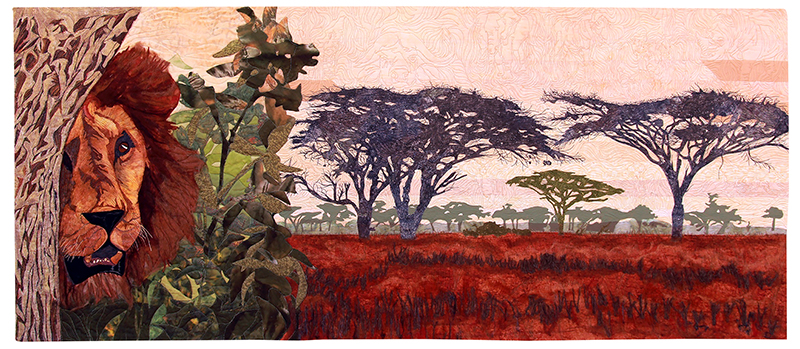 Krista Zeghers and Coreen Zeer
Photographs from a safari trip in the Serengeti were the inspiration for this work. The male lion was peeking out from behind an acacia tree, both popular symbols of Africa. Ghost images of African animals are embedded in the quilting to extend the moment. African rooibos tea was used to dye some of the fabric in the strip-pieced landscape, and hand-dyed wool from sheep shearing was used for the lion's mane and foreground grasses.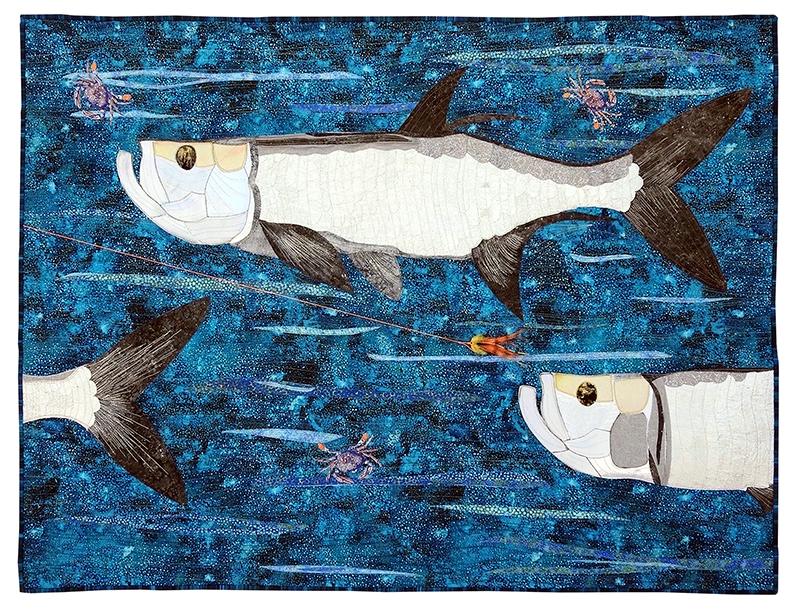 The Silver King Highway Joyce King Ferrie
The tarpon, also known as the silver king, is a prehistoric inhabitant of the Gulf of Mexico. The fish travel in large schools, creating a highway of their own. Watching an accomplished fly fisherman hunt this fish is a gift. He waits for the disturbance on the water, indicating the tarpon's presence, then beautifully casts his line, presents the fly, and waits for the strike. As it leaps high out of the water and then falls back, there is a spectacular explosion on the surface. The scales look like diamonds when they catch the sunlight. Another leap and the tarpon tires. Out of respect, the angler bows to the silver king and releases it unharmed back into the water.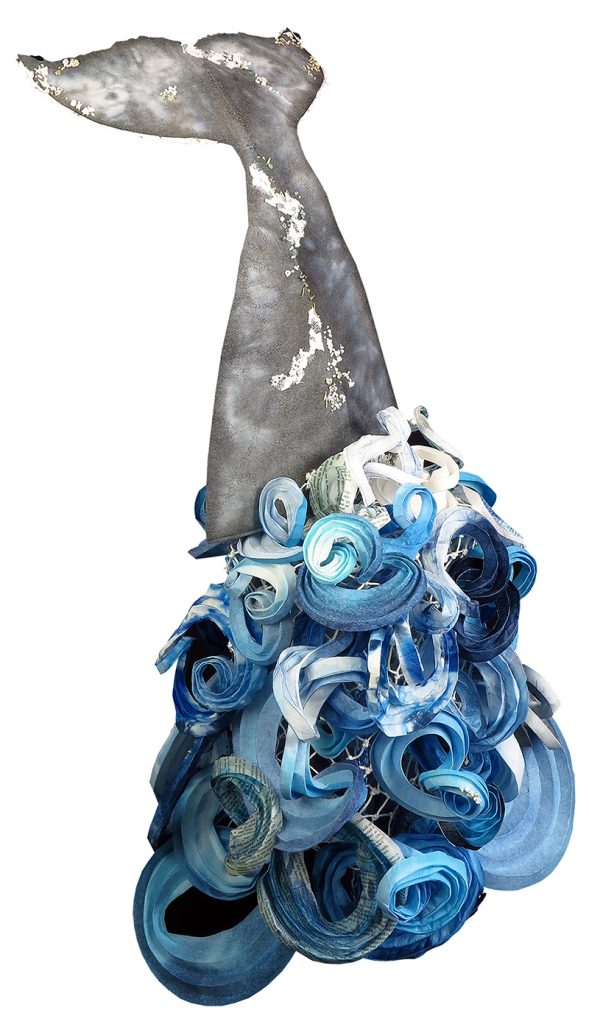 Southern Right Whale: Deep Dive
The spectacular moment when a whale's enormous fluke breaks the surface is a truly awesome sight and a reward to those who are patient. The first time I saw this wonder was in 2006 in the town of Hermanus, South Africa. Around 100 southern right whales go there to calve each winter. I remember the swirling ocean would gradually erupt, and in remarkable slow motion, a huge tail would break through the surface just before a whale made a deep dive in search of food. In this piece, I have re-imagined that moment, with an ocean of gently folded curves, broken only by an enormous single tail.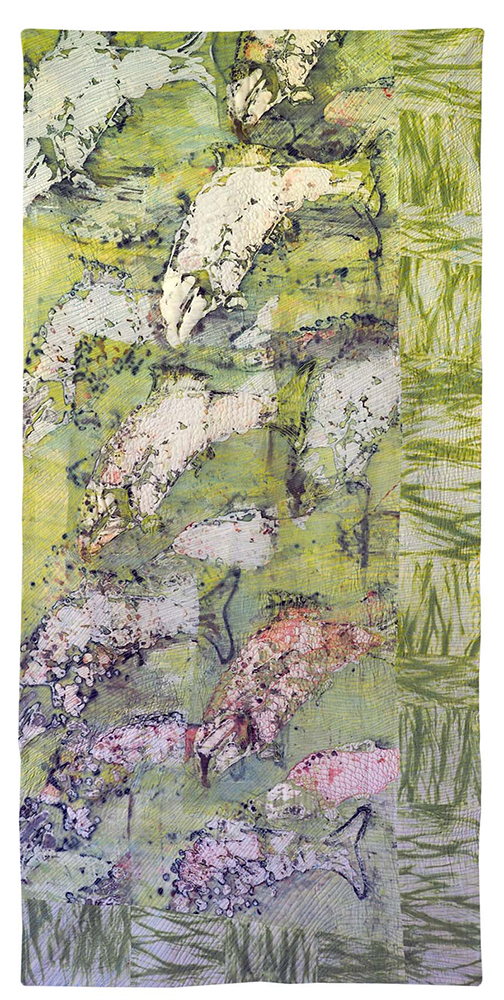 The spirit of the sockeye salmon is strong. These fish show power and determination, fighting against impossible odds to get to where they need to be. Facing all the obstacles that mankind has put in their path, they still seek to return to their spawning pools to perpetuate the next generation. They are in a transformative state when they spawn, changing from silver-green to brilliant red. Once their lives are expended, their bodies decay, going back into the waters where they were born.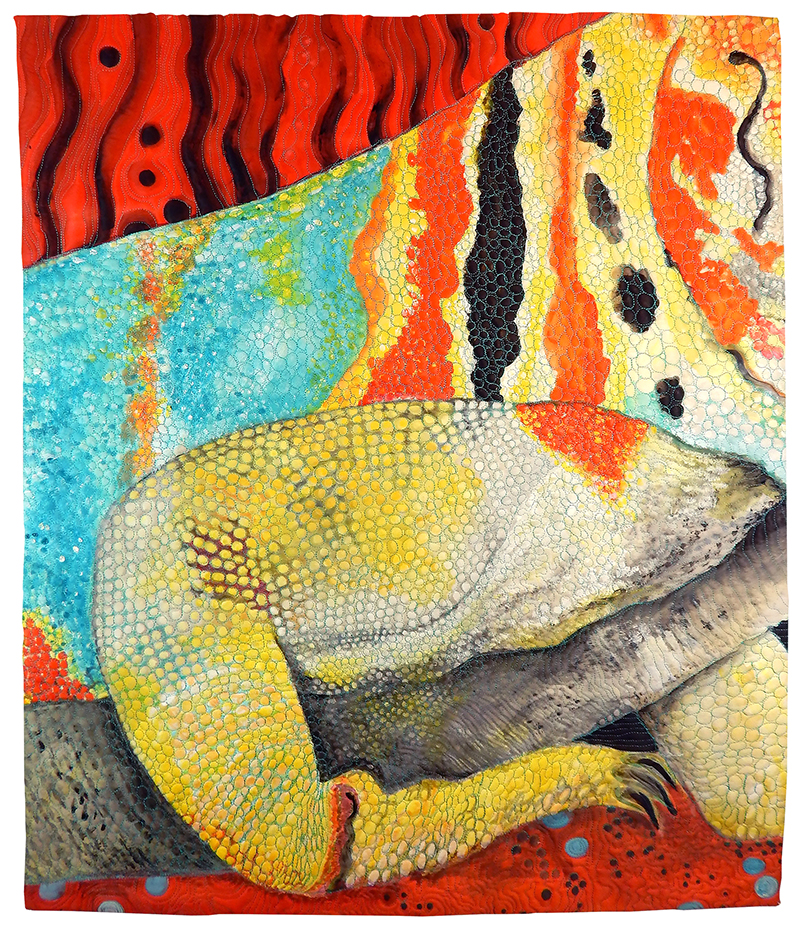 Thinking of Getting Another Tattoo
The skin, shape, and color of this lizard were much more interesting to me than the whole lizard; an abstraction was the answer.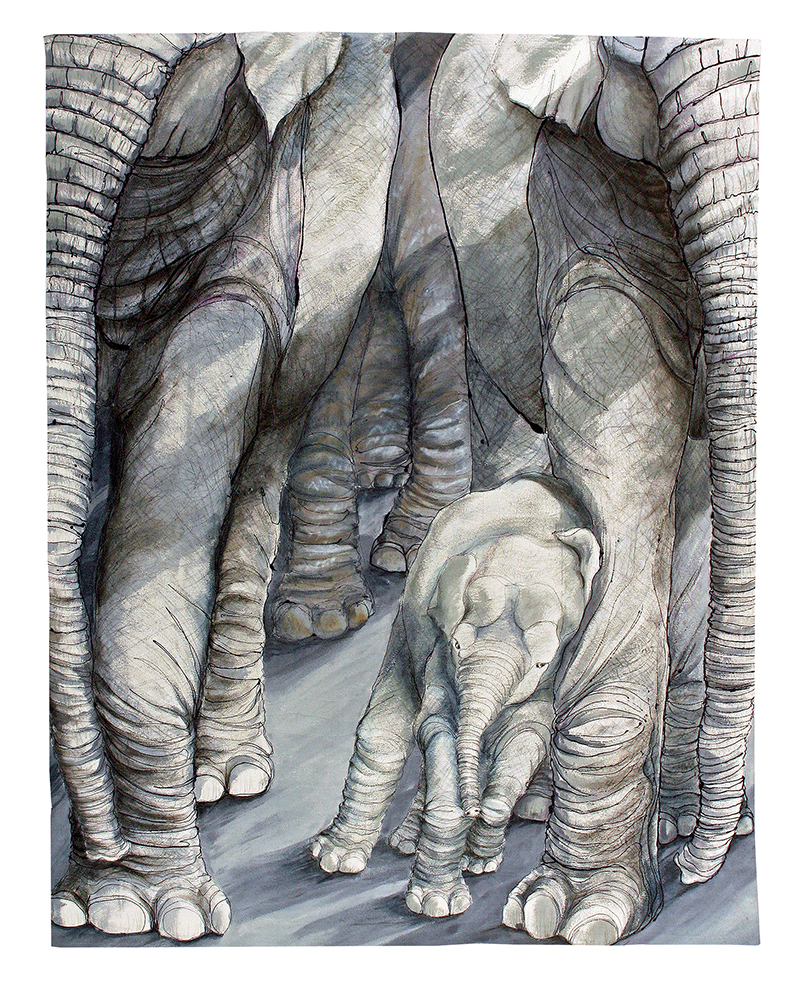 These Asian elephants are part of my "Vanishing Species" series. Elephants are famous for their close family bonding and the difficulty of their lifestyle in the wild. I wanted to allow the viewer to see the world from the baby elephant's perspective, and to that end, the piece is true to the full scale of Asian elephants. The extensive free-motion quilting creates an elephant skin texture throughout.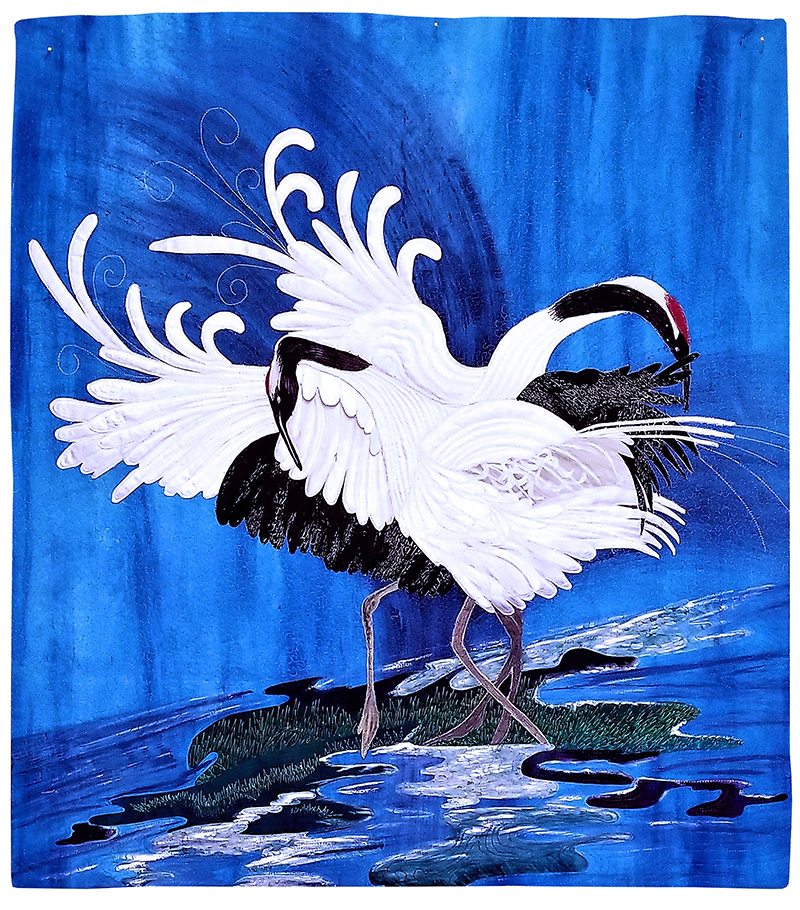 Walking along the Carson River in northern Nevada with my camera, I happened to come across these two amazing, beautiful birds who were doing their mating dance. The way they moved with grace and precision is what captivated me to take their picture and create this piece.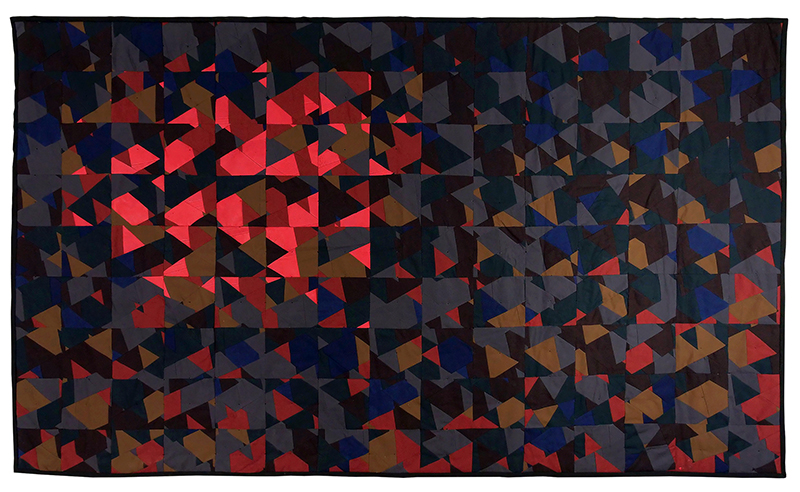 This quilt is based on the dark turkey vulture, which is increasingly present in our northern landscapes. This unloved bird is very interesting to observe up close because of its bald, red head. Urubu is part of a series of quilts called "Volatile," which is inspired by the plumage of Quebec birds. This series does not seek to illustrate birds but rather evoke an impression of color—a bit like looking at the birds through a kaleidoscope. The red leather pieces in the work are from an old-fashioned leather coat and complete the allusion by recalling the bird's bald head.