THE 2023 QUILT FESTIVAL JUDGED SHOW COMPLETE WINNERS LIST
Click on any quilt to view larger and see all the beautiful details!
The Handi Quilter Best of Show Award
Monkeys in My Hair—Evie
(41" x 48")
By Deborah Hyde of West Bloomfield, Michigan, USA
Artist's Statement: This art is a celebration of my granddaughter Evie, her portrait and her personality." Original Design.
Interview with the artist
The Gammill Master Award for Machine Artistry
Filigree Calligraphy
(60" x 76")
By Janet Stone of Overland Park, Kansas, USA
Artist's Statement: "I wanted to use linen fabrics, a collection of solid hand dyed fabrics, and incorporate a free motion embroidered alphabet. This is the 25th quilt in my Alphabet Quilt series." Original Design.
The Grace Company Master Award
for Traditional Artistry 
Beauty in the Broken
(71" x 71")
By Kathy K. Wylie of Whitby, Ontario, Canada
Artist's Statement: "In the same way that stars can only be seen at night, there is beauty that is only experienced in hardship. This quilt was inspired by those profound moments of love amid our suffering, laughter in our sorrow, hope in our despair. The beauty in the broken." Original Design.
The Janome Master Award for Innovative Artistry
Those Darn Boys
(35" x 47")
By Judy Crotts of Long Beach, California, USA
Artist's Statement: "Watch out boys, there's a powerful girl in the house! Besides working with the children's delightful faces in many different colors and fabrics, I experimented with using a single fabric in their clothing. I cut the fabric and rearranged it to give the effect of movement. The use of tulle for shading completed the overall effect." Original Design.
The Innova Master Award for Contemporary Artistry
Summer Shower
(76" x 77")
By Akiko Matsumura, Iida City, Nagano, Japan
Artist's Statement: "On a summer morning, when I looked up on the walkway where I usually walk, I saw a slight blue sky among the many leaves. The sight was very pleasant to me, and I love this place. I made this quilt with that feeling in mind." Original Design.
The Superior Threads Master Award for Thread Artistry
Fullness
(82" x 67")
By Yoshiyuki Ishizaki of Ashiya City, Hyogo, Japan
Artist's Statement: "Embroidery has been added to the traditional Baltimore to make the applique stand out. Look for the hidden chameleon and praying mantis. Even the sparrows that come to the balcony joined in!" Original Design.
Swamp
(Pond Series #5)
(42" x 58")
By Roberta Lagomarsini of Bishop, California, USA
Artist's Statement: "The fifth in my Pond Series, this quilt depicts a swamp, the interface between the pond and land, where often there are very cool things going on. In my swamp, there are decaying plants which form the basis for the next crop of plants, the roots and seeds of pond plants, insect larva nymphs, fish and amphibian eggs, oxygen and other gases bubbling towards the surface. Plants are piercing the surface, reaching to the sunlight. Renewal and regrowth." Original Design.
Good Vibrations
(41" x 45")
By Barbara Oliver Hartman of Flower Mound, Texas, USA
Artist's Statement: "Made from bits and pieces left from previous projects to give new purpose for these materials. Finding new uses for them give me joy and gets my creative juices going to be able to turn them in to new and useful items." Original Design.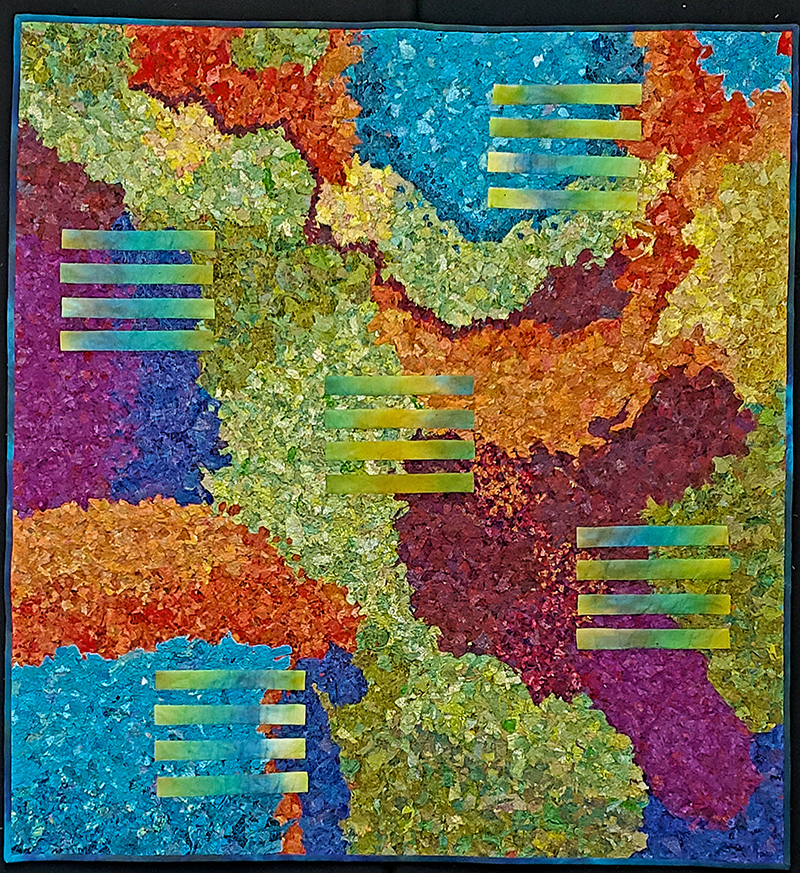 Interview with the artist
Interview with the artist
Coming Home
(50" x 50")
By Lyn Keogh of Maula Bay, NSW, Australia
Artist's Statement: "My original design is inspired by a dried floral wreath of gum nuts, seed pods, gum blossoms and waratahs. The wreath was a house warming present from my daughter when we moved to our 'tree change' house. The Japanese yarn dyed cottons are needle turn hand appliquéd and embellished with hand embroidered details and colonial knots using cream Sashiko thread. The free motion machine quilting was designed to enhance and complement the appliquè work." Original Design.
Wild Rose
(82" x 82")
By Noriko Kido of Azuminio-shi, Nagano, Japan
Artist's Statement: "I like the traditional flower appliquè pattern. I made my own original flower pattern and unfolded it into a large quilt. The small triangles are remnants of the Feathered Star that I tried to combine at the beginning. The composition became complicated and I had a hard time sewing it together." Original Design.
A Sentimental Journey
(84" x 84")
By Linda Goodejohn of Anacortes, Washington, USA
Artist's Statement: "This quilt was made out of my love for Baltimore Album quilts. It was started while living in Arizona and finished after we moved back to Washington to be near friends and family. I changed the setting and added an appliquéd dog tooth border. Techniques include hand appliqué, dimensional appliqué, reverse appliqué, and embroidery. It was quilted on my sit-down machine." Design Source: Friends of Baltimore pattern by Sue Garman.
CATEGORY AWARDS
Hand Crafted/Hand Made
Flowers in Full Bloom to Kirara
(68" x 80")
By Ayako Kawakami of Funabishi-shi, Chiba, Japan
Artist's Statement: "I made this quilt for my daughter who loves flowers. My daughter will come of age this year. I made this quilt in the hope that she will be able to spend her coming of age with a bright smile. It is my style to make quilts with embroidery. I embroidered the embroidery design as I thought of it without drafting it. The heart motif is crazy quilts. The quilting is hand quilting and Japanese sashiko (boro). I enjoyed the many colonial knot stitches." Original Design.
Flower Calendar
(79" x 79")
By Sachiko Chiba of Morioka City, Iwate, Japan
Artist's Statement: "We are always soothed by beautiful flowers. I wanted to express these seasonal flowers in my quilt. It took me a long time to create this design. I carefully selected various fabrics and had a hard time expressing the characteristics of each flower. I'm so happy I'm able to complete this quilt to my satisfaction." Original Design.
Reflection in Blue
(75" x 86")
By Eriko Kubo of Nagoya City, Aichi, Japan
Artist's Statement: "Looking out of the octagonal window, there is a world of snow reflected in the blue. I wanted to express warmth while using only cold blues and whites. And I was able to add glamour to the tranquility with a variety of materials. The cloisonne pattern quilted all over the sky is one of the unique Japanese auspicious patterns, and represents happiness, so I wished for peace in the world and happiness for all people." Original Design.
CATEGORY AWARDS
MACHINE QUILTING
Into the Sunshine
(66.5" x 65")
By Patricia Hechler of Franklin, Ohio, USA with Joyce Hite
Artist's Statement: "This traditional Baltimore Album quilt is free-motion quilted in a more modern, yet classically grid-based style, with a border that is micro-quilted in seven different thread colors for a tapestry effect. Within the blocks and block frames, holographic and metallic threads were used to bring sparkle to the meticulous raw-edge appliquè blocks." Design Source: Block patterns are by Pearl Pereira and Susan Prioleau from their set American Album Blocks, P3 Designs.
BEE Yourself
(56" x 56")
By Simone Steuxner of Sveg, Haerjedalen, Sweden
Artist's Statement: "The quilt is my original design and was inspired by nature and my garden life. I love beeing outdoors and I especially love bumblebees. BEE Yourself is a reminder to just be yourself no matter what the world tells you to be, like the bumblebee who is defying gravity and still flies against all odds." Design Source: Original design, the embellished trapunto was inspired by a class of Philippa Naylor.
Circling Sevenstar
(93" x 92")
By Lyn Crump of Withcott, Queensland, Australia
Artist's Statement: "Multiples of seven in orbs, fabric colors, hand-dyed embroidery threads, size of circles paths combine to orbit around my seventh variation of a Feathered Star. This time a seven-point star. Twisted chain stitch embroidery to circles and edge of quilt top between facing and quilt. Subtle change of thread weight and colors in quilting, that is all free hand guided, to emphasize stars and orbits, with lots of ruler work and even more fun." Original Design.
CATEGORY AWARDS
Pictorial—Large
Ice Lillies
(44" x 59.5")
By Andrea Brokenshire of Round Rock, Texas, USA
Artist's Statement: "I have always love Stargazer Lilies and this one is planted next to my Great Grandmother's Snowball bush. I love the juxtaposition between the smooth leaves of the Lily next to the serrated leaves of the Snowball bush. The challenge for me in this quilt was to create the different textures between the two. My focus was the left stems and leaves but of course, the lilies themselves are just wonderful too." Original Design.
Something About Succulents
(76" x 72")
By Cynthia England of Dickinson, Texas, USA
Artist's Statement: "Made during Covid to keep me sane. Used a palette of 160 fabrics. Approximately 18,500 individual pattern pieces. Machine pieced using the technique I developed. Not paper pieced; no fusing. There is a honey bee amid the leaves on the left side." Original Design.
A Crowd of Strangers
(82" x 48")
By Jill Kerttula of Charlottesville, Virginia, USA
Artist's Statement: "I have taken hundreds of pictures of the regulars on the Charlottesville downtown mall. This piece is a combination of about 15 of those images combined into one. Even in a crowd, few of us look at or interact with each other. We are a crowd of strangers: each in their own world. One place, many lives, many times, all in their individual world of thought." Original Design.
CATEGORY AWARDS
Pictorial—SMALL
A Horse with No Name
(31" x 37")
By Judith Phelps of Battle Ground, Washington, USA
Artist's Statement: "'A Horse With No Name' by America was made for a`Name that Tune Challenge. I love horses, the song and the photography of Christa Merk who was kind enough to give me permission to use one of her photos. The horse is hand painted on the fabric and then the horse and sky were completely thread painted. The quilt is made to be viewed from both sides." Design Source: Christa Merk Photography & Art.
The Last Call
(37" x 49")
By Kestrel Michaud of West Melbourne, Florida, USA
Artist's Statement: "This quilt was my attempt to illustrate 'fate.' Lightning flashes behind Jacques, the steampunk-enhanced raven. The raven, the seedy setting, creepy low light, and dramatic three-point perspective convey a feeling that 'bad things are coming.' Despite the unsettling vibe, Jacques himself is a beloved pet. There is a peculiar juxtaposition between a treasured raven and the sense of impending doom he is foreshadowing." Original Design.
Sons of Sons of Kings
(40" x 46.5")
By Georgia Williams of Houston, Texas USA with Dena Angela Miskel
Artist's Statement: "What an honor it was for me to create this quilt of our first Black Congressmen as a visual Black history teaching moment. Using the Public Domain image from the Library of Congress I hope to enlighten individuals who were unaware. Unjustly, our presence in Congress came to a halt in 1901 due to segregation laws. We did not regain our rightful place in Congress until 1928. This brought about a new sense of hope, albeit an arduous journey forward!" Design Source: Public Doman Image of Congressmen and Licensed image of Ancestors obtained from Dreamstime Illustration 7563288/African © Batagaja
Prickly Pear
(62" x 62")
By Susan Braverman of San Antonio, Texas, USA
Artist's Statement: "The familiar New York Beauty block gets an unexpected makeover with scale and vivid color. Blocks are all made from the same fabrics but dense straight line quilting with different thread colors provides a nuance of visual variation and definition. The graphic blocks bring to mind colorful blooms, sharp spines and round shapes of the prickly pear cactus." Original Design.
Flying in Circles
(60" x 72")
By Dena Angela Miskel of Somis, California, USA
Artist's Statement: "Flying in Circles was created out of my love of vintage cheddar quilts. I was drawn to secondary pattern created by the curves of the Walking in Circles block. I collected the cheddar and bee fabrics while on a quilt run in California before the pandemic and enjoyed fussy cutting some of the fabrics. I added the blue circle for a modern twist." Design Source: Walking in Circles Brigitte Heitland of Zen Chic.
Act Two
(62" x 62")
By Allison Lockwood of Pismo Beach, California, USA
Artist's Statement: "In my quilt, "Act Two", I repurposed two textile pieces that I had grown fond of; pieces from a quilt top that I made in a Louisa Smith class that I had abandoned due to measurement irregularities, and a black and white fabric with cool loopy motifs that was once an IKEA duvet cover on my bed. It was fun designing and integrating these pieces into a new quilt." Design Source: Nine 7.5" multi-colored strip pieced squares were repurposed from a quilt top that I made in a Louisa Smith class.
Party at the Cabin
(41" x 40")
By Wendy L. Starn of Alexandria, Louisiana, USA
Artist's Statement: "I started Party at the Cabin as part of an improvisational piecing challenge, using the prompts as suggestions, but pretty much doing my own thing. There are also some components from an earlier challenge to myself to learn how to piece very thin lines and curves (including those tricky spirals). The quilt came together with this joyous result!" Original Design.
Surfside and Beyond
(66" x 32")
By Jean Wells Keenan of Sisters, Oregon, USA
Artist's Statement: "The varied colors, patterns, shapes and textures of objects that are tossed in the waves along the Pacific Ocean shoreline have endured the seasons of time. Surfside and beyond explores these elements in the use of a variety of textures along with machine and hand stitching and machine piecing. Life's vital existence is evident in the unforgotten spaces between the shapes in this design." Original Design.
The Nanny
(80" x 94")
By Irene Roderick of Austin, Texas, USA
Artist's Statement: "The Nanny is part of a series entitled Conversations, responses to the opening up of society after the pandemic. I reflect on the awkwardness and uncertainty many of us felt. Also, though, on the joy of finally being able to look at each other in the eyes and give big hugs. This quilt is improvisationally designed and reminds me of a nanny out strolling with a small child and perhaps a puppy." Original Design.
Winner to be announced at Quilt Festival on Sunday, Nov. 5, at 2 pm.