Note – List current as of 5/6/21. More to be added later.
By July 1, 2021: Notifications emailed to all artists who submitted
August 6, 2021: Last day to receive quilts in office – Contact us with any questions.
TBA: Notification of winners. (ONLY winners are contacted.)
TBA: Winners Celebration
October 27, 2021: Preview Night at International Quilt Festival
October 28 – October 31, 2021: International Quilt Festival/Houston (quilts on display)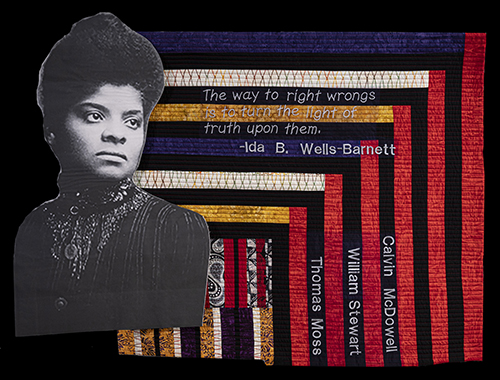 Ida B. Wells—For the Record (40" x 40") by Tomasita Louviere-Ligons.
Access Delayed: African-American Suffragists' Courageous Influence on the 19th Amendment
Curated by Tomasita Louviere-Ligons and Sharon Mooney
African-American women organized, fought, and marched for the right to vote, but accounts of their contributions have often been ignored and invisible in the history of Women's Suffrage Movement. These quilts celebrate the efforts and influence of the many African-American suffragists to gain the right to vote for ALL women with the ratification of the 19th Amendment.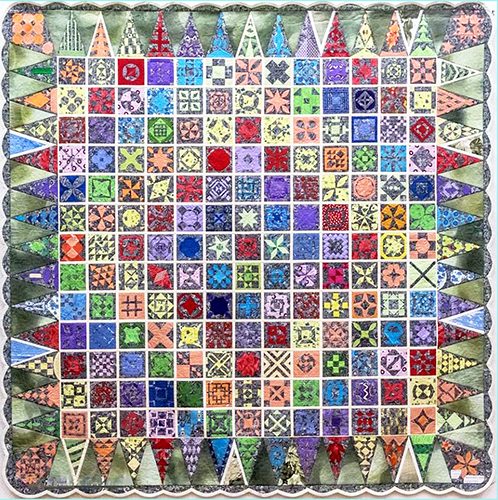 Dream Image (83" x 83") by Galina Mochalova. Design source: Inspired by Jane A. Stickle (1863) quilt and Brenda Papadakis book Dear Jane The Two Hundred Twenty-Five patterns from the 1863 Jane A. Stickle Quilt and Iryna Moores' guide.
Across the Sea's Timeless Quilts
A collection of quilts inspired by Jane A. Stickle's 1863 quilt and made by Russian-speaking women from all over the world. In 2014, the group decided to assemble their quilts block-by-block. In January 2018, the group was invited to participate in a quilt show in St. Petersburg, Russia and showcase their efforts, where many of them were able to meet in person for the first time.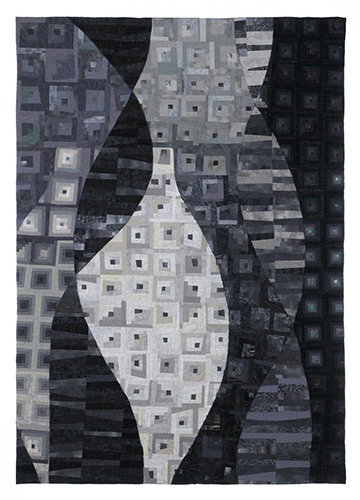 Going to the Beginning (46" x 65") by Jungmi Kim.
Bland But Bold. The Color of Uncolored Textiles
Organized by Sunhee Oh and Jaeyoung Eom
Fifteen Korean quilters present an exhibition of art quilts inspired by "so-saek," a Korean word meaning the color of uncolored textiles. The resulting quilts mix-and-match contemporary fabrics with traditional textiles and the latest stitch techniques, with each quilter interpreting the main theme differently.
Days of Summer (front) and Winter Solstice (back) (91" x 88") by Kathy York.

Kathy York created a collection of quilts that weave together meaning and story and invites the viewer to literally see "both sides" of the quilt. The front tells one side of a story, while the back tells an opposing or contrasting viewpoint. The quilting designs integrate both sides.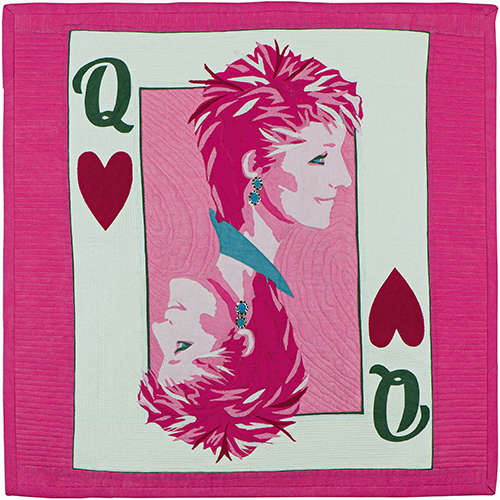 Queen of Hearts by Kathy Allen
The Diana Cherrywood Challenge

Curated by Karla Overland
Organized by Donna Anderson
The annual Cherrywood Challenge resumes with this gorgeous collection of pink quilts honoring the late Diana, Princess of Wales. Participants were asked to memorialize Diana using a limited palette of hand-dyed fabric from Cherrywood. Because the quilts are all the same color and size (20" x 20"), the entire exhibit makes a striking impact, much like the legacy Diana left behind.
Spring (60" x 48") by Ann Loveless. Design source: Steve Loveless photo.
Dune Seasons by Artist: Ann Loveless
This exhibit consists of eight panels depicting the beauty of northern Michigan and its seasonal changes. Working from photographs, Loveless created her realistic panoramic landscape scenes with her original "collage" art quilt technique. Spring symbolizes renewal with awakening leaves and flowers. Summer depicts a sunset, water, dune grass, and birch trees in full bloom. Autumn is represented by warm and vivid colors. And Winter is showcased as nature goes into hibernation.

Artists included are (clockwise from top left): B.J. Adams, Victoria Findlay Wolfe, Libby Williamson, Pamela Mick, Maggie Dillon, and Sue Kluber.
Eye Contact: Making a Connection
Curated by Lisa Ellis and Barbara Hollinger of Sacred Threads
Even before social distancing to slow the COVID-19 pandemic, we find ourselves in a trying time where politics, race, and religion have divided us, and sometimes personal connections to those around us are hard to establish. Many are also feeling isolated and invisible. That momentary connection when eyes meet reignites the spark of humanity that connects us all. This exhibit invites you to lift your head, gaze into someone's eyes, and make a connection to help bridge the distance.
The Mute Swan (46" x 35") by Sandra Mollon. Design source: Ken Miracle photograph
Flying High: For the Love of Birds
This exhibition celebrates our feathered friends and the many ways in which they help sustain our delicate ecosystems. The exhibit includes contemporary, traditional, and studio art quilts. The quilts are traditional and art quilt interpretations of wild birds, details of their plumage, nests, eggs, habitats, song, food, and even bird feeders.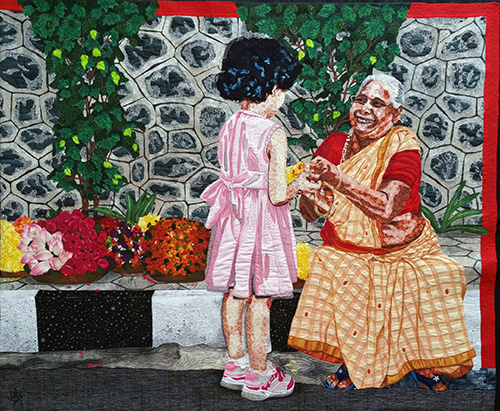 Anjalé (48" x 36") by Chitra Mandanna
Artists from all around the world incorporate influences from their own cultures into the design and technique of their quilts. This prestigious, long-running international showcase will include recent quilts by international artists who create works inspired by such.
Birds and Blooms (48" x 56") by Lori Lee Triplett.Inspired by blocks from the 1856 Huguenot Friendship Quilt Triplett Sisters Block of the Month.
Huguenot Friendship Quilt
Curated by Lori Lee Triplett and Kay Triplett
The original antique 1856 Huguenot Friendship Quilt is featured in the book Pioneer Quilts: Prairie Settlers Life in Fabric. This quilt was the first Triplett Sisters Block of the Month, which inspired this exhibition. Each quilter interpreted the pattern based on their own interest whether bees, special fabrics, or a love of birds creating a wide range of quilts all from the same pattern.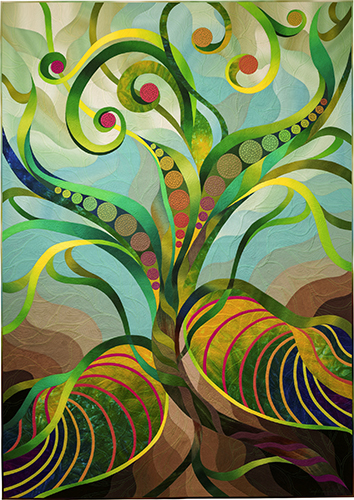 Vine #2 (61" x 86") by Caryl Bryer Fallert-Gentry.
Just as quilters create beautiful pieces of art with fabric, florists and gardeners cultivate works of beauty from the soil. International Quilt Festival will showcase floral quilts from across the spectrum in color and splendor in the special exhibit.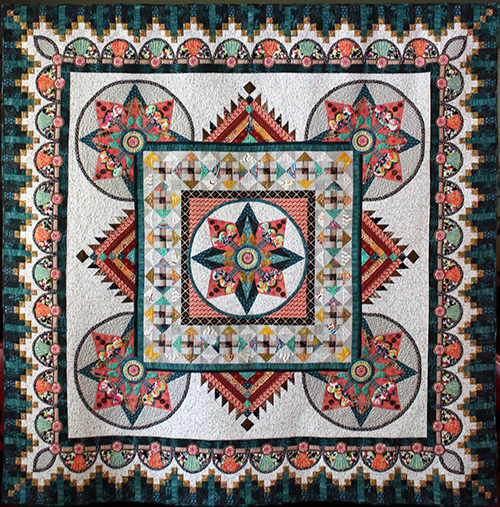 The FCQ Enterprise (76" x 76"), by Karla Hogan, inspired by the work of Catherine Butterworth
In the American Tradition

Contemporary quiltmakers often look to the art form's rich tradition for inspiration in their own works. This exhibit features recently-made quilts that incorporate traditional blocks, styles, and/or techniques.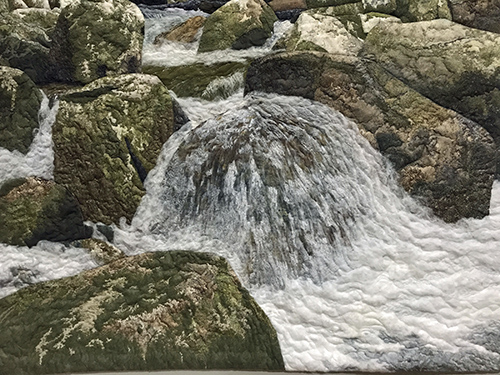 Acadia`s Own: Cobblestone Bridge (47" x 63") by Barbara Binotto
From valleys and volcanoes to mountains to monuments, landscapes often inspire artists, including many in the quilt world. This exhibit features recently-made quilts that feature many different landscapes from all over the world.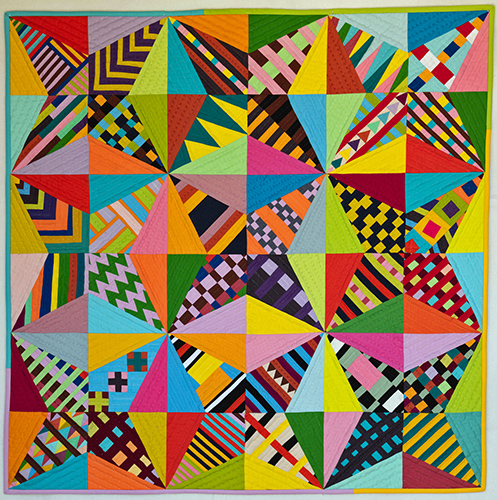 Stovetop (36" x 36") by Linda Leake
Modern Quilt Guild Showcase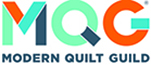 Curated by the Staff of The Modern Quilt Guild
Members of Modern Quilt Guild chapters from around the world submitted their creations for this exhibit which showcase traditional quilting techniques and also incorporate a Modern design aesthetic.
Cabernet by Kris Vierra. Design source, Simplicity Pattern 2172.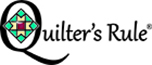 Kris Vierra has taken the elegant and romantic garments from the Victorian era (1837-1901) and made them fashions to admire. These garments are quilted and trimmed to great effect. The accessories may even make you think of the more modern "steampunk" usages. These quilted garments illustrate some of the most interesting facets of Victorian fashion.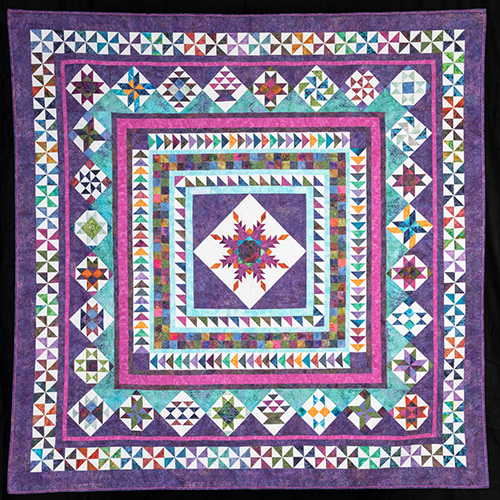 Joyful Journey (87" x 87") by Barbara Black and quilted by Pamela Dransfeldt. Design sources: Pattern—Washington Medallion by Sue Garman
A look back (and ahead) at the life and work of quiltmaker Barbara Black. She began in 1985 with simple baby quilts from pre-cut fabric, and today creates challenging quilts filled with small pieces and complex design. This journey shows her progression from new quiltmaker to quilt artist. Precision piecing and beautiful color and design are the hallmarks of Barbara's passionate quilt journey.
Mother Clucker (36" x 36") by Timna Tarr.

Creating portraits of farm animals began as a way for Timna Tarr to explore making photo-realistic quilts. Moving through the series, she realized that the images highlight the dignity and individual personalities in each animal. The construction process starts with a blown-up photograph and ends with the piecing of the eye. That's because Timna says she needs to get to know each animal before tackling "the window to the soul."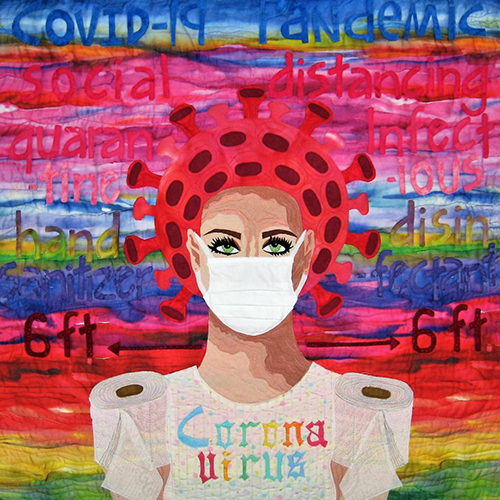 My Pandemic Quilt (32" x 31.5) by Laurie Ceesay Landree
Pandemic: Life in Lockdown

Pandemic: Life in Lockdown During the COVID-19 pandemic, many quilters around the world have used their time in lockdown or quarantine to create pieces that express their fears, loneliness, and loss, as well as what they have learned in the past year. They shared their creative journey with us in this exhibit.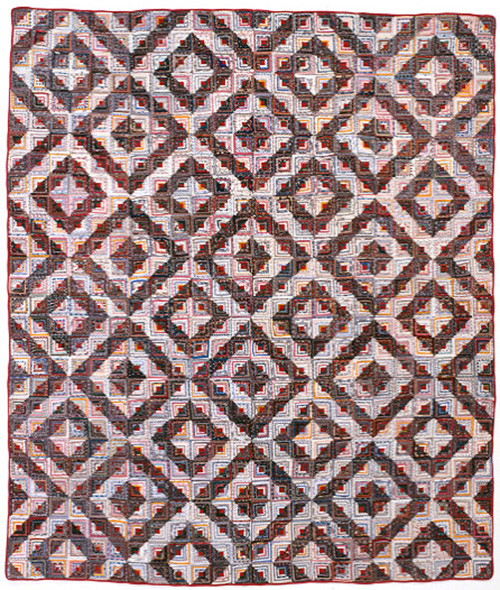 Tiny Log Cabin (68.5" x 69") Unknown artist
Quilt collectors Karey Bresenhan and Nancy O'Bryant Puentes took a trip back in time when they selected these antique pieced quilts from the International Quilt Festival Collection to showcase! Spanning generations of quiltmaking, these selections include everything from a Strippy to a New York Beauty, from a Mariner's Compass to a Whig's Defeat, and much more! If you love pieced quilts, you'll enjoy viewing these!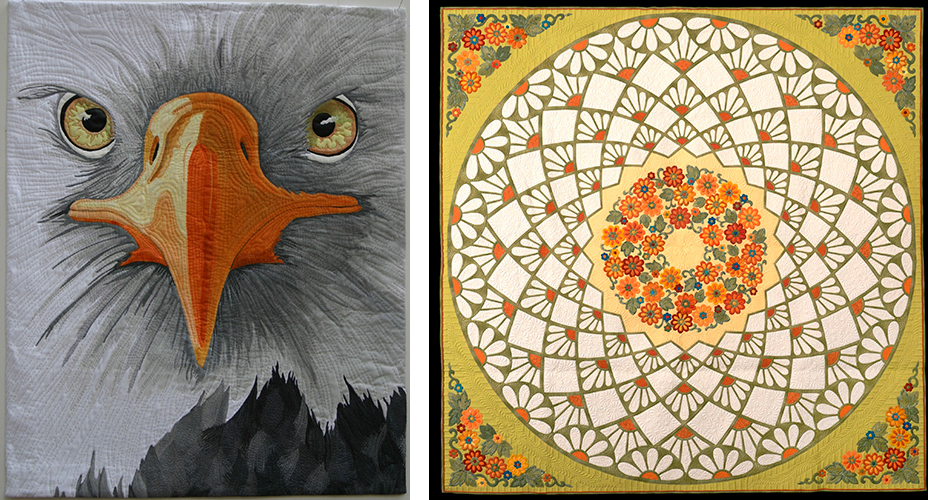 Eagle Eyes (18" x 22") by Margery Hedges (left) Moonflower (78" x 78") by Molly Hamilton-McNally (right)
Rising Stars: Margery Hedges and Molly Hamilton-McNally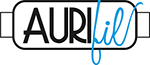 This annual exhibit features the works of specially selected quilt artists who have developed and demonstrated substantial creative growth in recent years. This exhibit highlights the works of "rising stars" Margery Hedges and Molly Hamilton-McNally.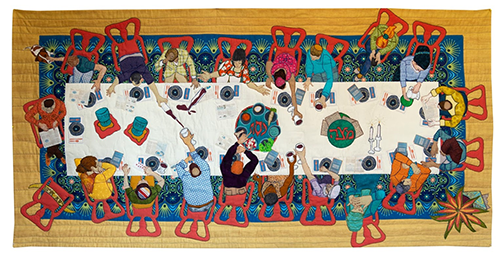 The Passover Seder (60" x 30") by Lee F. Schwimmer
In today's fractured, divisive world, connections —both intentional and accidental—are more important than ever. We are bound by love, rituals, family, and faith. We are also connected to our past, our community both near and far, and to nature. This exhibit celebrates what it's like to be connected and find commonalities with others.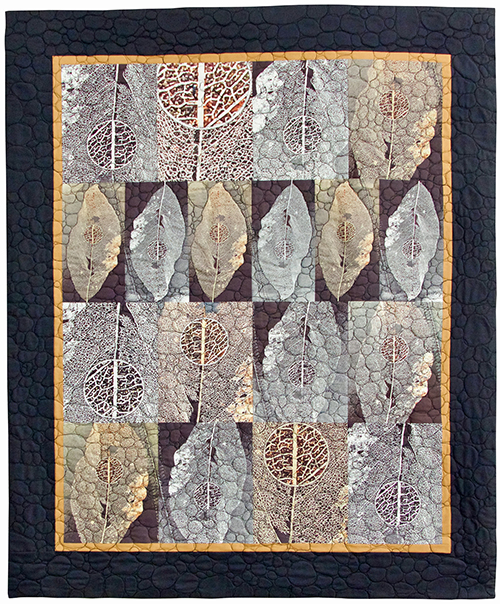 Leaf and Leather (41" x 48"), by Maggie Vanderweit
Our known world stretches far beyond what we can see with the unaided eye. Microscopes, magnifying glasses, and virtual imaging techniques reveal a world of great beauty and complexity beyond regular vision. These tiny details can provide us with an abundance of artistic inspiration. In this exhibit, artists were encouraged to explore a corner of the world at high magnification, capturing tiny wonders at the microscopic level, or by zooming in on a larger object to show its smallest details.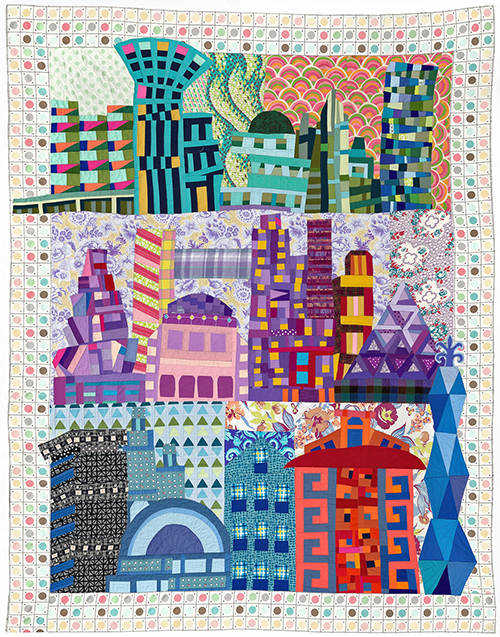 Scrap City 2 (58" x 77") by Cathy Perlmutter

Buildings have a long history of inspiring the creative designs of quiltmakers. In the 19th century, American quilters developed classic architectural patterns such as Log Cabin, Schoolhouse, and Brick Wall. This annual juried exhibit challenges quiltmakers to create works based on architectural themes and inspirations.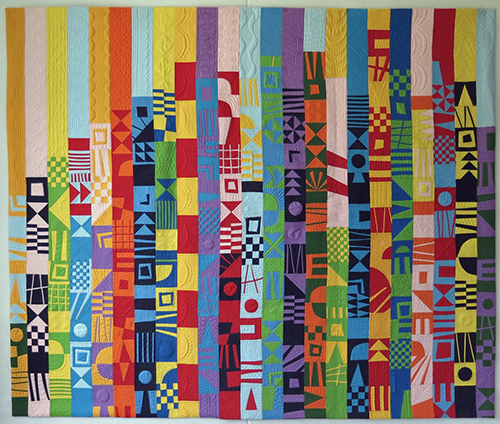 Peace and Freedom: The Border Wall (60" x 72"), by Nancy Goodman

Throughout the world many changes are occurring in many areas of life, society, and interpersonal relationships. Viewpoints are evolving. We are all experiencing change. Change is frightening, but change can also be positive and invigorating. Art not only illustrates change but can also influence it. Use your talent to express in a creative work what brings us together and illustrate how listening to change and reaching out can open doors for all people.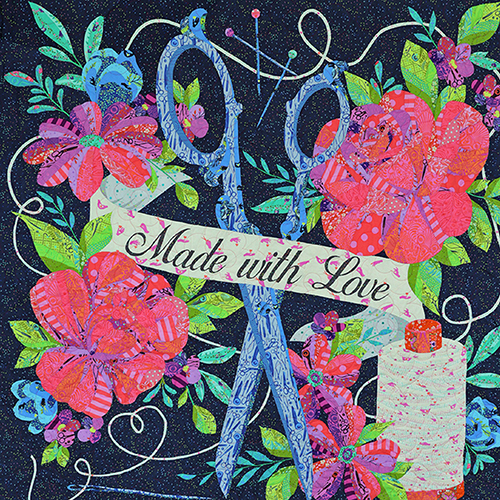 Made with Love (60" x 60") by Jackie Smith
Tula Pink HomeMade Challenge
Making something be it quilts or otherwise with our own hands—and often at home—can bind us together. The focus of this exhibit are items that celebrate our community of makers and all the glory, attitude and beauty that comes from the privilege of saying "Hey, I made that!" It is about creativity, intension, approach.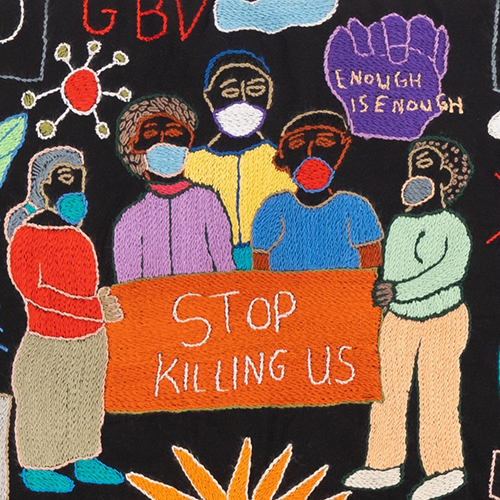 A Year in Covid—December 2020 (39" x 39") by Elizabeth Malete.
Women from The Winterveld
Organized by Richard Kennair
The Mapula Embroideries community has been together since 1991. The group in the Winterveld, South Africa, tells stories through needle and thread. Another group in Pretoria makes sure that the world knows about them, and assists in selling their products to a worldwide audience. This embroidery combines the tradition of the Bayeux Tapestry in the style of Folk Art. This exhibit also chronicles the impacts of COVID-19 on Mapula Embroideries women themselves.