----------------------------
List current as of 9/14/22.
By July 1, 2021: Notifications emailed to all artists who submitted
August 6, 2021: Last day to receive quilts in office – Contact us with any questions.
TBA: Notification of winners. (ONLY winners are contacted.)
TBA: Winners Celebration
October 27, 2021: Preview Night at International Quilt Festival
October 28 – October 31, 2021: International Quilt Festival/Houston (quilts on display)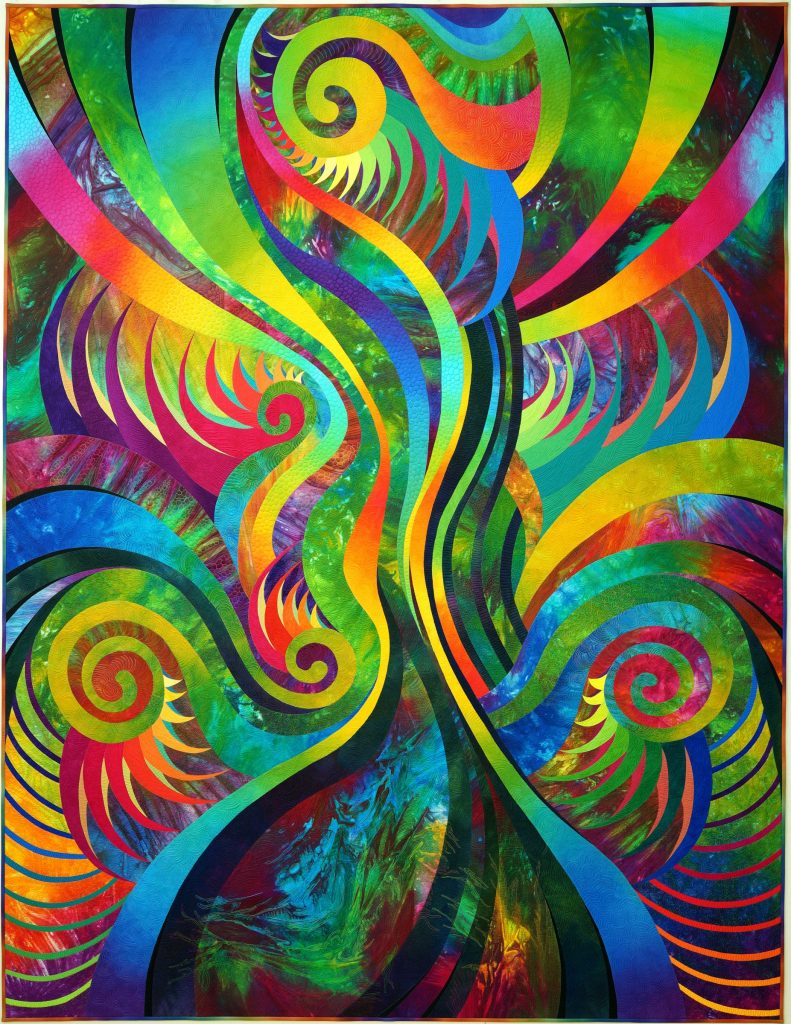 Celebration #2 (64" x 84") Caryl Bryer Fallert-Gentry, The Best of Show Winner.
This annual judged competition was open to quilters working in any style, and who liked to play with color to create a vibrant work! A $1,000 Best of Show Award and three $500 prizes each in Traditional, Modern, and Art categories were awarded by eQuilter.com.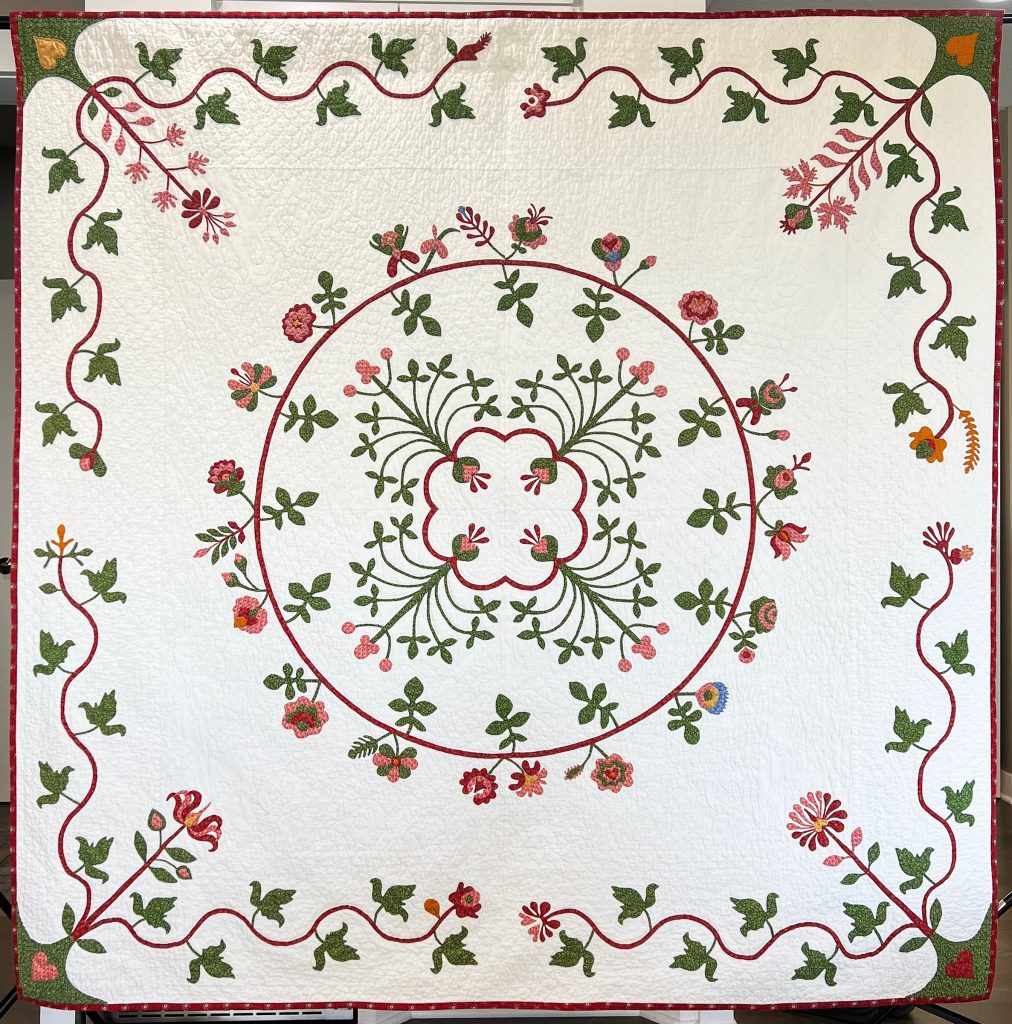 Catherine's Garden in Springtime by Dawn Cook-Ronningen. The 2022 Houston Quilt Festival Signature Quilt.
Antique Appliqué Quilts Revisited
Curated by Dawn Cook-Ronningen
Newly-made quilts reflecting 19th century designs which originated from Ronningen's (aka "The Collector with a Needle") antique quilt collection. Using traditional and contemporary techniques and materials, these quilts owe their roots to 19th century quilters.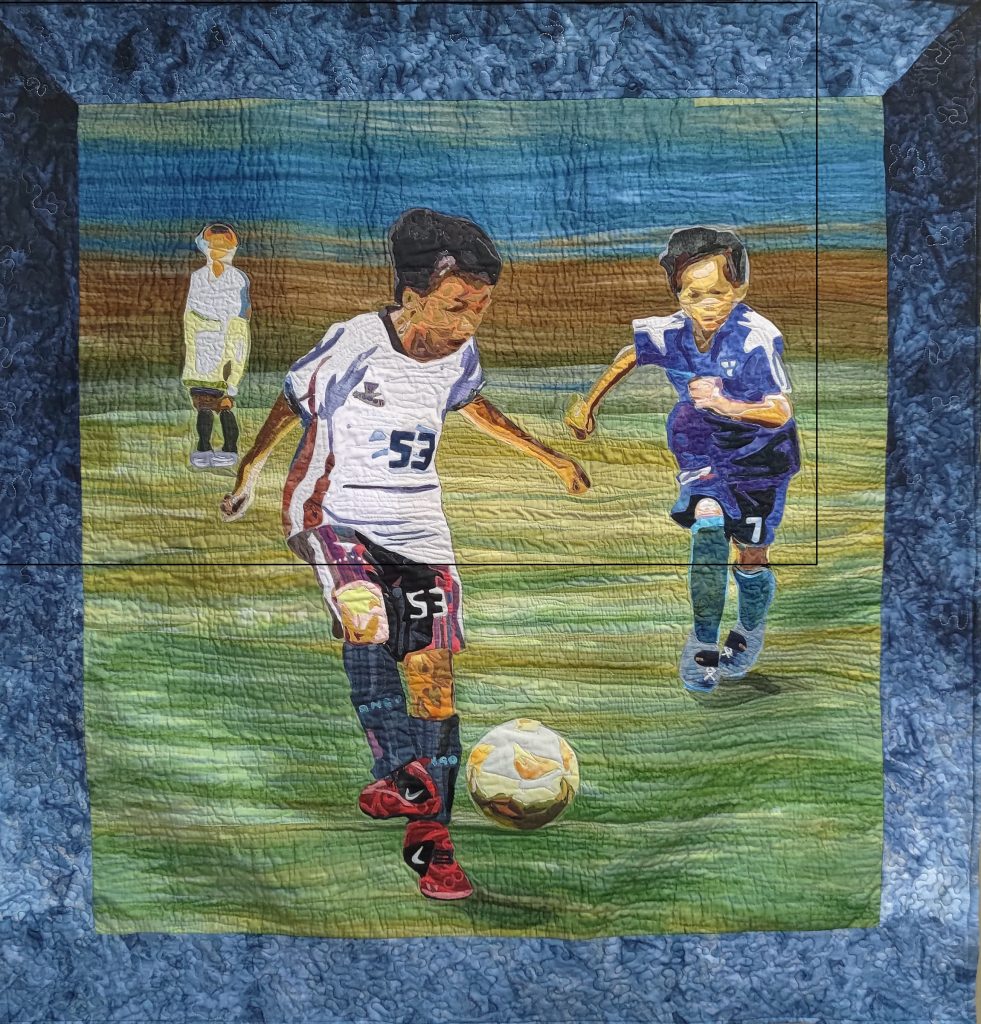 Memory Moment of Grissom (46.25" x 48.14") by Amy Lee.
Quilting can be a showing of love and honor by an artist. For this exhibit, artists depicted how they, a family member, or a friend celebrated a loved one's wedding, birth, birthday, or memorial.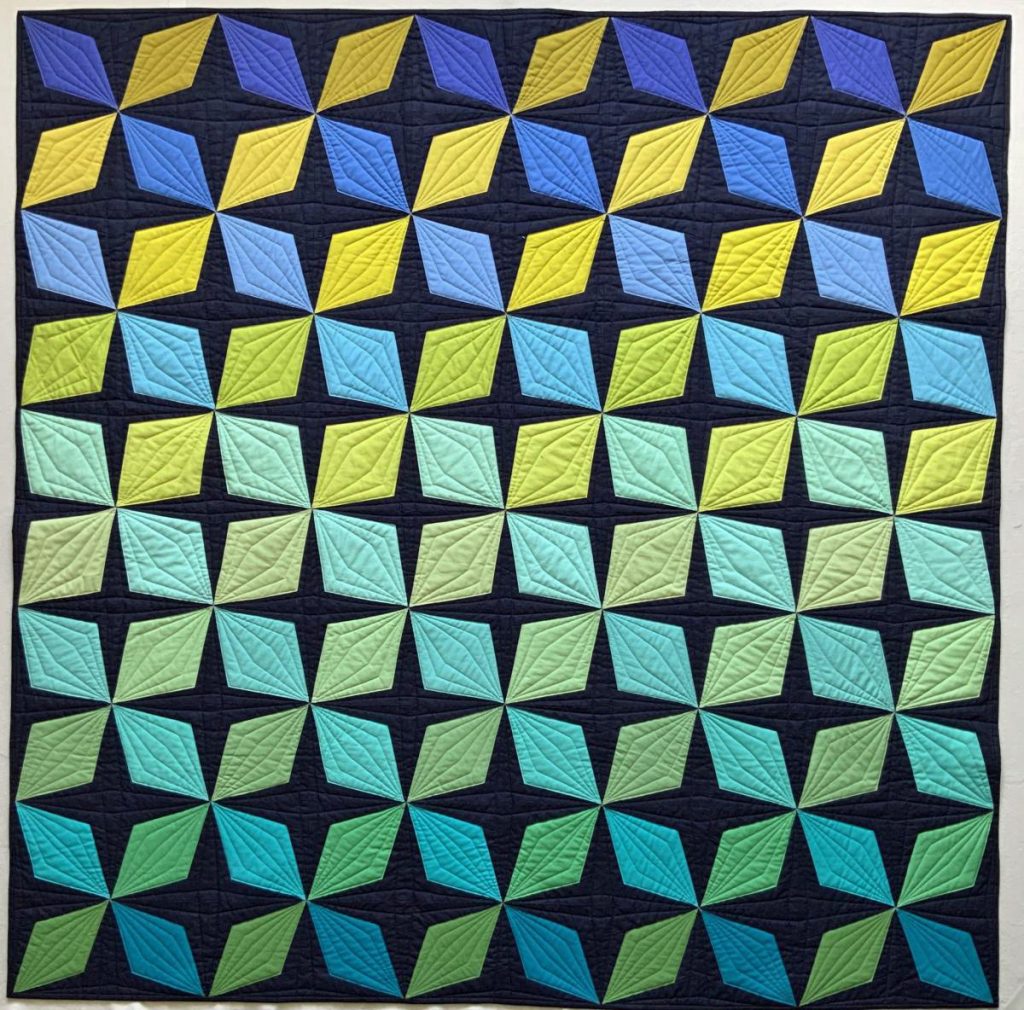 Victor V (60" x 60") by Carolina Oneto.
Color Sequences and Improvisation
Curated by Carolina Oneto
Oneto's work is a journey through color, curves, improvisation, and mathematics. These are disciplines that she develops in pieces rife with movement. They are both improvised and created with time, thought, and structure in patterns. She manifests both precision and impeccable craft, and uses of color as a creative language.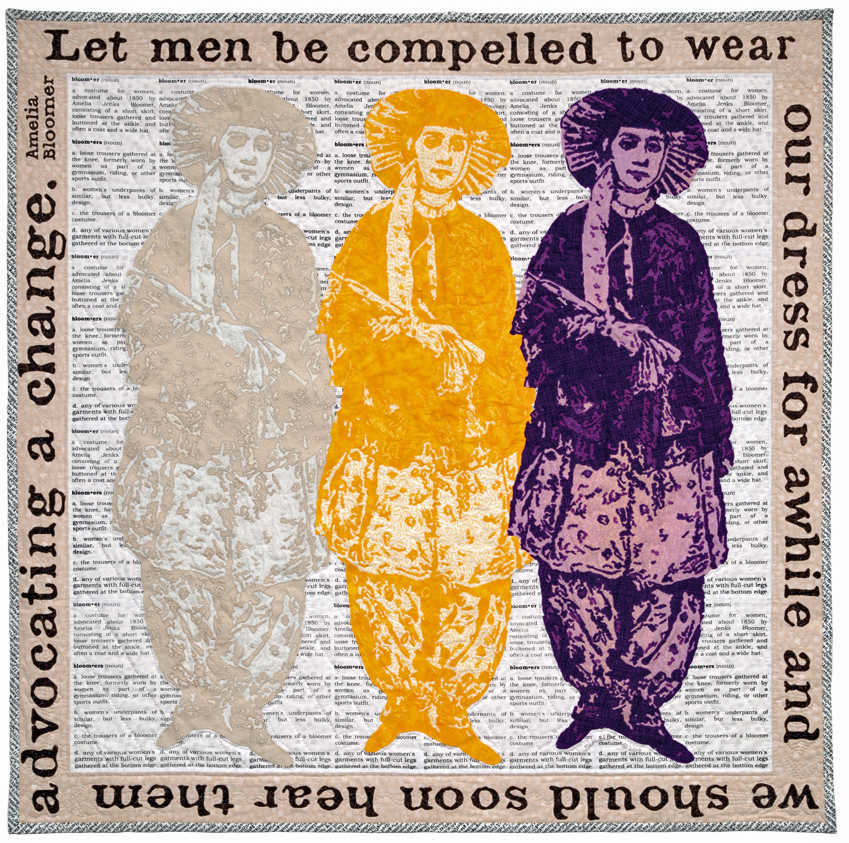 Amelia Bloomer: Advocating a Change (48" x 48") by Robin Schwalb.
Curated by Dr. Sandra Sider and Pamela Weeks
A touring exhibition of studio art quilts to commemorate the 100th anniversary of the 19th Amendment to the U.S. Constitution, granting women the right to vote. Twenty-eight award-winning artists from across the United States accepted the invitation to create new works celebrating women's suffrage and their eventual triumph.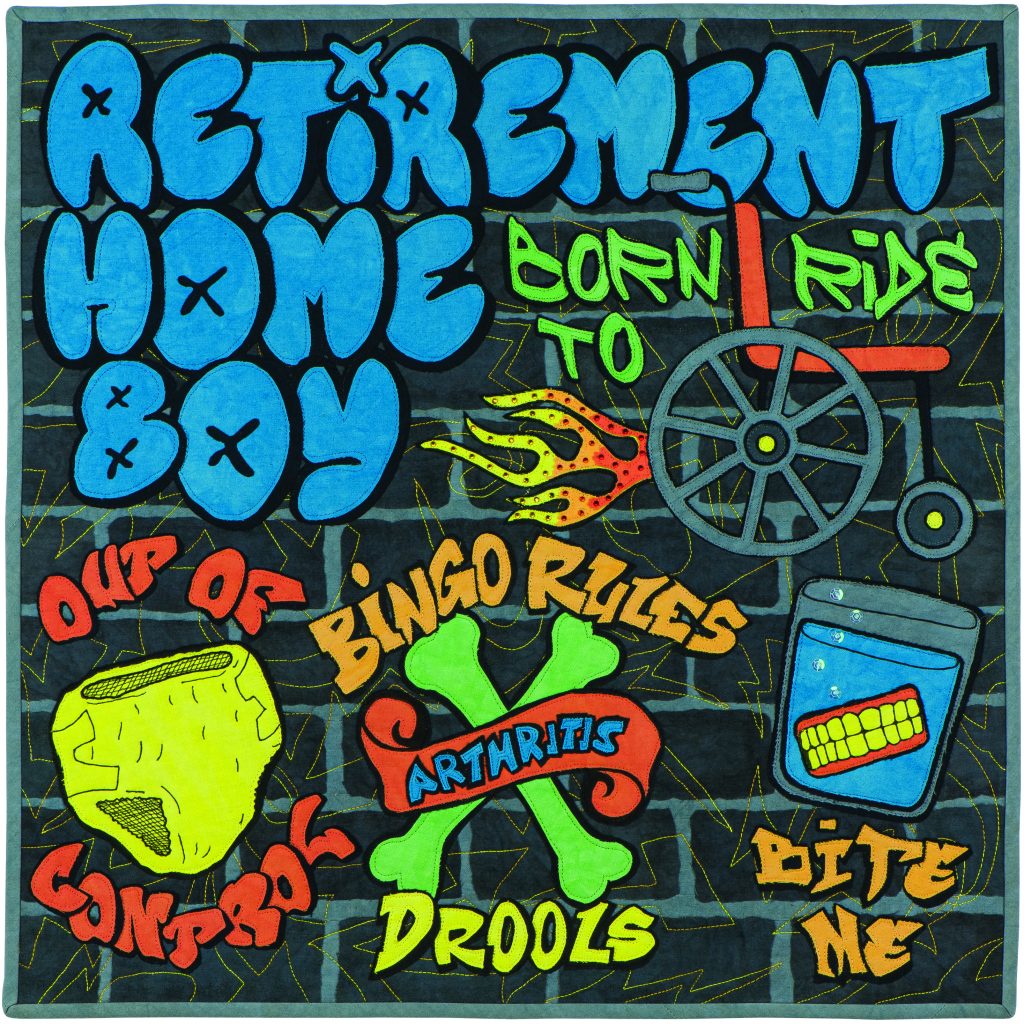 Tagging the Retirement Home by Etta McFarland
Graffiti Cherrywood Challenge
Curated by Karla Overland
Organized by Donna Anderson
Graffiti ranges from simple written words to elaborate wall paintings, and has existed since ancient times. For this challenge, artists focused on the graphic beauty and intense colors of this urban expression.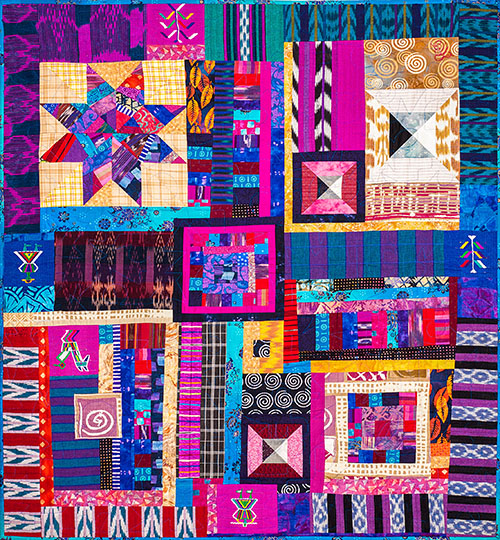 Purple Cross (Cruz de Semana Santa) (46" x 52") by Priscilla Bianchi with Laura Lee Fritz.
The Guatemalan Fabric of My Life: Priscilla Bianchi
As a native Guatemalan, Bianchi's work is a fusion of American and Mayan Guatemalan textile traditions which transcend culture, race, language, and gender. These art quilts document her journey through a 25-year artistic career. The pieces show how she began work in an American quiltmaking traditional style and evolved by incorporating imagery, textiles, designs, and symbols from her native Guatemala.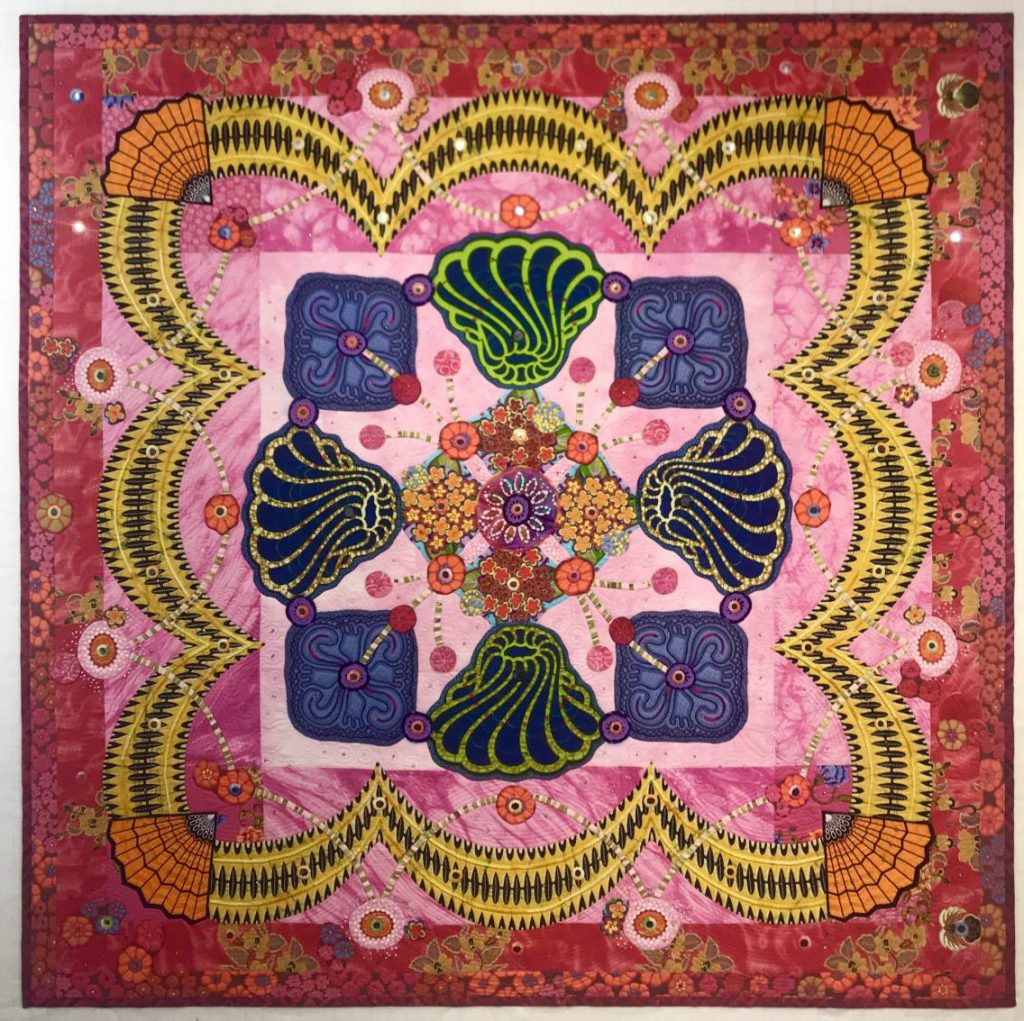 Pink Breath of Heaven (55" x 55") by Allison Lockwood.
Artists from all around the world incorporate influences from their own cultures into the design and technique of their quilts. This prestigious, long-running international showcase includes recent quilts by international artists who create works inspired by such.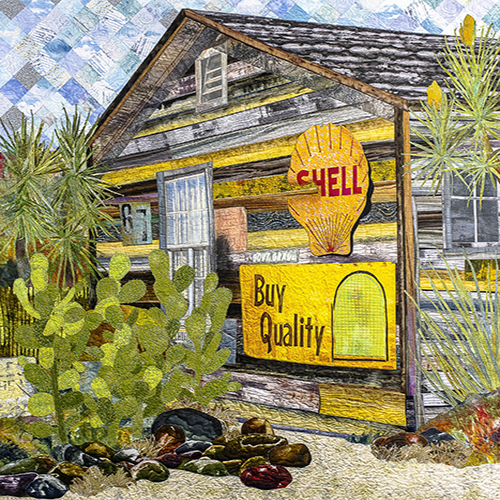 Hidden Gems (46" x 46") by Jan Soules.
Highlights From The Frank Klein Collection
Curated by Dr. Sandra Sider co-curated by Ele Chew
Frank Klein is a Texas art collector with an emphasis on the art quilt. His love of family, photography, and nature have developed a collection of fine art quilts that inspires the nature lover in all of us. The collection represents some of his favorite quilts collected over the last decade.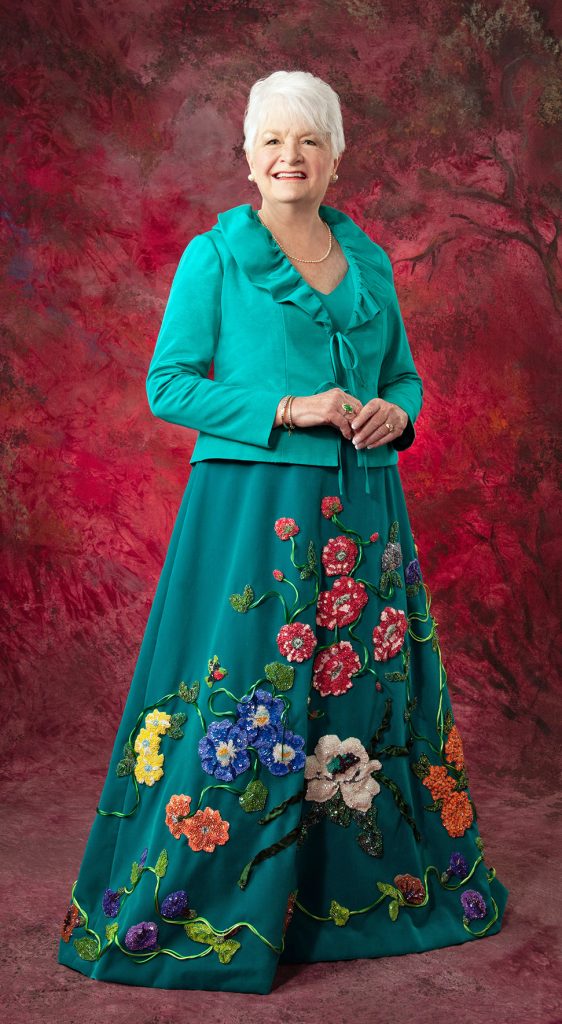 Cindy Mays Cochran 2013-2015
Houston Junior Forum: Bead Dazzled
Curated by Houston Junior Forum
Organized by Janet Juban, Carolyn Kares and Debbie Berner
Each year The Houston Junior Forum honors their president with an original hand-beaded skirt that is an amazing example of needlework arts. This exhibit assembles intricately beaded and appliquéd skirts from their seven-decade collection. Early skirts were worn to "Fiesta" themed fundraisers and reflect designs of the colorful "china poblana" Mexican ensemble. More recent designs reflect history or interests of presidents.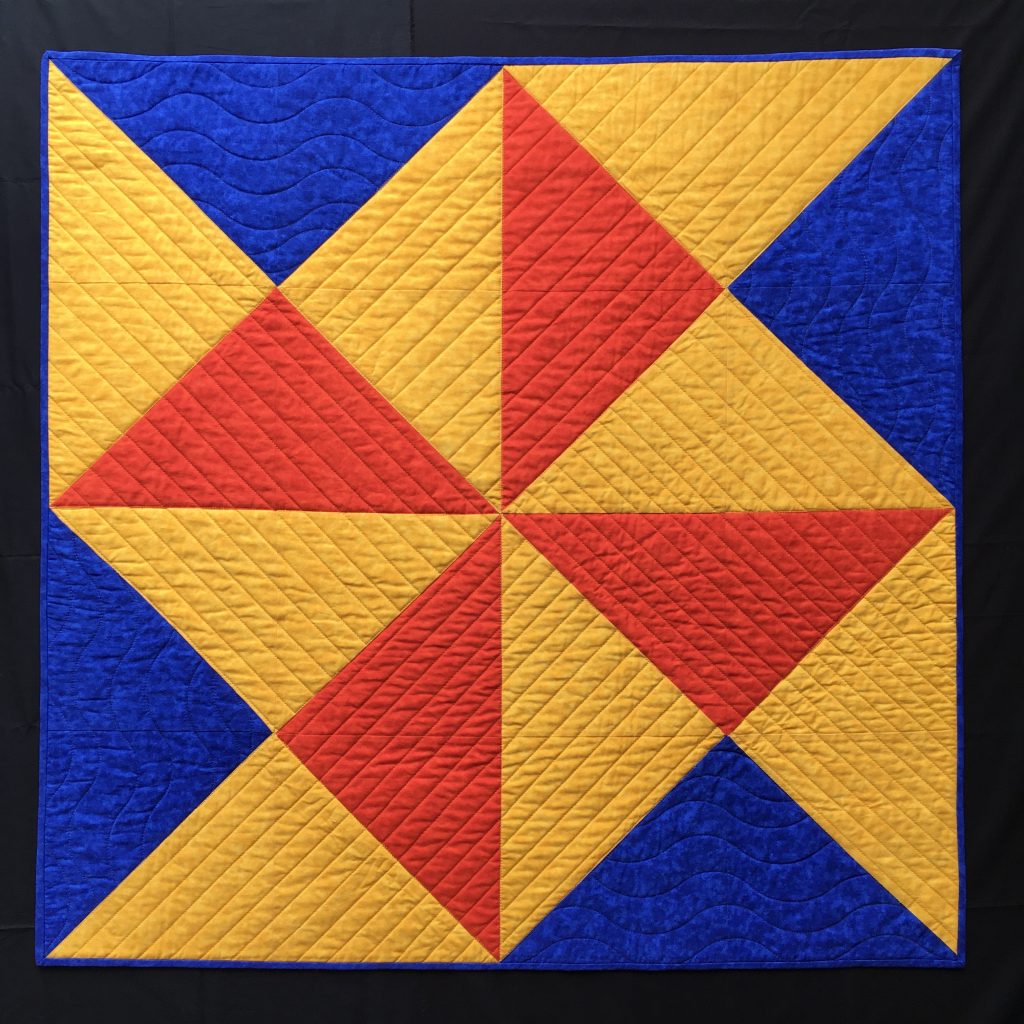 The Electric Fan (36" x 36") by Teresa Schoonover.
I Spy…a Barn Quilt! Barn Quilts from Across America for the Sunday Driver
Curated by Kathleen Mitchell
"Barn Quilts" are all over the U.S! Take a drive across rural roads and even cities and towns, and you will find quilt blocks painted on barns, silos, homes, fence rows, and other structures in bright, cheery colors. And they are far larger than any stitched blocks! In this exhibit, take a "Sunday drive" and play your own game of "I Spy."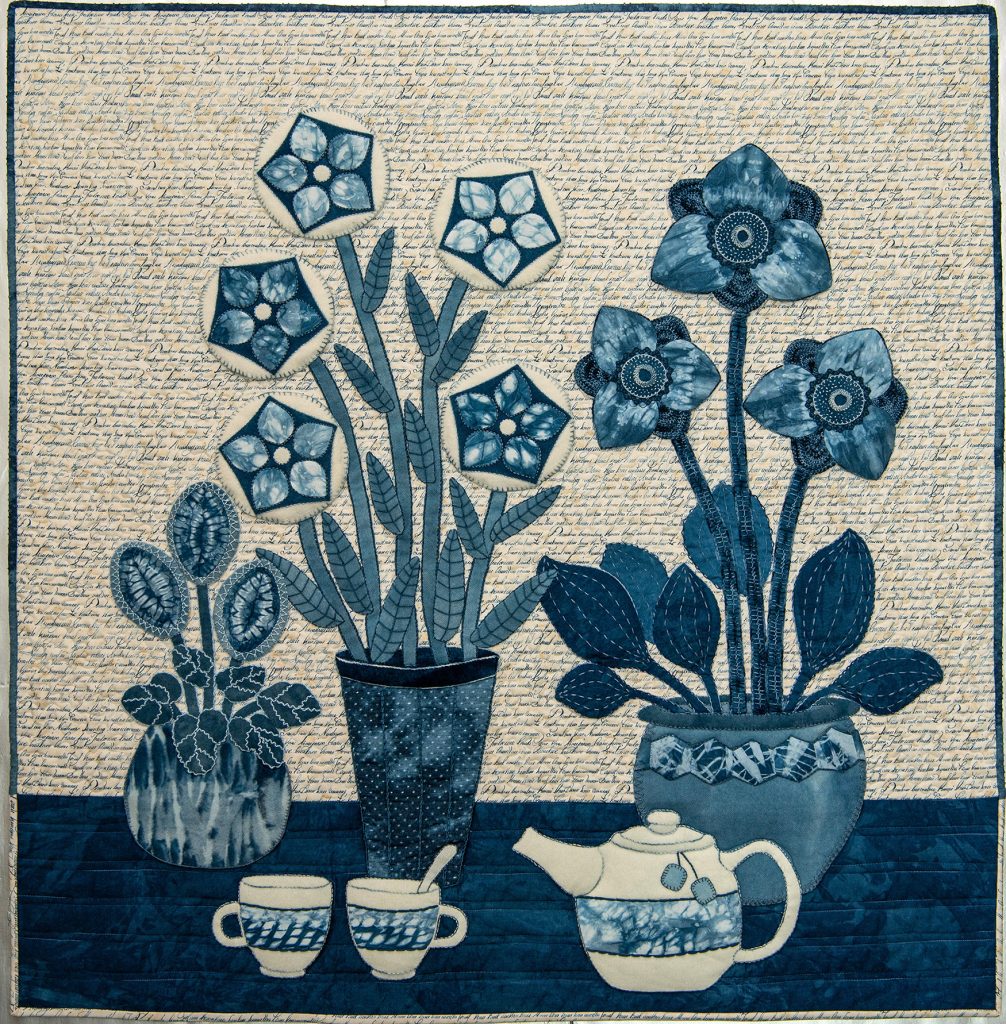 Dyeing for a Cup of Tea (40" x 42") by Felice Dahlhausen.
Just as quilters create beautiful pieces of art with fabric, florists and gardeners cultivate works of beauty from the soil. This exhibit showcases floral-inspired quilts from across the spectrum in lush color and splendor.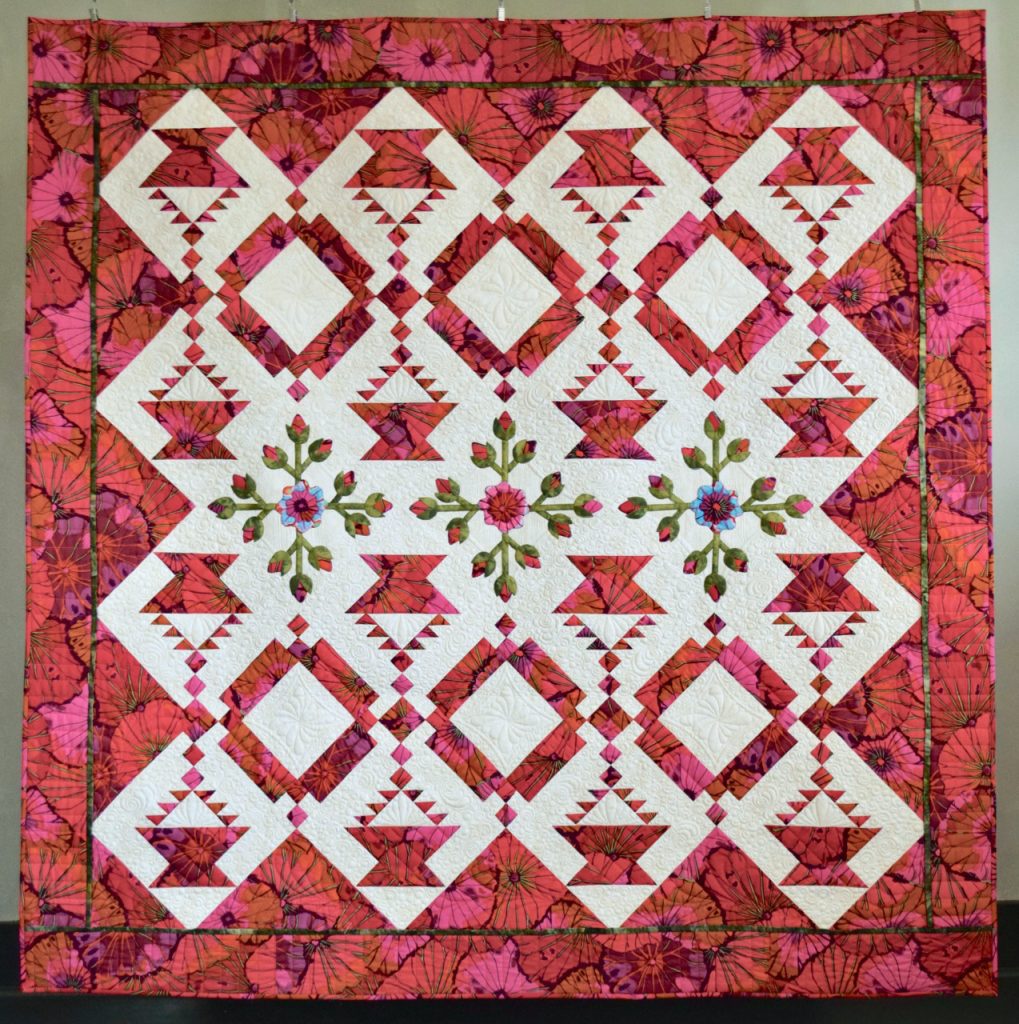 Roses Remembered (59" x 59") by Sharon Wasteney with Stacie Spradlin (Seams Divine)
In the American Tradition
Contemporary quiltmakers often look to the art form's rich tradition and history for inspiration in their own works. This exhibit features recently made quilts that incorporate traditional blocks, styles, and/or techniques.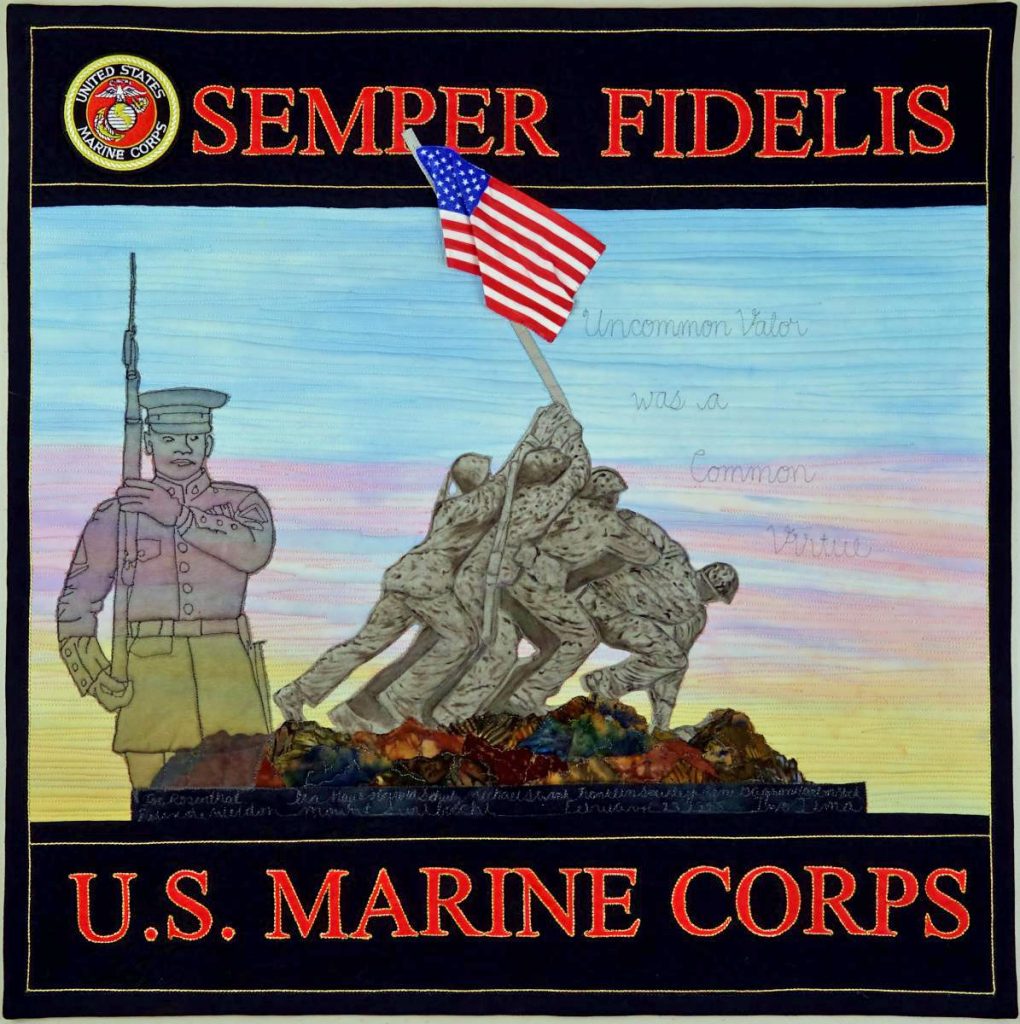 Marine Corps Memorial (24" x 24") by Sarah Ann Smith.
Inspired by Washington D.C.
To celebrate our nation's capital, many fiber artists portrayed key places and important events in the Washington, D.C. area. This exhibit showcases historical buildings, monuments, landmarks, museums, and recreational areas of the city and area, creating a visual travelogue.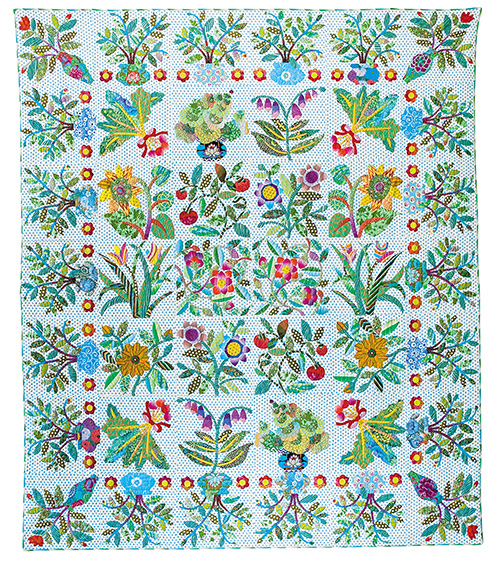 Leafy Applique (96" x 112") by Kaffe Fassett
Kaffe Fassett: 85 and Fabulous
Kaffe Fassett is the undisputed genius of color. From his partnership with Bill Gibb in which multi-colored, complex knitwear designs became his trademark, to becoming the first living textile artist to have a one-man show at the Victoria & Albert Museum, Kaffe has reigned supreme in textiles, patchwork, needle arts and more for over 50 years. As he reaches a milestone birthday this December, we reflect on his influence which has encouraged quilters across the world to embrace the brilliance of glorious colors and the beauty of bold designs in their craft and into their lives.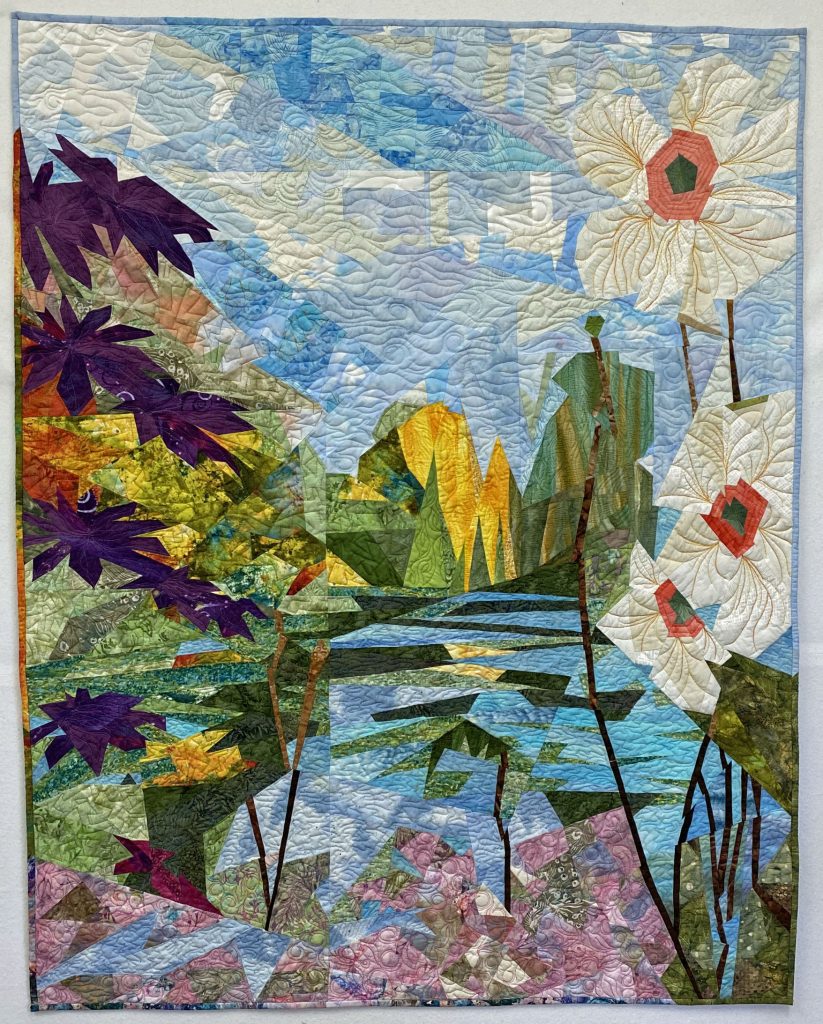 A Day in the Garden (38.25" x 48.25") by Connie Pavlovich.
From valleys and volcanoes to mountains to monuments, landscapes often inspire artists, including many in the quilt world. This expansive exhibit showcases many stunning geographical wonders.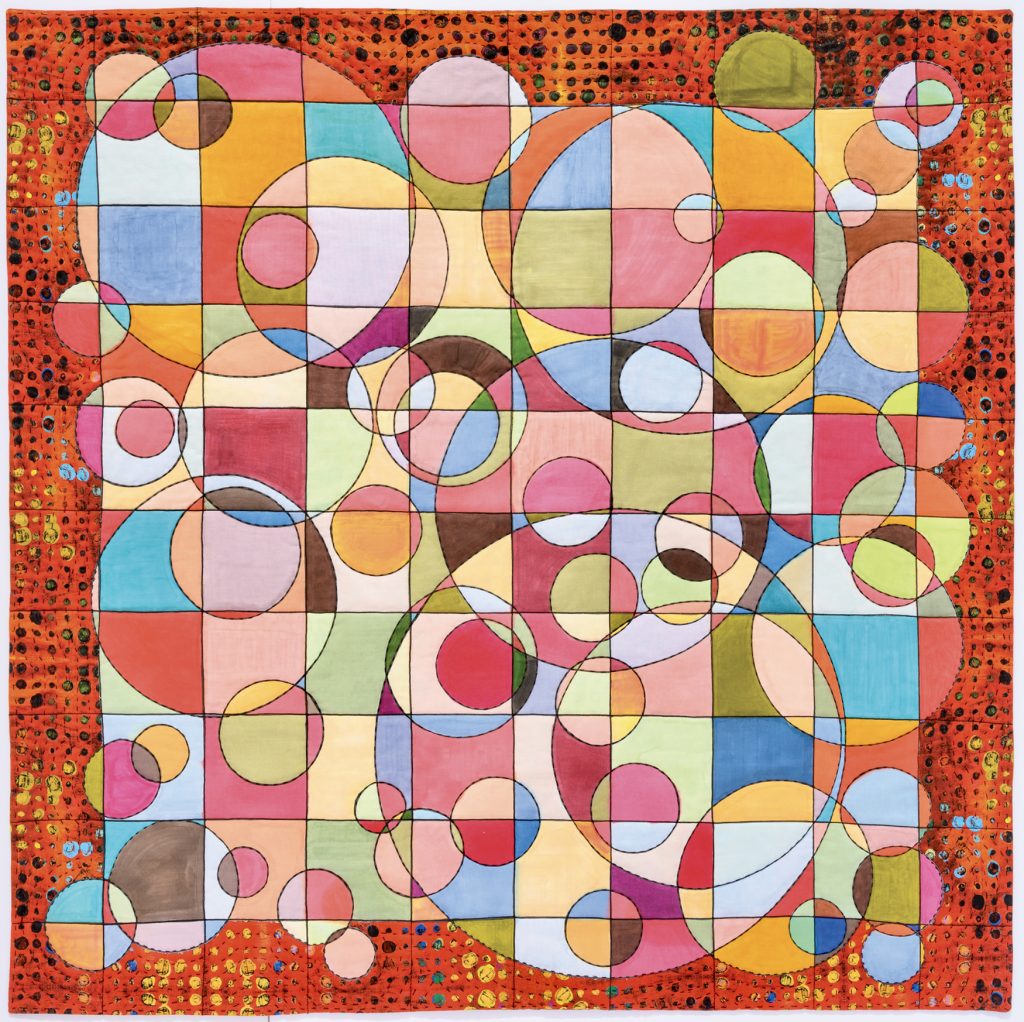 Square Pegs (39" x 39") by Katie Fowler.
Layers of Memories: Katie Fowler
Fowler's quilts reflect a lifetime of her fascinations and preoccupations. She enjoys making art about things that capture her imagination like rock stars and their songs, stories, world travel, and fractal geometry. And she's found her creative delight using fabric, paint, stitch, and scissors. The quilts in this exhibit will spark treasured memories for viewers.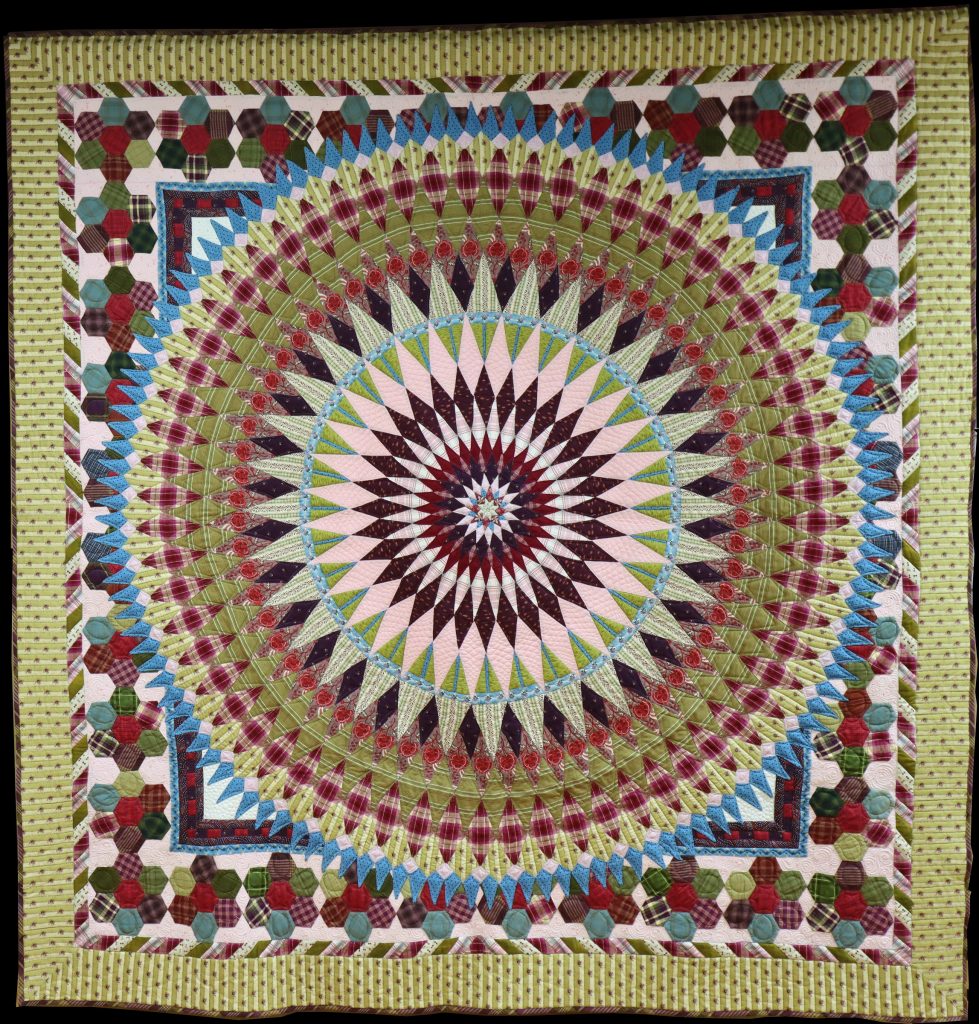 Vibrant Kaleidoscope (83" x 85') by Linda Cooper.
By study, replication, and reinterpretation, we pay homage to the anonymous quiltmaker who designed and executed this complex and beautiful antique quilt. Sheila Bishop, who named the quilt Lost Star due to its missing provenance, and her computer-whiz son Grant worked together to create the templates. Anne Dawson then produced an approachable, coherent pattern. Quilting friends rallied, each beautifully interpreting the original quilt in their own way.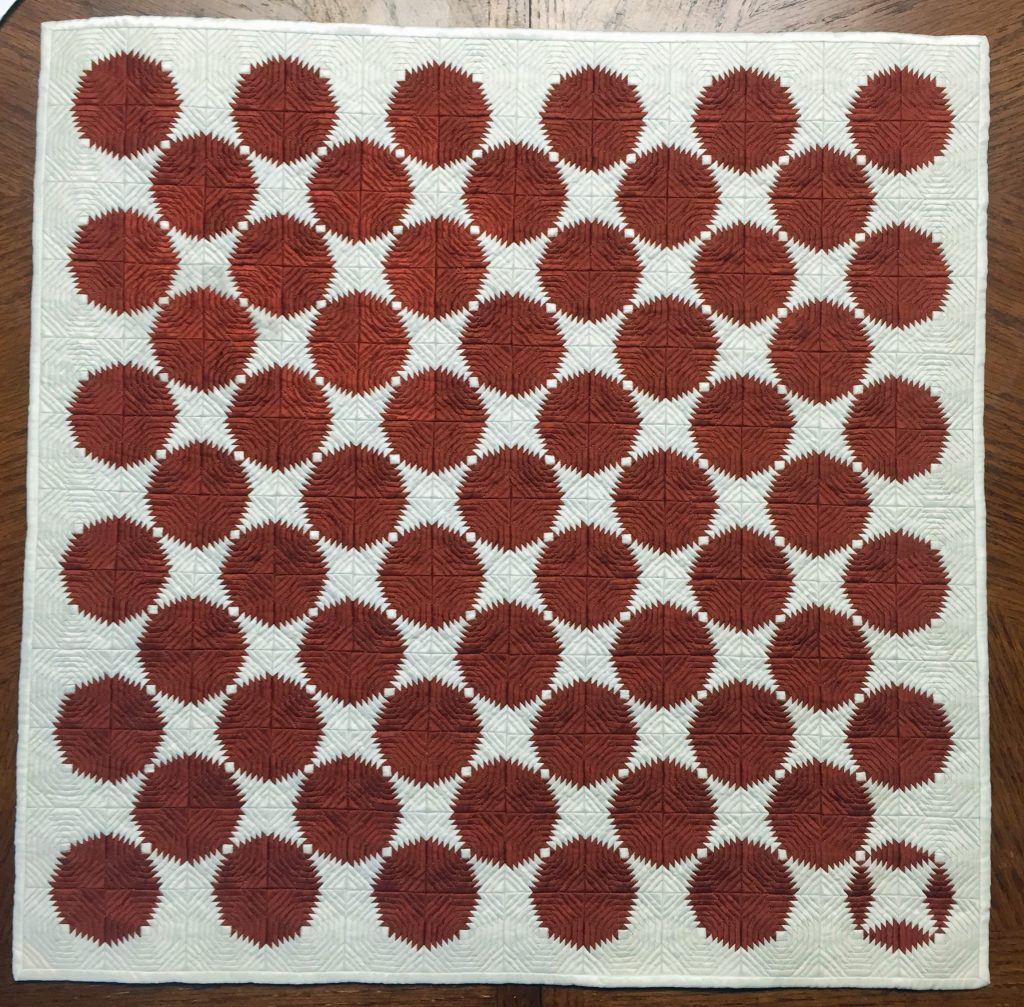 Copper Pennies (21" x 21") by Amy Pabst.
Micropiecing: 200K by Amy Pabst
This series of 21 miniature quilts focuses on the traditional Pineapple block done on a very small scale. All blocks are 2" or less, and all strips are 1/8" wide or less. Each quilt has thousands of pieces, and the series was considered complete when the total number of pieces reached 201,751. Eighteen of these quilts were pandemic quilts, completed after March 2020. The quilts are machine foundation pieced and quilted in the ditch.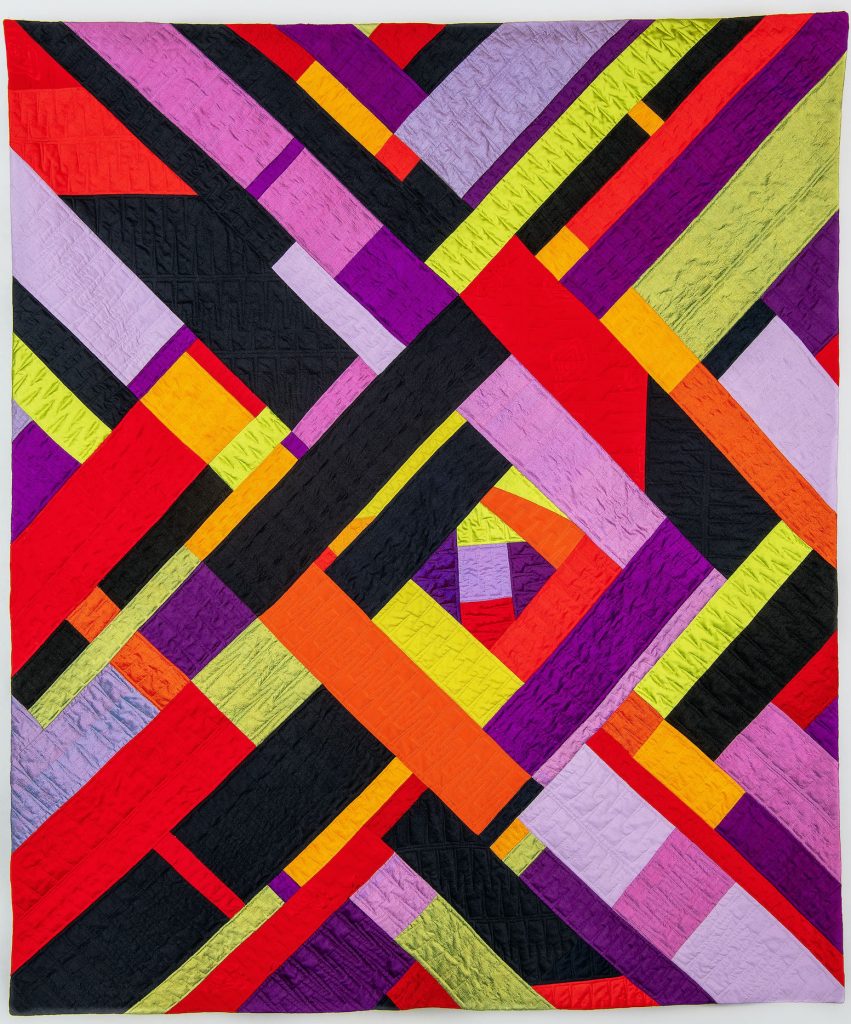 21st Century Modern Log Cabin (46" x 55') by Geraldine Warner.
The Modern Quilt Guild—Points of View from QuiltCon 2022
Curated by Amanda Hines Bernay
This exhibit showcases modern quilts that feature a clear focal point surrounded by the rest of the design elements in the quilt, drawing the eye in. These quilts, made by MQG members, were selected from quilts that hung at QuiltCon 2022 in Phoenix.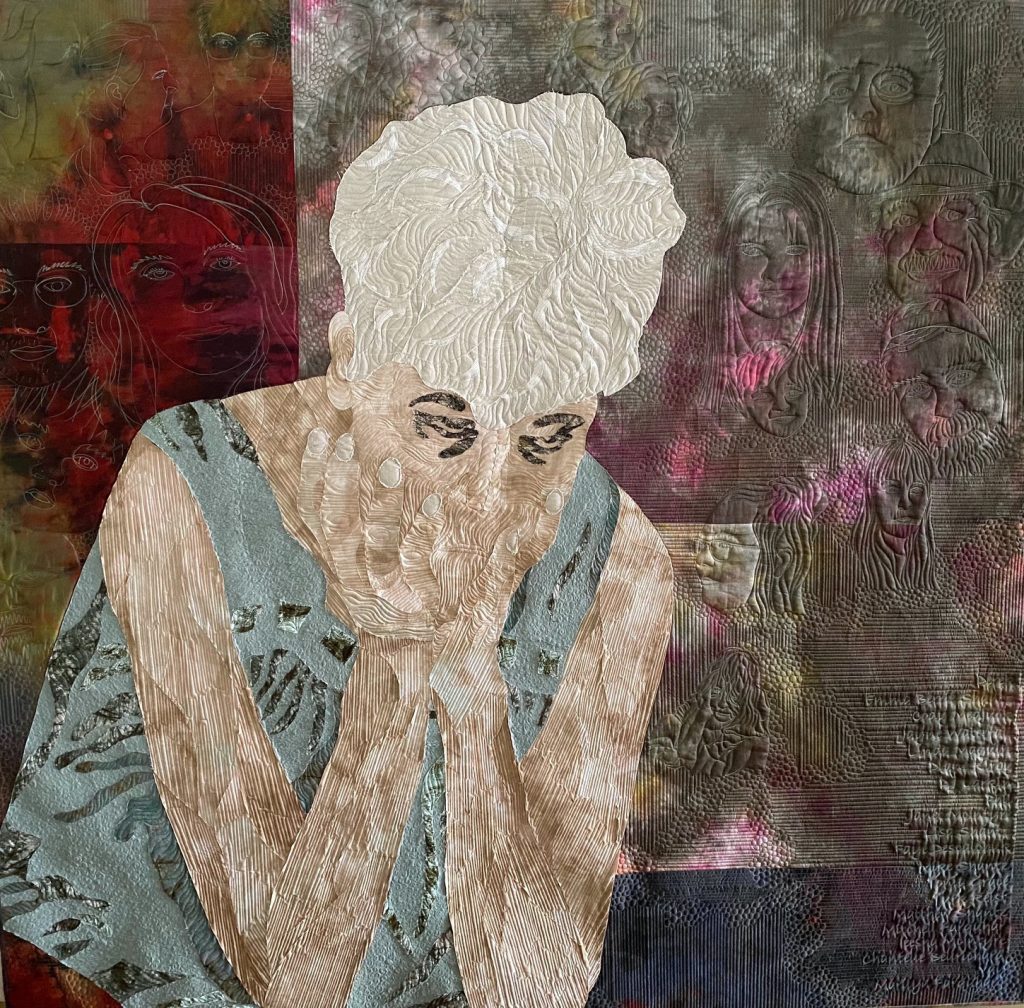 One Bullet (72" x 73") by Marilyn Farquhar.
The Only Constant Is Change: Marilyn Farquhar
Life has changed for the artist Farquhar, and it has changed her approach to quilting. She used to create only what she considered "joyful" quilts. She now allows her emotions to speak through her quilts which include despair and loss, but also hope. She hopes her quilts generate conversations among viewers.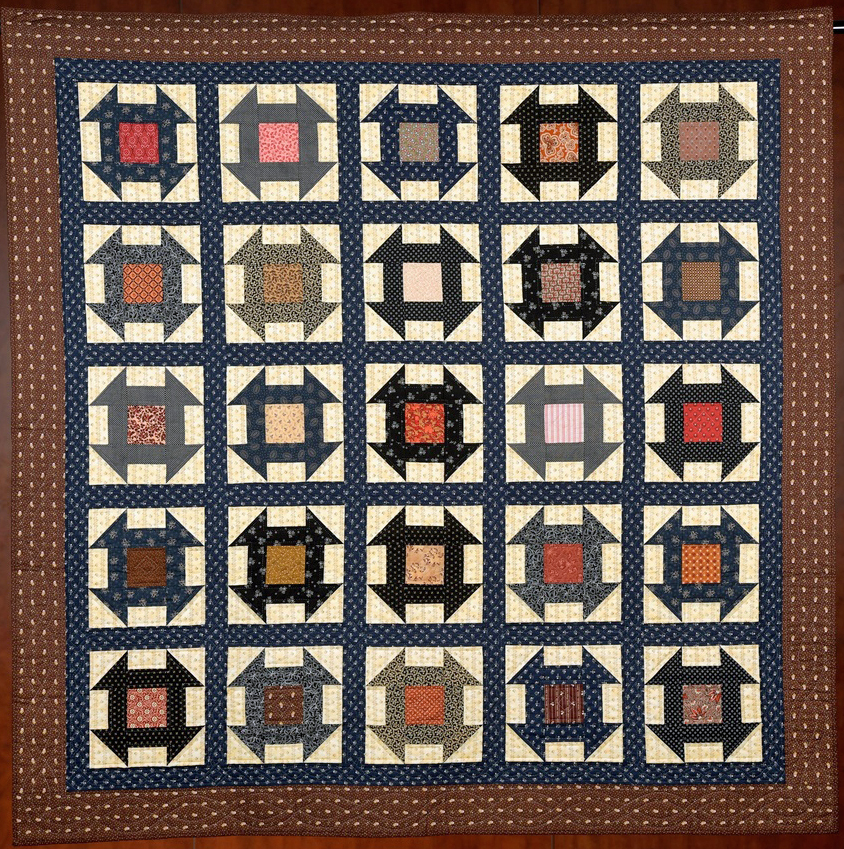 Churn Dash (69" x 69") by Francoise Rigaud.
Sponsored by Bohin Curated by Catherine Bonte
Thread, passion, tiny stitches and harmonious makin, this is how the adventure of the Quilts de Légende was built. It included the search for the perfect model to best showcase the skill and expert hands of these French quilters. Exclusive fat quarters, copied from historic design, are showcased in this exhibit's works.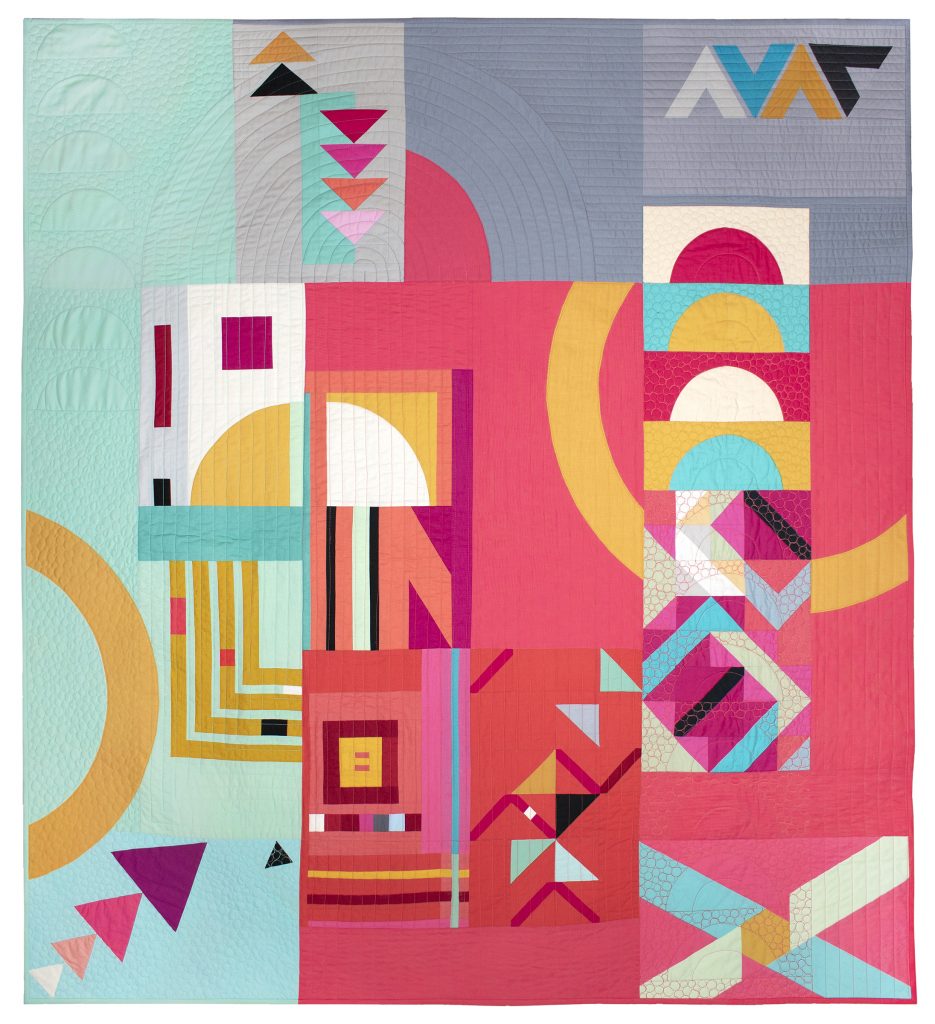 Poster Pop (51.5" x 56") by Kari Vojtechovsky.
The Quilts of Bee Sewcial
Sponsored by Aurifil, Hobbs Bonded Fibers, Lucky Spool, Studio 39 and Leanne Chahley, Margaret Rukstalis, Bridger J. Ruyle, Remington A Ruyle, Robert A Ruyle, Stephen R Ruyle, Robin and Keith Struve, Lucky Spool, Studio 39
Curated by Stephanie Ruyle and Leanne Chahley
Bee Sewcial is an international, improvisational quilting bee. Each month, the selected group leader provides an inspiration—a theme, palette, restrictions, etc.—for the members of the bee to follow when they design and make a block. The monthly group leader designs a quilt using the improv creation of each contributing member. Each quilt is unique, yet reflects the cohesion and trust they have toward each other.
Remembering Cynthia Collier
This retrospective celebrates the memory, work, and creativity of Collier, an award-winning quiltmaker, teacher, pattern designer, and antique quilt collector. She found her passion for quilting in 1986 after taking a sampler class and learning the basics from experienced quilters in rural Tennessee. She also learned to make 1840s Baltimore Album style quilts and specialized in those, as well as pieced quilts in the 1830s Medallion style. It was her hope that viewers could look through the "window" of her work and be taken back in time to a walk in the woods or a respite in the garden, feeling refreshed and peaceful.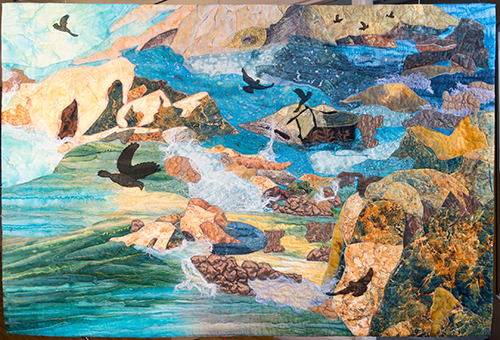 Rocks Revisited (42.5" x 29") by Estelle Porter.
Rocks, pebbles, and stones are formed by sedimentation, fire, and pressure, and are acted on by external forces after formation. In this exhibit, each artist used the soft media of fabric, fiber, and stitch to create a work depicting the qualities of rock, pebble and stone: hardness, texture, color, luster, shape, and size.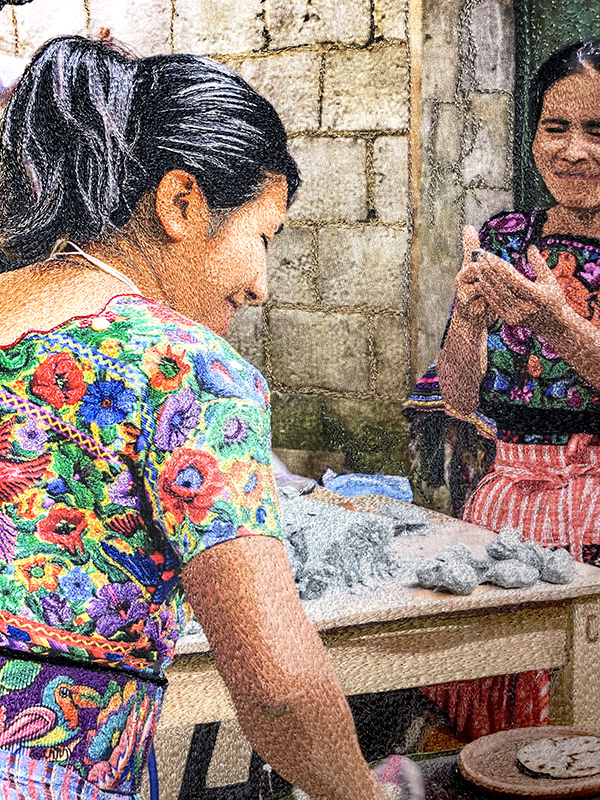 DeColores (40" x 28") by Jennifer Day.
Gastronomy is the study of the relationship between food and culture, featuring not only the bountiful gifts from nature, but a gift from the human hand. The art of preparing unique, delicate food is a tradition passed from generation to generation, around the world. Combining innovative ingredients, colors, textures, and flavors, works in this exhibit by members of the Studio Art Quilt Associates will inspire by the eye and the palette.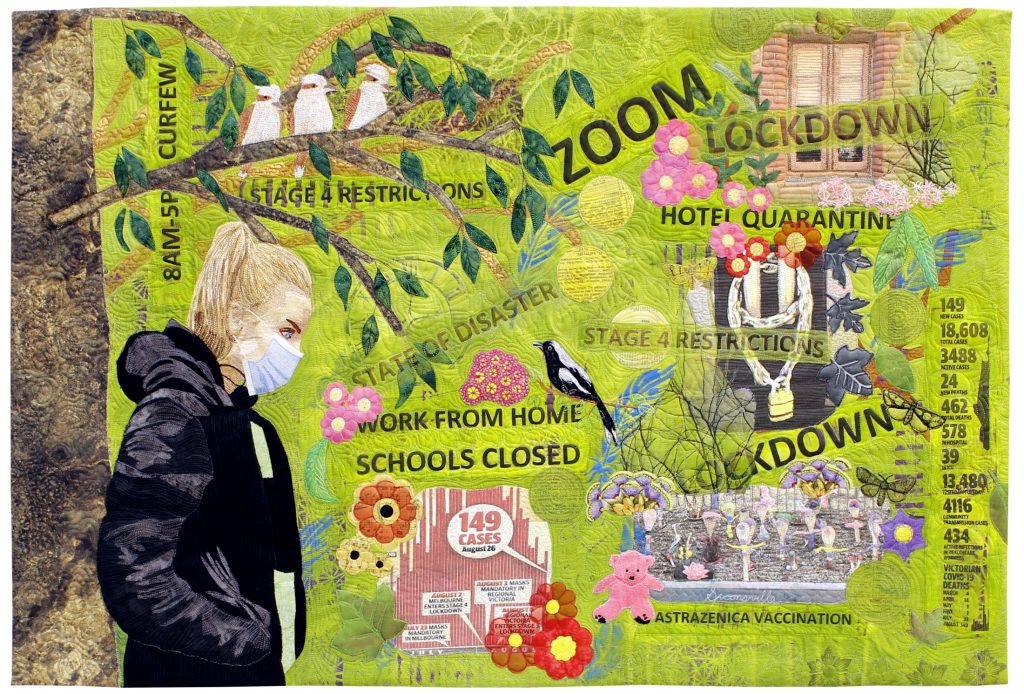 Melbourne Malaise (39" x 26.5") by Linda Steele.
All living creatures need a safe place to heal, regroup, rest, or retreat. Do you nurture your loved ones in a special place? Do you create a haven for others in need? What is your haven? Here, members of the Studio Art Quilt Associates rendered the essential quality of their own haven in visual form.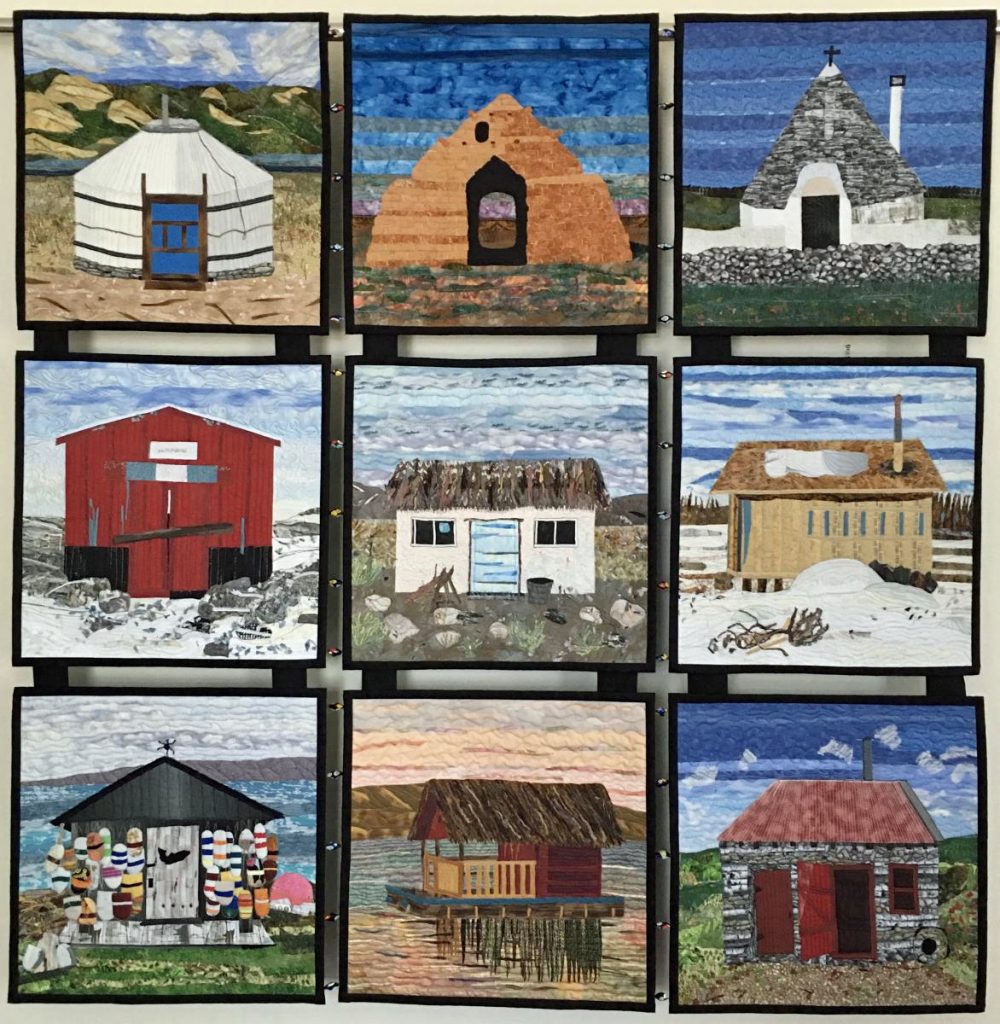 Shelter Me (55" x 55') by Leila Sigler. Inspired by photos from SAS Airline Magazine.
Buildings have a long history of inspiring the creative designs of quiltmakers. In the 19th century, American quilters developed classic architectural patterns such as Log Cabin, Schoolhouse, and Brick Wall. This annual juried exhibit challenges quiltmakers to create works based on architectural themes and inspirations.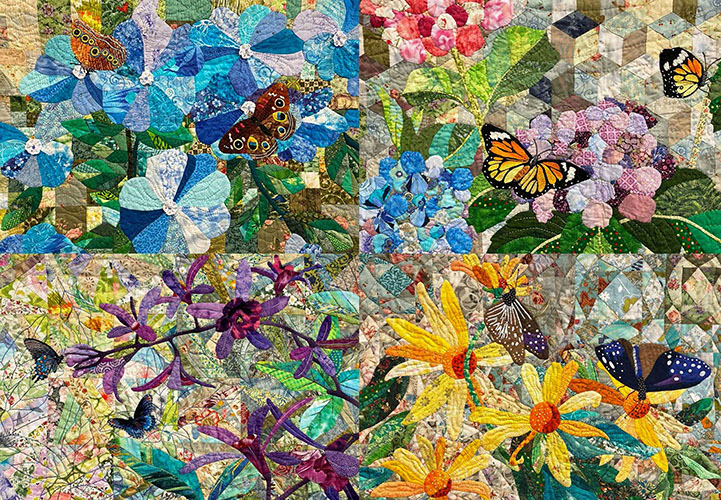 Piece by Hsin-Chen Lin with many others.
Taiwan Art Quilt Society: Butterfly Garden
Sponsored by Taiwan Art Quilt Society
Sponsored by Taiwan Art Quilt Society Curated by Hsin-Chen Lin
Taiwan is a butterfly kingdom, yet butterflies are now rarer there and around the world. How can we turnover such a tragedy? How long have we not encountered butterflies in our living space? How does a mutually beneficial environment to both butterflies and humans look like? Works in this exhibit try to answer those pertinent and important questions for a sustainable butterfly ecology.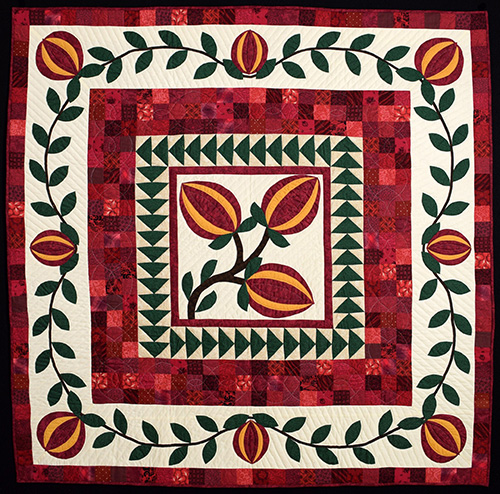 Twelve Bolts of Fabric & A Bushel of Apples: Quilt Legacy of Laurene Sinema
Sponsored by Family and Friends of Laurene Sinema
Organized by Shirley Weagant, Janice Beals, Mamie Coffey, & Diane Pitchford
Laurene Sinema, an international teacher, quilt judge, fabric designer, and author of nine books, opened The Quilted Apple in 1978. Her boundless people skills, motivational teaching, and impeccable handwork changed the quilt world forever! This memorial exhibit showcases her outstanding work.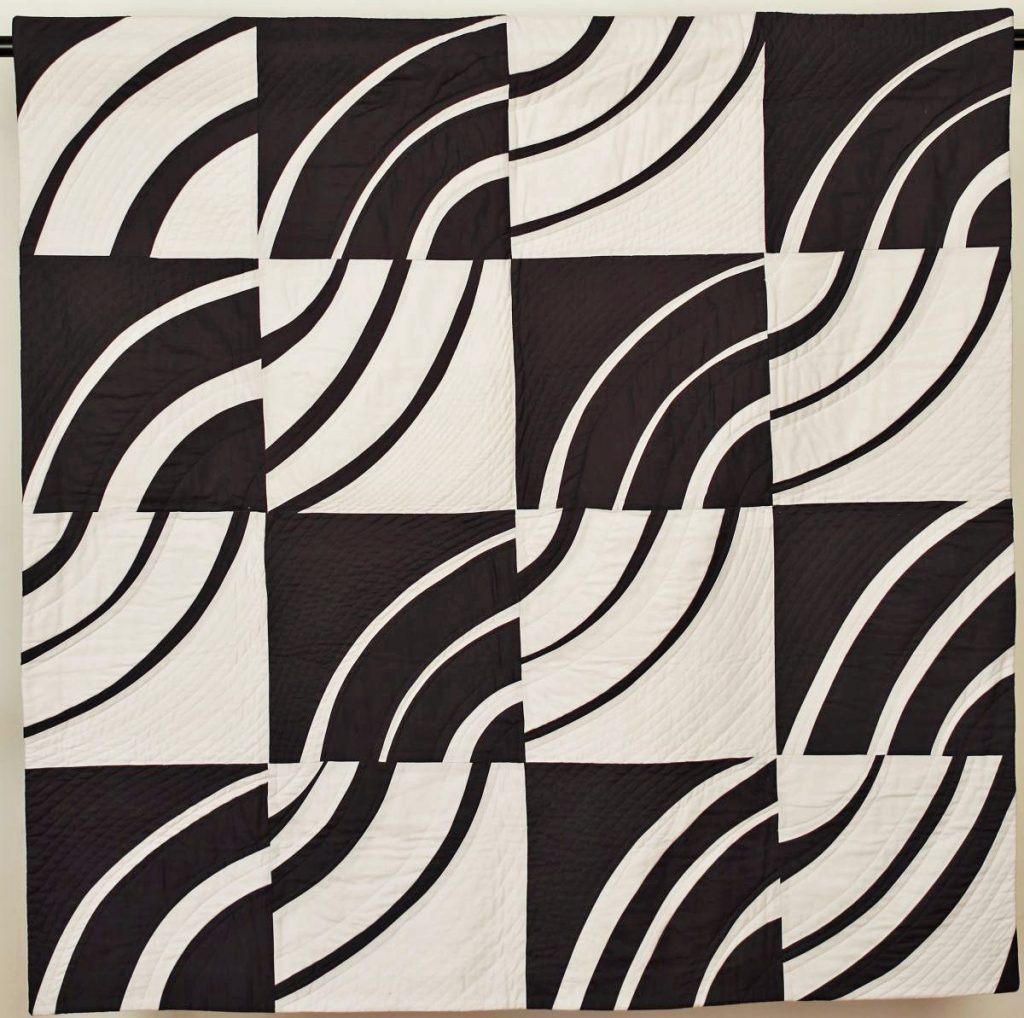 Ripples (50" x 50") by Connie Dyer Zafiris.
Curated by Charleston Modern Quilt Guild
Organized by Kimberly McPeake, Phoebe Harrell, and Whitner Kane
The Charleston Modern Quilt Guild challenged their members to make a quilt with two solid fabrics. Any design, any size, and challenge were accepted. The artists here learned and were inspired by the color choices.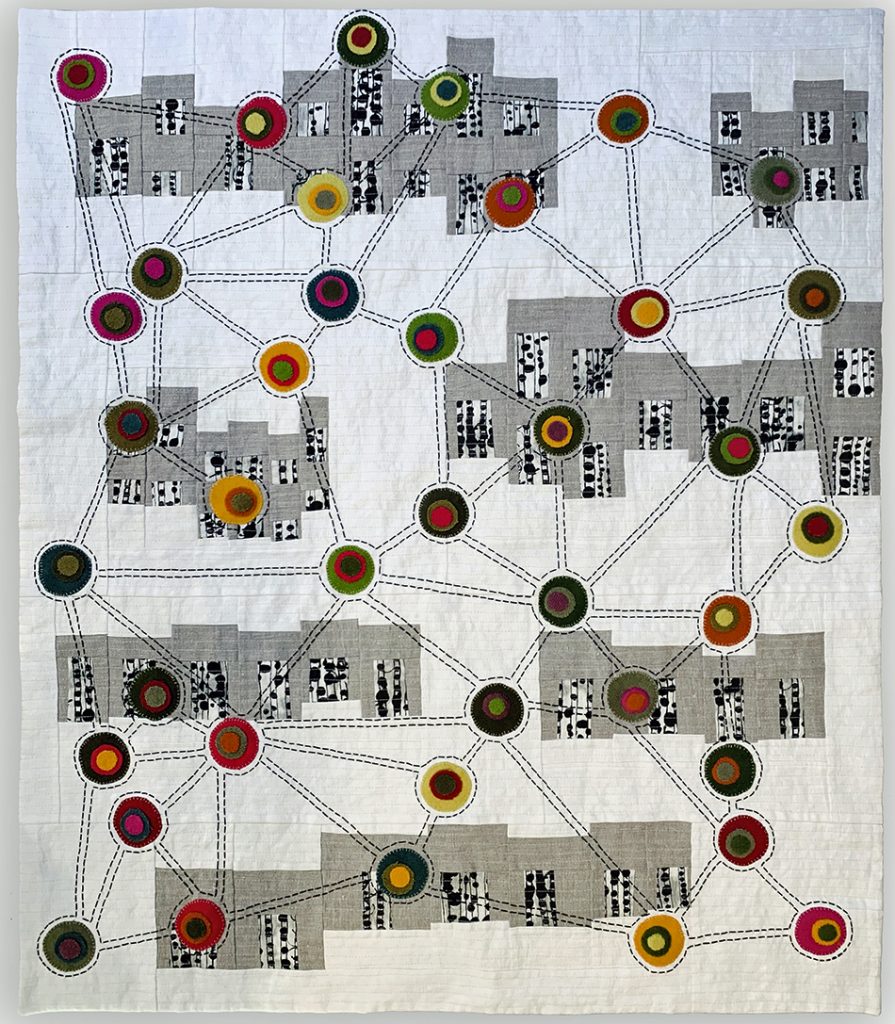 Happening (34" x 40") by Martha Wolfe.
In their most recent series, A New World, members of the international fiber art collective, Viewpoints, took a closer look at the possibilities before them. Personally significant themes including Daily Routines, the Unseen, Observation, Contrast, and more, are explored through the use of rich color, pattern, and texture while using familiar and unexpected techniques.
----------------------------