Special Exhibits - Fall 2023
List current as of 08/24/23.
November 2, 2022: Preview Night at International Quilt Festival
November 3-6, 2022 : International Quilt Festival/Houston (quilts on display)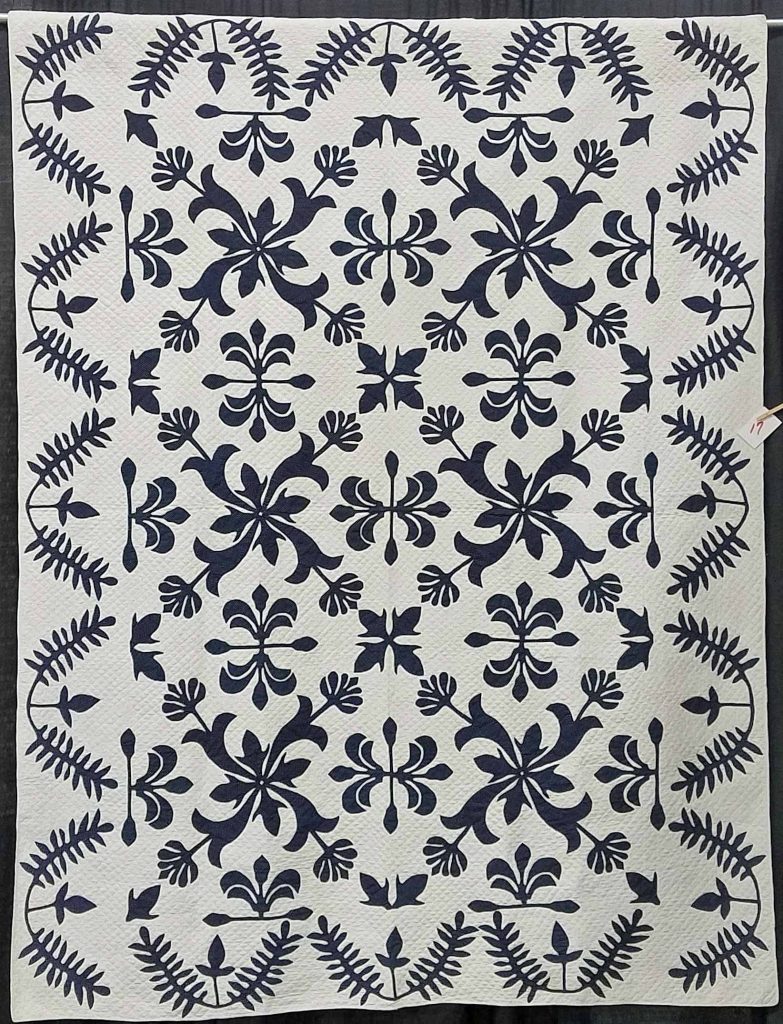 Albany Lily (72" x 92") by Sharon Waddell.
American Quilt Study Group Presents: Every Quilt Tells a Story

Curated by Lisa Erlandson and Nancy Bavor
The ASQG researches, documents, and celebrates the stories quilts tell—from the designs, colors, fabrics, and techniques used, to the meaning and sentiment behind each piece. This exhibit will showcase 19th and 20th century quilts, illustrating regional styles, common design motifs across the centuries, and cultural differences among quiltmakers.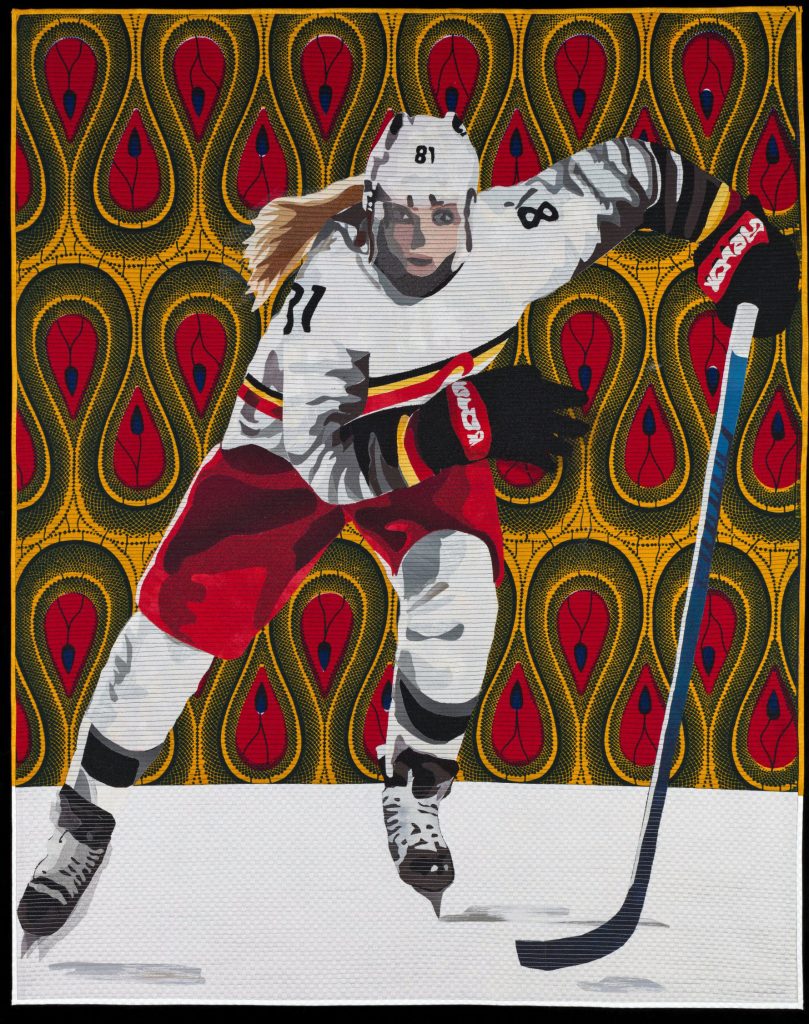 Hockey Player (43" x 54") by Ann Houle.
Athletes are intriguing to watch both because of the beauty of the human body, but also because of the display of effort—of striving—that they embody. Quilt artist Ann Houle seeks to portray moment of athleticism here. She wants the spectator to be drawn in to the beauty of the athlete's body but also to ask themselves "What happens next?"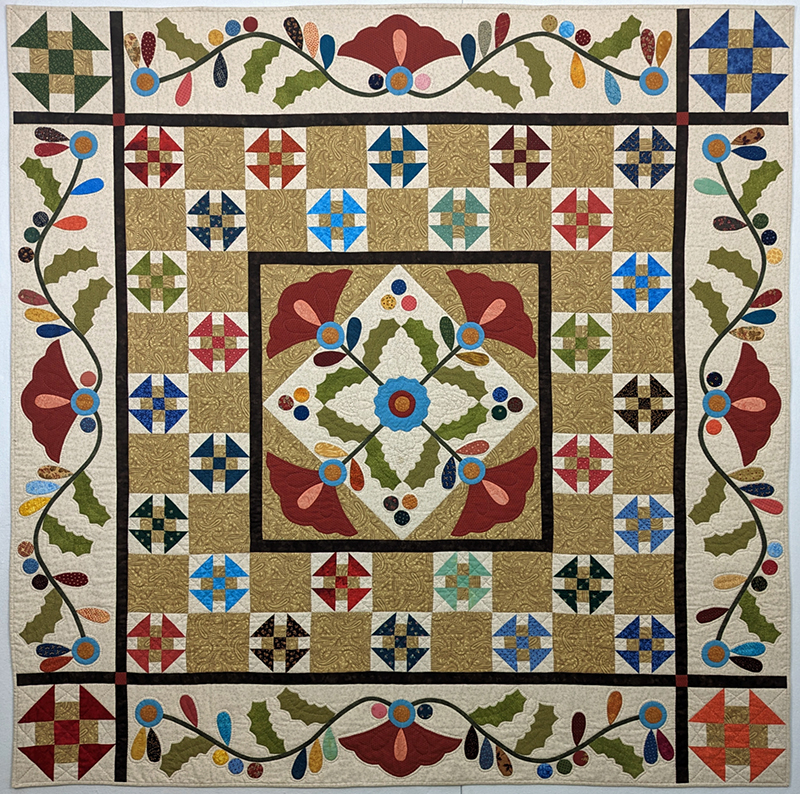 Garden Medallion (63" x 63") by Jean Ann Bryant.
Award-Winning Texas Quilts

A showcase of works by current members of Texas quilt guilds. Any quilt that won an award was eligible. See how Texas guild members are creating wonderful and skillful works that honor all quilting styles and techniques of quiltmaking's past and present.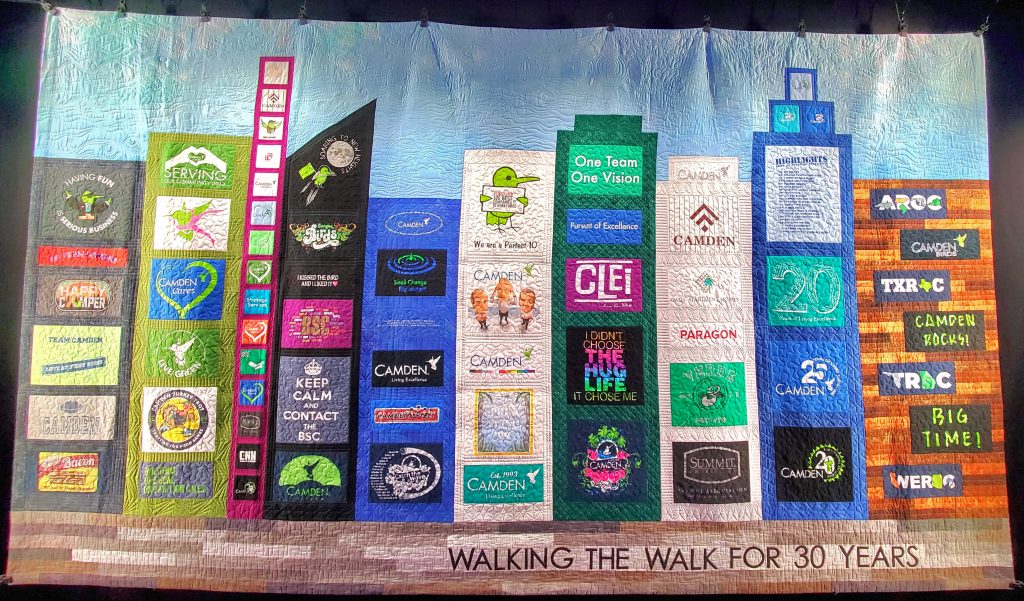 Camden: Walking the Walk for 30 Years (168" x 96")
Camden: Walking the Walk for 30 Years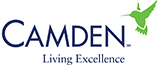 Organized by Nancy Gennaro and Ginny Jones
Camden Property Trust recently unveiled this quilt representing 30 years of service. Over the years, many events have taken place within the company providing a plethora of T-shirts hanging in employees' closets. This quilt of those shirts documents the company's 30-year history and its charitable giving program, Camden Cares.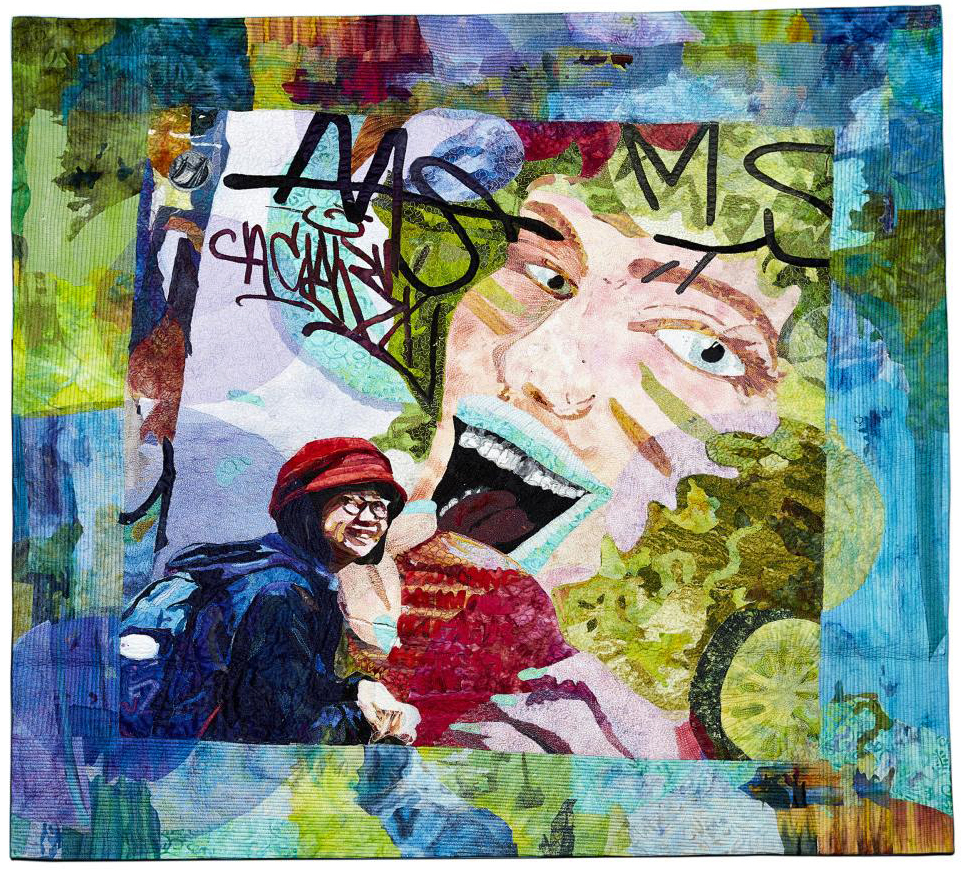 Travel Imprint (41" x 43") by Ju Ling Liu.
Quilting can be a showing of love and honor by an artist. For this exhibit, artists depicted how they, a family member, or a friend celebrated a loved one's wedding, birth, birthday, or memorial.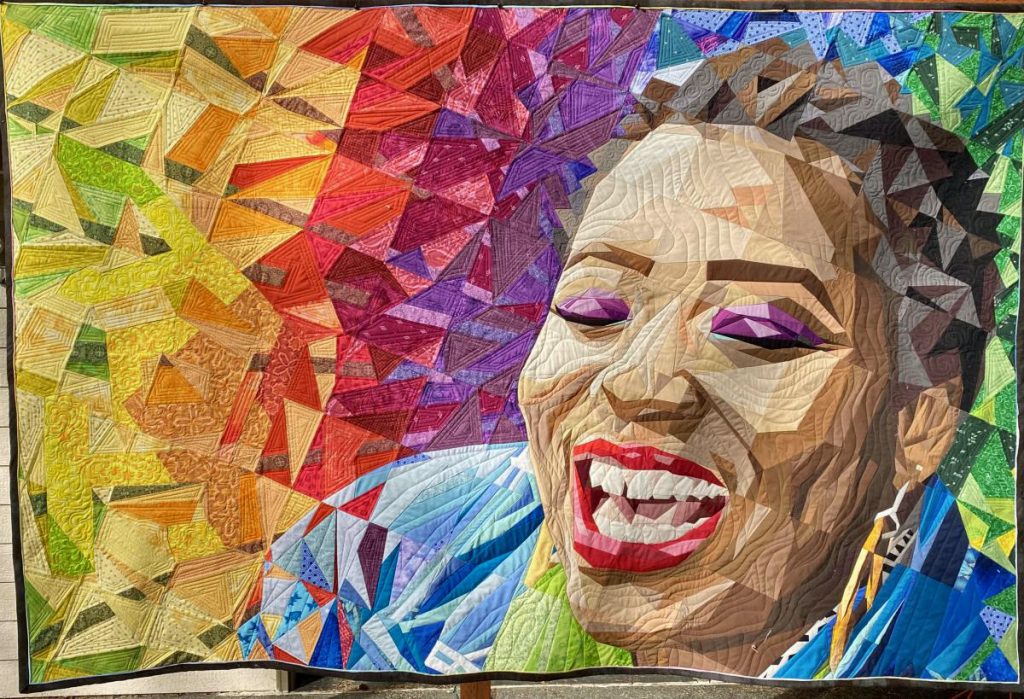 Joy (80" x 53") by Cole Whitaker.

Whatever your style…quilt colorfully! This annual judged competition is for those who like to play with color to create a vibrant work in a variety of styles. There are quilts made by hand or machine, appliquéd, pieced, or wholecloth. This exhibit features winners and finalists from the 2023 show.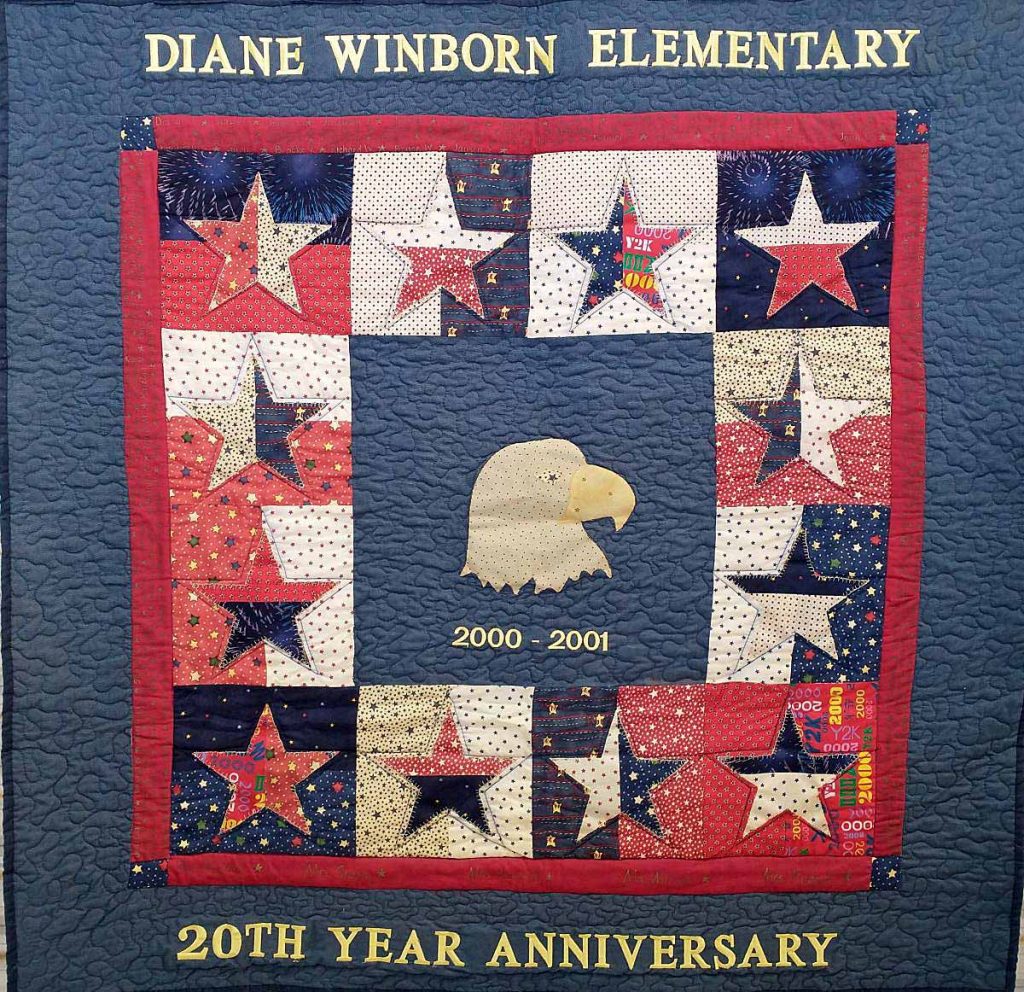 20th Anniversary Quilt (49" x 48") by Julie Crowell.
Diane Winborn Elementary 40 Years of Education and Quilt History

These designs represent the past, present, and future of the Diane Winborn Elementary School students, faculty, staff, volunteers, and families. Some of the work was done by hand, some on older sewing machines, and then on the most modern sewing and quilting machines.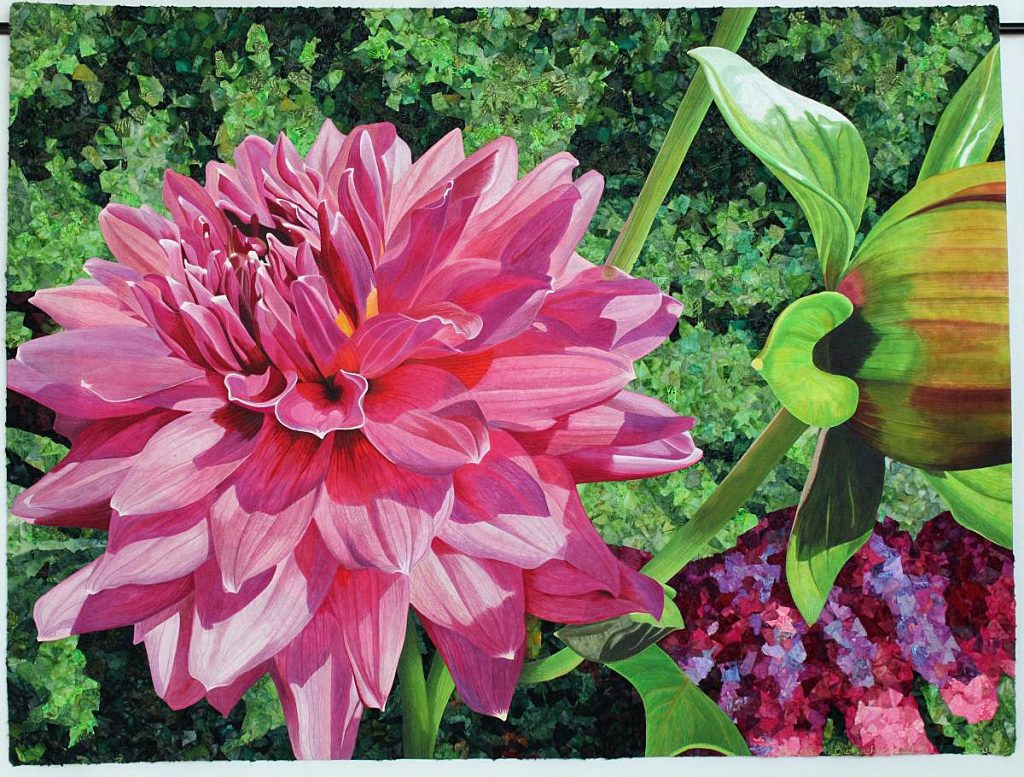 Dazzling Dahlia (32" x 58") by Andrea Brokenshire.
Flower Power—Contemporary Painted Florals

Andera Brokenshire has an educational background in Zoology and Natural History. She combines her love of the natural world with fabric and paint to create art quilts that depict botanical imagery. These quilts showcase Andrea's creative journey from 2010 to 2023 to find her artistic voice.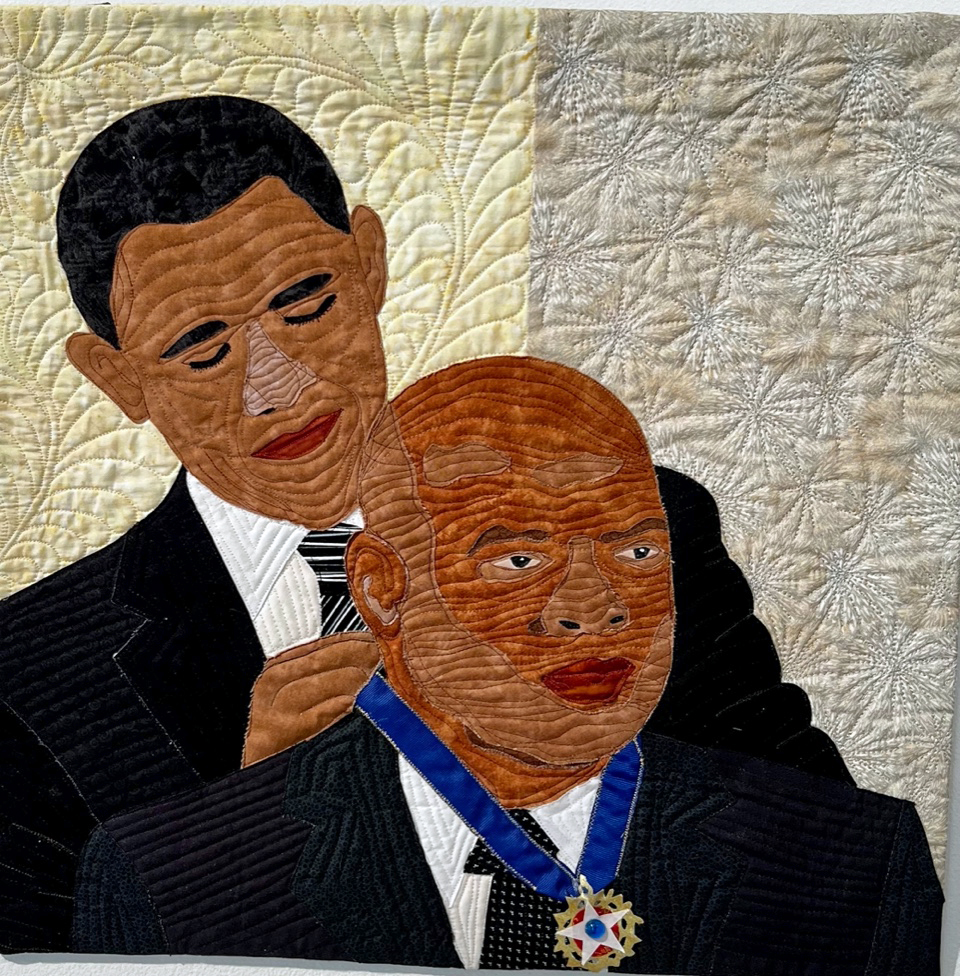 Well Deserved Medal (22" x 22") by Brenda Shelby.
Good Trouble Quilts: Celebrating the Life and Legacy of Congressman John Lewis


Organized by The Atlanta Quilt Festival
Congressman John Lewis became a civil rights leader at an early age and continued his service until his death in 2020. He represented the Georgia 5th Congressional District, which is home base for the Atlanta Quilt Festival. This exhibit honors his service with approximately 34 original art quilts by 28 quilters, each depicting some aspect of the life of Congressman Lewis.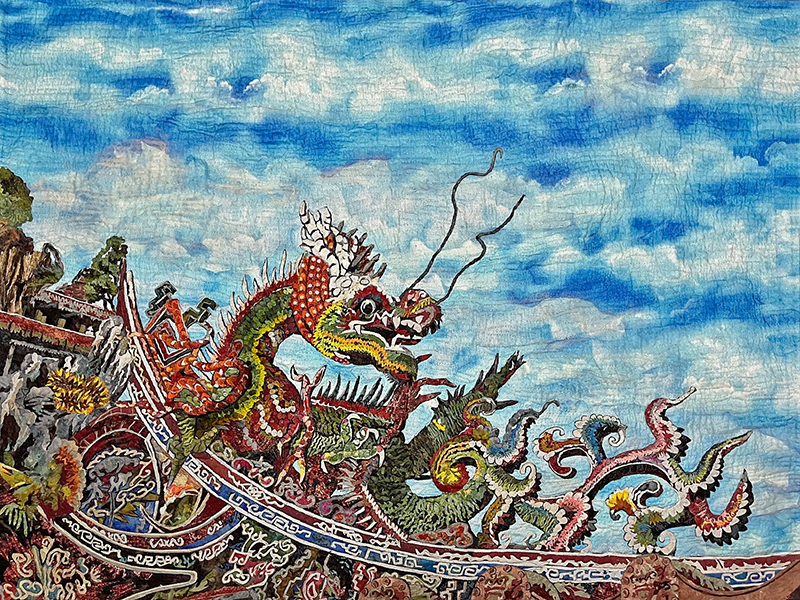 Dragon on Temple Rooftop (40" x 30") by Shu-Li Hsu with Ping-Feng Chang.
Artists from all around the world incorporate influences from their own cultures into the design and technique of their quilts. This prestigious, long-running international showcase will include recent quilts by international artists who create works inspired by such.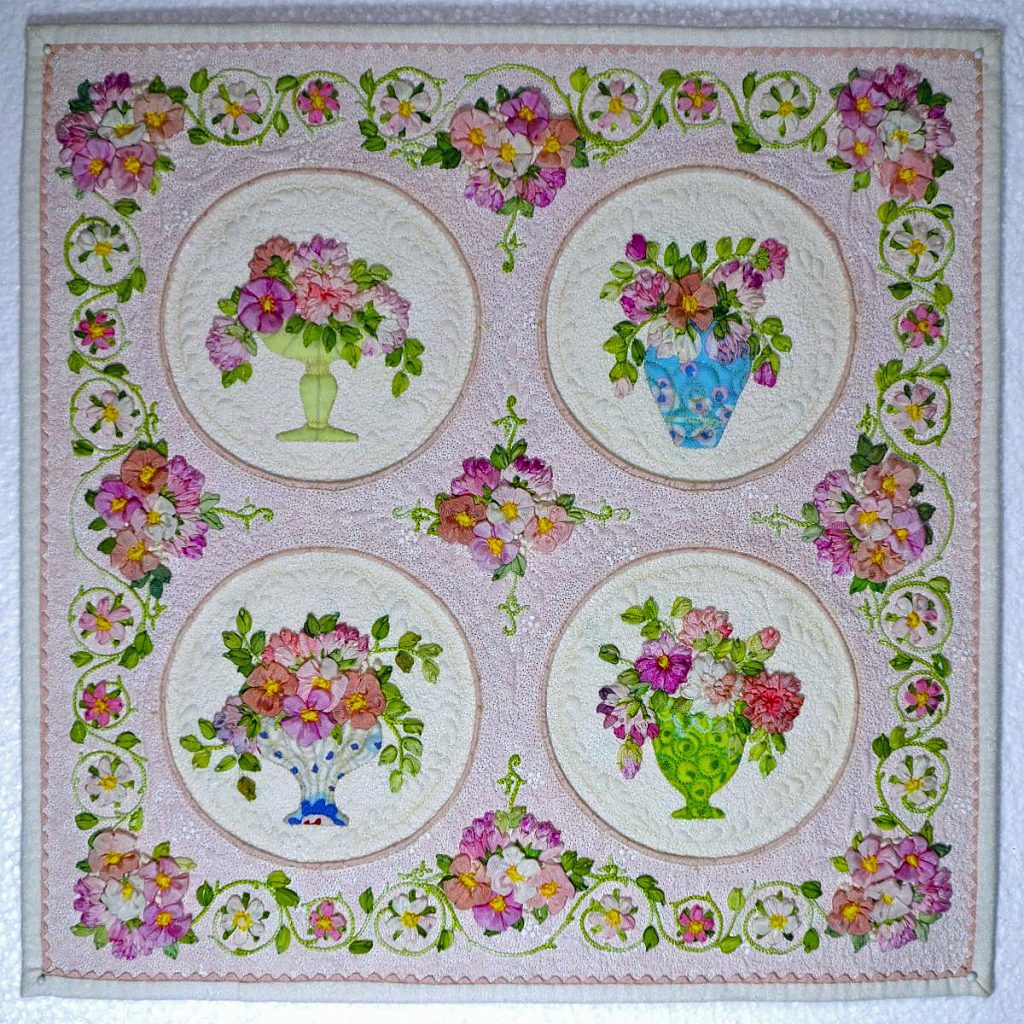 Bridal Bouquets (12" x 12") by Kumiko Frydl.
Honey, I Shrunk the Quilts!

This solo exhibition showcases Kumiko Frydl's intricate and vibrant miniature quilts. It's a journey she began in 2002 and in this exhibit, great things come in small packages.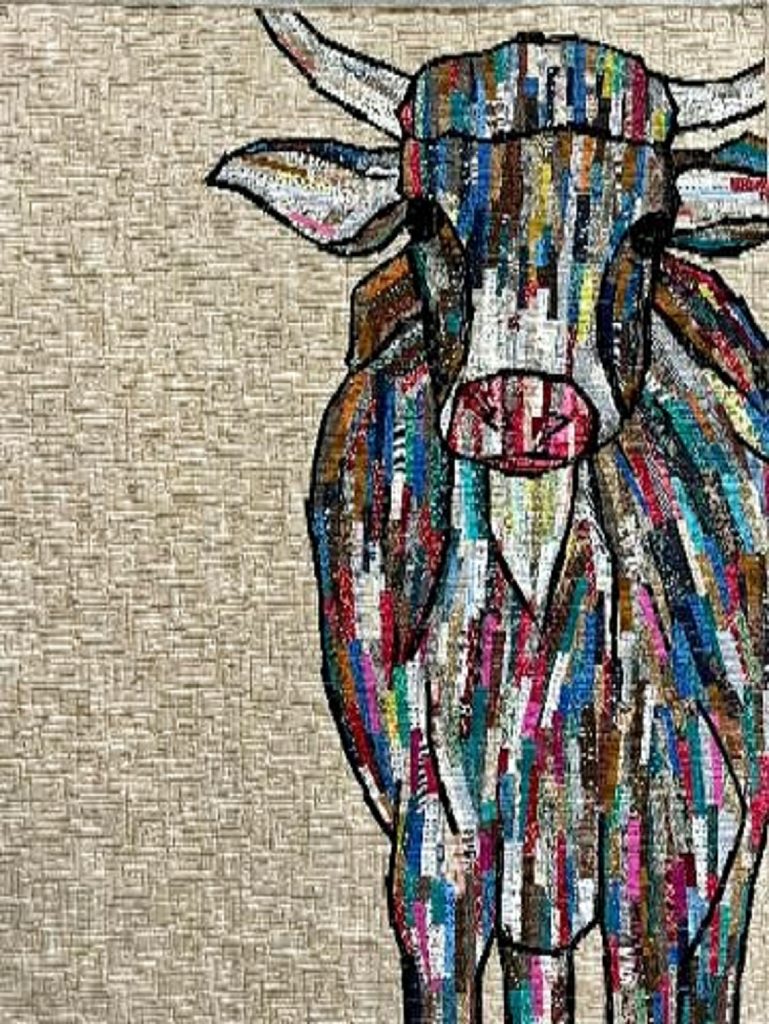 Paycheck the Cow (41" x 55") by Marcia Henry.
Houston Livestock Show and Rodeo Blue Ribbon Winners
Two great Houston Institutions have come together for International Quilt Festival Houston to present the Blue Ribbon-winning quilts from the 2023 Houston Livestock Show and Rodeo (HLSR). See these quilts of Texas, and get information on the 2024 HLSR quilt competition.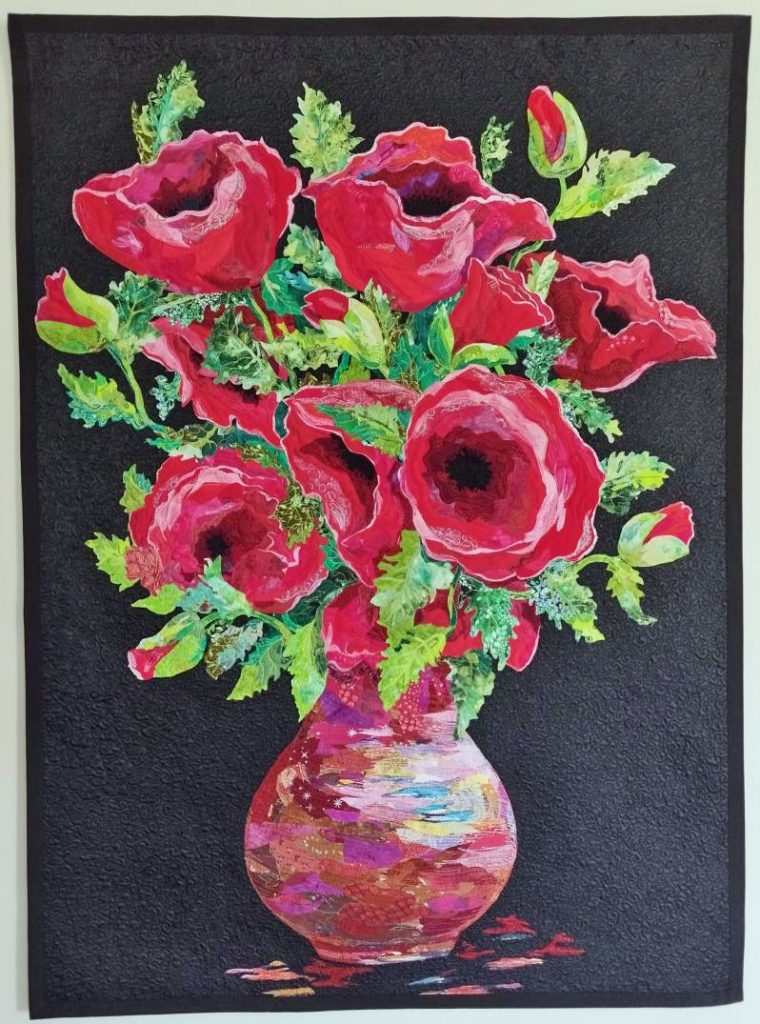 Bouquet (36" x 49") by Danuta Owczarek.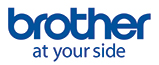 Just as quilters create beautiful pieces of art with fabric, florists and gardeners cultivate works of beauty from the soil. This exhibit showcases floral quilts from across the spectrum in color and splendor in the special exhibit.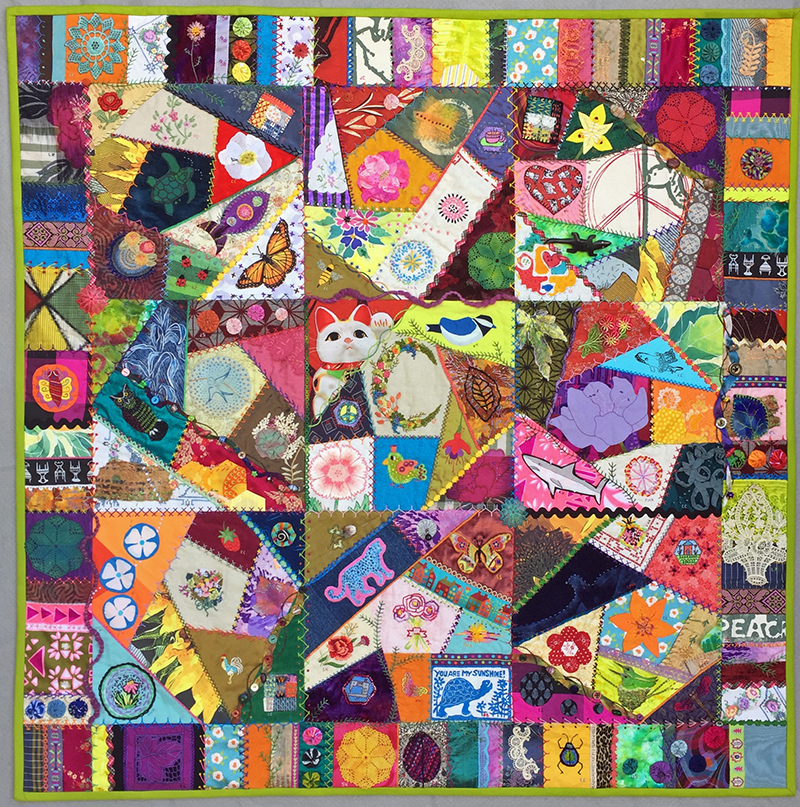 Crazy Becomes Eclectic (46" x 46") by Cindy Cooksey and 24 others.
In the American Tradition

Contemporary quiltmakers often look to the art form's rich tradition and history for inspiration in their own works. This exhibit features recently-made quilts that incorporate traditional blocks, styles, and/or techniques.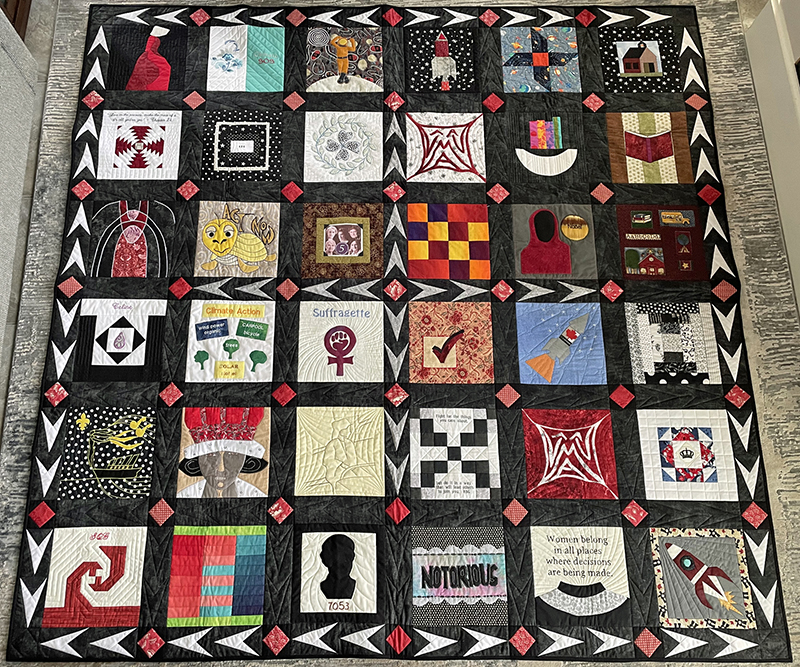 Inspired By… (80" x 80") by Shelley Kossio with Carol Cote and others.
Organized by Shelley Kossio and Pat More
During the 2020/2021, the Sarina Quilt Guild members from Canada collaborated on this project via Zoom. That year they challenged each other to be inspired by strong women role models. They created 10" blocks that were sewn into one quilt. It showcases powerful women from the past and present.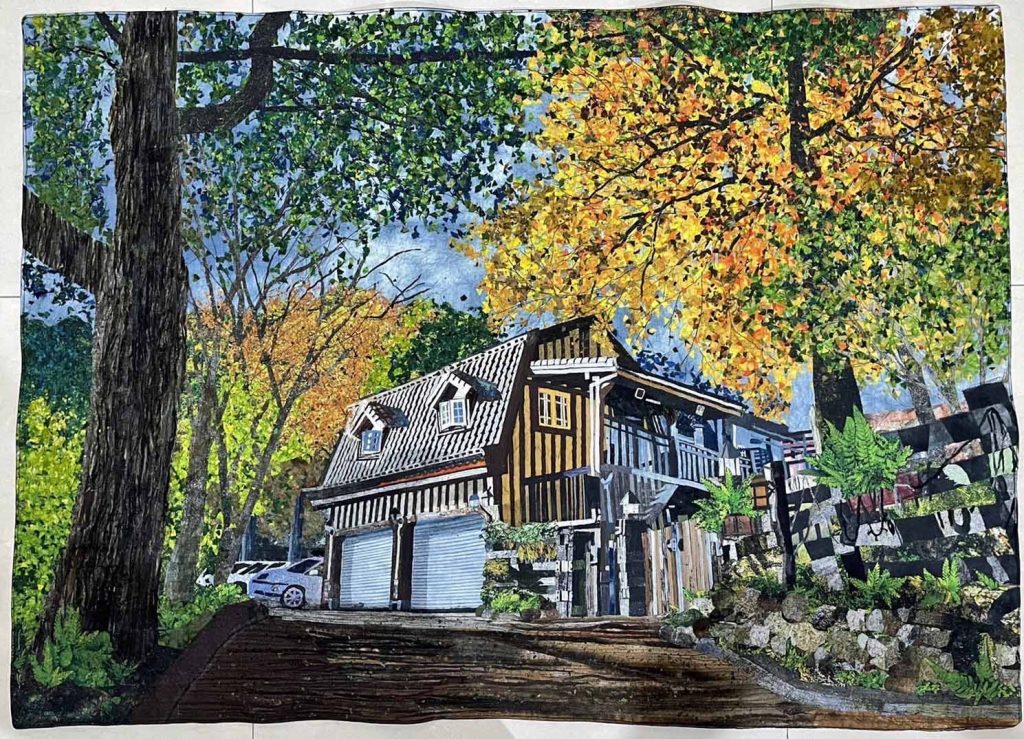 Autumn Visit (44" x 32") by Fengmei Li.
From valleys and volcanoes to mountains to monuments, landscapes often inspire artists, including many in the quilt world. This expansive exhibit will showcase stunning geographical wonders.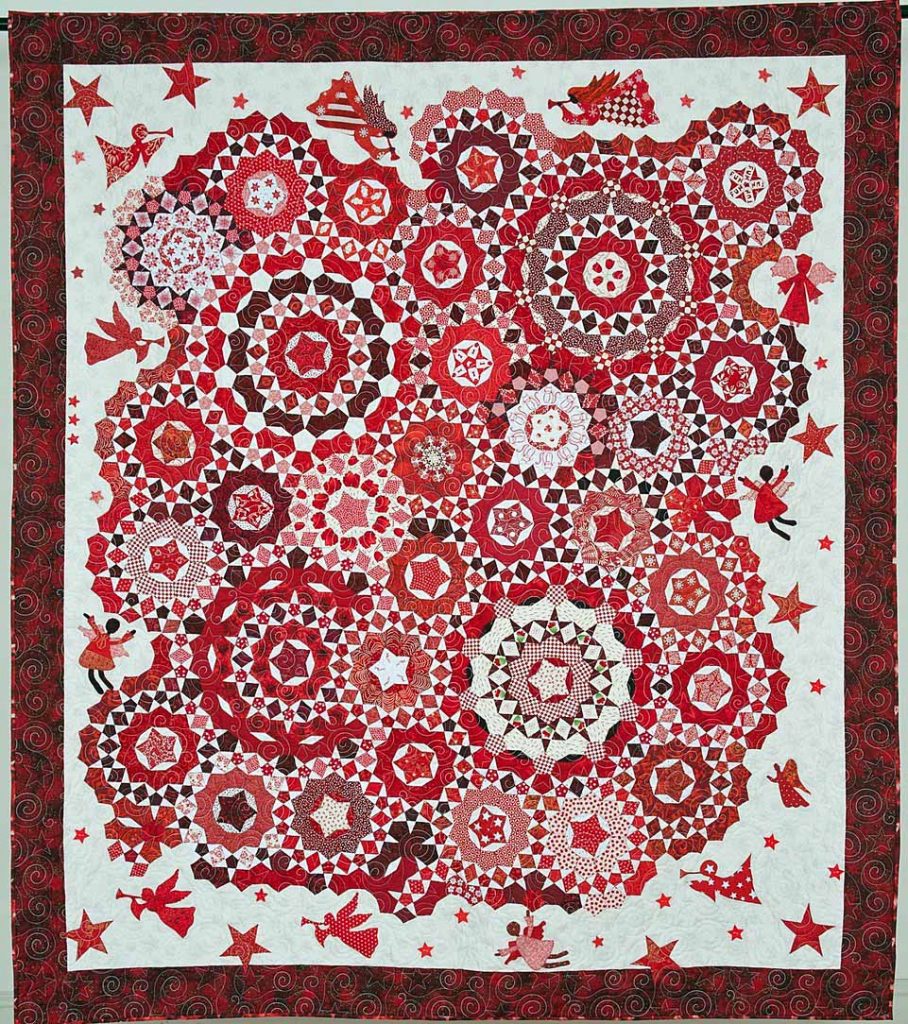 A Star Among Stars (75" x 85") by O. V. Brantley with Maxine Moore.
Long Time Coming: A Retrospective of O.V. Brantley's Red and White Quilts

Design source: LaPasagalia pattern by Willyne Hammerstein.
The exhibit features red and white quilts made by O.V. Brantley over a 20-year period. They document her background growing up African-American in the segregated South, her professional career as a lawyer, and her time as a mother. She was also active in sorority life and social justice activism. The exhibit also showcases her collection of red and white fabrics acquired during extensive travels.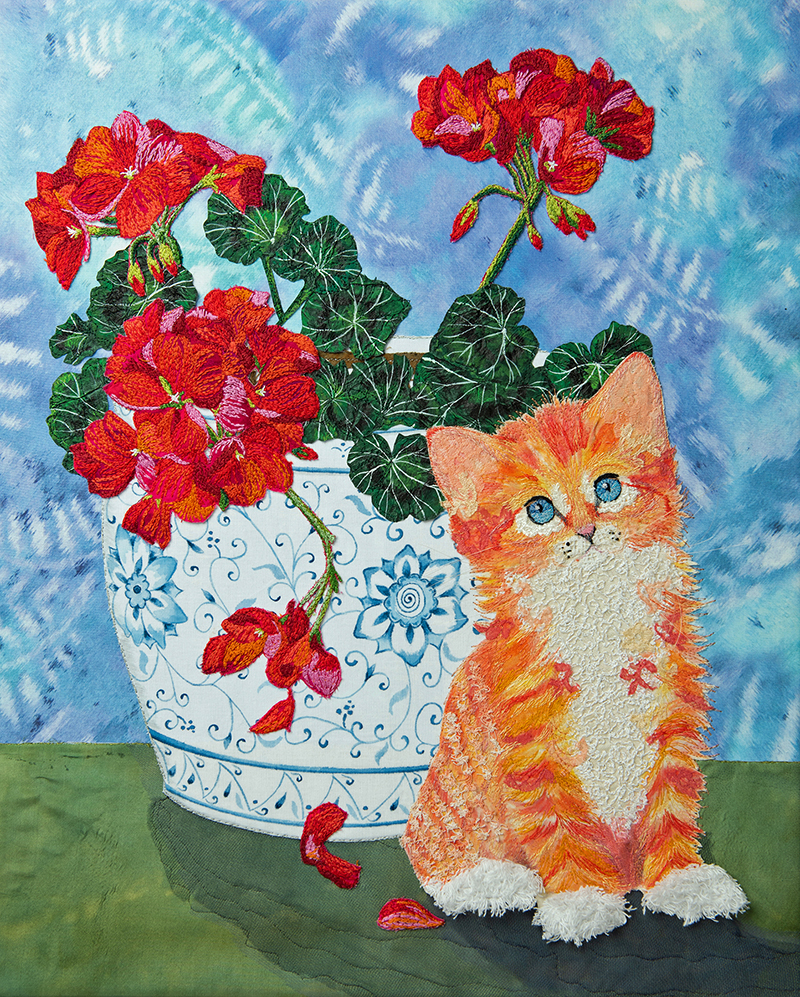 Blooming Bright Eyes (19" x 23") by Lorraine Turner.
Lorraine Turner is a talented artist and animal communicator. The bridge between the Animal Kingdom and humanity reveals a bond that is woven by our heart strings. Through her work as a fabric artist and professional animal communicator, she has connected the threads which continue to bring this clear and consistent message.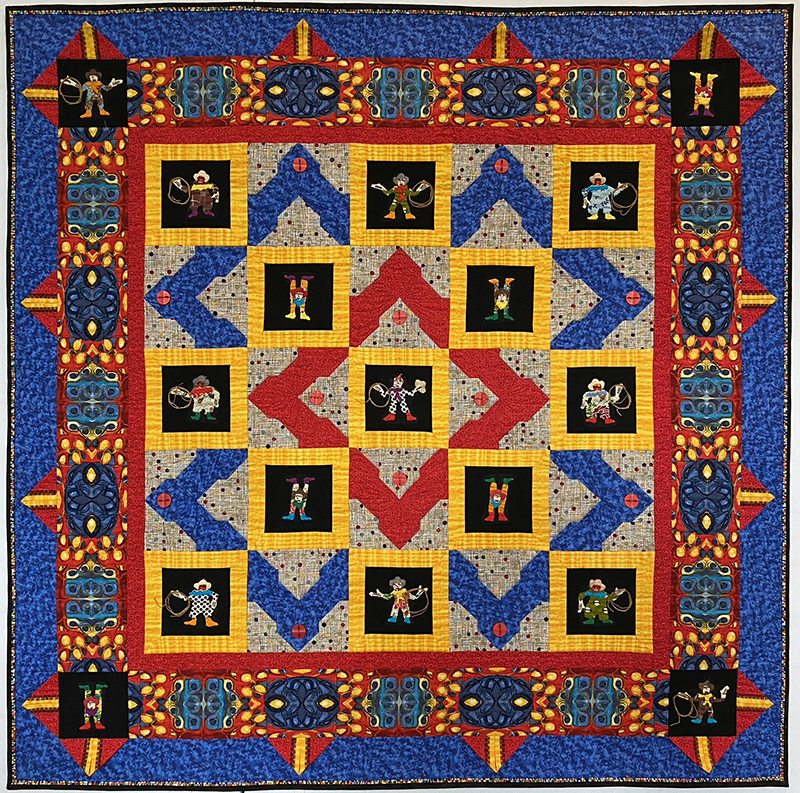 Rodeo Clowns (45" x 45") by Jackie Hillman.
Many Ways to Carve a Goose (Disappearing Flying Geese)
This exhibit shares the results of Texas quilt artist Jackie Hillman's 2009 discovery of a dramatic way to add originality to quilts using the traditional Flying Goose block. Her extraordinary quilts show how this versatile block can be split in different ways to create quilts ranging from whimsical to sophisticated.
The Monarch Cherrywood Challenge

The monarch butterfly, known for its annual migration across North America, is in the endangered category of the International Union for the Conservation of Nature's Red List of Threatened Species. Come see how quilters are trying to make others aware of the monarch's plight.

My Australia (258" x 61") by Helen Godden.

Helen Godden has hand painted with dye, a 22-foot long whole cloth, free-motion, machine quilted piece on stationary Handi Quilter machine. Her original design depicts many of her favorite native animals and birds, flora, and landscapes of her homeland, Australia. She created it during the Covid lockdown over a period of six months.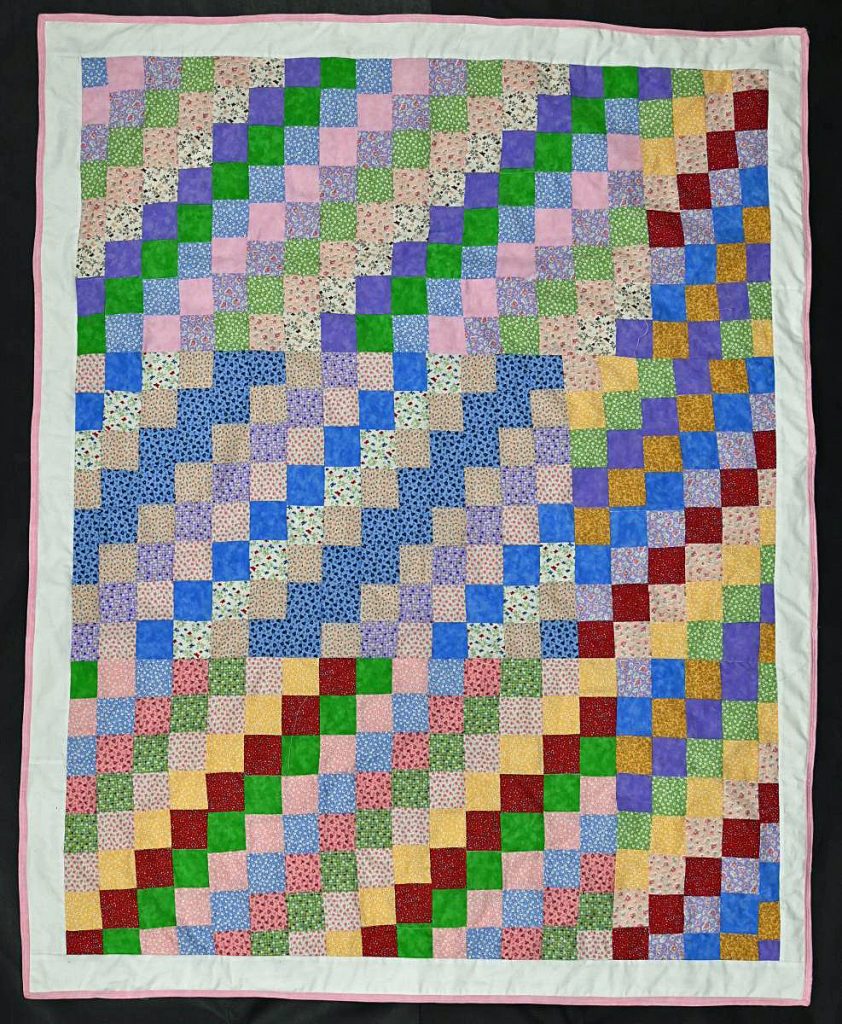 Vintage Cobblestone Road (41.75" x 52.75") by Peyton Reaves.
Onalaska Middle School Quilt Artists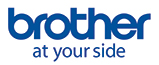 Children are the future of not only the quilting industry, but the world. It is important to share our cherished arts with them so they can carry these forward to future generations. The students at Onalaska Middle School in Onalaska, WA, have learned to design, piece, quilt, longarm quilt and hand finish their projects. They are proud and honored to share their artwork, and excited to show what future generations can accomplish with needle and thread.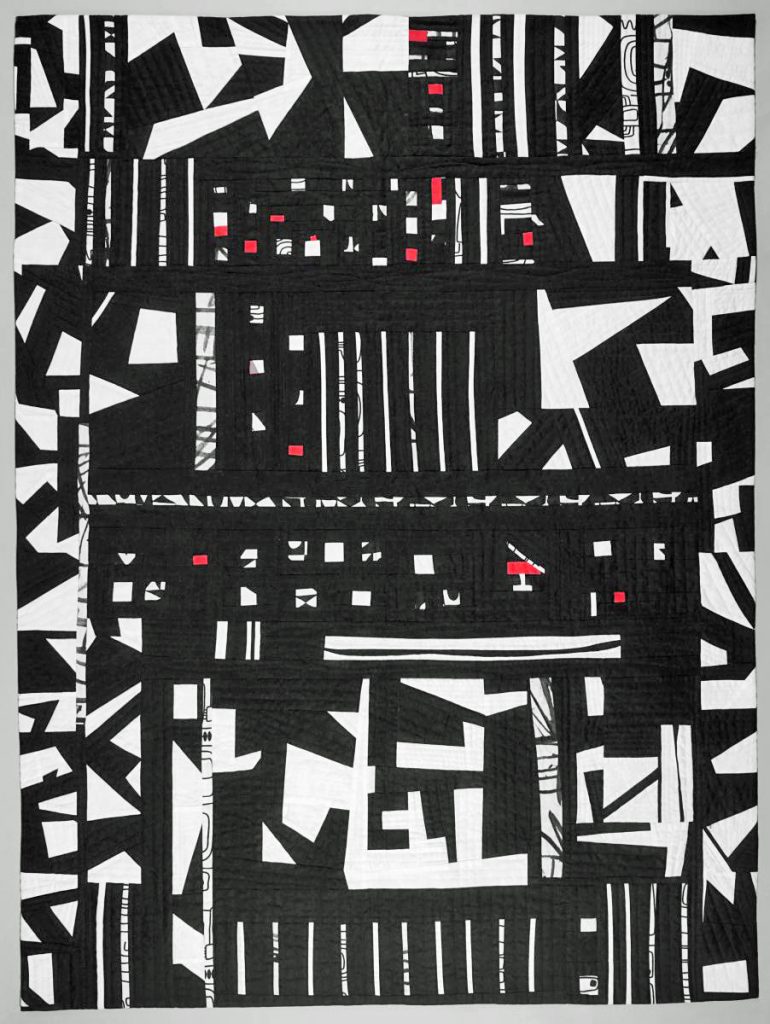 Uncharted (50" x 38") by Hope Wilmarth.

While searching for her artistic voice, Hope Wilmarth discovered that while she had one song of creativity, there were many verses to it. Three of the verses to that intrinsic tune are exhibited here in three perspectives: Abstract, Nature, and Contemporary. Her work continues to evolve with different techniques.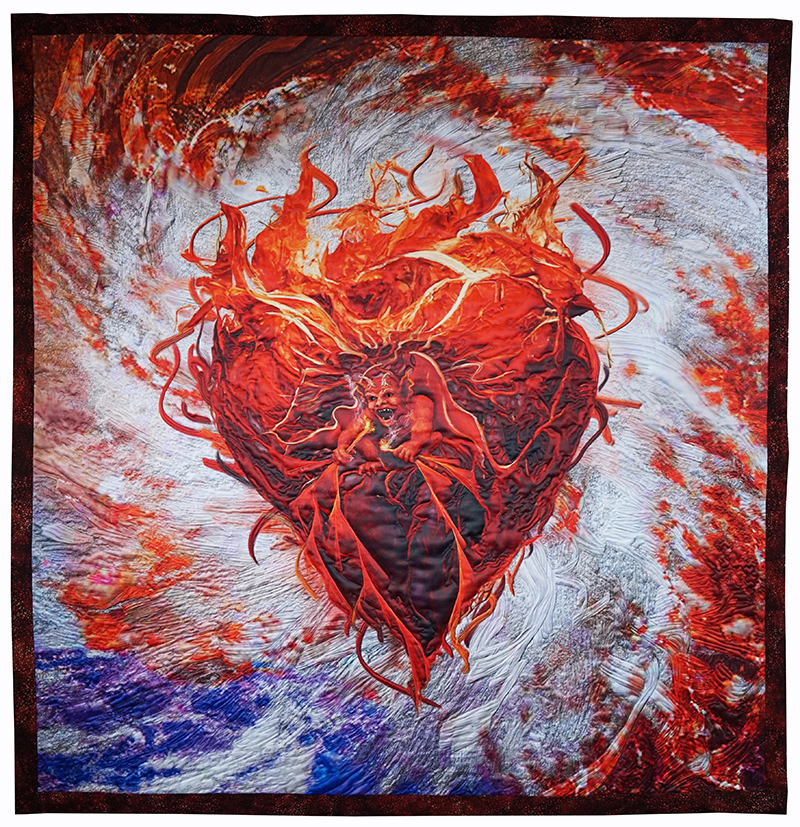 The Fury of My Heart (51" x 53") by Susan V. Polansky.
SAQA: Color in Context: Red
Ever since our earliest ancestors began applying iron oxide to cave walls and their bodies, the color red has played a major role in art, rituals, and spirituality. Quilts in this exhibit's use of red can evoke excitement, danger, anger or love in the West.
Structure and Solidity: Quilts from QuiltCon


Organized by Amanda Bernay
In our ever-changing world, quilts are an anchor that links us to the past and centers us in the present. In this collection of quilts, the quilt design is anchoring. The motifs evoke stability and structure, something viewers can settle into. This exhibit is compiled from several years of QuiltCon quilts.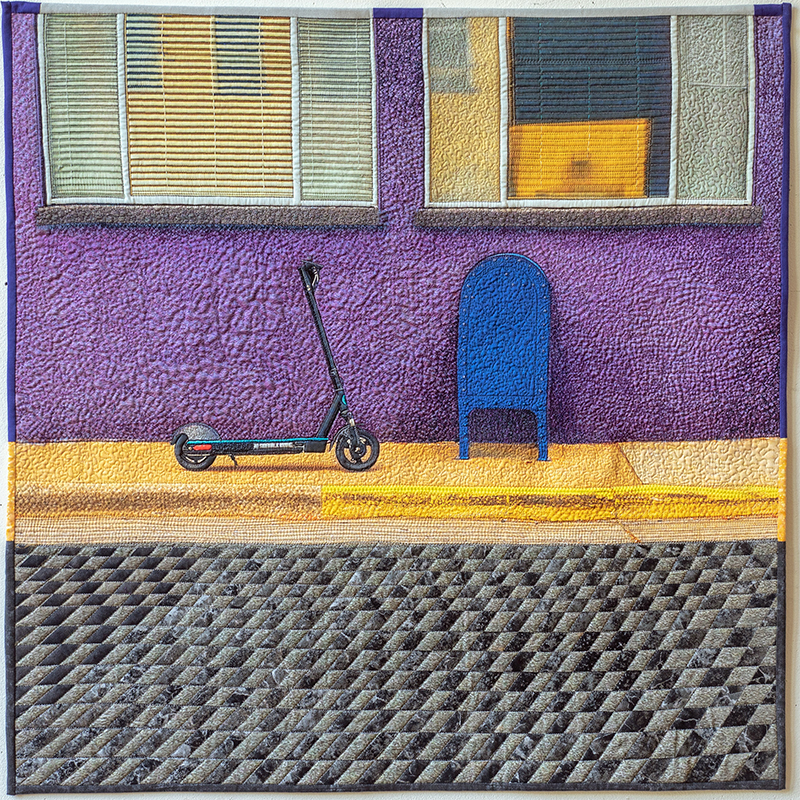 Urban Wall (30" x 30") by Jill Kerttula.
Buildings have a long history of inspiring the creative designs of quiltmakers. In the 19th century, American quilters developed classic architectural patterns such as Log Cabin, Schoolhouse, and Brick Wall. This annual juried exhibit challenges quiltmakers to create works based on architectural themes and inspirations.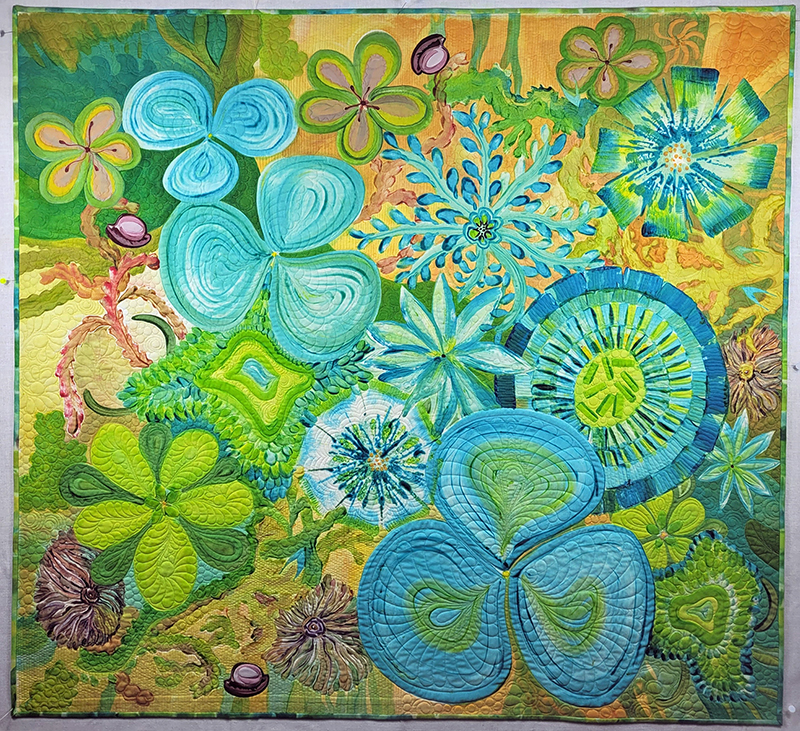 Rock Pool Theme: Island Vacation (47" x 43") by Denise Burkitt.
When Denise Burkitt travels, she is open to being amazed! Her exhibit reflects her creative experience on the journey—the feelings and mood of a place as well as her sensory connection to the surroundings. The inspiration of colors, textures, shapes and line intuitively energizes and sparks a passion to paint directly onto fabric via mark-making with various tools.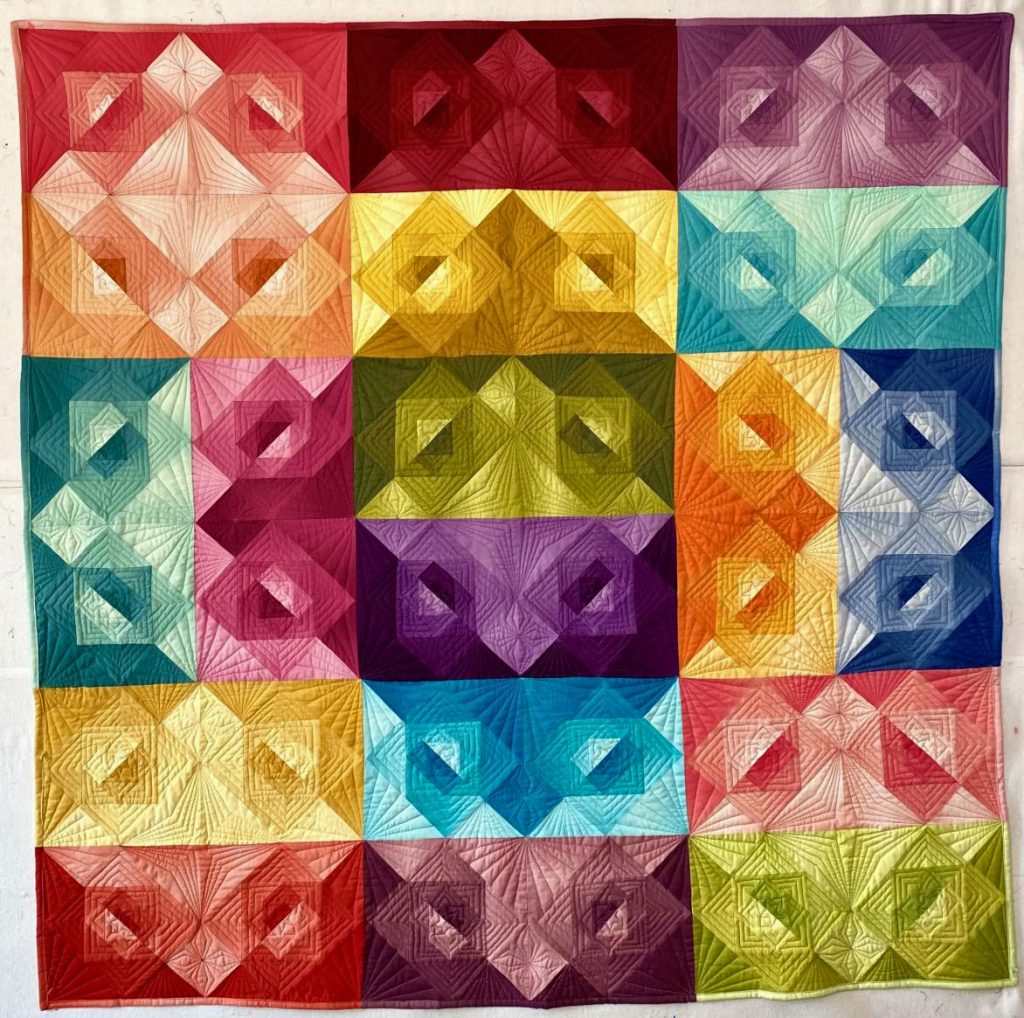 Square in a Square Kaleidoscope (61" x 61") by Carrie Wikander.
More quilters than ever are combining different styles and designs into a single work of art. The quilts in this exhibit were originally submitted for the regular "In the American Tradition" exhibit. But so many had a decidedly Modern-looking design, they qualified for their own exhibit!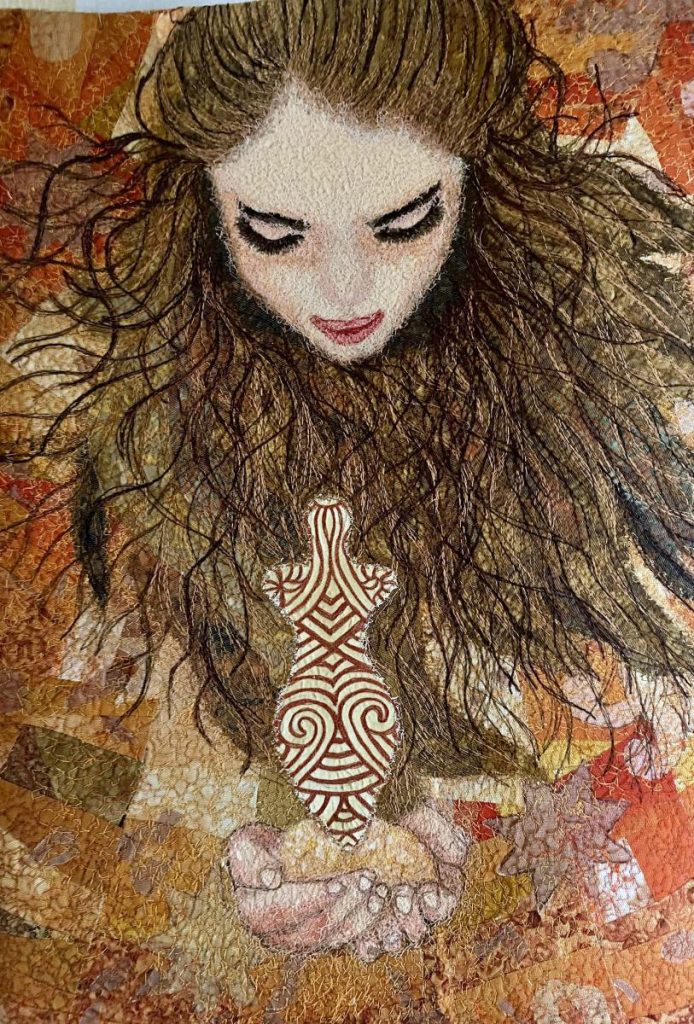 Past (24" x 16") by Olga Avdeyeva.
Ukraine. Past. War. Future.

A project of works inspired in three parts. Past: Tripillia, as an older people's civilization who lived on the territory of modern Ukraine. War: To survive, you need to live, so to live. You need to find the Light within yourself and try to give it to others. Future: The kindest jobs that make you smile. Quilters in this exhibit range from beginners to masters, and give a message to all humanity about what we can lose if we allow the darkness to consume us or fear to be stronger than us.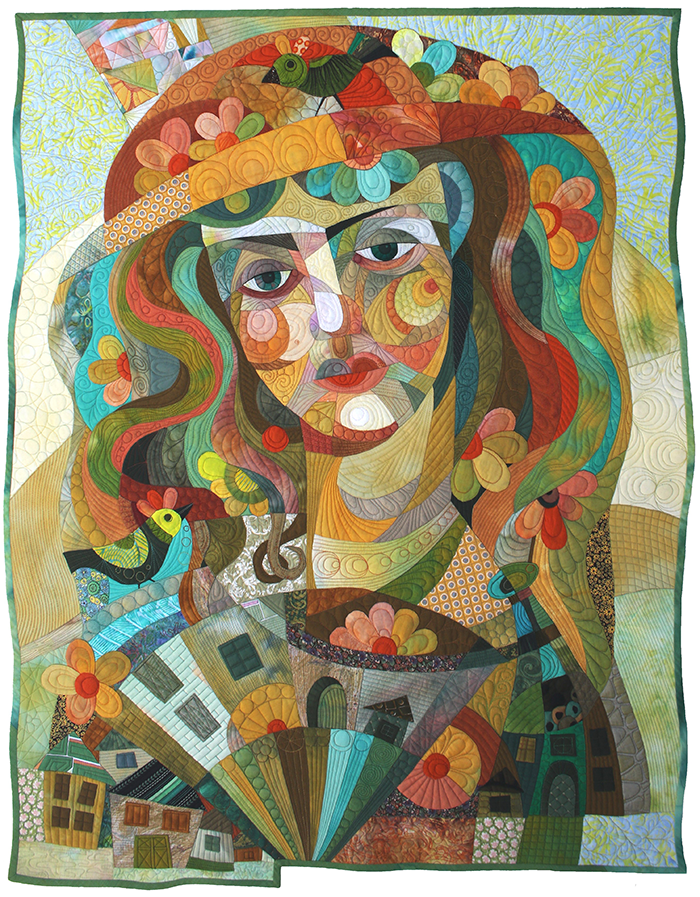 Flora the Goddess of Spring (35" x 43") by Galla.

Galla Grotto designed the women's series based on cultural traditions throughout the world. It is her reinterpretation of myths, images, and symbols. In the gallery of portraits of her heroines, goddesses, fairies, muses, and female images, all of them convey ideas and express different feelings.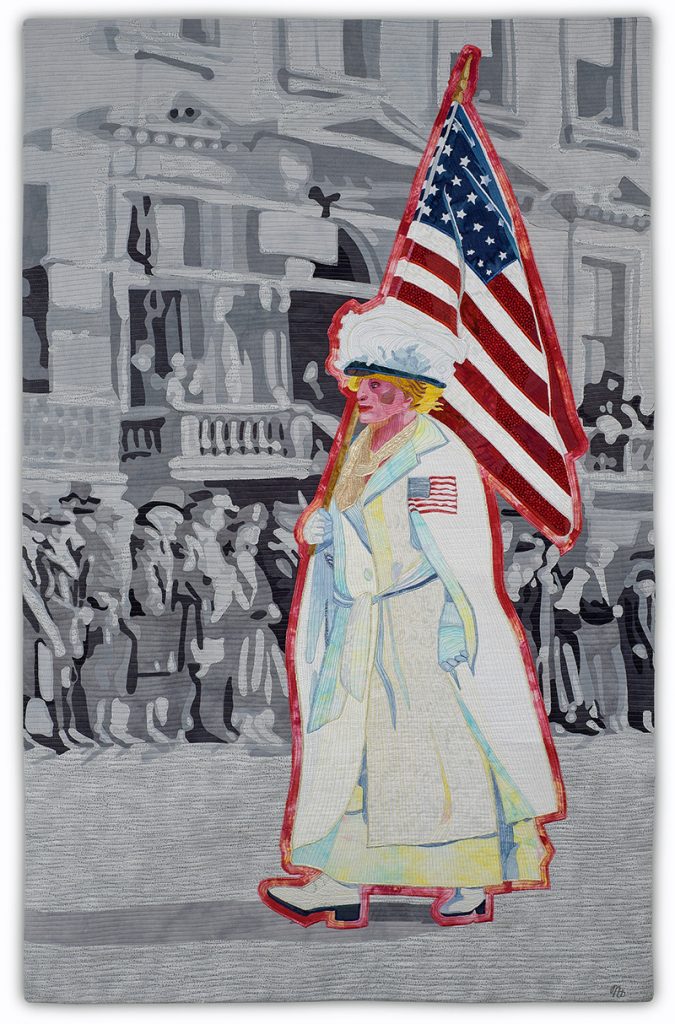 Steps of Thunder (32.5" x 52") by Nancy Turbitt.
Women's Voices, Women's Vote, Women's Rights

Curated by Allida Black, PhD.
Organized by Allison Wilbur
Women have long been on the front lines fighting for equality and human rights – risking their lives and their livelihoods to make their communities more just. And today, they continue advocating for what Secretary Hillary Rodham Clinton calls "the unfinished business of the 21st century" – women's equality. This exhibit from the Clinton Center commemorates these brave activists and inspires a new generation to use their voices—and their votes—to advance human rights.