HOUSTON – March 23, 2020 –Working at the International Quilt Festival—one of the city of Houston's largest annual public shows—makes for great real world training ground for any college student pursuing a career in event planning and production, the convention industry, or hospitality services.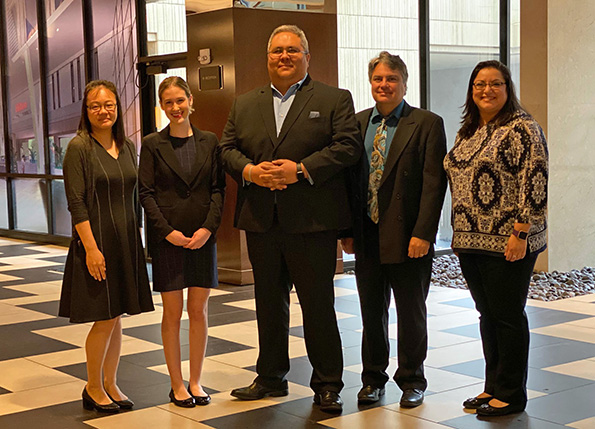 That's certainly the case for University of Houston student Kylie Stevens, who was recently named the second recipient of the International Quilt Festival Scholarship.
The $1,000 scholarship was open to any student enrolled in UH's Conrad N. Hilton College of Hotel and Restaurant Management and who volunteered to work at last year's International Quilt Festival (produced by parent company Quilts, Inc.), and then submitted an essay about their experiences.
Stevens worked with Festival's Volunteer Coordinator Terri Winsauer, scheduling and entering database information about the hundreds of volunteers and paid workers who help on the show floor each year. Her essay and its contents was deemed the best of all of the applicants by a panel of judges.
"We are very pleased again this year to not only offer this scholarship, but give it to such a deserving student," says Karey Bresenhan, Founder and Director Emeritus of International Quilt Festival. "There is a lot of behind-the-scenes work at our show that the public never sees. And there's definitely a lot of hands-on knowledge that a student can learn in that capacity they can't necessarily get out of a book or lecture."
"The Conrad N. Hilton College sincerely appreciates the support of the industry in valuing higher education and our students," says Miguel Cabrera, UH Director of Development & Alumni Engagement at Hilton College. "For the deserving student who received the scholarship, it means a lot. But to have an established partnership with the great Quilt Festival for students to be able apply their studies is priceless."
As for the freshman Stevens, her course of studies has included classes in Hospitality, Hospitality Technology, and Food Safety and Sanitation. She is currently enrolled in Food Safety and Sanitation in the Hospitality Industry and Foodservice Management, and plans to graduate in the spring of 2023 and pursue a career in Hotel Management.
In her award-winning essay, she wrote about how her mother told her that her late grandmother – an avid quilter – would be "so proud" of her for working at International Quilt Festival. The experience also helped Stevens feel closer to her grandmother, who suffered from Alzheimers and could not communicate with her.
Stevens says that she was in middle school when she discovered the hospitality industry. Her eighth-grade science teacher made the entire class take a career quiz, and her top match was Hospitality. "After researching about it, I immediately felt like hospitality was perfect for me, and I still believe so today," she says. "Volunteering at the Quilt Festival revealed a form of art I never even thought about. I believe quilting is an avenue for all sorts of expression and is, unfortunately, an underappreciated artistry."
Stevens adds that her ultimate goal for the future is to pursue a career that gives her complete fulfillment. "I want to go to work every day knowing I'm making a difference in someone else's life. And I believe hospitality is a great provider for that dream," she says.
International Quilt Festival will continue the scholarship program at the University of Houston for 2020, and applicants will be attending and working International Quilt Festival this October 29-November 1 at the George R. Brown Convention Center.