Ever wanted to see artists work in real time right before your eyes? During show hours four artists will be working simultaneously (two hours at a time) in each of the rooms, demonstrating their craft. Come by Open Studios on the show floor and be inspired by what these top-notch artists are doing.
Schedule is subject to change. Photos from the 2019 Quilt Festival.
Sewing Machines generously provided by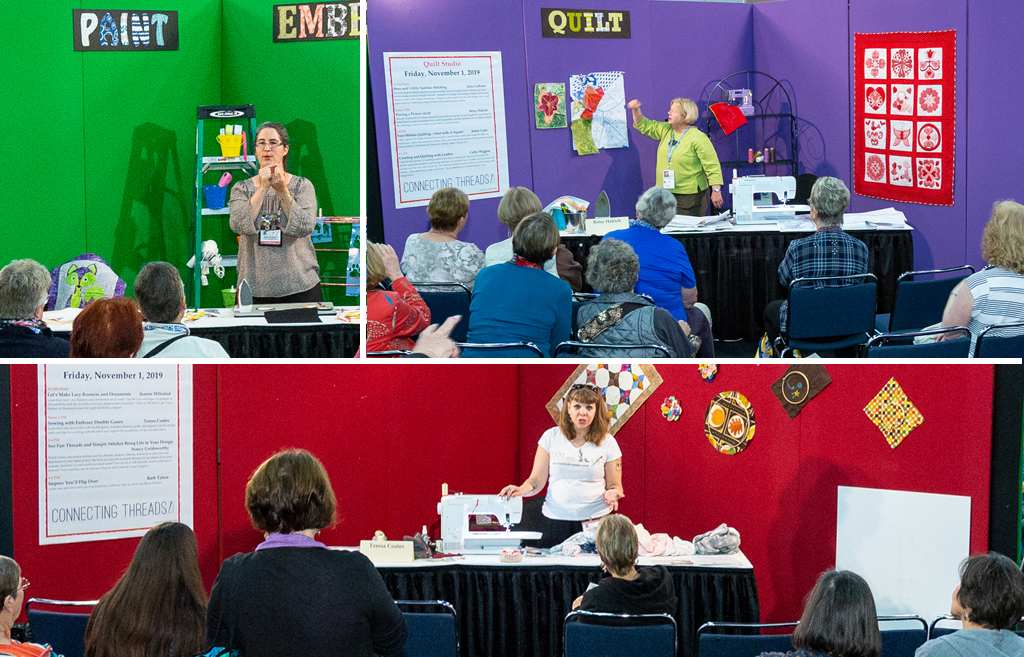 The Many Variations of Drunkard's Path
Scrapping with Unusual Scraps
One Ruler, One Method—Any Triangle Unit in Any Size
How to Quilt Reverse Appliqué to Reveal Its Beauty
Acrylic Dot Mandala Painting on Canvas
Sew Many Feet, Sew Little Time
Create Enchanting Fabric with Washable Tsukineko Inks
Bargello Quilts in Motion
Free-Motion Quilting—Start with a Square
Clover's Quick Cut Thread Cutter
Adding Dimension to Your Reverse Appliqué
Fast and Fabulous—Free-Motion Grid Designs
Look! No Curved Seams Used to Make Those Circles
Baltimore Album Appliqué with Freezer Paper
The Versatility of the Yin Yang Shape
Turned Edge Appliqué using the APPLIQUICK Tools and System. Let's Turn Some DOT'S!
Hand & Machine Reverse Appliqué the Eye of the Beholder Way
Fast and Fabulous—Free-Motion Grid Designs
Learn the Options, Finish the Quilt
Welcome to the Fold—Itajime Shibori
Sew Many Feet, Sew Little Time
Create Enchanting Fabric with Washable Tsukineko Inks
Clover's Quick Cut Thread Cutter
Fusing Your Way to Quilting Success
Fast and Fabulous—Free-Motion Grid Designs
The Many Variations of Drunkard's Path
Fast and Fabulous—Free-Motion Grid Designs
One Ruler, One Method—Any Triangle Unit in Any Size
Welcome to the Fold—Itajime Shibori
Hexies Hybrid Style—No Paper, No Glue—Stitch Half by Machine and Half with a Hand Running Stitch
Accent Your Work with 3-Dimensional Flowers
Sew Many Feet, Sew Little Time
Dorset Buttons—A Traditional English Craft
Quick & Easy Holiday Decor and Gift Items
Fabric Mania – 10 Ways to Craft Custom Fabric with Tsukineko Inks
How to Make the Most of One Ruler
Hand & Machine Reverse Appliqué the Eye of the Beholder Way
Fast and Fabulous—Free-Motion Grid Designs
Clover's Stitch Dome Embroidery
How to Quilt Reverse Appliqué to Reveal Its Beauty
Hexies Hybrid Style—No Paper, No Glue—Stitch Half by Machine and Half with a Hand Running Stitch