There is a required $60 Event Registration Fee for anyone signing up for classes, lectures, and events. This fee includes admission for the entire show including the Private Preview (5-6pm) and Regular Preview (6-9pm) on Wednesday, October 27, a commemorative show pin, and the Q2 show program. Lectures only may be purchased at the door with cash while at the show without paying the event fee.


**PLEASE READ**

ENROLLMENT INFO & INSTRUCTIONS >
ENROLLMENT TIPS INFOGRAPHIC >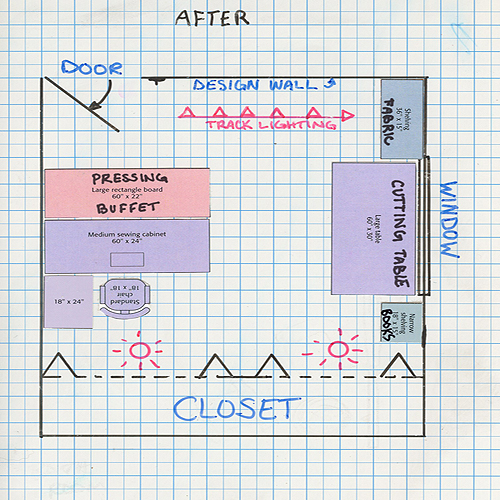 One Hour Quilt Studio Consultations
Consult one-on-one with an ergonomist and quilt studio designer about your specific needs. Walk away with solutions to your ergonomic problems, layout recommendations, furnishing ideas, and organizing solutions tailored to your requirements. Consultations provided in 1-hour increments. Contact Lois Hallock at clearviewdesigns@comcast.net to reserve your appointment. Photographs of quilt studio and room dimensions are helpful but not required. Go to www.clearview-designs.com for more information.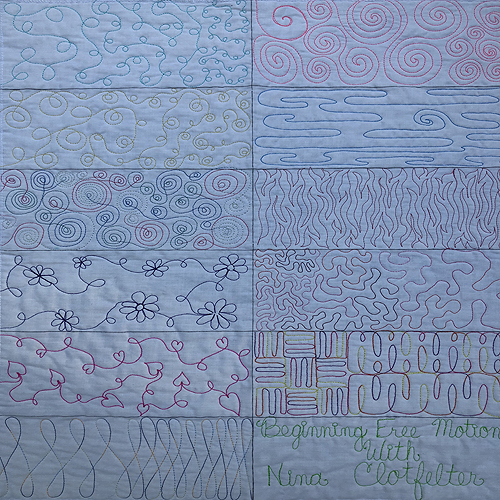 303 Class—Beginning Free-Motion Quilting
Whether you are a true beginner or someone just looking to refresh a bit, this class is designed to provide a variety of tips and tricks to help you gain control of your quilt. Make a take-home sampler of 12 free-motion quilting designs from this fabulously creative world of free-motion quilting! www.ninaquilts.com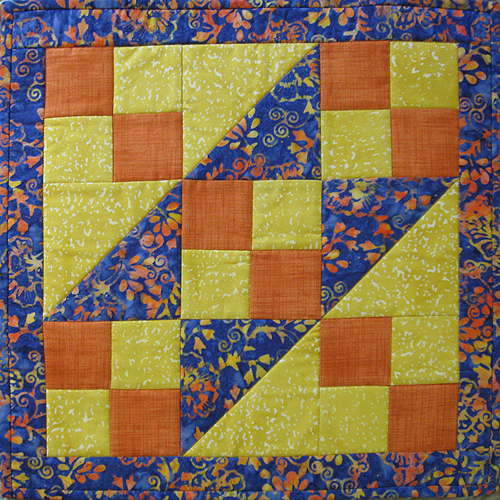 304 Class—Quilting Fundamentals
If you are a beginning quilter, or an experienced quilter who would like to review the basics, this class is for you! Cover all the basics of machine piecing a quilt—use of basic quilting tools, accurate cutting using a rotary cutter and mat, sewing an accurate ¼in seam, matching seams, ironing vs. pressing, adding borders and binding, etc.—as you make a small, simple wallhanging. www.kathiebeltz.com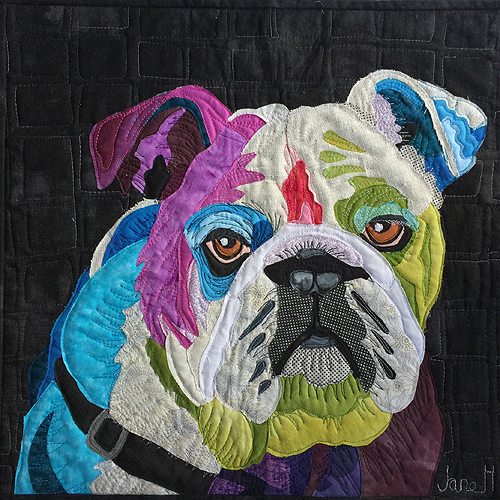 306 Class—Dazzling Dogs or Cats Fabric Collage
Work on one of Haworth's brightly colored dog or cat patterns to learn her raw-edge fabric collage technique—no fusible product or pattern pieces. Discuss various methods to design and make your own pattern using a photo of your own pet and look at pet photos to see what makes a successful quilt.
310 Class—Invisible Machine Appliqué
Learn a few techniques for turning and stitching your appliqué elements that can then be stitched using a machine. This technique is so invisible you will swear they are done by hand. Also learn Roelfsema's technique for designing and stitching a very cool scalloped border with a mitered corner. www.onpoint-tv.com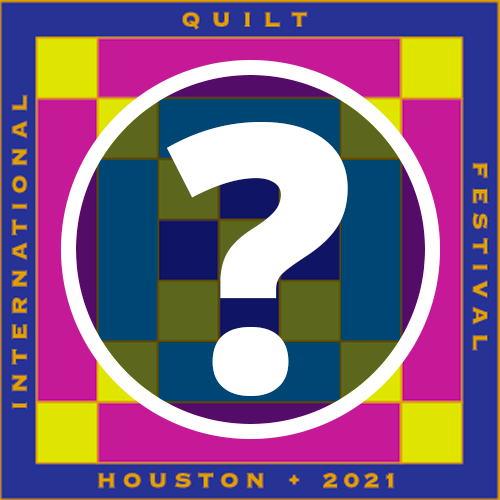 312 Class—Let Me Surprise You! #1
All-Day Classes 8:30am-4:30pm
Finally, a class where you know you have all the right fabrics because there is a pre-cut kit waiting for you to make a quilt designed just for Quilt Festival. Such a relaxing, fun-filled day! Although you will be amazed what you can get done here, you will not finish in class—but you can certainly try! Also offered as 115 on Monday. Do not enroll for both.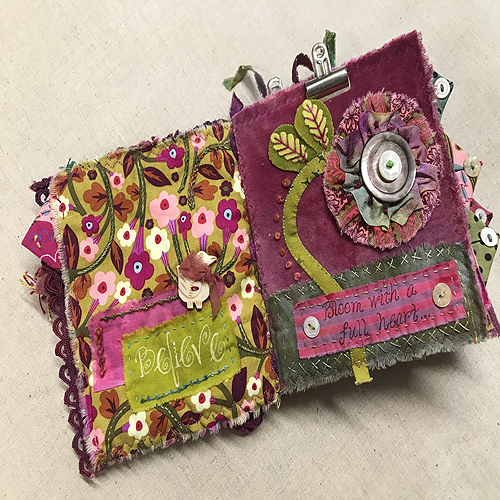 313 Class—Sprout Like a Wildflower (Fabric Book)
All-Day Classes 8:30am-4:30pm
Play with small bits of fabric, old lace, buttons, tiny pins, and fabric pens to see how beautifully wildflowers can be created and stitched using hand-dyed fabrics and threads. Collage backgrounds and create 3-D flowers. Use wool, linen, cheesecloth, cotton prints, organdy, osnaburg, cotton velveteen, and silk velvet for as many textures as you can create! Includes hand embroidery stitches and stump work for each flower. www.susanedmonsondesigns.com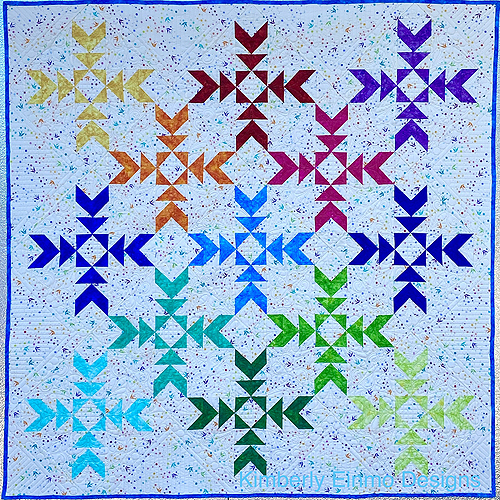 314 Class—Fractured Flying Geese
All-Day Classes 8:30am-4:30pm
Who knew there could be so much design potential using just thirteen 2.5in strips plus background fabric? Einmo's signature construction method using her Precision Flying Geese & HST Ruler means no math, no wasted fabric, and no stress to make these fabulous Flying Geese variations! While learning ways to improve your precision piecing in class, construct these blocks quickly and easily. Learn the difference between half-square and quarter-square triangles plus how and when to use them effectively as you add a whole new repertoire to your arsenal. www.kimberlyeinmo.com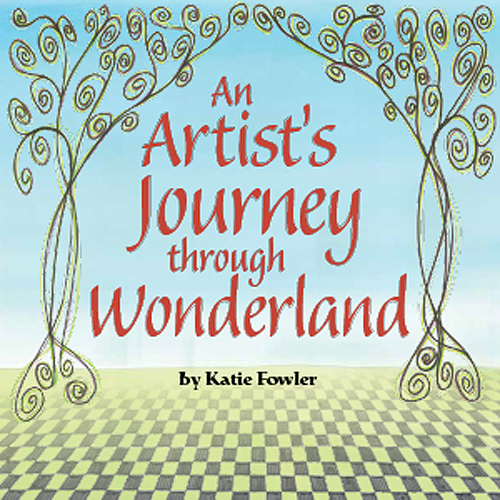 315 Class—Down the Rabbit Hole Creativity Playshop
All-Day Classes 8:30am-4:30pm
Expect to be reacquainted with your imagination in this special workshop. Use a variety of experiences specifically designed to reconnect you with your unique creative self. This is not a "how to" class, but a hands-on trip down the rabbit hole in search of each participant's creative potential. www.katiefowler.net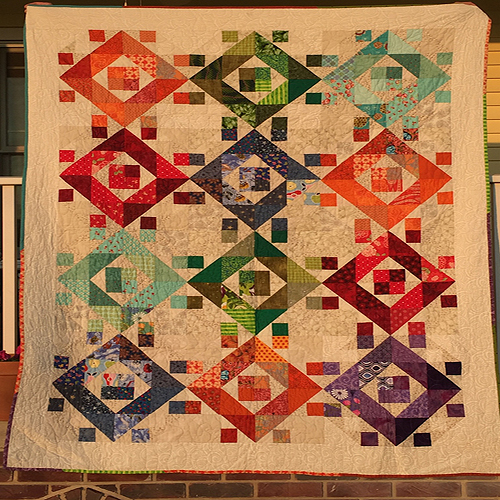 316 Class—Quilts for Scrap Lovers
All-Day Classes 8:30am-4:30pm
Learn to make multiple blocks using scraps as you explore Quilts for Scrap Lovers. Use of color and marrying odd prints and odd shaped scraps will be discussed. Learn innovative cutting techniques for your scraps along with optimal color and intensity placement.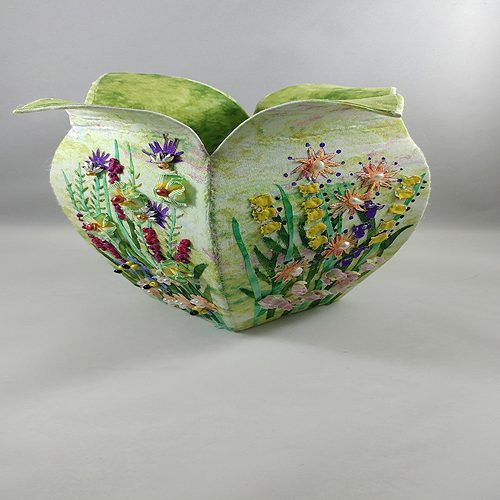 317 Class—My Magic Garden Art Vessel
All-Day Classes 8:30am-4:30pm
Create a one-of-a-kind art vessel using fabrics, a variety of hand stitches, several embellishments, and more. Design and decorate each panel and then stitch four panels together to create an art vessel. Lynne demonstrates optional art vessels and unusual ways to create these beautiful art forms. www.almostheavenonline.com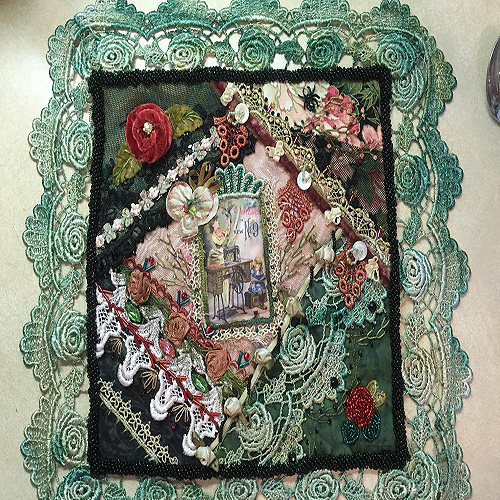 320 Class—Crazy Work for Everyone
For beginner or advanced, learn easy ways to achieve an elegant look on a 12in Crazy pieced block (provided). Learn a rolled velvet Rose, folded Rose, button bead loops, knotted ribbon flower, Beaded Stem stitch, Feather stitch, and design work. Dyeing lace and printing pictures on fabric will be discussed. May not be finished in class. Charms sold separately.
321 Class—Quilt Studio Design Intensive
Learn the basics of creative studio space design along with conquering organizing and ergonomic challenges. Class is guided through instruction alternating with in-class work to design the most optimal creative space with the best storage solutions.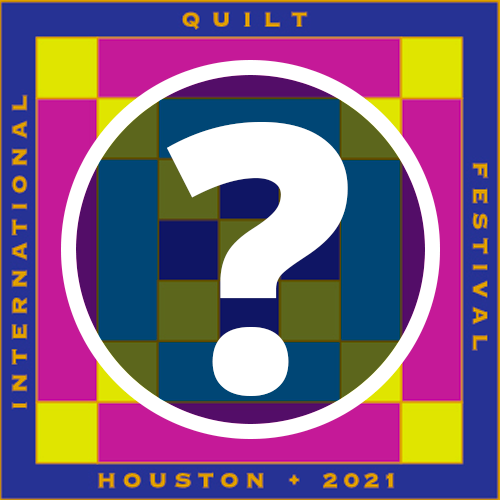 322 Class—The Other Mystery—Progressive Class
Part of the most creative curriculum offered at Festival! Stone contributes her talent and humor to this kitted mystery class. Enjoy this project as is or combine with complementary projects offered in the other two Progressive Classes. Then join in at Friday's lecture 581 to see the grand reveal of how these three teachers have combined their projects into fantastic collaborative quilts. Progressive Class—this class may be taken singularly or in conjunction with Kimberly Einmo's 405 on Thursday and/or Charlotte Angotti's 511 on Friday. Enroll for one, two, or all three. Actual project will vary from photo.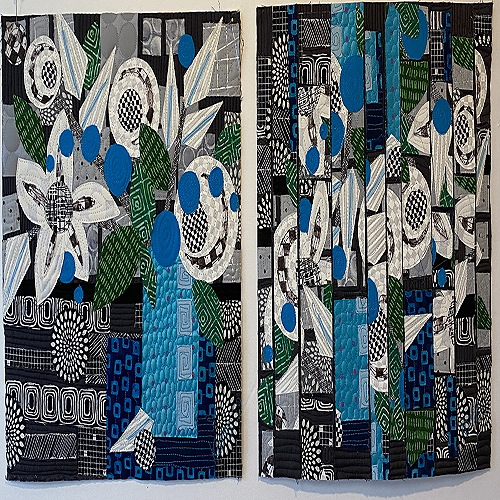 324 Class—Jumpstarting Your Creativity—Distorting the Still Life
All-Day Classes 9:30am-5:30pm
A one-day exploration from an optional four-day long course on creativity—take as many as you desire from the series. Take inspiration from a photo of a still life, simplify the forms, fuse together an exciting little piece, cut it up to distort it, then reassemble the pieces to create a dynamic Art quilt with just a nod to the original still life. Exciting! See related classes at 129 on Monday, 227 on Tuesday, and 418 on Thursday.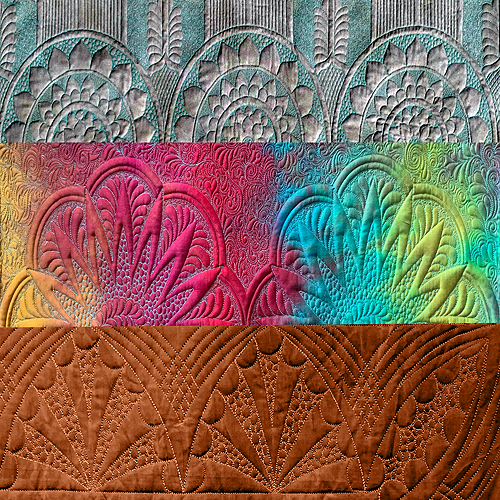 327 Class—Brilliant Borders—Not Your Average Edge—Longarm Hands-On
Morning Longarm Class 8am-12pm
Why not make magic happen on a quilt border?  Using rulers, stencils, and basic markings, create brilliant borders on any quilt. Marchetti will share various examples of both plain and pieced borders discussing the hows and whys of the quilting. Then stitch on a custom printed panel to create your own magical border brilliance! One person per machine—space is limited.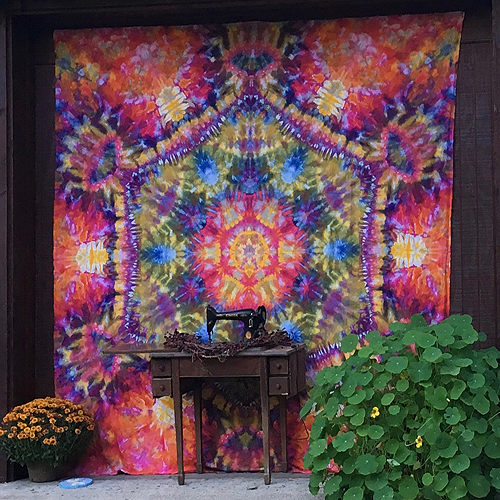 328 Class—Freezing Your Backsides—Ice-Dyed Quilt Backs
Learn the tips and tricks to folding, designing, pleating, and dyeing these one-of-a-kind giant mandala quilt backs. After discussing styles and options, design and pleat your mandala, choose your own color palette, and apply the dye with the ice-dyeing method. Super fun!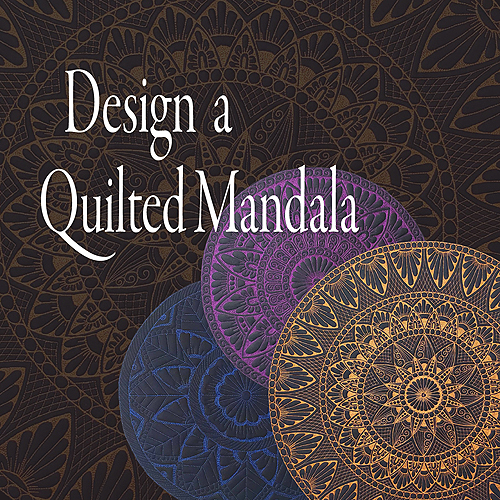 331 Class—Design a Quilted Mandala
Get ready to learn practical solutions on how to design and quilt a mandala wholecloth quilt. In this drawing design class, we will dissect the three styles of Mandalas, learn how to create the foundation lines for each style, and how to choose from a variety of filler designs, to come up with a continuous traveling path. With the help of stencils, rulers, and some free-motion quilting, be able to create your own unique Quilted Mandalas designs. Drawing on paper provides a copy of your design to refer to later. Drawing on plastic, with a dry erase marker, provides a fast and easy way to doodle, but is temporary. We will use both methods in class.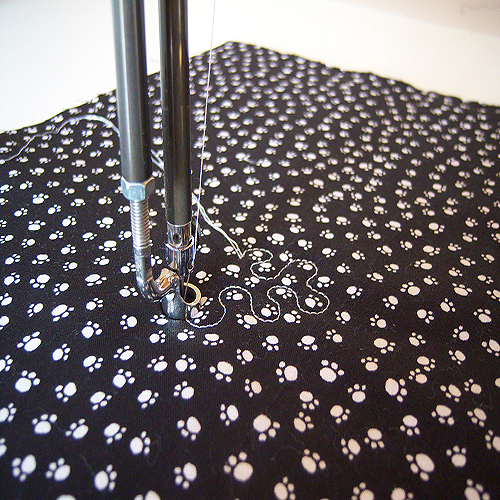 332 Class—Yes, You Can Stipple!—HQ Capri Hands-On
Using a series of specific quilt sandwiches, build your confidence and find your own 'rhythm' while learning to free-motion quilt on a stationary quilting machine. Everything you need is supplied in the class kit! www.davidtaylorquilts.com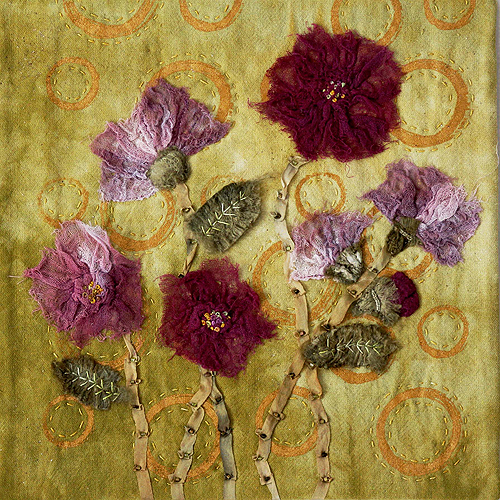 336 Class—Blooming—Cheesecloth Flowers
Morning Classes 8:30am-11:30am
Nature is all about texture. Create a unique fabric by screen printing and foiling on a hand-dyed fabric. Using unconventional fibers, like cheesecloth and silk carrier rods, create a small floral quilt. Unique and dimensional! www.fiberonawhim.com