There is a required $60 Event Registration Fee for anyone signing up for classes, lectures, and events. This fee includes admission for the entire show including the Private Preview (5-6pm) and Regular Preview (6-9pm) on Wednesday, October 27, a commemorative show pin, and the Q2 show program. Lectures only may be purchased at the door with cash while at the show without paying the event fee.


**PLEASE READ**

ENROLLMENT INFO & INSTRUCTIONS >
ENROLLMENT TIPS INFOGRAPHIC >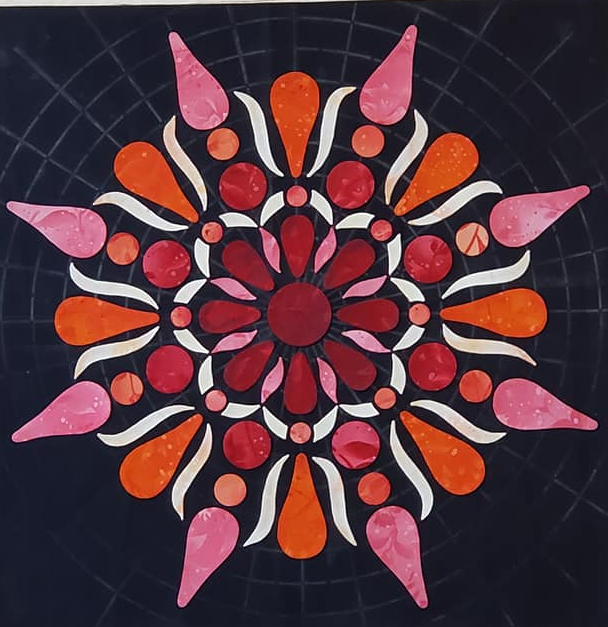 105 Class—Mandala Madness
Create this Muriel mandala design using the Apliquick Rods to turn the edges under. Focus on learning the Apliquick method to get perfectly turned circles and points creating a beautiful mandala on a 22in sq background fabric. www.quiltingtranquility.com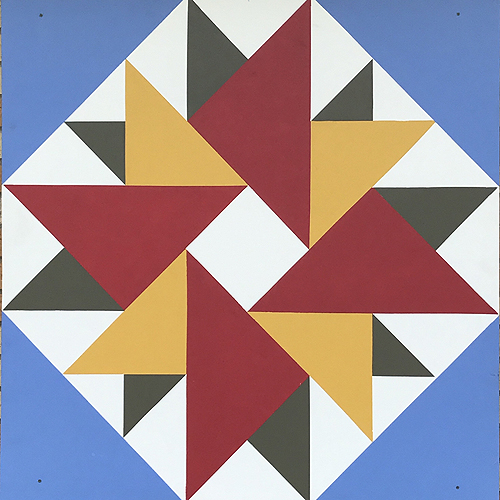 106 Class—Barn Quilt Block Painting
Class taught with Rhoda Gersch. Paint your favorite quilt design on a board to be hung on your house, gate or barn. Dozens of quilt designs will be available to choose from. Learn how to transfer and paint that design on the 2ft sq board. It's all taping and painting. No special artistic skills are needed. https://quiltblocktrail.com/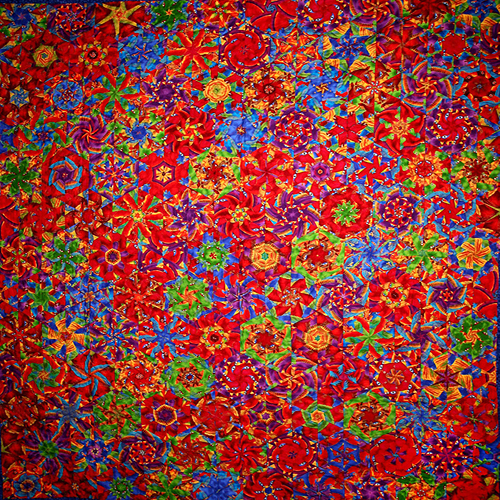 107 Class—One Block Wonders
Create a Kaleidoscope of color with a single large scale print fabric. Using straight piecing and no Y-seams, build a stunning quilt that employs a straightforward process to achieve dramatic results.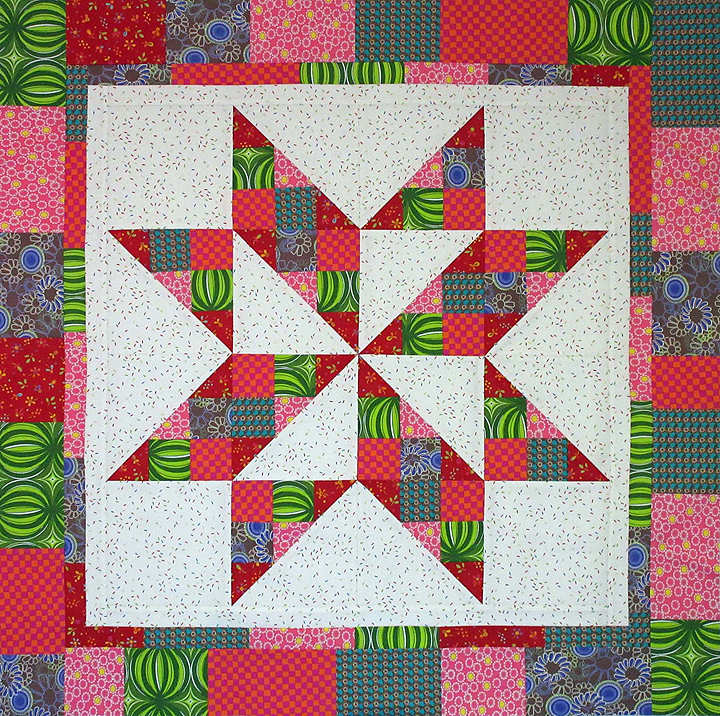 Just imagine the design possibilities with the fun and versatile Shaded 9-Patch unit! The Shaded 9-Patch can be described as a 9-Patch block cut in half diagonally. But to create this block, there is no cutting of triangles and there is no piecing of triangles. All the piecing is done with strips and rectangles, creating oversized blocks which are then trimmed down to make them perfect. Project size is a 34in sq, suitable for confident beginner/intermediate sewists. www.kathiebeltz.com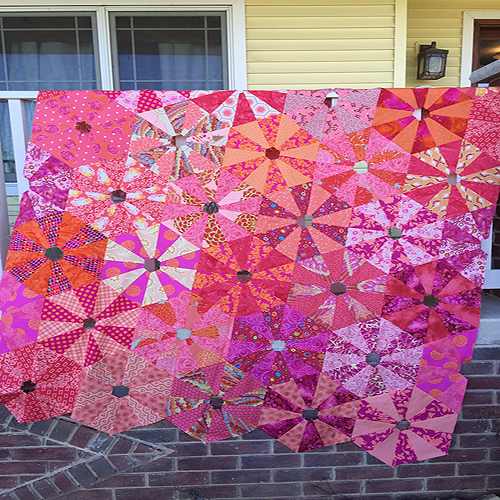 109 Class—Blended Hexagons
Make hexagons from squares! That's right. With this innovative cutting technique, turn your scraps into beautiful hexagons. Learn how to utilize scraps to make this beautiful quilt and how to optimize color choices for scrap quilting.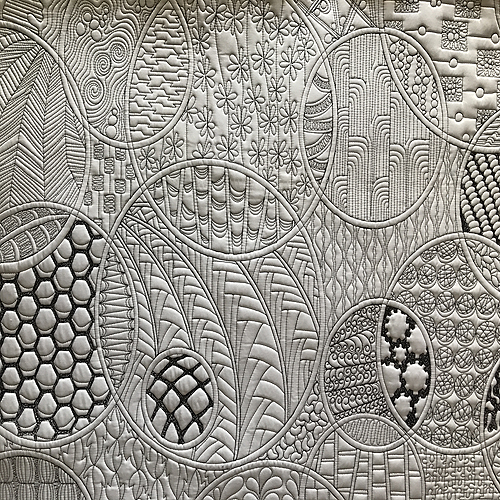 111 Class—Quilted Texture from A to Zen
Traditional free-motion background fillers are a wonderful starting point, but what happens when you let yourself be influenced by natural patterns, macro photography, and the textures of everyday objects? Be inspired by Nemesh's fresh take on backgrounds—using physical objects to inspire new textures—perfect for filling those big open spaces on Modern quilts! www.whitearborquilting.com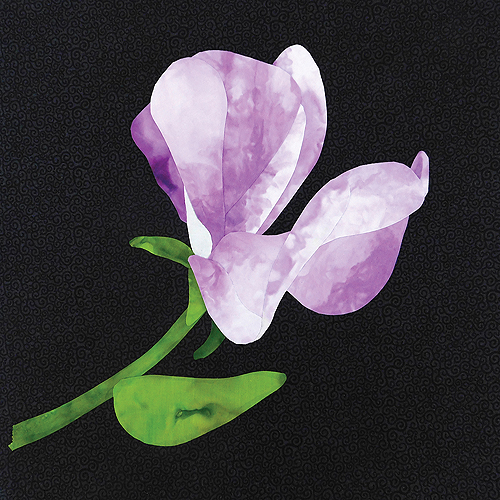 113 Class—Turned-Edge, Layered Hand Appliqué
Create an appliquéd flower block. Choosing the proper fabric makes all the difference in creating representational art. Topics include fussy-cutting fabric, using freezer paper templates, and mastering a virtually invisible appliqué stitch. Fully kitted. www.davidtaylorquilts.com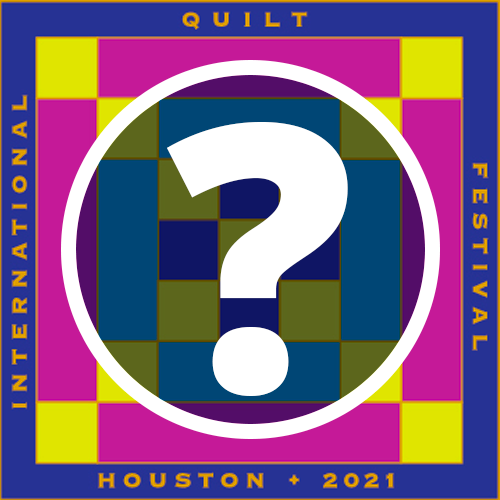 115 Class—Let Me Surprise You! #1
All-Day Classes 8:30am-4:30am
Finally, a class where you know you have all the right fabrics because there is a pre-cut kit waiting for you to make a quilt designed just for Quilt Festival. Such a relaxing, fun-filled day! Although you will be amazed what you can get done here, you will not finish in class—but you can certainly try! Also offered as 312 on Wednesday. Do not enroll for both.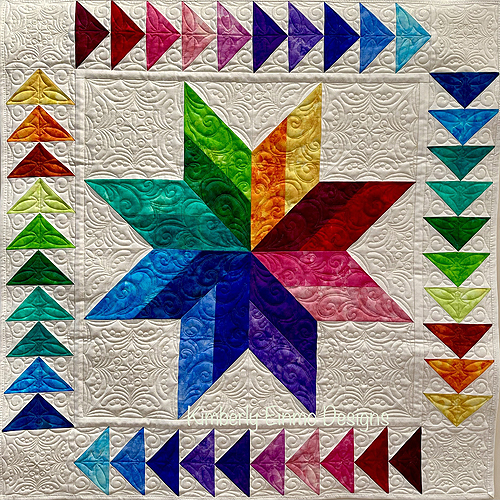 116 Class—Spinwheel Star and Flying Geese
All-Day Classes 8:30am-4:30am
Einmo will teach you her signature method to make this stunning, rainbow-colored star wall hanging from 2½in strips without "Y" or set-in seams using her Precision Precuts (or Precision Jelly Roll) Ruler. This class is truly a technique double-header; also learn Einmo's signature method for making absolutely perfect flying geese units using her Precision Flying Geese & HST Ruler with no wasted fabric, no math, and absolutely no stress! Einmo will share many top tips sure to make your sewing time productive and fun, while you improve your precision piecing skills and learn how to conquer that elusive scant ¼in seam once and for all! www.KimberlyEinmo.com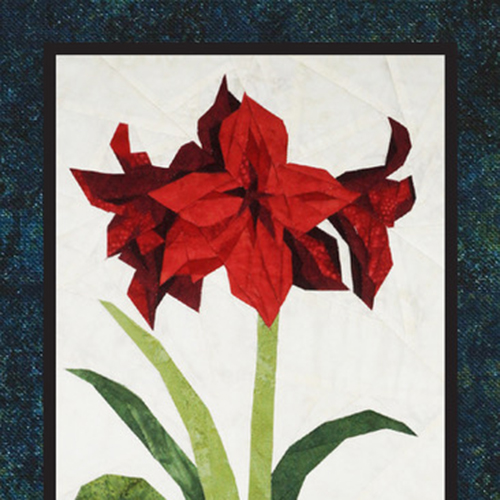 All-Day Classes 8:30am-4:30am
Brighten up your holiday decor with this beautiful potted Amaryllis. Enjoy it for years to come and no watering needed! No sewing through paper—work on the right side of the fabric. Lots of helpful time-saving hints. Fabric selection, organizational skills, and construction methods will be addressed. Fun and forgiving technique!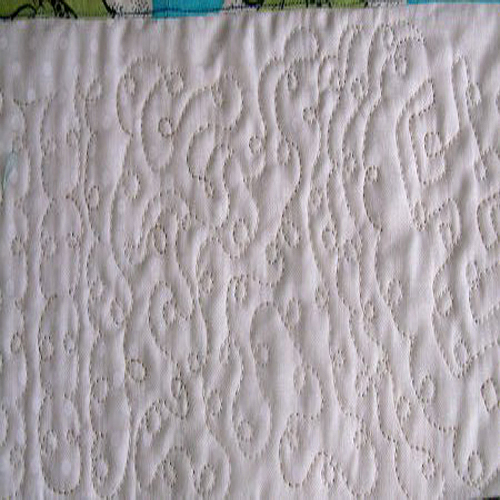 118 Class—Beginner Free-Motion Machine Quilting
All-Day Classes 8:30am-4:30am
Learn the basics of free-motion machine quilting including tension and needle and thread pairing.  Cover all the basics from straight lines to stippling. Conquer the details and have some fun!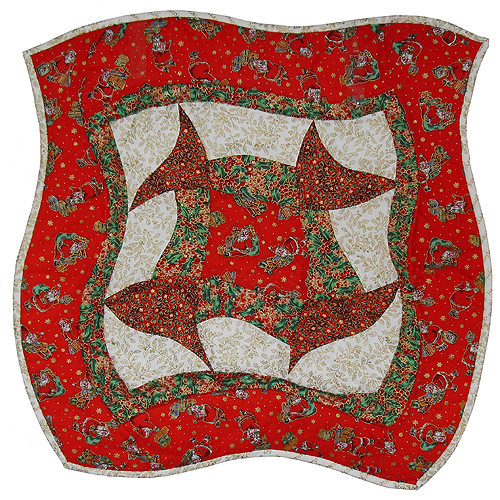 119 Class–CONTEMPORARY CURVED PIECING
All-Day Classes 8:30am-4:30am
Learn Naylor's award-winning curved piecing method. Extensive discussion on materials, equipment, and working methods. Use a master pattern for a small curved quilt to make freezer paper templates. Demonstrations show how to cut and sew. Construct your mini quilt using precise techniques sure to give wonderful results. A great opportunity to learn an entirely different way of creating a Contemporary quilt top!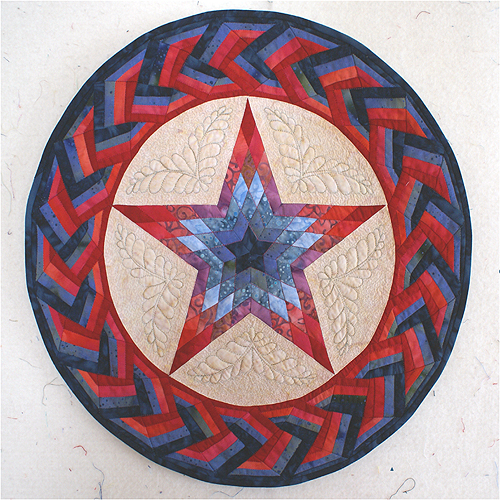 A tribute to Texas—this colorful five point star is fun to piece and a beautiful project when completed. The unusual circular project features Flynn's original round braided border. Laser cut pieces have engineered corners so piecing is easier and accurate.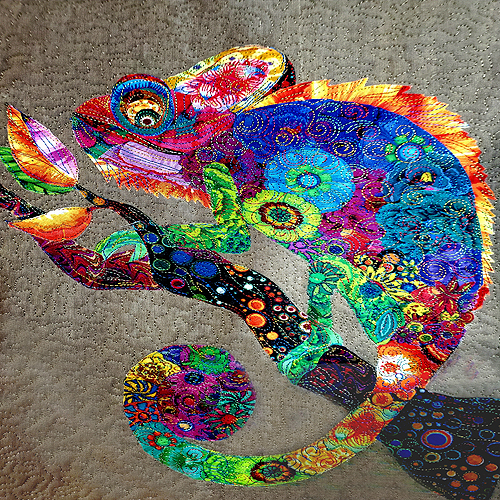 126 Class—Doodle Appliqué
Discover how to work with and represent figures using only floral prints. Create volume and dimension, using only the flowers of the fabric. Learn to work with tonal values, no matter what color you use. A simple and fast technique with an amazing result. www.marinalandi.com.br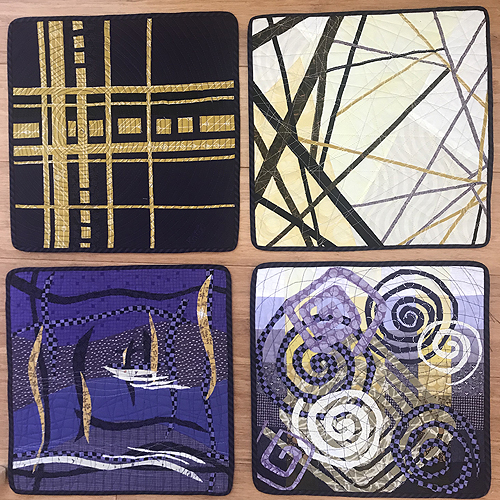 129 Class—Jumpstarting Your Creativity—Composition with Line
All-Day Classes 9:30am-5:30am
An exciting one-day of an optional four-day long course on creativity—take as many as you desire from the series—no prerequisites. Explore the many possibilities of creating a dynamic Art quilt just using the element of line (our lines will be different widths of strips of fabric). Enjoy working with a complementary color scheme and a full range of values for punch and sophistication. See related classes at 227 on Tuesday, 324 on Wednesday, and 418 on Thursday.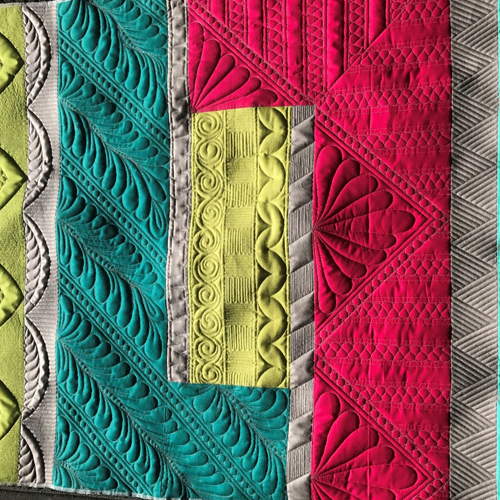 131 Class—FREE-MOTION QUILTING BORDERS—LONGARM HANDS-ON
Learn various designs and pathways for quilting stunning borders and sashings. Kelly Ashton's tips and tricks will guide you as you plan your next quilting project. One person per machine—space is limited.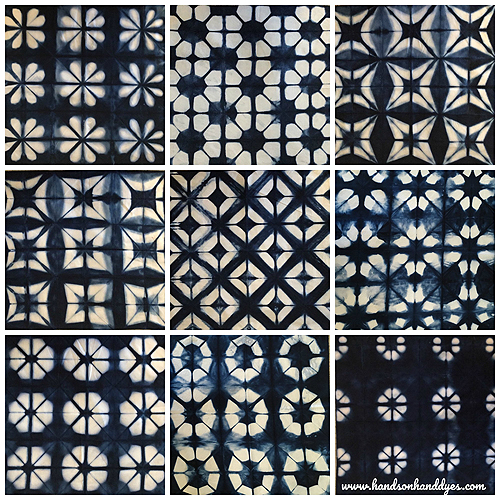 132 Class—Love Triangles—Itajime Shibori
A modern approach to an ancient craft—learn some of the basic Itajime Shibori folds and how to achieve these traditional indigo patterns. Fold, clamp, and dye your way through twelve FQs in this fun-filled class. Using modern acrylic shaped resist templates and fiber reactive dyes, learn many tips to achieving edge-to-edge patterns and designs.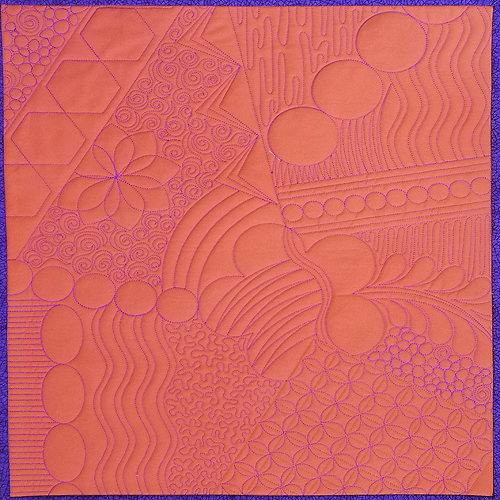 133 Class—Longarm Ruler Roundabout—HQ Capri Hands-On
Learn how rulers will expand your quilting skills in this fun, hands-on class on a Capri stationary longarm quilting machine. Try many different rulers while learning how to use them easily and safely. Rulers with a bit of free-motion fills will be shown with samples of many of the rulers.  Add a stencil or two and you will have a fabulous quilt.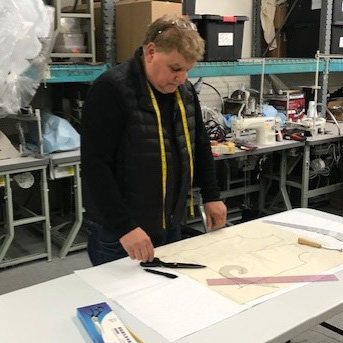 136 Class—How to Fit Your Body Form to Your Body Shape
Making a garment is faster, more accurate than ever when you create your fit on a dress form with easy placement of sizing material. Learn to make simple adjustments on the form to fit your shape instantaneously and eliminate the frustrations of fitting the pattern to your shape. One dress form can become your body shape in seconds! www.Frencheuropeaninc.com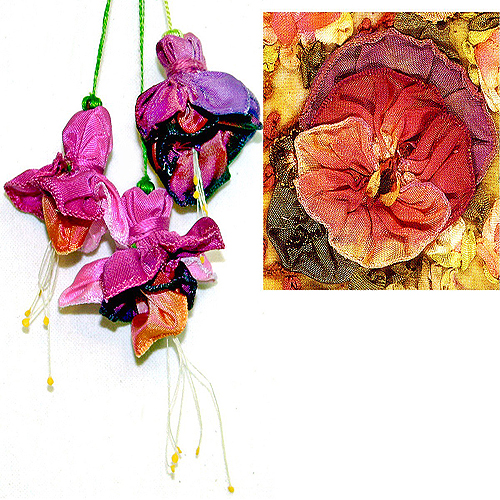 138 Class—Wire Ribbon Fuchias and Pansies
Jump into the wonderful world of wire ribbon work as you are carefully guided through the process of creating these beautiful dimensional flowers. The Fuchsias make wonderful tassels, ornaments, or art-to-wear decorations while the Pansies can be clustered together to create a framed art piece, or to decorate clothing and accessories. Floral Stitches, p. 16, C&T; www.JudithBakerMontano.com