"The more that you read, the more things you will know. The more that you learn, the more places you'll go." —Dr. Seuss
"Reading is a superpower that also gives you a type of teleportation; it moves you a million miles instantly. That feeling of being immersed in a different place, or even a different time period, can be so strong you may not want to leave." —Kevin Kelly, Founder of Wired magazine
I've written before about the now-decades-long proliferation of books with quilts, quilters, and quilting as their subject and focus. One area that I haven't really discussed, however, is the number of quilt books written specifically for children. There are dozens of them! There is even a subgenre of children's quilt books that have Christmas quilts as their theme. And while the holiday season is over, here is a sampling of these sweet stories in case you want to get a head start on the list for a special young person in your life!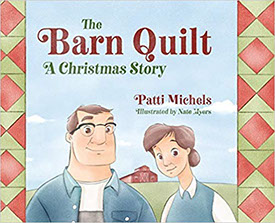 Many quilters are likely familiar with the American Quilt Barn Trail movement started by Donna Sue Groves in 2001 in Ohio to paint large quilt block patterns on the sides of barns as a way to create a driving tour to generate tourist traffic and benefit the economy. The idea caught on, with quilt barn trails being developed in dozens of U.S. states and several Canadian provinces. Patti Michaels' children's book takes this idea as inspiration for her story about a little boy who wants his friends, Miz Patti and Farmer Max, to have a quilt block painted on the side of their barn. The book has underlying themes of friendship and farm life, while also exploring a few quilt block patterns and the history of barn quilts.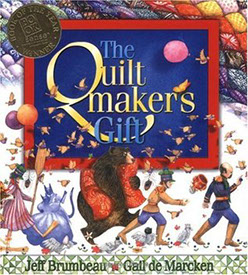 While not exclusively a Christmas tale, this lovely book does center on an essential element of the holiday season: giving. It tells the story of a quiltmaker who gives her quilts away and the greedy king, who, no matter how many presents he gets for Christmas or his birthday, is never satisfied and wants more. The king wants one of her quilts, but she will only give him one under certain conditions, and in the process, she causes him to have a change of heart and learn about the joy of giving.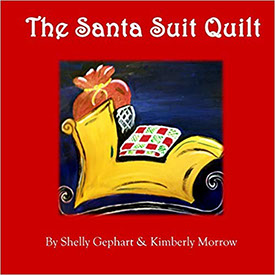 Santa keeps ripping his suits when he's out delivering presents, so Mrs. Claus decides to make a quilt out of all his ruined outfits. The two authors have a group of "quilting elves" who will craft a handmade quilt to go along with a copy of the book.