Note: This continuing series reposts some of the most memorable columns of Suzy's Fancy, which ran from 2009-2020. This piece originally ran in October 2012.
---
Inflammatory Breast Cancer (IBC) is an uncommon but aggressive form of cancer that grows rapidly and spreads to other parts of the body. It tends to affect women at younger ages than other types of breast cancer. And by the time it is diagnosed, it has all-too-frequently progressed to an advanced stage. In 2000, Karen Cottrell of Horseshoe Bay, Texas, learned that she had IBC. Neither she nor any of her family or friends had ever heard of it before.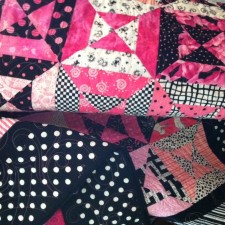 Because she was diagnosed early and treated appropriately, Karen has beat the odds of 50% survival, and she is in her twelfth year of living with cancer, although in the last few years it has metastasized into her lungs, bones, and brain. Karen continues to fight the disease with courage, grace, and tenacity, and she is a daily inspiration to all who know her.
With so little being known about IBC and funding for research for the rare cancer in short supply, Karen's husband, David, and children, Jennifer Laymance, Kim Harris, and Michael Cottrell, founded a group in 2009 known as Team Karen to make others more aware of the disease and to raise money for research.
For the past three years, TeamKaren has held all manner of fundraisers, from 5K and 10K runs to spaghetti suppers, and in 2011, they added a quilt raffle. To date, the efforts have raised over $100,000, every penny of which has gone to the Morgan Welch IBC Cancer Research Program at MD Anderson Hospital in Houston. (Morgan Welch, a 24-year-old woman, was the youngest person to ever die of IBC.)
A quilting friend of Karen's daughter, Kim, came up with the idea of a raffle quilt for TeamKaren. Valerie Boessling, who operates Sew Fun, a monogramming and custom embroidery business in Pearland, a Houston suburb on the Texas Gulf Coast, has been making quilts for 15 years.
"I have a nice collection of quilts just for me, and my husband once said, 'Don't we have enough quilts?'" she laughs. "That got me thinking that we only have two beds in our house, two couches, and three people. So, yes, I guess we have enough quilts, but I didn't want to stop making them. That's when I decided to make at least one quilt a year to donate to a charity."
"Some years ago at a quilt retreat, I fell in love with one of the quilts on the bed there," Valerie continues. "Several of us decided to do a pink, black, and white block trade to look like the pink quilt at the retreat center. The blocks had been 'aging' in my sewing room for a while and when Kim Harris reminded me about the TeamKaren fundraiser, I knew just what to use them for. That's how the Think Pink quilt came about.
"The blocks were made by myself, Debbie Brown, Winnie Fleming, Beverly French, Marcia Brenner, and Lisa Fontenot, all of us members of The Bay Area Quilt Guild in Houston. I put the blocks together, added borders, and did the binding. The quilt was quilted by Marcia Brenner of Stars and Strips Quilting in Pearland using a 'ribbon' all-over design. My mother-in-law, Kay Boessling, died in 2008 of breast cancer, so I like to help out with breast cancer fundraisers."
And help out she did. Valerie's Think Pink quilt added a significant amount to the total donated to the IBC Cancer Research Program in 2011—just one more way that quilters and their quilts make the world a better place.