---
Note: This continuing series reposts some of the most memorable columns of Suzy's Fancy, which ran from 2009-2020. This piece originally ran in June 2013.
---
These days, it's close to impossible to go to a traditional quilt show and not see reproduction fabrics—those that look like textiles from a different era but that are produced using modern methods—in many of the quilts on display. The use of reproduction fabrics has become so established that it is hard to remember when they weren't common.
So when did the craze for reproduction fabrics get started? Most experts date the trend to the late 1980s, and much of the credit for kickstarting the movement goes to Judie Rothermel, an authority on antique quilts and vintage fabrics, who began designing museum-inspired fabric collections in 1987.
Her Aunt Grace series, produced by Marcus Fabrics in New York City, was the textile industry's first source for 1930s reproduction fabrics. And since then, Judie has designed lines representing a number of other time periods.
Today, most fabric print houses offer reproduction fabrics, and there are many talented designers putting together lines. And "repros" are estimated to account for as much as 10% of fabric sales.
Dan Weidmuller, owner of Newcastle Fabrics in Passaic, New Jersey, says that Newcastle began producing reproduction collections in the late 1980s. The company's reproduction offerings now cover a wide time span, ranging from the Regency Period (1811-1820) up the 1950s.
"Reproduction fabrics are a lot of fun, and because we are able to draw from designs that were being produced at different mills during the same time period, we can put together a line that provides a real cross section of what was going on during a particular era," he says. "Plus, the fabrics are just really beautiful."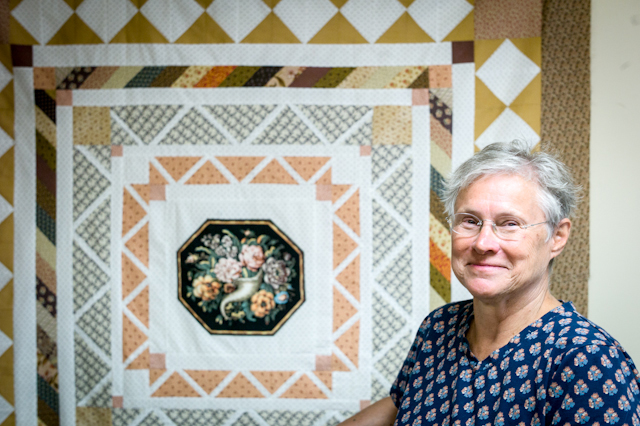 In addition to their beauty, the remarkable variety of reproduction fabrics keeps fabric lovers enthralled. Textile historian Margo Krager, one of the foremost retailers for repros (ReproductionFabrics.com) who also designs reproduction lines, recalls the point at which she realized the sheer volume of prints being made annually.
"I was taking a History of Quilts class through the University of Nebraska-Lincoln," says Krager, who is an adjunct professor of Apparel and Textiles at Montana State University. "During the class, I learned that at the height of American 'calico' production (1850-1855), companies were offering about 10,000 different prints a year. I found that fascinating.
"I went to my Buyer's Guide from Quilt Market and picked out three major printers and three mid-sized ones. I called them to ask how many different designs they offered at each Market. I then went back to the Guide and did the math for a calendar year. At that point, I estimated the 'quilt market' was offering again about 10,000 different prints a year. Often, someone shows up at my store with an antique quilt they want to repair and are dismayed at not being able to find an exact replacement for 'the red print that is damaged.' I tell them this story to try to explain why every print from the 1880s, for example, is not currently being reproduced."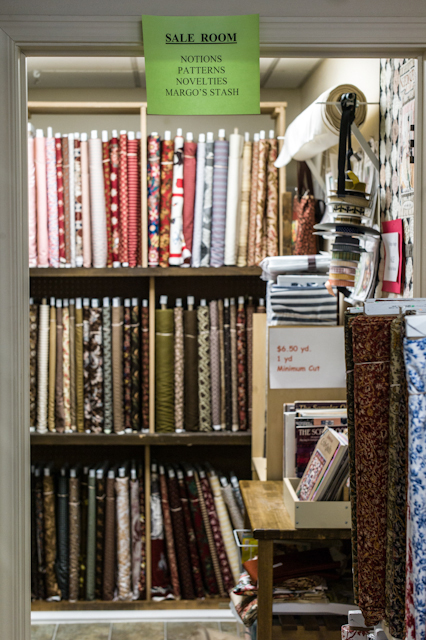 As to why reproduction fabrics are so popular now, Weidmuller believes that reproduction fabrics appeal to traditional quilters, who he feels still comprise the majority of people who quilt.
Interest in the Revolutionary War and the Civil War (now experiencing its 150th anniversary), plus a seemingly endless fascination with Jane Austen and the Regency period also fuel the interest in fabric designs from an earlier time. The cheery Depression-era pastels seem to have a timeless appeal as well.
Krager feels that the trend has been gaining momentum for a couple of decades: "About ten years after the Quilt Revival began in the 1970s, people were starting to focus on quilts coming out of trunks and attics and those at antique shops. The households being liquidated at that time where those of ladies who quilted during the 1900s-1920s. Then in the next decade we were seeing a wave of 'new' antique quilts—those from the Depression Era," she offers.
"People fell in love with all those fabrics. In the early 1990s, I bought an entire line of '30s reproduction fabrics and I advertised in Quilters Newsletter that I had them all. I got calls and orders from all over the U.S.! That is what started my reproduction mail order business." Today, she sells reproduction fabrics from 1775 to 1950 to customers all over the globe.
"Fabric designers have recycling designs for centuries," Krager sums up. We all know that recycling is a good thing! Today's designers of reproduction lines, whether of the late 1700s, 1800s, or 1900s, are finding a ready market in the 21st century.