Note: This continuing series reposts some of the most memorable columns of Suzy's Fancy, which ran from 2009-2020. This piece originally ran in March 2014.
---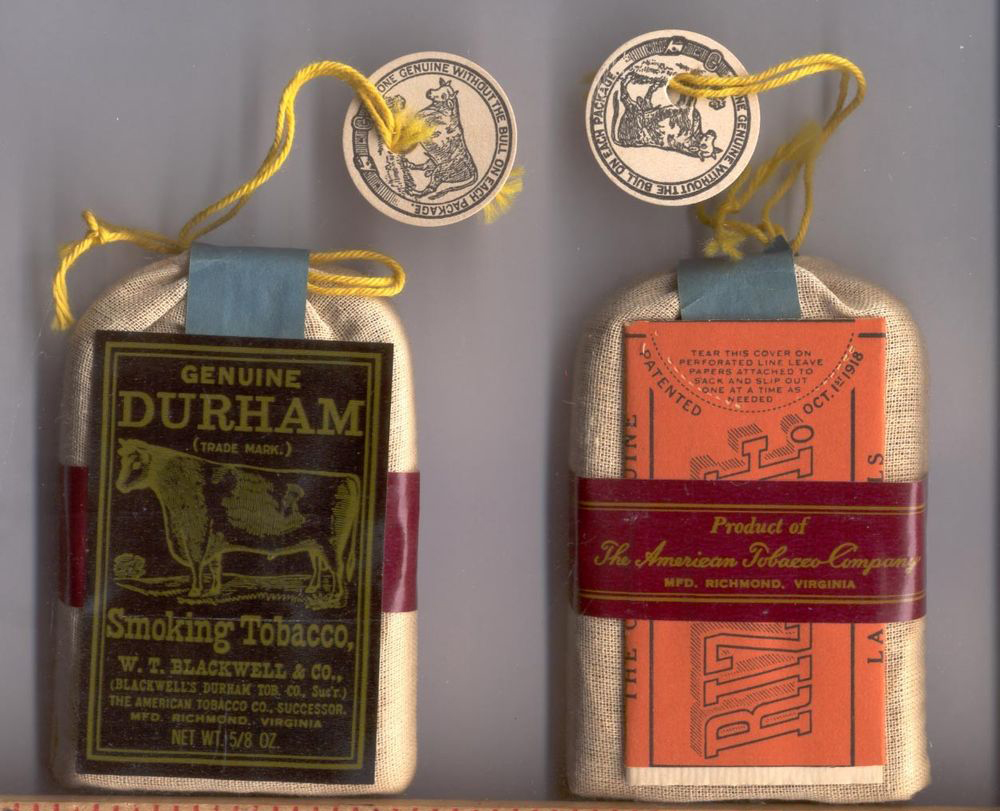 If you like looking at Depression-era quilts, chances are you may have seen at least one made out of tobacco sacks.
Tobacco sack quilts were especially popular during the 1930s, although they had been made before then. If you're like me, however, you may never have given much thought to the back-story of the little muslin bags that thrifty quilters happily embraced as a pre-cut fabric supply to use in their quilts.
It was shortly after the Civil War when James R. Green of Durham Station, North Carolina began packaging finely-chopped tobacco in a soft white muslin sack. Prior to that time, tobacco was sold in rope and cable twists.
The little bags, measuring about 3 x 4 inches, were sewn down the length of two sides with a drawstring opening at the top, to which a round paper tag was attached. They fit neatly into a pocket and kept the loose tobacco together in a tidy package, ready for smokers to use in their pipes or roll their own cigarettes.
According to a history of the Bull Durham Tobacco Company, "W.T. Blackwell partnered with Mr. Green and formed the Bull Durham Tobacco Company. The name 'Bull Durham' was supposedly taken from the bull on the British Coleman Mustard package, which Mr. Blackwell mistakenly believed was manufactured in Durham, England.
"By the turn of the century, Bull Durham Tobacco was reportedly the largest tobacco company in the world. The company introduced production, packaging, and marketing techniques that made Bull Durham a part of American industrial history and folklore."
Certainly the packaging of tobacco in little bags was a stroke of marketing genius. The Bull Durham product sold for five cents a bag and was billed as "The Cheapest Luxury In The World."
The sacks were especially popular with cowboys, who called their cigarettes "quirlies" and it was said that they could make 33 quirlies out of one five-cent sack of Bull Durham. In old photos of the post Civil War era, it is common to see the small round paper tags hanging from a man's vest or shirt pocket, almost a style statement. Other companies followed suit, and the little muslin sack became the de facto packaging for loose-leaf tobacco.
A cottage industry, known as tobacco bag stringing, sprang up around the construction of tobacco sacks. The University of North Carolina Library website describes this effort: "In the late nineteenth and early twentieth centuries, families throughout the tobacco-growing regions of North Carolina and Virginia earned much-needed income by sewing drawstrings into cotton tobacco bags. Long forgotten today, tobacco bag stringing was a common activity in many communities.
"Because the labor was not physically demanding and could be done at home, the work attracted many women, children, and others who needed money to supplement their farm incomes, or who could not find work in nearby factories and mills. Tobacco bag stringers would thread the string into both sides [of the top opening of the bag], enabling the smoker to pull on the ends to close the bags. Experienced stringers were remarkably efficient. One woman from West Durham, N.C. remembered working only in her spare time and still stringing as many as a thousand bags a day, for which she earned about 50 cents."
All that stringing was undone by quilters, who, after the bags had been emptied of their contents, took them apart, washed them, often dyed them, and sewed them back together into a quilt top. The uniform rectangles readily lent themselves to one-patch quilt patterns such as Rail Fence, Streak of Lightning, or Brick Wall.