Note: This continuing series reposts some of the most memorable columns of Suzy's Fancy, which ran from 2009-2020. This piece originally ran in January 2012
---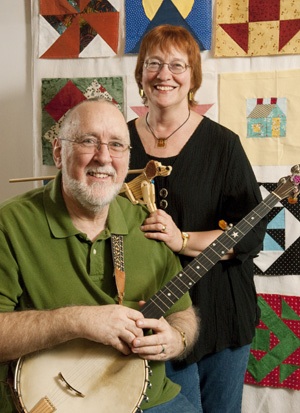 Ohio native Barb Childers grew up in a quilting family that also loved to tell stories, play folk games, and dance. With that rich traditional mix coursing through her DNA, it is hardly surprising that she developed into a creative dynamo.
What is remarkable, however, is the way that she has melded all those activities into a unique vehicle for sharing her heritage with others: The Story Quilt.
Barb and her musician husband Russ (a three-time Kentucky State Clawhammer Banjo Champion) perform as the musical duo Bear Foot ("She is the Foot and he is the Bear"). With Russ playing not only banjo, but also fiddle, guitar, dulcimer, and homemade "kitchen sink" instruments as well as singing, and Barb playing, singing, telling stories, making string figures, and clog dancing, they take their humorous, educational, and high-energy show on the road to schools, day care centers, nursing homes, festivals, family reunions, community gatherings, and libraries.
In fact it was Barb's "day job" as a children's librarian with the Cincinnati Public Library that first gave her the idea for The Story Quilt.
"One-third of the population in Cincinnati trace their roots to Appalachia, and the city celebrates May as Appalachian Heritage Month each year," Barb explains.
"One of my fellow librarians, Charlotte Decker, was a quilter and she had a big collection of quilt blocks in different patterns that she had never put together in a quilt. For quite awhile, we had been patterning our children's story time after the idea of African 'story vines'—some African tribes had storytellers who traveled to different villages and who carried a string or a vine with objects attached to it. The audience could select an object from the vine and the storyteller would tell a story associated with that object." (Barb was inspired by Anne Pellowski's book The Story Vine, which explained that the Lega people practice this traditional style of storytelling.)
"I was always promoting interactive activities, because if the children get involved in what is happening, they tend to take some ownership and pay more attention. I thought that Charlotte's quilt blocks could be used during Appalachian Heritage Month like a story vine to encourage the kids to participate," Barb continues.
"The response was just tremendous and when I retired after 38 years, Russ and I decided that The Story Quilt was something we could continue doing on our own for kids of all ages. The reaction we get from seniors is, of course, different from that of schoolchildren—but it is always surprising, always delightful, and always so much fun."
The way The Story Quilt works is that Barb and Russ come out on stage with more than 20 quilt blocks in a variety of patterns attached to a clothesline. The audience is invited to pick a block and Barb and Russ then spring into action, basing their performance on the audience's choice. Once picked from the clothesline, the block is Velcroed to a sheet, until twelve blocks have been chosen and a full-sized "quilt" is created from the choices.
The block patterns may change depending upon the audience, the season, or the location, but some examples might include "See Saw," which elicits from Barb a string trick that her Appalachian mother-in-law taught her; "Shoo Fly," which invites the audience to sing and dance along with the song of the same name; "Nine Patch," which produces a lesson on the 9s multiplication table; or "Corn and Beans," which might prompt anything from a riddle about an animal that loves to get in the corn patch, to a story about the Native American practice of planting "The Three Sisters"—corn, beans, and squash together so that they can support one another as they grow, or a song about moonshine (an alternate way to store corn!).
The blocks are all made by Barb herself, or by family members, including her sister and niece, and some of the older blocks were made by Barb's mother, Charlotte Hirst, who taught Barb to quilt and who has now passed away.
"We hear the most wonderful stories from our audiences regardless of whether we do this program for kids, families, or for senior citizens," said Barb. "What a journey! My mother would be so pleased at the direction we have taken her quilting."