Note: This continuing series reposts some of the most memorable columns of Suzy's Fancy, which ran from 2009-2020. This piece originally ran in August 2011.
---
If you were visiting the east side of Cleveland, Ohio and happened to wander into JEllen's House of Fabric, you might find Sarah Ely hard at work. She could be making a quilt for a family who has adopted a child through Reece's Rainbow, a nonprofit organization dedicated to the advocacy of international adoption of children with Down syndrome. Or she might be sewing a pillowcase for the American Patchwork and Quilting 1 Million Pillowcase Challenge, an activity designed to bring hope and comfort to foster children, cancer patients, or victims of domestic violence.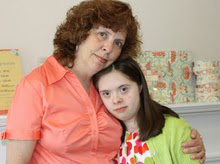 In her position as "SEW"cial Director of the store, Sarah might be giving an interview to a reporter, participating in a group activity in the "sewcial lounge," or writing a post for her regular blog, "My Name is Sarah: The Real Life Story of a Young Adult with Down Syndrome."
In another part of the store, you might find Sari Gonick, the Merchandise Manager, unpacking shipments of material or carefully rotating bolts of fabric to keep them from fading in the bright sunlight streaming through the cheery store's wonderfully large windows. Some employees might find these types of necessary—but monotonous—tasks to be tedious, but repetitive work fits perfectly with Sari's skill set. She has autism.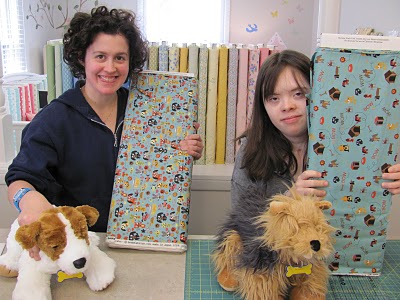 You see, JEllen's is not your usual quilt shop. Of course the store sells quilting fabric and supplies and offers classes, as do all quilt shops, and it serves as a meeting place for quilters in the area, as is common. But in addition to those typical quilt shop characteristics, JEllen's provides something else: a nurturing work environment for those with developmental disabilities.
Joyce Ely, Sarah's mom, is the store's proprietor, and she eventually hopes to employ six people with special needs. "When these young adults age out of the school system, opportunities for employment are few," Joyce says. "Like everyone else, they need something fulfilling to do, but they can't work more than a four-hour shift per day. We'll be hiring another girl with autism in a couple of months, and we plan to continue to add to the staff."
How the shop came to be is a testament not only to a mother's love, but also to one woman's desire to make a difference in the lives of others who are too often treated as "less than" by society at large.
Joyce learned to quilt when she was 16 and continued to quilt throughout college. As a graduate student in social work, she took a job on the night shift in a battered women's shelter. She often took a quilt to work on when things were quiet, and she noticed that the women who came to the shelter seemed drawn to her quilting projects.
Thinking that quilting might help the women ease the stress of their situation, Joyce started teaching a quilting class one afternoon a week (on her own time) at the shelter. The women loved it and Joyce discovered that the activity dovetailed neatly with her social work career. As have generations of quilters before her, Joyce realized that working with the hands over a quilt often helps the head and heart as well.
Upon graduation, life went into high gear for Joyce who had a husband, three children, and jobs with the American Heart Association, the United Way, and a black-tie custom apparel business, among others, eliminating her time to quilt for almost 20 years. Inspired by a beautiful quilted jacket she saw a woman wearing at an Ohio State football game, she was inspired to take up quilting again, only to discover that all the quilt shops she had formerly patronized on the east side of Cleveland had gone out of business.
She found her fabrics at a shop in Columbus instead, and while there, Sarah became captivated with the fabric and charm patterns from Me and My Sister Designs. Despite Joyce's love of fabrics and sewing, Sarah had never before shown any interest in either. Joyce was delighted with Sarah's newfound attraction, and it gave her an idea.
The year was 2009 and by that time, Joyce and her husband had been operating a medical billing business for some years. When the first floor of the building where their office was located came available to rent, Joyce decided that the time was right to carry out the idea she'd had: She would open a quilt shop. Not only would it fill a need for the quilting community, it would also provide a place for Sarah to go and something purposeful for her to do. The store opened on August 9, Sarah's 21st birthday.
"It's as though everything just fell into place," said Joyce. "My husband and I are entrepreneurs in spirit, but we also have to keep an eye on the bottom line and we've exceeded well past our expectations. After the shop had been open only a short time, we had to call Moda to order more fabric!"

"I can't even begin to describe what it's been like," Joyce continued. A Cleveland newspaper did an article about us and soon after that people started coming in just to meet Sarah. A family with a 6-month-old baby with Down syndrome came in because Sarah had inspired them. It has been wonderful for her. People come into the store once and then they'll come back again and again. Different groups come here to meet: cancer support groups, people making memory quilts, and so on. The shop is full of energy and excitement."

"You know, when you have a child with a disability, people always assume that it is a terrible thing. But it's not; it's just different. And this place is proof of that. My career has really come full circle with this shop. So much social work happens here. It's a quilt shop—but so much more."