Note: This continuing series reposts some of the most memorable columns of Suzy's Fancy, which ran from 2009-2020. This piece originally ran in July 2012.
---
Generalizations are almost always dangerous, but it's a pretty safe bet to say that quilters are a creative lot. While that creativity is most obvious when quilters work with fabric and thread, hidden talents often pop up in other, less expected ways. Such is the case with four quilting friends from Denton, Texas who formed a singing group they call The Fat Quarters.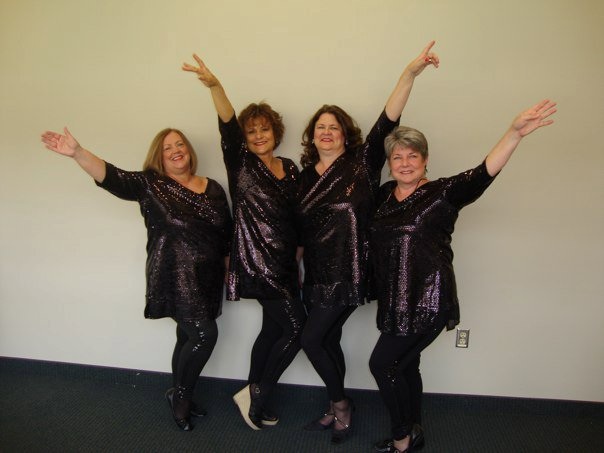 It all started back in 1999 at a quilting retreat. As is often the case at retreats, the women stayed up into the wee hours working on their projects. They grew tired, got silly, began to sing, and started substituting quilting terminology for the lyrics to popular songs.
One of the retreaters, Terri Vogds, happened to be the program chair of the Denton Quilt Guild at the time, and she badly needed to fill an open slot for a program. She asked the others if they would be willing to help her out by performing some of the songs they'd been having so much fun reconstructing.
The other women, Pam Black, Carla Hamm, and Deborah Mouser agreed, and the four began rehearsing their act. Their repertoire included "Stop! There's a Fabric Store" (sung to the tune of the Supremes' "Stop! In the Name of Love"); "Husqvarna" (to the tune of "Oklahoma"); "All These Quilts" (to the tune of "All that Jazz"); "My Best Quilting Things" (to the tune of "My Favorite Things"); and "Quilting Machine" (to the tune of Janis Joplin's "Mercedes Benz"), among others. As if that weren't enough, each song was choreographed.
Wearing costumes, donning enormous pink wigs or other headwear depending on the song, and hamming it up to the hilt, The Fat Quarters' inaugural gig at their home guild meeting was a smash.
"Everyone was so surprised," laughed Terri. "They had no idea we could—or would—do something like that." The Fat Quarters performed at the Texas Association of Quilt Guilds annual Rally Day in 2000 and were soon invited to perform for other Texas guilds. They returned to TAQG's Rally Day the next year, where delighted audience members got into the spirit by standing and waving their cell phones back and forth in the air, the way kids do at rock concerts.
"We hadn't performed in nearly 10 years before returning to Rally Day," said Terri. "We were all stay-at-home moms years ago and had more time to get together and rehearse. Now most of our kids are grown and in college. Pam is an administrative assistant, Carla does lots of volunteering in the community, Deborah is a dental hygienist and has triplets, and I am a quilt designer, teacher, and lecturer."
Despite their busy schedules, the friends still perform upon request. "We worked up a Christmas act," Terri continued. Some of the numbers include "Quilting Gals" (to the tune of "Jingle Bells"); "Quilt Retreat is Coming to Town" (to tune of "Santa Claus is Comin' to Town"); and the following (with some sample verses):
 "Quilt Show"
(to the tune of "Sleigh Ride")
We hear the venders calling. Will they take a check or two?
Come on, it's lovely weather for a quilt show together with you.
Outside, the line is sprawling and friends are calling "yoo hoo!"
Come on, it's lovely weather for a quilt show together with you.
Hurry up, hurry up, hurry up, let's go!
We're late for the show. It's always a wonderland of sew.
Hurry up, hurry up, hurry up, it's grand! It's quilted by hand!
"Quilt Queen Loves to Shop"
(to tune of "Good King Wenceslas")
Went to buy a loaf of bread.
Turned on California.
Stopped at the fabric store instead.
Man, I've gotta warn ya.
Went inside to say hello,
Not to make a purchase.
I don't need a thing to sew.
But, oh, this stuff is gorgeous!
The next time you're quilting with friends, listen up if one of them starts humming or singing under her breath. You might be sitting next to a hidden talent. Get out your cell phone…