Note: This continuing series will repost some of the most memorable columns of Suzy's Fancy, which ran from 2009-2020. This piece originally ran in February 2009.
The Sisters in White is not your ordinary quilting bee. None of its members can so much as ply a needle or cut a thread without guarded supervision, because all of them are serving sentences at the Texas Department of Correction's Ellen Halbert Substance Abuse Facility in Burnet.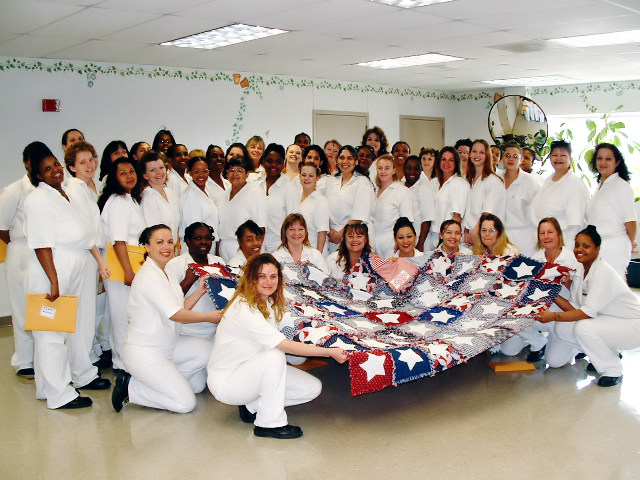 At any given time, the Halbert Unit is a forced way station for as many as 600 women whose lives have come unraveled through crimes related to drug and alcohol addiction. It is not a happy place—it's a prison after all—and there are not many opportunities for self-expression, creativity or camaraderie. For a lucky few, however, that situation has changed due to the exceptional efforts of a dedicated quilter named Josie Davis.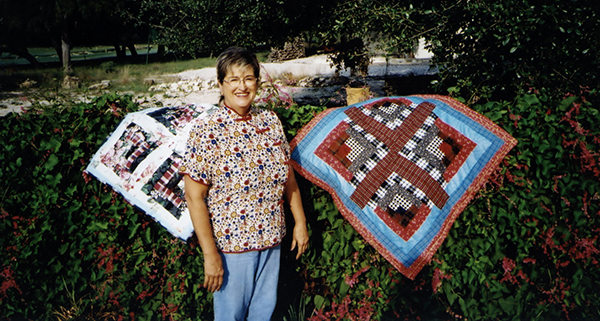 After Josie and her husband retired to the Texas Hill Country in 1999, she decided to become a Master Sewing Volunteer through a program sponsored by the Texas AgriLife Extension Service. Already an expert seamstress and accomplished quiltmaker, Josie signed up to take the professional training offered in exchange for performing 50 hours of volunteer service to the community.
Josie had heard about the Halbert Unit, and proposed the remarkable idea of teaching quilting to the inmates there in order to fulfill her volunteer commitment. Persevering through the maze of red tape necessary to get the project approved, Josie got ready to complete her 50 hours, little realizing she was about to embark on a journey that has instead lasted for thousands of hours and touched hundreds of lives.
The program is now in its ninth year. Josie and her crew of volunteers use materials donated entirely by the community to teach sewing and quilting skills to prisoners who have been hand-picked by the Warden as a reward for good behavior. Some of the women come from families who quilt; others have never sewn in their lives, but all are proud to have been chosen for the group.
Two sessions are held each year. Over an interval of weeks, the participants learn basic skills by making a small individual item such as a pillow top or a lap quilt that they will be allowed to keep or give to their families upon their release. Then, in a subsequent session, they work together on a community service project. For five years, their project was a large quilt donated to CASA (Court Appointed Special Advocates) as a fundraiser to help children who have been removed from their homes due to abuse or neglect. More than $12,000 was raised over the five-year period.
CASA was an especially appropriate beneficiary, since many of the women come from troubled childhoods themselves and some even have children of their own who are in foster care. Each quilt is named by the inmates who make it, with titles such as Spring into Sobriety or Recovery Stars reflecting the rehabilitative goal of those involved.
Josie dispenses some gentle advice to her students along with the sewing skills. She tells them that she, too, has an addiction—quilting—and that her "stash" is a hoard of fabric instead of drugs. She reminds them that women have traditionally found comfort in needlework during hard times and she encourages them to turn to piecing and quilting when the larger fabric of their lives starts to fray.
Josie prepares a gift bag of fabric, thread, patterns, embroidery floss, and other supplies for each prisoner who completes the program. These are held and presented to the women when their sentences have been served.
For their part, the inmates learn much more than how to piece a quilt block or combine colors. Self-esteem, teamwork, and pride in accomplishment are just some of the byproducts of the experience. Not a single student has ever dropped out of the program, and all have completed a quilt. A sampling of their comments reveals what the opportunity has meant to them: "It feels good to give back to a community that I've taken for granted for most of my life"; "This program has taught me to think of other people instead of myself"; "I never thought that I would contribute something so beautiful that was for such a good cause."
You may well wonder how the Sisters in White Quilting Bee got its name. The prisoners' uniforms are white, and they refer to one another by the anonymous-yet-friendly term of "sister." But it was an incident that occurred during one of Josie's first visits to the prison that prompted her to come up with the title for the group.
Before as well as after each two-hour quilting lesson, every pair of scissors, every pin and every needle has to be counted by a prison guard to ensure that nothing that might be used as a weapon is smuggled in or accidentally left behind. One night, a needle went missing. Josie and her volunteers searched everywhere, but could not find it.
While accusing no one, Josie quietly told the prisoners that the program would be discontinued if the lost item was not recovered. Suddenly, an inmate with a loud voice and an authoritative manner stood up and commanded, "Sisters in white! Sisters in white! Down on the floor! Form a human chain—we've got to find that needle!" And sure enough, the needle was found.
Can any of us know the true impact and significance of some good deed we perform or some action we "pay forward?" Perhaps not, but Josie Davis may have a better idea than most. Her inspiring commitment to a group of women destined for the bottom rung of society has already had a measurable ripple effect for good. By teaching them how to piece a quilt, she has also given them tools with which they can piece their lives back together.