Note: This continuing series reposts some of the most memorable columns of Suzy's Fancy, which ran from 2009-2020. This piece originally ran in November 2013.
---
Think of The Bahamas and what comes to mind? Sandy beaches, swaying palms, sparkling aquamarine waters, tropical weather? Of course! But quilts, perhaps not so much.
We all know, however, that preconceived notions and stereotypical opinions frequently miss the mark, and that would most certainly be the case in thinking that there is little interest in, much less a tradition of, quilting on the chain of islands collectively known as the Commonwealth of the Bahamas.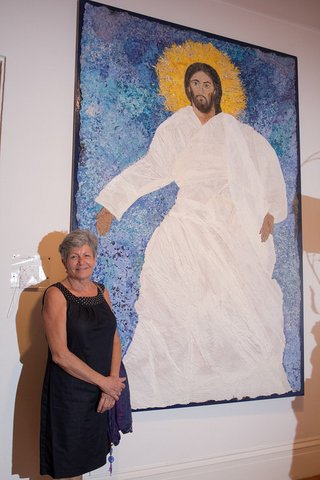 Native Bahamian Maria Chisnall belies all those assumptions. Her wonderful quilts have been widely exhibited at quilt shows both in her home country and internationally and they also have been featured in a number of publications.
For 10 years, four of her quilts hung in the Nassau International Airport, and the quilt she made for the 1996 Atlanta Olympic Games was presented to the International Olympics Committee of the country of Georgia.
In the mid-1990s, Maria participated in the Smithsonian Folk Life Festival in Washington D.C., and she has traveled both home and abroad—even to Romania—teaching the art of quiltmaking to others. She has also written about quilts, and she is currently working on a book about her quilting group, The Stepping Stone Quilters Guild, which will include a history of quilting in The Bahamas.
Maria grew up on a farm near the rural community of Adelaide Village on the southwest corner of New Providence Island without electricity, running water, telephone, or so-called modern conveniences. "The only 'appliances' we had were a radio and a treadle sewing machine," Maria says. " I made clothes for my dolls and for myself. I can't remember a time when I didn't sew."
She didn't make quilts, though, until 1980, when she made one while awaiting the birth of her first child.
"From a young age I had been fascinated by the American West," she recalls. "I read all the Zane Grey novels, and I was enchanted with cowboys and the struggle of pioneer women to establish and maintain life, home, and family under what were often harsh and isolated conditions. I think my interest in quilts started there, because I admired women who had lived courageous and groundbreaking lives." Maria's foray into quilting was put on hold with the birth of her two other children.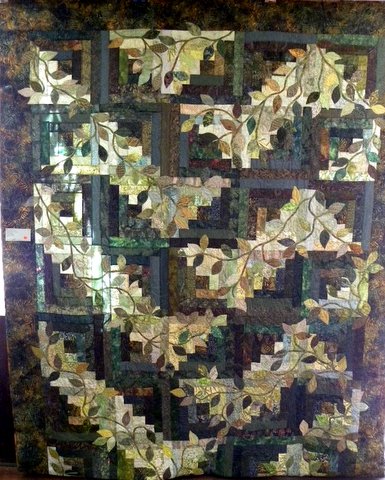 In 1986, however, she joined the Stepping Stones Quilters Guild, a Nassau guild started by a native Bahamian woman named Marie Murray. Murray (now deceased) proved to be a major influence on Maria, particularly with regard to her interest in the tradition of quilting in The Bahamas.
Murray was from Spanish Wells, a small fishing village on the island of St. George's Cay, located off the northern tip of Eleuthera Island. Historically, Spanish ships had stopped there to refill their water supply before returning to Europe. Murray made Maria aware that The Bahamas did indeed have a history of quilting, since the women in Spanish Wells and other fishing villages had traditionally made quilts for their fishermen to take on voyages at sea.
They also made quilts for their children, and she recalled that often they did not sleep on mattresses, but instead used layers of quilts.
Maria has several theories as to how the art of quilting came to The Bahamas, although she is still searching for definitive answers. Some of her ideas include settlers from Europe; freed slaves who had learned to quilt on plantations in the U.S.; Puritans who came to the islands when their boat sank; Loyalists from the United States; missionaries; the wives of whalers from Newfoundland and Nova Scotia who would spend the whaling season on the islands while their husbands were at sea; and Bahamians involved in the country's once-thriving shipping industry who traveled to ports in the southern U.S. and who may have brought quilts back for their wives.
Maria says that there is no identifiable style of quilting associated with The Bahamas the way there is, say, with Hawaii. Most of the traditional quilts were made using familiar American patchwork patterns.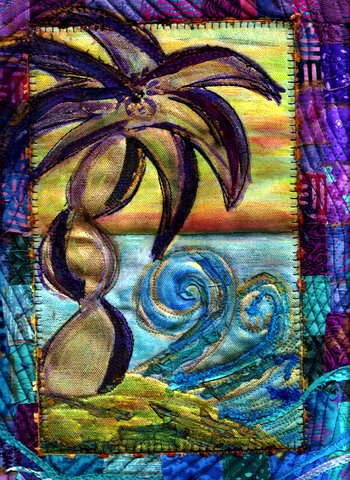 Quilts made by modern-day Bahamian quilters (including Maria), however, frequently depict colors and designs that reflect a strong sense of place, and sometimes the quilt artists use native fibers, such as coconut husks, sisal, and palmetto fronds, in their work.
For almost 25 years, the Stepping Stone Quilters Guild has put on an annual quilt show in Nassau. The exhibit is popular among locals as well as tourists and cruise ship visitors—who are often surprised, and always delighted —to find a display of such skill and artistry.
Maria's quilts are always a part of the show, and she has been chosen to serve as the president of the Guild. It would be hard to imagine a better "ambassador" for Bahamian quilts and quilting. Maria's goal is to ensure that the art of quiltmaking is recognized and nurtured in The Bahamas, drawing on a tradition first practiced on outer island fishing villages and now slowly blossoming throughout the country, thanks in no small part to her own efforts.