Note: This continuing series reposts some of the most memorable columns of Suzy's Fancy, which ran from 2009-2020. This piece originally ran in January 2014.
Rebecca Barker grew up on a dairy farm in Ohio with artistic parents who spent weekends going to craft shows selling handmade Christmas ornaments, which Rebecca helped paint.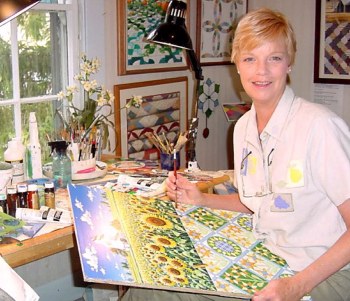 Rebecca's mother collected antique quilts, and her mother and grandmother both quilted. So even though she herself did not begin quilting until she was in her 30s, she had always been around quilts and grew up loving them.
That lifetime of exposure to quilts, along with being raised in the country in a creative environment, found expression in the artwork that has become Rebecca Barker's signature.
Her "Quiltscapes" paintings, in which the inspiration for a quilt pattern name is rendered in the painting along with the pattern itself, are sought after by quilters and collectors. The popular images can also be found on all sorts of merchandise, from note cards and mouse pads to jigsaw puzzles.
"I knew from a young age that I wanted to be an artist," she said. "I started painting in my teens and I got a Bachelor of Fine Arts Degree from Ohio University. I began taking my paintings of landscapes to craft shows and I also did a few paintings of quilts, but at that time I hadn't thought of combining the two.
"At one craft show, a woman from Pennsylvania approached me and asked me to bring some of my paintings to a quilt show that she was putting on. I did, and I was overwhelmed with the response. I realized that quilt paintings were what I needed to be doing!"
Barker continues telling of more encounters.
"At one show, a couple was looking at my work and I overheard the man say to his wife, 'Wouldn't it be neat if she would paint a Log Cabin quilt next to a log cabin?'" Rebecca continued. "That's when a light bulb went off in my head and I said to myself, 'Hey, I could do that!'"
And that's the origin of Rebecca's trademark of combining a quilt pattern with an image reminiscent of the pattern name. For example, in one painting, a scene of waves crashing against a beach features the Ocean Waves pattern in the sand.
In another, the Streak of Lightning pattern provides the foreground for a stormy sky. In still another, a herd of bison graze on a grassy plain that morphs into the Prairie Flowers pattern.

Using acrylics to paint on masonite boards, Rebecca's images are realistic and brightly colored. "I always use traditional quilt patterns," said the artist. "I need for the pattern name to inspire me."
In turn, she inspires the rest of us with what she creates.