Note: This continuing series reposts some of the most memorable columns of Suzy's Fancy, which ran from 2009-2020. This piece originally ran in February 2011.
---
If you're meeting Diane Rose for the first time by talking to her on the telephone, the first thing you will learn about her is that she loves God. The second thing you will learn about her is that she loves making quilts—675 of them to date and counting. The third thing you will learn about her is that she loves country music and has been backstage and met many of its most famous stars. You'll quickly realize that she has a great laugh and a delightfully wicked sense of humor, but it might take you a while before you figure out that she is blind.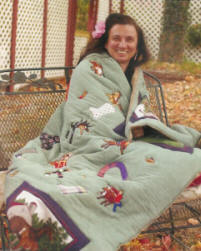 Born with glaucoma that progressively worsened as she grew older, Diane could make out colors, perceive movement, and recognize daylight and dark until she was in her twenties. The week before she was scheduled for a cornea transplant that would provide better sight, however, she had a freak accident that destroyed her cornea, thus eliminating any hope that she could ever see. Suddenly and from that point forward, even her limited vision was gone.
Diane may be blind, but blindness does not define her: "I never went to a blind school—I always attended public school. I don't have any of the stereotypes: the cane, the dog, the glasses." What she does have is an indefatigable spirit and a can-do attitude that will not be denied. "Don't ever tell me I can't do anything just because I'm blind," Diane laughed. "That's the quickest way to make me do it!"
Believe her. When she was 18, Diane says that she "pulled a Dolly Parton"—meaning that in the same way that Dolly got on a bus and headed for Nashville to fulfill a dream, Diane did too—although she traveled by plane instead.
"When I was little, I had a bus driver who drove me to school everyday and she always listened to country music." Diane explained. "That's how I came to love it. I dreamed of going to the Grand Ole Opry. I could hear the love in the songs, and the love between the singers, and I just knew that if I could get to Nashville and the Opry, I would find unconditional love there."
And so she did. When Diane arrived in Nashville, she didn't know a soul in the city, had no job, and no place to go. But the description "never met a stranger" definitely applies in Diane's case. Before landing in Music City, she called the Chamber of Commerce and the person who answered the phone arranged to have someone go out to the airport and pick Diane up. That person ended up giving her a temporary place to stay until she met someone else who offered her a permanent home. And so it went.
Diane started up a correspondence with a disc jockey in her hometown, and he asked her to provide him with regular live reports on the country music scene in Nashville. That's how she became known as "The Nashville Reporter," a job that gave her a backstage pass at Opryland and allowed her to get to know Roy Acuff, Minnie Pearl, Porter Wagoner, Dolly Parton, and a host of other Grand Ole Opry legends.
Every week, she would call in the latest news on their recordings, fan club addresses, music developments, and so on. She then began to interview the stars and submit articles about them for publication in a variety of country music-related publications. As word of Diane spread, people would seek her out for information, and she became the only blind tour guide in Nashville, regularly taking visitors to the attractions they wanted to see. "I always make it a point to know where I'm going," said Diane.
Diane's journey to becoming a quilter is equally remarkable. In the 1970s, she went to a revival meeting, and the evangelist told her that he wanted to pray with her.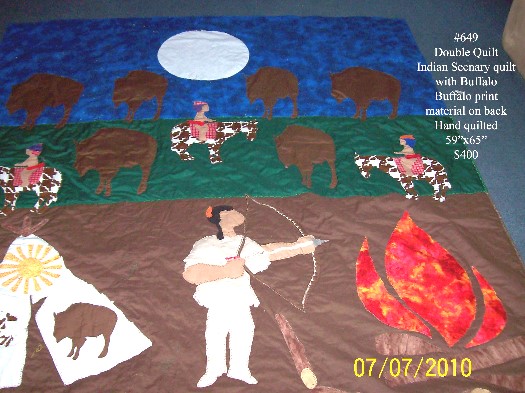 "Oh boy," Diane recalls saying to herself, thinking that the preacher wanted to pray about her blindness. "Here we go with the eyes again!" To her surprise, the only reference he made to the fact that she couldn't see was when he told her that her spiritual eyes, not her physical eyes, would be opened and that God was going to give her a talent that would provide for her, make her productive, and brighten the lives of people everywhere. "I didn't know what he was talking about, so I took it with a grain of salt at the time," Diane said.
Years later, while visiting her friend Pat, Diane admired the quilt that was draped over the back of the couch where she was sitting. "It was August 14, 1998 and I'll never forget it," recalled Diane. "The quilt was made of cotton pieces, and I could feel the pattern. Pat asked me if I would like to learn to quilt and I said, 'Yes!'"
Diane managed to obtain a donated sewing machine and some donated fabric and Pat showed her how to use a rotary cutter to cut squares. Her first quilt was a baby quilt. The next one was king-sized. By January of 1999, she had completed six quilts.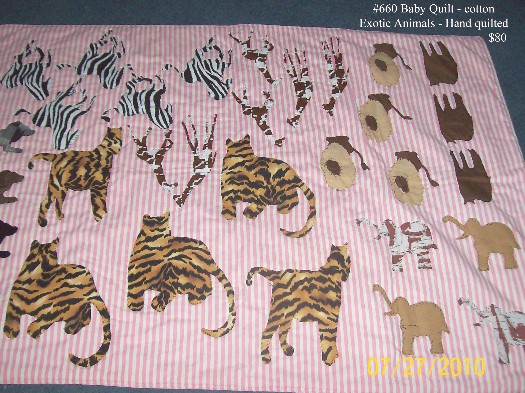 That was the start of a new way of life for Diane. Since then she has made hundreds of quilts, and her goal is 1,000. She likes pieced quilts, but is especially fond of appliqué, and more often than not she designs her own patterns. She has volunteer friends—one, in particular, named Emily—who help her find pictures in coloring books or on the internet, and they trace the designs onto cardboard and cut out templates.
"I have a very vivid imagination," said Diane. "I come up with ideas for quilts all the time, and Emily will say, 'Oh, no, she's thinking up another quilt!'" After cutting out the pieces with a rotary cutter, she then backs them with Wonder Under®. Emily helps her lay out the designs, but Diane does all the sewing herself.
People from all over the world have purchased Diane's quilts. President George W. Bush has one; so do Loretta Lynn and numerous other celebrities. Her quilting has not only given her a means of providing for herself; it has also inspired all who hear about her work and it has brought her many new friends. She regularly gives motivational speeches to quilt guilds, church groups, and other organizations. In 2009, Texas Governor Rick Perry honored Diane with the Barbara Jordan Media Achievement Disability Award.
Diane believes that the evangelist's prediction has come true. "My quilting has nothing to do with me," she maintains. "It has everything to do with God."
---
Diane welcomes any donations of cotton fabric (especially solid colors), sewing (not quilting) thread, batting, Wonder Under®, and other supplies. All of her quilts are for sale. For more information, visit her website, The Amazing Quilter.