Note: This continuing series reposts some of the most memorable columns of Suzy's Fancy, which ran from 2009-2020. This piece originally ran in October 2011.
---
Those of us lucky enough to grow up in quilting families or in a community of quilters had the benefit of someone showing us the ropes, so to speak, of making a quilt.
We watched and learned (often indirectly) as mothers, grandmothers, aunts, sisters, neighbors, church ladies, and/or other friends and relatives skilled in the art selected and drafted patterns, cut fabrics, stitched tops, added backing and batting, and quilted the whole.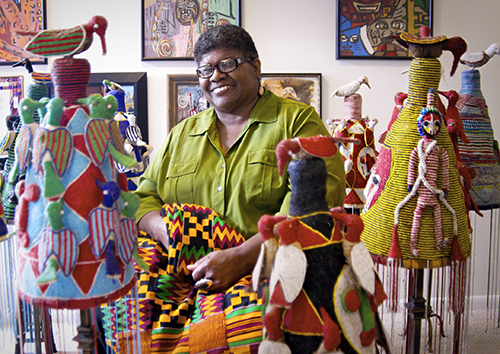 They taught us all sorts of "insider" knowledge, such as pattern names, quilting terminology, what sort of thread and needles to use, how to tie off a stitch, and the like. Oh sure, we might mess up, and our first efforts might not have been much to brag about, but we nevertheless had someone to guide us and help us avoid outright disaster.
Noted quilt artist, historian, curator, author, and founder of the Women of Color Quilter's Network, Dr. Carolyn Mazloomi, had no such guidance. Although there was an artistic vein running through her family, no one quilted.
When she was growing up, Dr. Mazloomi's interests centered around airplanes, which eventually led her to earn a Ph.D in aerospace engineering (the first African American woman to do so). It was not until while at a work conference in Dallas, Texas that—on a whim—she decided to attend a quilt show. It was a revelation to her, and it was there that her creative urges and engineering training were piqued and fused to turn her in a new direction. Put another way, she got bit hard by the quilting bug.
Dr. Mazloomi was living in California at the time and she went home determined to make a quilt of her own. She knew that she wanted her quilt to have a cotton batt, but all the batts she found were polyester. She decided to make her own batt using the only source of flat cotton she was aware of: wound dressing.
Since she was making a full-sized quilt, a package of wound dressing didn't go far, and she made so many trips to her local pharmacy to buy more cotton that finally the pharmacist came out to see who was buying up the store's inventory. No doubt harboring images of severe blood loss, he walked out from behind the counter and very seriously urged Dr. Mazloomi to take the injured person she was caring for to the hospital.
With the batt finally in place and the quilting finished, Dr. Mazloomi decided that she needed to launder her quilt. No one had told her that she needed to wash her fabrics before cutting them to make her quilt blocks, however. She threw the quilt in the washing machine and then popped it into the dryer (no one had told her how to wash a quilt, either).
When she took the quilt out of the dryer, some of the fabrics had shrunk and the middle portion of quilt "stood up about a foot higher than the rest of it," Dr. Mazloomi laughingly recalled. "It was the ugliest thing I'd ever seen!"
Carolyn Mazloomi did not, of course, let that disastrous first effort deter her. According to her biography, her quilts have been included in five exhibitions at the Smithsonian's Renwick Gallery. Her artwork can be found in numerous important museums and corporate collections, such as the Wadsworth Museum, the Smithsonian American Art Museum, the American Museum of Design, Bell Telephone, the Cleveland Clinic, and Exxon.
She has appeared on television on The CBS Morning Show, Reading Rainbow, The Today Show, CNN, and has been the subject of several film documentaries. Dr. Mazloomi is one of six artists commissioned to create artwork for the National Underground Railroad Freedom Center Museum.
She has authored many books on quilting and curated numerous quilt exhibitions all over the world. In 2003, she was awarded the first Ohio Heritage Fellowship Award not only for her artistic achievements, but also for her community service related to the arts.
Her organization, Women of Color Quilter's Network—which has almost 1000 members—has been recognized by the International Labor Department in Geneva and the United Nations for its developmental programs to help advance women. She serves on the board of directors of The Alliance for American Quilts.