Note: This continuing series reposts some of the most memorable columns of Suzy's Fancy, which ran from 2009-2020. This piece originally ran in February 2014.
Since the mid-19th century, county and state fairs have been an important part of life in the United States. Based on Medieval European harvest fairs, U.S. county and state fairs were initially intended for the promotion of agriculture and farm products.
They soon branched out to include competitions and exhibitions of "domestic arts," and were popular social events wherever they were held. The first state fair in the United States was held in Syracuse, New York in 1841.
Almost from the beginning, there was a connection between county/state fairs and quilts, as quilt contests soon became part of the fair offerings. Fairs provided competition, recognition, and an opportunity to exhibit—all of which were important incentives for the artistic quilter.
Before fairs, just about the only audience a quilter had was her family. An uncommon visitor might prompt the display of a fine quilt on the best bed, but it was not until the fair instituted a special showcase for the presentation of superior talent that quilters had the gratification of reaching a wider public. Quilt contests and the awarding of prizes stimulated a desire for peak accomplishment and broadened the range of expression of each contestant.
Prizes or premiums usually consisted of ribbons, medals, or certificates, with "bragging rights"—whether exercised or not—no doubt being part of the winning effort.
In the 20th century, sometimes the opportunity to have one's quilt pattern published might be part of the prize. Cash awards offered an additional enticement to exhibitors, although certainly these were not always part of the fair experience.
The popularity of quilt contests at fairs perhaps reached its highpoint in 1933, when the World's Fair—dubbed "The Century of Progress Exposition"—came to the United States. This fair's quilt contest was sponsored by Sears, Roebuck and Company, which offered $1,200 to the original quilt that won the grand prize.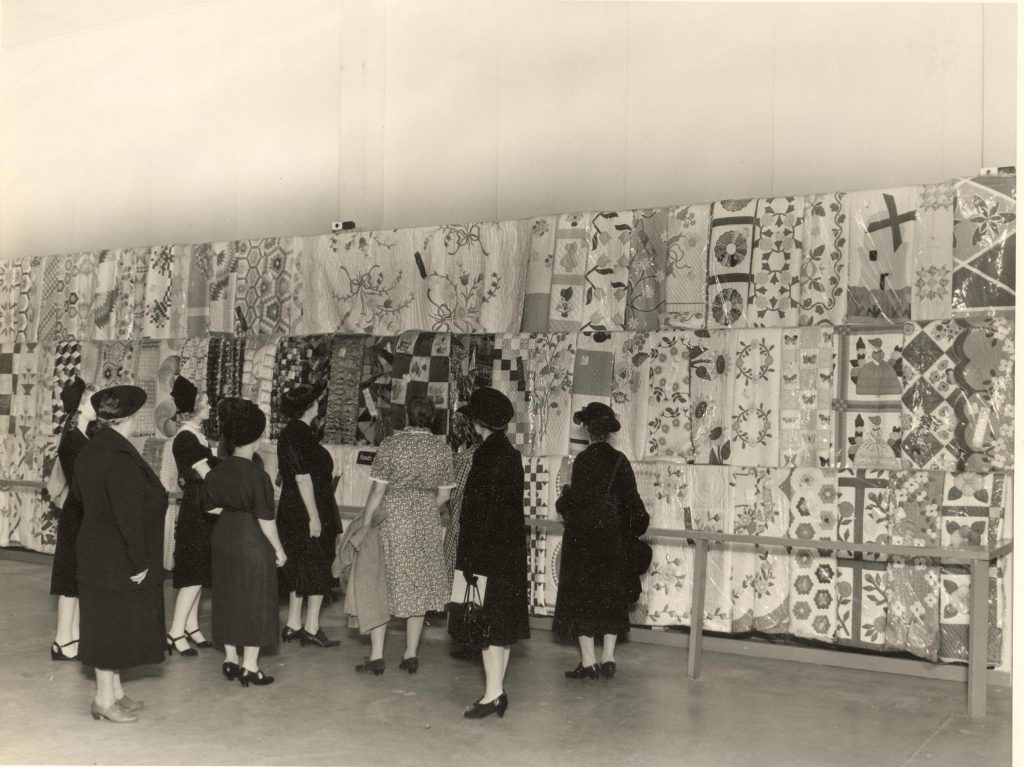 When compared to the cash awards given today at quilt festivals by corporate sponsors, a $1,200 prize might not seem very substantial, but during the Great Depression, that amount was twice the average annual family income. In 2023 dollars, that would amount to about $27,481!
Additionally, the winning quilt was given the honor of being presented to Eleanor Roosevelt, the wife of President Franklin Delano Roosevelt. There were 25,000 entries in the contest. Merikay Waldvogel and Barbara Brackman have written a fascinating account of the contest in their book, Patchwork Souvenirs of the 1933 World's Fair.
Today, although fairs may have been replaced by quilt festivals and guild-sponsored quilt shows as the premier outlets for displaying fine quilts, county and state fairs nevertheless remain popular among quilters for exhibiting their work and competing for a chance to win awards. Let's hope it always remains so.