For the past 30 years, a small Amish community located in southeastern Oklahoma has hosted a huge get-together on the second Saturday in September. Known as the Amish School Auction, Crafts, and Antique Show, the event includes farm equipment, buggies, tack, crafts, antiques, furniture, glassware, collectibles, horses, poultry, farm-related items, and baked goods, all of which are auctioned off or sold directly from some 200 booths.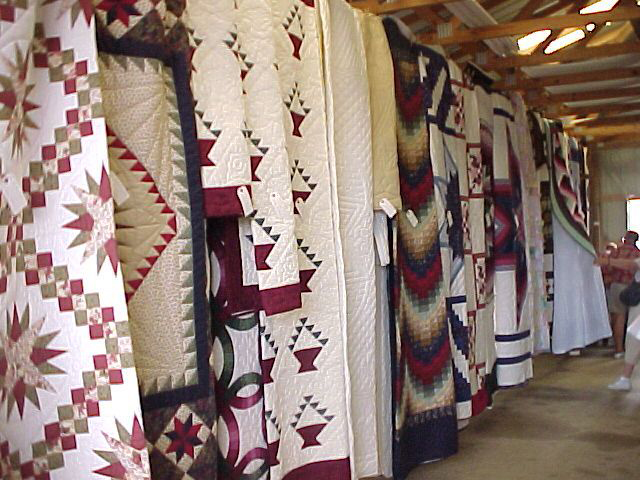 Proceeds from the sale benefit several Amish schools in Oklahoma and Kansas. Organized by about 20 Amish families, the auction attracts approximately 10,000 visitors, who flock to see and buy items and enjoy food such as pancakes and sausage, homemade noodles, ice cream, and other treats. Although all sorts of items are available for sale, the highlight of the annual event is when as many as 100 quilts handmade by Amish women go on the auction block.
For the past 25 years, Anna Marie Miller has been helping to organize the quilt portion of the auction. "I put the book together that lists the quilt for sale and my husband and I hang the quilts prior to the auction," she says, quietly downplaying her role that others describe as being "in charge of the quilts." She also "consigns" three or more quilts each year.
What does it mean to consign a quilt? Anna Marie describes it this way: "We used to have a person in our community who made the quilt tops, but she moved away, so now we hire women from other Amish communities in Pennsylvania, Ohio, Iowa, and even Canada to make them. When you consign a quilt, you tell the quiltmaker what pattern you want and what colors and then she buys the fabric (that's part of the price) and makes it. Then she sends the finished top back to you. You buy the batting and backing and you quilt it and then give it to the auction to be sold.
"As soon as one year's auction is finished, we start right in making quilts for the next year's auction," she continues. "We all get together and hold quilting bees at different people's homes about once a week during the winter to quilt out the tops. If there's enough room, we set up two frames so we have two quilts going at a time. There's usually about 15 people doing the quilting and most times we can get finished with one quilt and get started on the next one."
When a quilt is auctioned off, there is "no reserve," meaning that there is no base starting price. "We accept whatever people are willing to pay," Anna Marie explains. "Usually they bring in from $500 to $2,000 apiece."
The Amish community at Clarita is one of only two Amish enclaves in Oklahoma. It was founded in 1978 by a relatively conservative group of Amish from Ohio and Indiana. The other group is in northern Oklahoma, in Chouteau, and the Chouteau Amish also participate in the Clarita auction with a booth and items for sale in order to benefit their school. This is the case as well for an Amish group from Yoder, Kansas. Amish communities throughout the United States are self-supporting and non-reliant on local, state, or federal aid. Their schools are private schools that are not government supported, and benefit auctions such as the one in Clarita are important for raising necessary operating funds for the schools.
When quilt lovers think of the Amish, it is their quilts that usually first come to mind. The artform is alive and well in the Amish community and helping to support the education of their youth.