When Lari Ainsworth was still working as an elementary school principal in Corpus Christi, Texas, she was always looking for ways to make school a welcoming, enjoyable environment for the students, staff, and faculty.
"Pajama day, holidays, you name it, if I could find an excuse for everybody to dress up in a costume, I was all for it," she laughs. "Plus, it was a way for me not to have to wear heels and pantyhose!"
After Lari retired from the school system and opened a quilt shop with her mother, her penchant for "playing dress up" found another outlet, as she and her employees would don handmade costumes during Halloween just to make things fun for her customers. This practice logically carried over to the International Quilt Festival in Houston when Lari had a booth as a vendor and the show dates coincided with the Halloween holiday on October 31. Friends were often enlisted to help out in the booth, and Lari made costumes for them to wear as well. "It was a good marketing tool, because people would find our booth through word-of-mouth by other shoppers telling them to look for the booth with the ladies wearing costumes," she explains.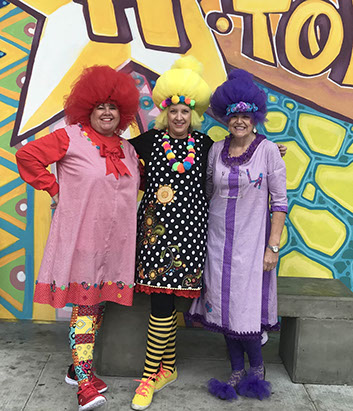 Lari is one of those people who dreams about costumes. She sees inspiration for them everywhere. "I look at lampshades and think to myself, 'That would make a good hat!' End-of-season holiday sales are a great place to find things to turn into an outfit. I've never duplicated anything before, but I do reuse things in different ways. I have to admit I'm running out of space to store things though. I have a good-sized house and it's just my husband and me since our kids are all all grown and married, so there are rooms that are just devoted to costumes. I have a spare room that is totally stuffed!"
Her days as a quilt shop owner and show vendor are behind her now, but Lari still comes to Quilt Festival each year, and for the past seven or so years along with her friends Imogene Hayek and Shannon Clubb, she has evolved her costuming into a full-fledged "thing." "We come for the whole Festival and we wear a different outfit everyday—we never wear the same thing twice. We don't even bring 'real clothes' anymore," she continues.
The outfits can be quite involved and can include wigs, hats, shoes, face paint, and special accessories. It takes time and effort to get all the garb on each day and a large vehicle is required to bring everything they need for their guises, which begs the question: why do they do it?
"It's kind of hard to explain, but it has evolved since our days of dressing up on Halloween in my booth," Lari says. "After I stopped being a vendor and we came to Festival just as regular attendees, we started wearing something goofy on our heads so that we could find each other in the crowds. We brought costumes to wear on Halloween and we had so much fun with that that it just expanded from there and we decided to do it every day of Festival.
"We just do it for fun. The reactions we get from people make all the effort worth it. We've developed relationships with people who look for us every year. This year a visitor from England said, 'I've been looking for you every day and it has been such fun to see what you're wearing. You've brought a gift to everyone here!' People want to have their photos taken with us. Our pictures have been on posters, on Facebook, in newspapers, and even in travel magazines all over the world, but most of the time we remain anonymous. We just become part of the atmosphere that makes Festival so magical. That's fine with us, because we don't do it for our own egos. We do it because it makes people happy and that makes us happy.
"Festival is a marathon and people get tired," Lari sums up. "But when they see these women wearing clown outfits or dressed as trolls or fairies or something silly, it perks them up and it makes them smile. If we can brighten even one person's day, then that makes it all worthwhile."