Barbara Lavallee is an artist based in Anchorage, Alaska, who is known for her delightful watercolor paintings of Alaskan indigenous culture, particularly that of the Eskimo. She has lived in Alaska since 1970, when the Bureau of Indian Affairs offered her and her husband a transfer there from the Navaho Nation in Arizona where they had been teaching.
They moved to Sitka in the southeastern part of the state in the Alaskan Panhandle, and Barbara started teaching art at Mt. Edgecumbe High School. At that time, Mt. Edgecumbe was a boarding school serving Eskimo and Indian students from all over the state, since there were no high schools in their local villages.
Although its been years since Barbara taught in Sitka, her time there has continued to influence her work. "My experience there enabled me to see village life through the eyes of my students; the result is my idealized, stylized imagery that celebrates the joy, resilience, and the hard work that characterizes their lives," she says. That imagery has found its way into paintings, book illustrations, limited art prints, calendars, and all sorts of decorative items.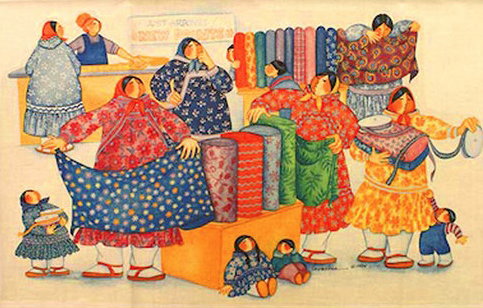 The popularity of her art and its specific subject matter drew the attention of a fabric manufacturer, who approached Barbara for the rights to reproduce some of her work in lines of quilting fabric.
"For many years I had been painting kuspuks, the traditional garments of Eskimo women that they wore over their parkas," Barbara continues. "Early on, kuspuks were made of animal skin, but when stores became more common in the bush, women used calico feed sacks or yard goods to make kuspuks. Those bright, colorful patterns are the ones that I depict in many of my paintings, and the ones that have been reproduced as fabric that seem to be really popular with quilters."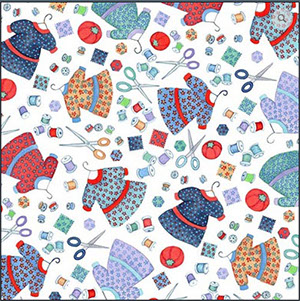 Popular indeed. Barbara's fabrics were so coveted by quilters that she was invited to be a special guest on a quilting cruise originating in Boston. It was on this cruise that her art and the fabric made from it circled back to connect her with an Alaskan-born Eskimo quilter, Jeanne Farmer.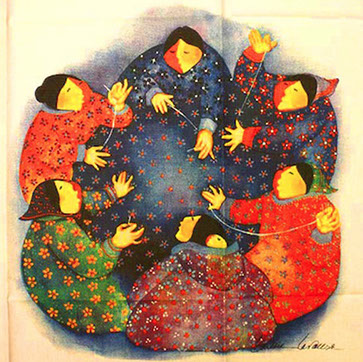 "I moved away from Alaska after I got married and I now live in Minneapolis, Minnesota, but I had been making quilts with Barbara's fabrics for a long time because they really brought memories to me," Jeanne explains. "When I read that she was going to be on that cruise, I told my husband that I just had to go on it to meet her and so I did. We've been friends ever since."
Jeanne was born in the small village of Unalakleet, Alaska, on the Norton Sound of the Bering Sea, about 400 miles northwest of Anchorage. "Unalakleet is a traditional village, and we had a subsistence lifestyle where people hunted and fished. Anything from the outside had to be brought in by plane. Everything was simple and basic, but the people are very proud of our heritage. Nobody quilted, but my mother sewed parkas and kuspuks and she taught me how to sew," Jeanne says. "My favorite stitch is the blanket stitch, because it reminds me of the things the women of my village would make, like mukluks." (Mukluks are traditional boots worn in the Arctic.)
"I learned to quilt about 20 years ago by taking a class, and I love it," Jeanne continues. "I've got so many patterns and books and so much fabric! I'm about to retire and I'm looking forward to having more time to make quilts. And I'm going on a cruise to Alaska! I'm definitely planning to stop at a lot of quilt shops and I'm sure I'm going to buy more of Barbara's fabric!"
Update: Northcott is introducing a new line of Barbara's fabrics at the fall 2019 International Quilt Market in Houston. Click HERE for more info.