For years, quilt lovers have been snatching up Lu Ann Barrow's paintings. Quilter's Newsletter founder Bonnie Leman fell in love with one and bought it on the spot; Quilts, Inc. VP Nancy O'Bryant Puentes wishes that she had gotten to it first. Quilts, Inc. President and Quilt Market & Festival founder Karey Bresenhan owns several of Lu Ann's canvases.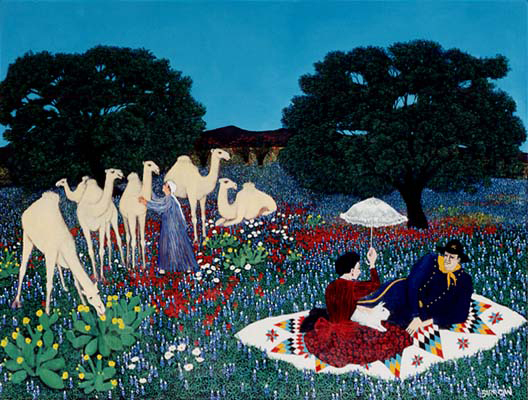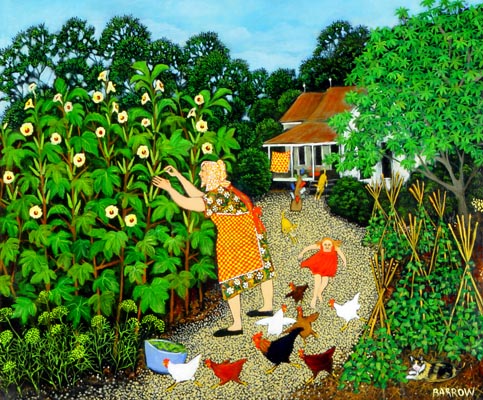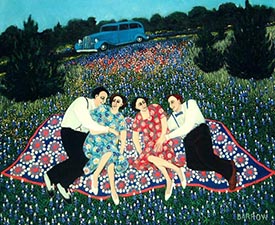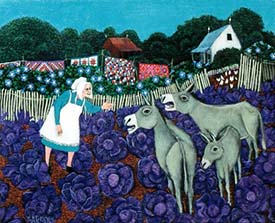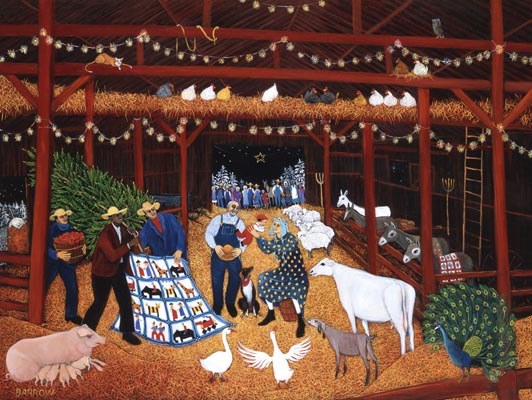 Although certainly not all of Lu Ann Barrow's delightful paintings depict quilts, enough of them do that the painter refers to having created them during what she smilingly calls her "quilt period." I had a 'dog period' and a 'pig period' too," she laughs. "But I did paint a lot of quilts. I'm attracted to pattern and in many of my pieces, a quilt just seemed to fit."
Although Lu Ann's paintings have a distinctly nostalgic, folk-art aspect, she is a formally trained artist and her influences are closer to Henri Matisse than Grandma Moses. She graduated from the University of Texas at Austin with a Bachelor of Fine Arts degree in 1956, studying under such nationally-known Studio Art professors as William Lester and Dan Wingren. In a career that has spanned six decades, she has had numerous solo exhibitions and her work is held in private, corporate and museum collections. Her paintings represented the Texas Book Festival in 1999 and the National Book Festival in 2001.
"My ideas for paintings often start with a title," Lu Ann explains. "And sometimes the title triggers the image of a quilt. For example, one of my paintings was called I'll Just Be a Minute and it recreates a scene I once saw of a mother getting out of her car, leaving her children inside, to see the quilts that a woman was selling by the side of the road. Often quilts seem to show up because of the situation I'm painting—a farmhouse or a field of flowers, and I can just see a quilt there."
A common denominator in all of Lu Ann Barrow's paintings is their depiction of shared human interaction—be it through family, friendship, music, religion, work, or celebration. They capture the joy (and even the sorrow) that people share, rendered through the artist's keen eye for body language and facial expression.
The viewer, invited in by what at first glance seems deceptively simple, experiences flashes of recognition in Lu Ann's portrayal of a gesture or stance. The ability to communicate such universal characteristics in such an accessible way is Lu Ann Barrow's special gift. The fact that quilts can often accomplish a similar underlying communication makes their frequent inclusion in her paintings all the more appropriate.
All images from Valley House Gallery and used with permission of the artist.