There is no place else in the world quite like the city of New Orleans, Louisiana.
It is a place of convergence: of cultures, of cuisines, of languages, of ethnicities, of traditions—musical and otherwise. The city dates its official founding to 1718, when French-by-way-of Canada explorer Jean-Baptiste Le Moyne, Sieur de Bienville, established a colony there, but Native Americans had inhabited the area long before that.
After the French came Spanish, Africans, English, Irish, Germans, Italians, Czechs, Hungarians, Croatians, Filipinos, Latinos (Isleño, Mexican, Cuban, Guatemalan), and East Asians (Chinese, Vietnamese, Laotian, Thai). In New Orleans, all these diverse influences mix, mingle, and merge together in such a way as to produce a unique blend that is being celebrated in 2018 as New Orleans celebrates its 300th birthday.
One group in particular is commemorating the occasion in a special way. The Crescent City Quilters have been hard at work to showcase the essence of their namesake home. In keeping with the reputation of a place known for always exceeding what others consider normal, this group has made not one—but two—Tricentennial quilts.
The 18-member Crescent City Quilters, which started at the home of its founder, the late Katherine Ancar, have been together since 2006. The group meets on the second Saturday of each month, usually in the fellowship hall of the 150-year-old Blessed Francis Seelos Roman Catholic Church in the Bywater district of New Orleans.
​
Above: Crescent City Quilters- Suzanne Tarver Vincent, Connie Bell, Claudia Washington, Joicelyn Trufant, Barbara Duhe, Beverly Carter, and Arthine Powers stand behind "Only in New Orleans", the quilt the group made for the New Orleans Tricentennial. Photo by Alex Labry.
Arthine Powers, a member both of the Crescent City Quilters and the church, was acting in her role as American Sign Language (ASL) interpreter for a service the day that I visited the group. "In true New Orleans fashion, our parish is so diverse that we define ourselves by languages rather than ethnicity," Arthine explains. "Our parishioners speak Spanish, English, ASL, and Garifuna. When the quilters were looking for a place to meet, our priest made us feel right at home."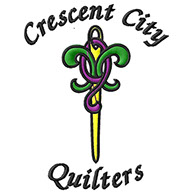 The members sport purple polo shirts embellished with a logo of the group's name surrounding a fleur-de lis (one of New Orleans' symbols) in Mardi Gras colors of purple, green, and gold designed by Daphne Mushatt. Daphne is the daughter of member Connie Bell. In addition to Arthine and Connie, other members include Ida Boutte, Beverly Carter, Barbara Duhe, Edith Gross, Denise Hockett, Marietta Johnson, Zenobia Lieteau, Donalyn Lott, Michael M. Moore, Geraldine Robinson-Craig, Bernadine Steele, Suzanne Tarver Vincent, Joicelyn Trufant, Claudia D. Washington, Irma L. White, and Beverly Winder.
When it came time to make the group's Tricentennial quilts, President Irma White found just the right fabric at Mes Amis Quilt Shop, a local favorite of New Orleans quilters. Mike Hambrick of Fabric Finders, Inc., a cotton fabric wholesaler located in Florence, Alabama, had designed a specialty fabric in four colorways specifically for New Orleans' 300th birthday. The fabric features iconic New Orleans imagery, such things as steamboats, magnolias, street signs, streetlamps, trumpets, fleur-de-lis, water meter covers, Mardi Gras masks, jazz musicians, and streetcars.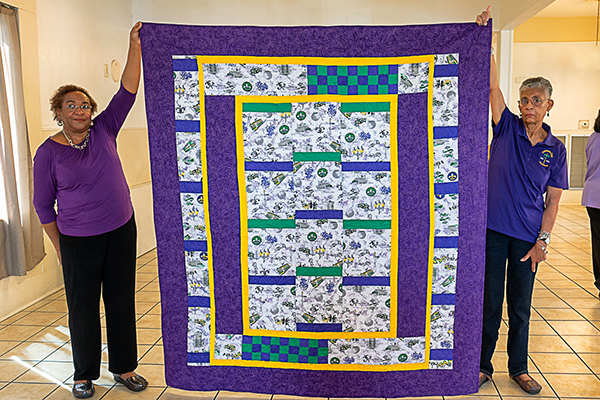 Hambrick, who has been in the fabric business for 20 years, designs many custom fabrics for the Southern market in the U.S. All of his fabrics are printed in Brazil, and because the designs are custom, he must guarantee an order of substantial amounts of yardage. "About a year-and-a-half before New Orleans' 300th birthday, I started thinking about a special design to commemorate the event, and I got ideas and input from many of my customers. The design has been really popular. In fact, I've already sold out of three of the colorways," he says. "We've had a lot of fun with the Tricentennial fabric and our retailers and their customers have too."
"I moved to New Orleans five years ago after having lived in different places all over the country," Suzanne Tarver Vincent says. "Being a part of the Crescent City Quilters and working on the Tricentennial quilts has helped me feel at home here and learn about the city at the same time."
In the summer, the Crescent City Quilters offer a free camp to area youth (ages 7 to 16) to teach them how to sew and quilt. Members assemble kits with fabric and supplies that the campers use to make their projects. "The camp is open to the first 20 boys or girls who apply," says Arthine. "One afternoon last summer, we had 20 machines going in here. The kids really enjoy it."
Members attend quilt shows and other activities together. The group also works on individual projects and makes quilts for various charitable activities. The Tricentennial quilts were auctioned off in November of 2018 to raise money for future community projects.