A well-known art collector once stated that great collections come from the stomach, not the head.
While it may be true that a gut-feeling about an object might sway the desire to acquire it, it is even more true that knowing as much as possible about that object plays a crucial role in building a collection. "Chance favors the prepared mind," Louis Pasteur famously said, indicating that if you have done your homework, you'll be ready when an opportunity comes along.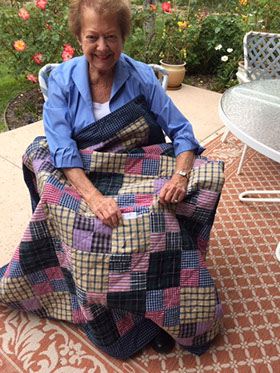 Quilt collector and quilt historian Pat L. Nickols has spent decades doing her homework, and her prepared mind has informed her stomach many times over in allowing her to amass not one, but many, exceptional collections of quilts and quilt-related materials. We are all the beneficiaries of her preparedness, as she has generously shared those collections either through outright donations or partnerships with institutions from coast to coast throughout the United States for quilt lovers and researchers to enjoy and study.
To get an appreciation for the volume and scope of materials Pat has put together, what follows is a partial list of the places where portions of her collections now reside.
In 2012, 350 of her antique quilts went to the Mingei International Museum in Balboa Park, in San Diego, California (through a grant from the Dallas Quilt Guild, the collection has been digitally photographed and can be accessed online).
In 2015, Pat partnered with the Museum of Texas Tech University to transfer more than 5,600 printed feed sack pieces (white sacks, printed partial and whole cotton sacks, swatches of printed sacks, instructional booklets, garments, quilts, and quilt tops) to the museum's holdings.
Various items from her many collections have gone to the Wisconsin Museum of Quilts, the Women's History Museum of California, Colorado State University's Avenir Museum of Design and Merchandising, the Denver Art Museum, the International Quilt Study Center at University of Nebraska, the New Hampshire Historical Society, the Henry Ford Museum in Michigan, Colonial Williamsburg in Virginia, the Huntington Museum in Pasadena California, and the Genessee Country Village Museum in Mumford, New York.
Pat's generosity is not limited to sharing only the physical items and accompanying documentation that she has amassed. Perhaps just as significant is her willingness to share her knowledge about those things through classes, lectures, articles, scholarly papers, and seminar presentations.
A member of the American Quilt Study Group almost from its founding in 1980, she ranks among such revered quilt historians as Cuesta Benberry, Sally Garoutte, Joyce Gross, and Mary Barton. She is a storehouse of information on string quilts, charm quilts, star quilts, chintz quilts, children's and doll quilts, signature quilts, log cabin quilts, kit quilts, and feed sacks and all things made from them. Her deep knowledge of fabric dating and her large collection of antique fabrics has led to collaborations with P&B Textiles and RJR Fabrics to produce several lines of reproduction fabric.
Although she learned to sew as a child in Wisconsin from her mother and grandmother on a treadle machine, Pat did not develop an interest in quilts and quilting until 1977, when she took an adult education class from noted quilter and historian Bettina Havig while living in Missouri.
As the saying goes, she hit the ground running, because she was soon teaching others how to quilt while also discovering her interest in the backstory of antique quilts and the fabrics used in them. When her husband, Tom's, corporate job prompted a move to California, Pat missed the ready accessibility to view antique quilts in eastern museums, so she bought her first antique quilt in order to be able to study the fabrics it contained. She still has that quilt, and it was the springboard for her ever-widening curiosity about all things quilt-related.
Forty years later, Pat is actively deacquisitioning her treasure trove of collections, with the help of two interns. "I continue to work with universities and museums to find new homes for my many collections by partnering with them to help with acquisitions from my holdings," she says. "It was my goal to find safe repositories for my items that also allow research and exhibit capabilities. These institutions fulfilled that dream."
The realization of Pat's dream is a tremendous gift to quilt lovers and researchers everywhere, and for that, we owe her our gratitude. Thank you, Pat!