This year marks Maine's 200th year of statehood, and quilters there are commemorating the occasion with a variety of activities. The COVID-19 pandemic has delayed the biggest quilt-related bicentennial effort: the opening of Maine Quilts: 250 Years of Comfort and Community, the largest exhibit of historic Maine quilts to date, with quilts dating from the late 1700s to 2019 at the Maine State Museum in Augusta.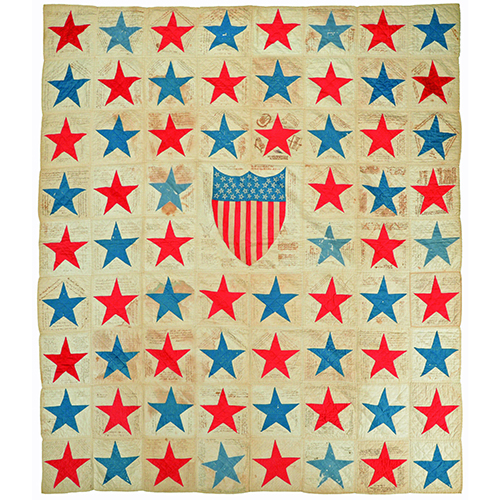 The exhibit is curated by Laurie LaBar, the Chief Curator of History and Decorative Arts at the Museum. Originally scheduled to open this summer as part of the state's bicentennial festivities, the exhibit is now slated for April of 2021. Not to be deterred by the virus, however, other quilt-related projects are continuing unabated. One of these is being undertaken by the Pine Tree Quilters Guild and it has a special connection to Maine history: the making of "potholder" quilts.
If you, like me, were unfamiliar with that term and its history, let me introduce you to quilt historian Pamela Weeks, Curator at the New England Quilt Museum in Lowell, Massachusetts and author of a book about potholder quilts soon to be published by Schiffer Publishing.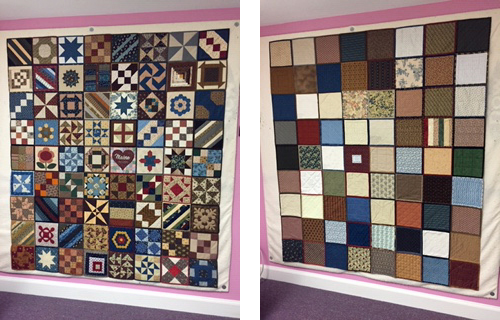 "Potholder quilts are a subcategory of the quilt-as-you-go or block-by-block method, in which each block is individually quilted and bound and then all the blocks are whip-stitched together to make the finished quilt," Pam explains. "They fall into the category of 'inscribed quilts'—friendship quilts, signature quilts, album quilts, and the like—and the majority of them were group quilts because the method lends itself to involving a number of different participants."
Pam notes that Potholder quilts were primarily made during the 1840s through the 1860s, with the earliest extant example being 1837. "They were popular in New England during the Civil War, and of the 152 I've documented, more than 70% of those can be traced to Maine or Massachusetts," she says.
Until Maine gained its statehood in 1820, it was part of Massachusetts, and there were daily transportation options by boat between Portland and Boston; there was much interaction between the two areas. It is hardly surprising that a certain style of quilt was common and popular in both.
For Callie Lavoie, president of the Pine Tree Quilters Guild, the long association of potholder quilts with Maine makes them a perfect bicentennial project. Callie explains: "We started with an idea to work with the Maine State Museum and fundraise to support their bicentennial quilt exhibit. We are a statewide guild with 2,100 members organized into 71 chapters and floaters. The guild wanted to be part of the bicentennial and the question was how to include our members. Since potholder blocks were a very popular method of quiltmaking in the 19th century, especially in Maine and a few other New England states, and they also lend themselves to making great group quilts, we asked each member to make at least one potholder block, 8 ½˝ square, to be combined with other blocks into quilts, table runners, and pot holders."
Lavoie says that they collected 504 blocks through January 2020 and their committee started working on designing, then hand whip stitching together, four potholder quilts, about 50 table runners and table toppers, and 63 pot holders. "The quilts are eight blocks across by nine rows down, 72 blocks that make a 64" by 72″ quilt," she says. "Our statewide Modern Chapter created their own potholder quilt with their colors and designs and donated it to the committee to be included with the fundraiser, so we have five quilts in all."
"The term 'potholder' quilt is a 20th-century invention," says Pam, "and nobody really likes it. They certainly weren't called that back during their heyday. The closest thing I could find in my research was a reference in Godey's Lady's Book from 1832 that mentioned 'patchwork kettle holders,' but there was no association of those with a quilt."
It also seems that early on not everyone approved of constructing a quilt in this manner. In the diary of Persis Sibley Andrews Black (who was born in 1813 in Paris, Maine and who kept a diary for much of her life, providing a fascinating record of her time), Pam found the following reference to a potholder quilt that the diarist refers to as a 'variety' quilt:
I have at last made my square to Mrs. Davis Album Quilt & it is really beautiful. It contains all the work I have done in the week beside family cares (my baby has not been well) & is only one foot square quilted & bound. I do not approve of this way of making a quilt for the Minister's wife, but I have a great deal of esteem & admiration for the lady & beside wishing to be remembered by her I wish to see the variety quilt finished as it wanted only half a dozen of the required 70 before I made mine.
When Maine Quilts: 250 Years of Comfort and Community does finally open, eight historic potholder quilts will be on display, and the Pine Tree Quilt Guild's new potholder quilts will help underwrite the exhibition. In the same way that potholder blocks combine the work of many hands to make a finished piece, these special quilts help connect Maine's history to its 200th birthday celebration.