From a distance, the U.S. flag quilt, Sweet Land of Liberty, made by Bainbridge Island, Washington-based textile artist Naomi Spinak, looks like any other quilted representation of "Old Glory." On closer inspection, however, the impression is much more startling.
The 50 stars on the standard blue ground are replaced by silhouettes of AR-15 rifles, the semi-automatic rifle that was used to kill people in Aurora, Colorado in 2012; Newtown, Connecticut in 2012; San Bernardino, California in 2015; Orlando, Florida in 2016; Las Vegas, Nevada in 2017; Sutherland Springs, Texas in 2017; Parkland, Florida in 2018, and Pittsburgh, Pennsylvania in 2018. Stitched onto the AR-15s are gun-related idioms in English. Embroidered in red thread on the flag's white stripes are the names of people who have died in mass shootings in the United States since the Columbine High School shooting in 1999. In an ominous visual statement (or perhaps a question mark), Spinak has left the needle and thread pinned into the quilt and blank space following the final embroidered name.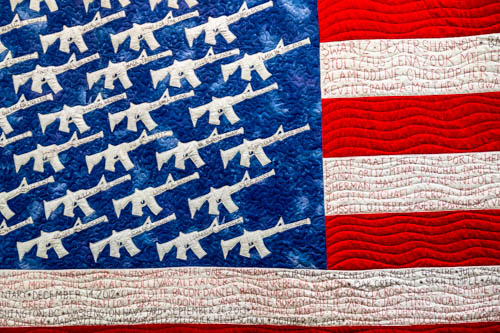 "I knew some people might be shocked or surprised by the use of the flag, because the flag is a powerful symbol and that is why I used it," explains Spinak. "As an American I wanted to explore what the flag means and why. I think that our attitudes towards guns are deep-seated in the United States. As for how I came up with the idioms on the guns, several of us who were working on the quilt thought of all of those in less than a day. There's many more we didn't use. Those phrases are American phrases–they're made in this country. We're really connected to guns and gun culture here."
Spinak created Sweet Land of Liberty with the help of many other women, including a group of embroiderers who call themselves the Domestic (Terrorism) Arts Group and longarm quilter Marybeth O'Halloran of White Lotus Quilting. "We are all concerned about the meaningless gun violence that has become all too common in the United States," Spinak continues. "When we hear of yet another mass shooting, it seems as though the freedom to own a gun is more important than the freedom from fear of being gunned down."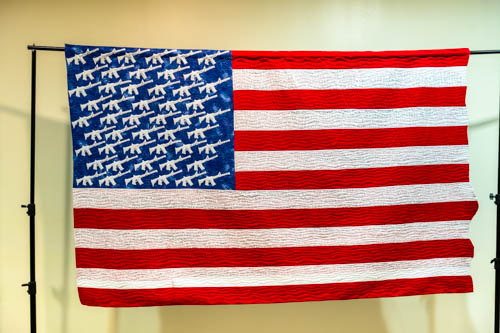 Spinak's background is in costume design and she has always sewn and made clothing. "I've been playing with fabric with my mother since I can remember. I used to follow her around fabric stores and she taught me about lots of different fabrics. I have never had formal quilt training, I've always just made free-form picture quilts from my own designs. I've experimented with lots of appliqué, but not really any traditional piecing. I wouldn't even call myself a quilter, but I was invited to join my local Modern Quilt Guild, so then I found out I was a modern quilter!"
The essence of a quilt is one of nurturing and comfort. When that essence is challenged by use as a vehicle of protest, the impact is arresting and powerful. Such was the intention and the result of Sweet Land of Liberty. "I hope that in my lifetime we can find the will to reduce the meaningless killings in this country and that the words, 'life, liberty, and the pursuit of happiness' again speak to me, and to the world, of living safely," Spinak says.
Spinak's quilt was part of the exhibit Assemble to Disassemble, which used works by three women artists to examine the role of guns in culture from local, national, and international perspectives. In addition to the quilt, the exhibit also included a representation of children's shoes marching toward a disassembled AR-15 and architectural floor plans in the shape of weaponry.
Organized by Austin, Texas-based artist Lalena Fisher, the exhibition was installed in the rotunda of the Texas Capitol for the first week of the 86th Legislative session in January of 2019. Fisher says the exhibit was not anti-gun but was created in the hope of starting a conversation to find common ground on gun control. Sweet Land of Liberty was also shown in December 2018 at the Kitsap Human Rights Conference in Washington and will be on display at the Art Museum and Performing Arts Center on Bainbridge Island, Washington in the spring of 2019.