When Denton, Texas-based quilt artist, teacher, and author Barbara Ann McCraw was growing up in a South Chicago tenement, her mother surrounded her children with beauty even though she had little money with which to do so.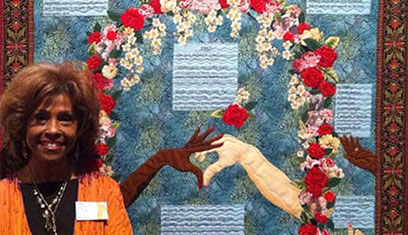 "She would take scraps of fabric, used furniture, and hand-me-downs and she created what seemed to me a palace of a place to live," Barbara says. "My mother didn't quilt, but she did make things for both practical and entertainment value from cloth and other home found treasures for us as children. She expressed her love without having the means to give us things of real value, except herself."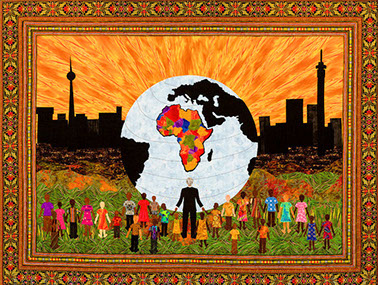 Those traits of artistic sensibility and creative flair obviously have been inherited by Barbara, whose renown as a quilt artist is recognized throughout the world. Her work is held by private collections, universities, the Smithsonian and other museums, and her quilts have been exhibited all over North America, Europe, and South Africa, both in solo shows and as part of group exhibitions. Books, magazines, and other publications have featured her quilts, and she has been profiled in a documentary and on television. Her mastery of a variety of techniques, her original designs, and her imaginative use of color have distinguished her as an artist of unusual talent.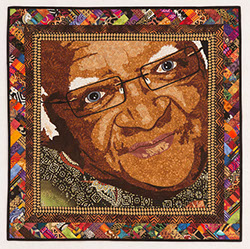 Although she was taught to sew as a teenager in exchange for babysitting, Barbara didn't start quilting until later in her life. "I started quilting in 1995 after my mother passed away. I was part of a group making quilts for the Names project where we volunteered working with an AIDS Service provider organization," she says. "A good friend of ours, Teel Sale, who is an artist, lost her son to AIDS and I made a quilt as an interpretation of one her art pieces dedicated to her healing process. Quilters from the local quilt guild were also volunteering at that organization and they invited me to join them. It was then that I started taking classes on quilting and learning different methods."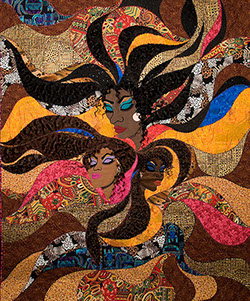 Upon retiring from a demanding job as pathology supervisor at the University of Texas Southwestern Medical Center in Dallas in 2000, Barbara was able to devote herself fully to her art. Her husband, Ernie, built her a studio and encouraged her work by taking care of household chores, cooking, and acting as her business manager. Theirs is a true partnership, and it has allowed Barbara the time and space to realize her potential as an artist. "Many days, Barbara will work on her quilts for eight to 12 hours. She often has to be reminded of other things that need attending to," Ernie offers. "I think that's what her real love toward her art does for her."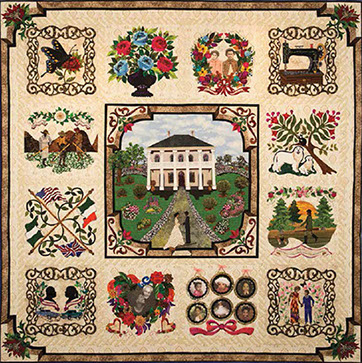 When Dr. Carolyn Mazloomi was organizing the And Still We Rise: Race, Culture, and Visual Conversations exhibition to depict through quilts the history of the African American experience, she worked with artists in the Women of Color Quilters Network (a nonprofit that she had founded). "I met Dr. Mazloomi through the Women of Color Quilters Network after a few of my quilts were exhibited and some awards were won," Barbara explains. "She asked me to participate in some exhibits and when she was building the 'And Still We Rise' exhibit, we quilters were given a list of important figures and events in African American history starting in the 1600's and going forward in time to today. I chose the Supreme Court decision Loving v. Virginia, as it related to my interracial marriage." That exhibition has been touring since 2014.
In 2014, Barbara participated a quilt exhibition honoring Nelson Mandela: Conscience of the Human Spirit. The exhibit, which featured over 80 quilts made in 2013 and 2014, was developed by the Michigan State University Museum and the Women of Color Quilters Network in association with quilt artists across South Africa and was showcased in July 2014 at the International Quilt Conference Africa in Johannesburg. Barbara and Ernie traveled to South Africa for the opening event.
In addition to her artistic achievements, Barbara is well known as a teacher. She was invited to teach quilting in Tanzania, Africa in 2012, where she spent two weeks teaching a quilting program to young men and women with the goal of providing them a marketable skill to help better their lives. In 2013 she developed a no-cost, six-week summer program in her community to teach girls and boys the basics of sewing and quilting at her studio. She also taught Baltimore Album classes for many years in the Southwest region of the U.S. with her partner Teresa Scherling.
Barbara's most recent effort has centered around one close to her heart: her own family. She designed an original Baltimore Album-style piece titled My Family Reunion Quilt that features numerous techniques and embellishments.
"My Family Reunion Quilt started with Ancestry.com as I searched and learned about my great-grandparents and located the plantation where they lived in Waterproof, Louisiana," Barbara says. "We visited that area and learned of the marriage certificate where my great-grandfather, a free man of color, paid $100 for my great-grandmother's hand in 1872. We were able to copy that record and after doing the center block showing their jumping-the-broom wedding, I decided to make it a family story quilt and added the surrounding blocks to represent other family members and things that were important to me. I worked on it over the course of two-and-a-half years, doing each block with as much detail as I could work into honoring my family." The quilt has generated so much attention that Barbara has written a book about it, which is available for purchase from her website.
When asked how making quilts has influenced her life, Barbara has a ready answer: "Quilting has given me the opportunity to travel, express my ideas and tell personal stories that make us more alike than different. I spend a lot of time talking about having grown up in circumstances where the opportunities sometimes looked very limited, but I have always stretched and reached for something more. My mother always said that in order to get what you wanted, you needed to do 110% and work as hard as you could at whatever your dream might be. I feel a communal joy in working with other women, and a personal joy in creating articles of expression and comfort. I am influenced by my need to express my imagination, my heritage, my vision, and also by my need to offer something of myself through community service. For me, the art of quiltmaking allows me to accomplish all of this."