In all my years of writing about quilts, I have never encountered anything quite like the subject of this post: the Evanston Historical Quilt, which has its own trademark registered with the U.S. Copyright Office.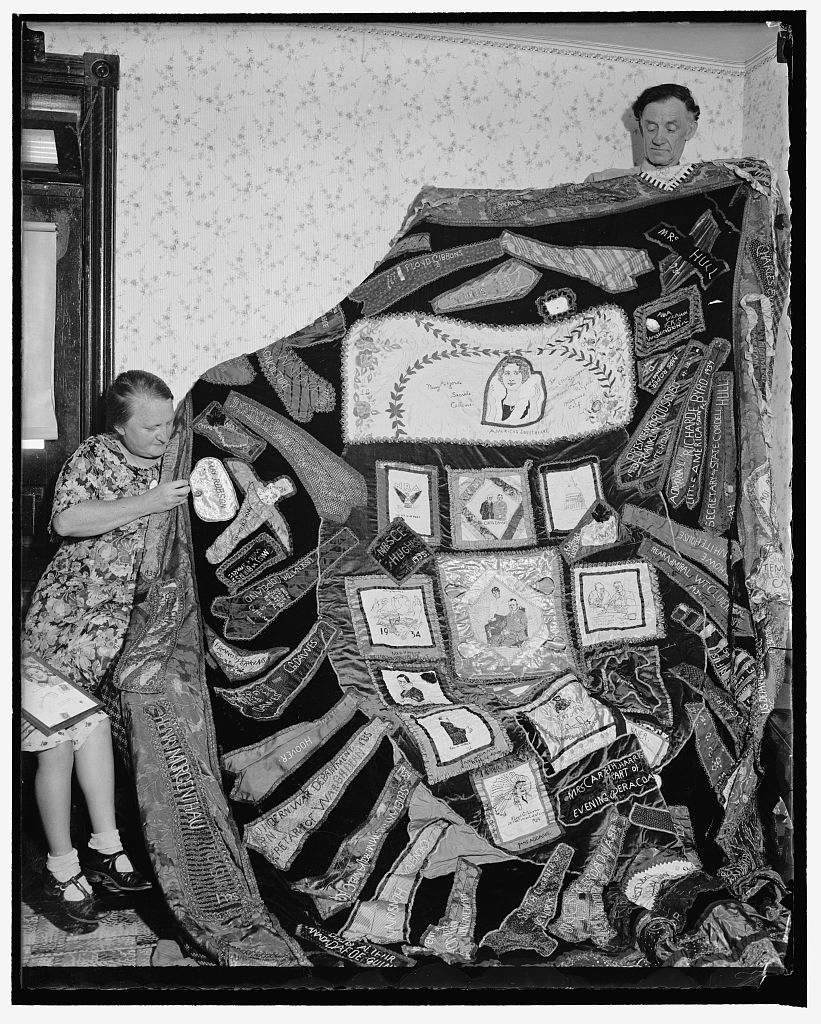 Mrs. Ethel Sampson began her magnum opus in 1931, and worked on it continuously for 27 years, almost until her death in 1960. Over the years it grew to gargantuan size, ultimately measuring 160″ x 137″ or roughly 13 feet by 10 feet. It was famous almost from the get-go, being displayed at the Chicago World's Fair, "A Century of Progress," in 1933 and also at the White House. It was featured in the Strange as It Seems syndicated cartoon, the New Yorker magazine, and was the subject of a Ripley's Believe It or Not radio episode.
The Evanston Historical Quilt seems to have started out as a basic celebrity signature quilt during the Great Depression when, from her home in Evanston, Illinois, Mrs. Sampson saw a magazine headline encouraging people to "Write Your President." And she did so.
She requested not only a signature, however, but also a swatch from or small piece of clothing worn by the person she contacted in order to include it in her quilt. Eventually, she collected items from not only from that first U.S. President, Franklin D. Roosevelt, but also three others: Calvin Coolidge, Herbert Hoover, and Dwight D. Eisenhower. So charmingly persistent was Mrs. Sampson that Eisenhower responded to her by saying that she had pursued his shirttail for so long, he might as well give her one.
Over time, Mrs. Sampson's quilt became a unique textile record of people who were famous during the years that she was constructing it. In addition to political figures—and there are a remarkable number of those, including national, state and local (Chicago) leaders—she had swatches of the Dionne Quintuplets' diapers; a linen from the Duchess of Windsor; a piece of red silk from the dress that Bette Davis wore in the movie, Jezebel; and dress pieces from the likes of Eleanor Roosevelt, Mae West, Shirley Temple, Amelia Earhart, social activist Jane Addams, and Joan Crawford, to name but a few.
In fact, Bette Davis and Joan Crawford became pen pals with Mrs. Sampson, personally corresponding with her for many years. The quilt contains dozens of neckties from famous men: such diverse luminaries as General Douglas MacArthur, Emperor Haile Selassie of Ethiopia, FDR's Vice-President Henry Wallace, polar explorer Admiral Richard Byrd, and multimedia star Bing Crosby. Senators, congressmen, war heroes, musicians, actors and actresses, diplomats, and all manner of other notables are represented by some piece of their clothing, making the quilt both an intimate object and a revealing one at the same time.
It would appear that Mrs. Sampson began her masterwork as a sort of Crazy quilt, starting out appliquéing the items onto a base fabric in rather orderly fashion until the articles of clothing she acquired became so numerous that the piece just grew like Topsy, necessitating the addition of extra borders to accommodate them all. In true Crazy quilt fashion, there is a great deal of embroidery on the quilt, much of it pictorial, including a portrait of silent film actress Mary Pickford, whose heavily embellished garment swatch is one of the largest on the piece.
As you might expect, the quilt is heavy. According to one story from Mrs. Sampson's lifetime, the press wanted to take a photo of her famous quilt and they tried to hang it from steel poles, but the poles collapsed from the weight. The issue of size and weight makes the quilt difficult to display as well, which is why it remained unseen by the public for 50 years after Mrs. Sampson's family donated it to the Evanston History Center following her death.
Kris Hartzell, Director of Facilities, Visitor Services, and Collections at the Center says that the quilt served as the centerpiece of a special exhibition, A Curious Patchwork of Evanston's Treasures, in 2011. "It was really a challenge because it is so big and heavy and some of the fabrics are delicate," says Kris. "But it is such a special part of our collection that we felt it was important to share it."
"Visitors were overwhelmed by not only the size of the quilt and the eclectic mix of fabrics and appliqué techniques, but also the idea that all these incredibly famous people responded to Ethel and sent her articles of their clothing," she continues. "One stands in awe."
The Evanston Historical Quilt is an exuberant piece of folk art, a decades-long effort begun on a whim but pursued with a passion by a woman for whom it became the defining symbol of her life. I wish I could have known her.