Zora Neale Hurston was one of the foremost female writers of the 20th century. She was a member of the Harlem Renaissance and her novels, short stories, and plays usually depicted African American life in the South.

Born in 1891 in Notasaulga, Alabama to parents who had been enslaved, Hurston was an excellent student and she received a scholarship to Barnard College, where she obtained a degree in anthropology. She dedicated her efforts to promoting Black culture and folklore, and in her writing, she often featured black women, which was practically unheard of in her era.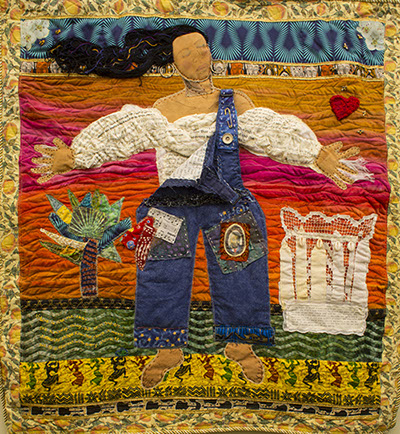 Her most famous work was Their Eyes Were Watching God, which featured a strong female protagonist. Although her writing was largely ignored by the literary establishment during her lifetime and she died in poverty in 1961, today she is widely recognized as a groundbreaking author and her influence continues to grow. Tuskegee University, the famous historically Black university located not far from Hurston's birthplace in Alabama, recently has been commemorating her life and legacy with a number of events, one of which was the exhibition, The Soul of Zora: A Literary Legacy through Quilts.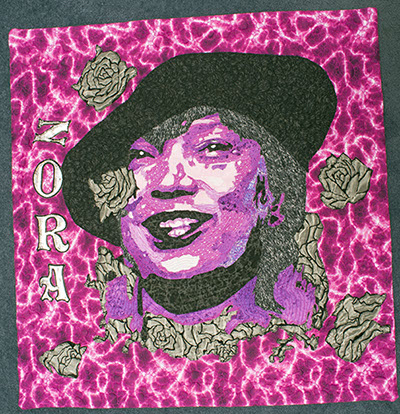 "The artists who created the quilts were inspired by Zora Neale Hurston's writings," explains Dr. Zanice Bond, the exhibit curator and professor of English at Tuskegee University. "We just received a two-year grant from the National Endowment for the Humanities focused on the literary legacies of three authors native to Alabama, and Zora Neale Hurston is one of those. She was passionate about folk culture and honoring Black women. Quilts have long been a part of the black female experience in this country, so the quilt exhibit was a great way for us to profile the various elements of Zora Neale Hurston's legacy. It also happened as Tuskegee welcomed its first female president, Dr. Lily McNair. What's more, the closing of the exhibition included two important events: a memorial for black women writers who died in August: Toni Morrison and Paule Marshall, and a quilters' workshop that focused on African appliqué."
The quilts were selected from a larger exhibit of the same name that, as serendipity would have it, had been developed earlier by Marla A. Jackson, executive director of the African American Quilt Museum and Textile Academy Museum in Lawrence, Kansas. Jackson is a community-based visual art educator whose quilts have been exhibited in national and international venues, including the American Folk Art Museum and the Smithsonian's National Museum of African American History and Culture.
She happens to be a good friend of Dr. Robert Hemenway, the author of Zora Neale Hurston, A Literary Biography (University of Illinois Press). He once told her, "Marla, you are the soul of Zora and I want you to honor her with an exhibition."
"I told him I would and I always keep my word. That's how I came up with the title for the exhibit," Jackson says. "I put out a call for entries on my website and I heard from quilters all over. Eventually, 15 quilts were submitted from some wonderful contemporary quilt artists. All of them were influenced by Zora Neale Hurston's writing, and especially the character of Janie Crawford, the main character of Their Eyes Were Watching God."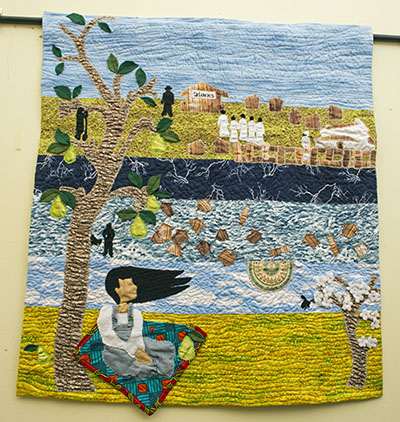 Dr. Bond happened to visit Lawrence, Kansas, while the exhibit was on at the African American Quilt Museum. As Co-Director of the Literary Legacies NEH grant at Tuskegee, she knew as soon as she saw the quilts that they would be a perfect accompaniment to the activities planned there. While not all of the quilts in the original Lawrence exhibit were available due to other commitments, nine quilts did travel to Alabama. The artists whose quilts were in the exhibit included Earmichiae Brown, Cheryl Willis Hudson, Tony Jean Dickerson, Lola Jenkins, Jacqueline Johnson, Niambik Kee, Laura Casmore, and Theresa Shellcroft.
The Soul of Zora: A Literary Legacy through Quilts was one of the most widely-viewed exhibits in the University's history, drawing viewers from the community and beyond, while providing numerous opportunities for educational outreach and learning outside the classroom. It was so popular that it was held over for months after its scheduled completion date.
And so it was that an exhibit of quilts by women artists honoring a woman writer who honored women proved to be the catalyst for encouraging learners of all ages to consider the broad and growing impact of women's work. I think Zora Neale Hurston would be pleased.
**"The Soul of Zora: A Literary Legacy through Quilts" was co-sponsored through a grant from the Alabama Bicentennial Committee as well as a grant from the National Endowment for the Humanities. The two-year NEH grant enables the production of new curricular materials, digital humanities resources, and community engagement activities focused on three 20th century authors native to Alabama: Zora Neale Hurston, Ralph Ellison and Albert Murray.