When the pandemic of Covid-19 began to spread around the world and it became clear that there was a critical lack of facemasks for medical personnel, first responders, those with essential jobs, and—ultimately, for everyone—quilters rapidly stepped up to fill that need
---
Armed with stashes of 100% cotton (that can be washed and sterilized), sewing skills, all the necessary notions and tools, and a deep desire to put it all to use, coupled with unprecedented amounts of time due to shelter-in-place requirements, the quilting community got seriously busy.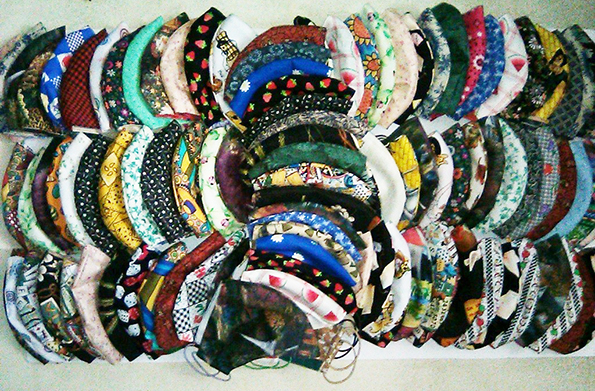 Individually and in groups, quilters have mobilized to produce handmade facemasks in order to fill the gap until commercial manufacturers could ramp up production to meet the demand. It would be interesting to know how many facemasks quilters have produced and donated in the past couple of months. (Editor's Note: Many well-known quilters and organizations have also started and organized Facebook facemask-making groups).
We'll never know the answer, of course, but it's clear that quilters resoundingly rose to the occasion to provide essential personal protective equipment (PPE) at a time when that was in short supply from regular sources. A friend of mine who works for the U.S. Postal Service says that the Post Office these days is "as busy as Christmas, because quilters are making masks and mailing them out by the thousands!"
---
Sun City, California-based quilt artist Allyson Allen sent this dispatch:
Since mid-March I've been using my "shelter in place" time to create fabric masks. I will not qualify for unemployment, even though all of my March thru June presentations have been cancelled, but I am NOT charging for the masks. I started with family and friends of course, then my elderly neighbors who still do their own shopping, our mail carriers, (all of the post office employees), the cashiers at the local markets, and Dollar Stores. Our neighborhood Urgent Care isn't overwhelmed yet so they still have paper masks. I made and distributed about 100 masks in the first three weeks. I'm using materials I had already purchased for projects due this summer, since those exhibits have been postponed. I've gifted 40+ to the Los Angeles area, 30+ to Texas, and more than 60 locally.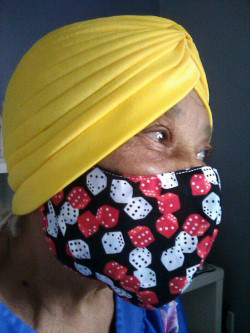 In 2015 a lady from Chicago took one of my quilting classes in Palm Springs. She and my niece Krysta hit it off right away. A few weeks later she mailed Krysta a box of fabric. Krysta told her she'd give the fabric to me so the lady started mailing fabric to me. It started with her random act. That's why I'm doing it as a "pay it forward." When I sent her a mask I found out she's a nurse in Chicago. I spent last week only sewing for her, and Saturday I was able to send her 100 masks! What an ironic "goes around, comes around" moment, right? It felt like my Easter blessing.
I will probably be able to create another 400 masks with my current supply. I plan to make 500 by the end of summer, as I know we will not be past this crisis anytime soon. There is now a "mask in public" requirement statewide. The ones being mass-produced by government will not be for the general public, and we'll most likely need to wear masks and gloves through the end of the year.
---
In Houston, Texas, quilter, author and Bybee Scholar, Teresa Duryea Wong (Suzy's Fancy column 230) has been making masks, too, for family and friends and whoever needs one. When she found out that the employees at the local grocery store (an essential business) where her son works did not have masks, she got busy and made them.
In Iowa City, Iowa, quilter, writer, and fabric designer Linzee Kull McCray made particularly appropriate masks for her husband, a pulmonologist who has been researching coronaviruses for the past 15 years, and all the people in his lab.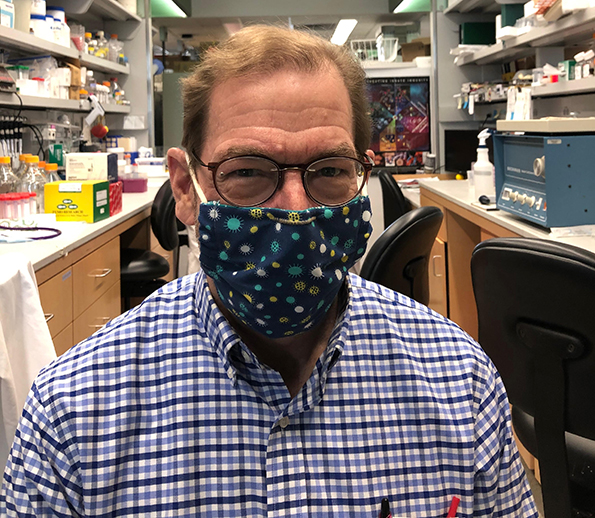 "I used a fabric from a line called Flour Garden that I'd designed for Moda back in 2019 based on a feedsack I'd found," Linzee explains. "I had named it Pollen, but my husband told me it looked like a coronavirus, which at that time had no meaning for me. But now, though, I like to say I'm fighting virus with virus when I make a mask with that fabric!" Linzee reports that her husband and all the staff have now been able to obtain medical-grade PPE to use when they are at work, but he still wears his "virus mask" that she made when he is outside the lab.
It is my bedrock belief that quilters are special people. In times of trouble such as the one we are all living through now, quilters' skill, generosity, and willingness to help have been on full display.