Trying to remember passwords for all the various online accounts, operating systems, applications, mobile devices, ATMs, and so on (seemingly without end), is a burdensome but inescapable necessity in order to keep our personal data secure.
Few people understand the intricacies of passwords and data security better than Dr. Lorrie Cranor, Professor of Computer Science and of Engineering & Public Policy at Carnegie Mellon University, where she is director of the CyLab Security and Privacy Institute.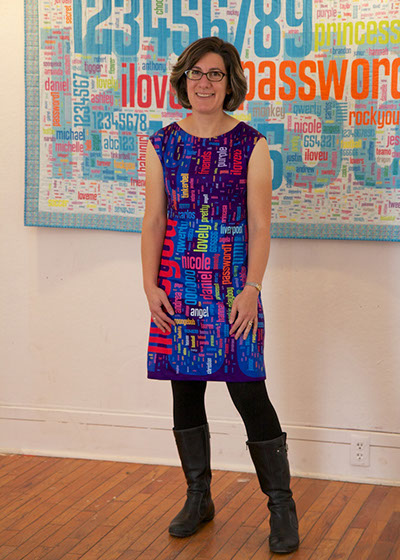 She has co-authored over 150 research papers on these topics and in 2003 she was named one of the top 100 innovators 35 or younger by Technology Review magazine. She is frequently quoted in the press as an expert, and she has appeared on the Today Show, CBS Sunday Morning, CNN Financial News, NPR Morning Edition, NPR Science Friday, and NPR All Things Considered.
Her TED talk on passwords has been viewed over 1.5 million times. I could go on, because Lorrie's biography is lengthy and impressive—but suffice it to say that this woman knows her stuff. She also knows how to quilt. She has won awards in local and national quilt competitions, and several of her quilts have been featured on the covers of books and journals.
As a child, Lorrie learned to sew by hand and with a sewing machine from her mother. When she was in graduate school, she needed a diversion from all the cerebral effort and wanted to create something tangible, so she decided to make a quilt. "I bought a couple of quilting books and figured it out from there," she says. "A few years later, I joined a quilt guild and attended some workshops with visiting quilters, which was especially useful for learning how to do free-motion quilting."
She has been able to effectively marry her professional life and her passion for quilting in a way that was particularly successful when she created a quilt, appropriately titled "Security Blanket," based on some of the research she had done on passwords.
"Our research group collected tens of thousands of passwords created under controlled conditions as part of our research and compared them with the archives of stolen passwords that have been made public over the past few years," Lorrie explains. "As with other breaches, 'password' and 123456 figured prominently. But after you get past the obvious lazy choices, I find it fascinating to see what else people choose as passwords. These stolen passwords, personal secrets, offer glimpses into the collective consciousness of Internet users.
"I asked my students to extract the 1,000 most popular passwords from the data set and provide a list to me with frequency counts. I then went through the list and sorted them into a number of thematic groups. I assigned a color to each group and entered the passwords with weights and colors into a word-cloud generator program. I then saved the output as a PDF and edited it in Adobe Illustrator to rearrange them in a shape that I liked, with some pairs of words purposefully placed in close proximity. I designed a border, and had the whole thing printed on one large sheet of fabric by Spoonflower. When the fabric arrived, I layered it with batting and quilted it. I bound it with matching fabric from Spoonflower that I designed. The colors, size, and format of this quilt were designed to be reminiscent of a baby quilt, which I imagine might become a security blanket. Like the passwords included in this piece, a security blanket offers comfort, but ultimately no real security."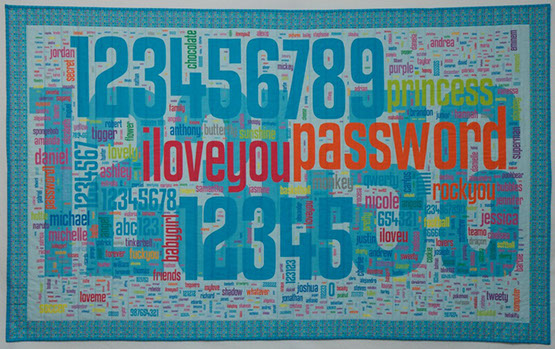 Science Magazine published a story about the quilt and it generated so much interest that she made a dress from the fabric she designed. People kept asking her to wear the password dress when she gave talks about privacy and security. She wore it so often that it started to get frayed at the seams, so she made a second one. The fabric has gotten so much attention that people requested it for other apparel projects such as ties and T-shirts, as well as home décor projects.
She recently sold two of her privacy quilts and her original password dress to the International Association of Privacy Professionals, which has a collection of privacy-themed art on display at their headquarters in Portsmouth, New Hampshire.
Lorrie's family is supportive of her quilting and she tries to make as much time for it as possible. "My family thinks my quilts are pretty cool and they like having them all over our house. They'll even go to fabric stores with me! My kids have all tried quilting themselves and last year I got everyone in my house to collaborate and help make blocks for a quilt for a close family friend," Lorrie says.
"A few years ago, I had the opportunity to take a sabbatical and I was fortunate to be able to spend an entire year quilting," she continues. "I made more quilts in that year than I had made before or have been able to make since. That was a treat! Since then I've taken on more job responsibilities and have also spent some of my free time playing the flute in a flute choir with one of my kids, so I'm down to making about one quilt per year. I've come to the realization that I can do everything I want to do, but just not at the same time."