European stonemasons' guilds during the Middle Ages are thought to be the basis for the worldwide fraternal network known as Freemasons (or, simply, Masons). Many symbols and aspects of the organization are taught only to those who go through a complex series of initiations and ceremonies, and as a result, Freemasonry is considered a secretive society.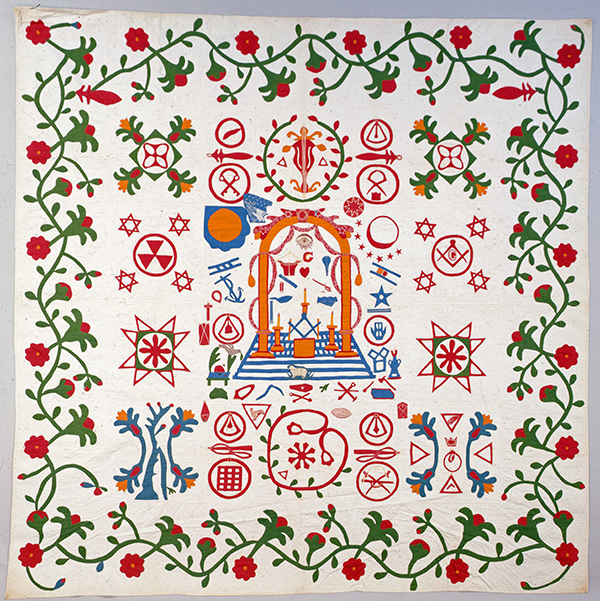 Masons themselves counter that these things are not secrets, but rather knowledge that is best communicated in a specific manner in order to give them a proper perspective and context. Based on principles of supporting dignity and liberty of the individual, modern Freemasonry is involved in charitable works and instilling ethical values. It has an estimated six million members worldwide.
Even now, women are not allowed to become Freemasons, but they can join affiliated organizations such as the Order of the Eastern Star. For centuries, however, women have been incorporating the complicated system of Freemasonry's symbols in quilts and other textiles, indicating that they were knowledgeable about the symbols' meanings and purpose.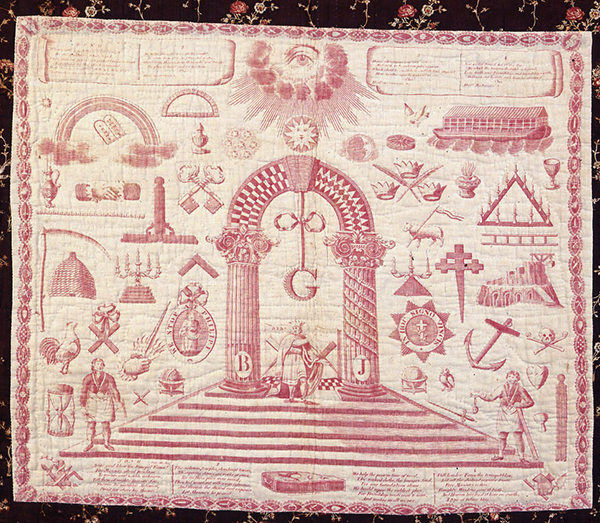 Such things as the square and compasses with the letter G (which stands for God or Geometry), the 47th problem of Euclid, the lamb, the blazing star, the all-seeing eye, a sprig of acacia, the beehive, and many others having special significance to Masons can be seen in quilts made by quilters who may have been family members of Freemasons.
The Scottish Rite Masonic Museum & Library in Lexington, Massachusetts has one of the largest collections Masonic and fraternal textiles in the United States. Numbering over 1,000 objects, the Museum's Masonic and fraternal textile collection includes quilts, coverlets, rugs, aprons, sashes, regalia, needlework, and household items.
According to Hilary Anderson Stelling, Director of Collections and Exhibitions at the Museum, "There is a history of quiltmaking in Freemasonry, in that women affiliated with the organization in one way or another have done the same sorts of things that other women's groups have done, such as make commemorative quilts, quilts for gifts, or quilts used for fundraising efforts to support the organization. Some of the pieces in our collection display exquisite competence with a needle. And many also show sophisticated knowledge of the symbols of Freemasonry."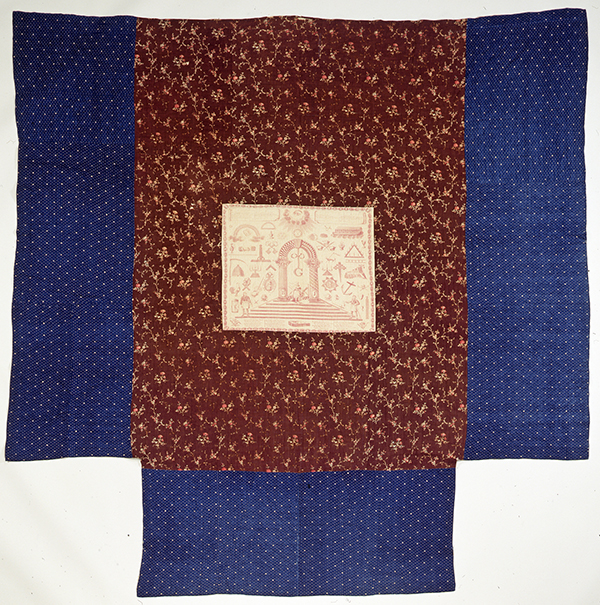 The oldest quilt in the Museum's collection dates to circa 1817. Although not much is known about the piece, including who made it, the fact that its central medallion is a handkerchief painted with Masonic symbols indicates that it likely belonged to a Freemason at some point. The quilt is a "T-shape" with cut-out corners made to fit a four-poster bed, a style common to New England during that time period. The fabrics used in it appear to be everyday dress goods, and there is nothing to suggest that it was a "special" quilt, other than the Masonic handkerchief and the fact that it is still in good condition for such an old piece. The handkerchief likely had significance to the quiltmaker and all those who have owned the quilt through the years.
Among the many interesting quilts owned by the Museum is one made by a woman associated with the Spiritualist movement that swept North America in the mid-1800s. Jane Haight Webster was a "writing medium" who, according to family history, designed her quilt while she was in a trance, seeing the arrangement of Masonic symbols and then adding them to her quilt.
The Museum uses this piece to show "how quilts functioned as educational tools for their makers, well beyond just teaching sewing skills. Webster's quilt, and others that incorporated fraternal symbols, provided a means for women to share their interpretation and knowledge of exclusive male groups like Freemasonry. This quilt shows us that women did have familiarity with the symbols of a closed organization like Freemasonry. It also offers a telling example of how women used quilts to push against the gender boundaries of their era."
The Museum's textile collection has been amassed both by purchase and by gift. Hillary Stelling credits several of her predecessors with having a special interest in quilts and she hopes to add more quilts with Masonic symbols to their holdings in the coming years.