There are things that, in certain situations, have the ability to bypass all barriers and communicate directly with the heart.
I believe quilts are frequently able to do that in ways few other tangible items can match. When it comes to the intangible, music is humankind's universal language. It is hardly surprising then that when a daughter wanted a way to express the feelings she had for her mother, a quilter whose quilts bind their large, spread-out family together, she chose music as the vehicle for doing so. The result was an inspiring song entitled Wrap You Up that uses the quilt metaphorically to honor the comfort of a mother's love.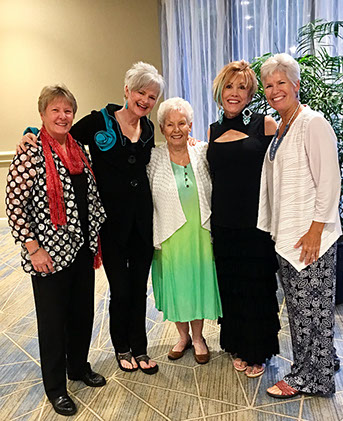 When the Nashville, Tennessee-based, internationally-recognized writing, singing, and performance ensemble StoweGood – made tour stops in Venice, Florida, they were hosted on several occasions by Roxanne Tigh and her wife, Carolyn Mobley. The four women quickly became friends. StoweGood—Grammy-nominated Karen Taylor Good (whose "How Can I Help You Say Goodbye" topped the country music charts at number one for singer Patty Loveless) and songwriter Stowe Dailey (who penned the hit "Leavin's Been A Long Time Comin" for country music group Shenandoah)—offer as one of their signature skills the crafting of original custom songs for individuals or organizations from input given by the client.
The Alzheimer's Association, Lions Club International, CASA (Court Appointed Special Advocates), and the National Hospice Foundation (to name a few) have benefited from Karen and Stowe's ability to capture the essence of a group's message in melody. Similarly, weddings and special life tributes are among the important events that the songwriters are able to commemorate for individuals in a uniquely personal way. Many of the duo's custom songs, however, are written as memorials for funerals.
When Carolyn heard that, she had a thought. "Why wait for a funeral?" she asked. "How about writing a song for Roxanne's 88-year old mother, Ruth, while she's still alive to enjoy it?"
Roxanne loved the idea, and she and Carolyn immediately set about telling Karen and Stowe what sorts of things they wanted the song to contain. A lifelong nature lover, Ruth was born in Grand Island, Nebraska in 1930. She sewed from a young age and made her first quilt when she was nine-years old. As a mother of seven children, her quilting took a back seat to other sewing while she made almost all the clothing for her large family. When her children got older, she took up quilting again. In addition to making quilts for every one of her children, she has made a Christmas quilt as a wedding present for each of her 15 grandchildren and a baby quilt for all 17 of her great-grandchildren. In the corner of each one, she always quilts a heart with a personal message for the recipient.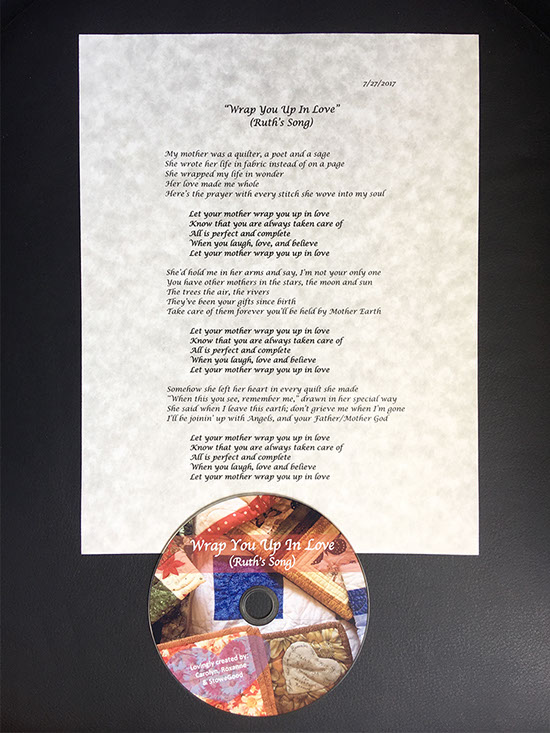 ​
The lyrics to Wrap You Up, by Karen Taylor Good and Stowe Dailey.
Refining what went into the song was a back-and-forth process between Roxanne, Carolyn, Karen, and Stowe that took several months. "Even though we wanted Ruth's song to be personal, we didn't want it to be just 'ours'," Roxanne says. "We also wanted it to be universal and something that a lot of other people could relate to."
"That was different for us, because ordinarily when we do a song for individuals rather than an organization, it is intended just for a very specific, private use," Karen recalls. "Roxanne and Carolyn wanted us to share Ruth's song with everyone."
"It was sort of daunting, especially for me because I had lost my mother when I was young," says Stowe. "But eventually the Muse came through in a big way. We really caught Roxanne and Carolyn's vision, and were so inspired by Ruth's love that the song just wrote itself!"
They recorded a YouTube video of themselves in the studio singing the finished song, and they sent the video to Roxanne and Carolyn, who brought Ruth over to their house and sat her in front of a computer to see the video. As they watched, the tears began to flow. Ruth was so surprised and moved that all she could say was, "No one has ever done anything like this for me before!"
In compliance with Roxanne's and Carolyn's wishes and because they love the song too, Wrap You Up is now a regular part of StoweGood's repertoire. All of Ruth's children and grandchildren have heard the song, sometimes even in performance when Karen and Stowe come through cities where the various families live. It was nominated for a Posi Award ("posi" refers to positive music, a genre that celebrates peace, unity, and personal transformation) by emPower Music and Arts. The awards ceremony was held in Tampa, Florida not too far from Venice, and Ruth, Roxanne, Carolyn, and other family members and friends were in the audience. Karen and Stowe acknowledged them to the crowd before singing Wrap You Up on stage.
"A man came up to me after a concert one time and told me that during the song, he could feel his mother touching him on the shoulder," Karen says. "It is such a special song. It really has the power to move people."
And Ruth? She's not slowing down. She hosts a one-week "quilt camp" at her home every year, at which she and two of her daughters each make the same quilt. Several of her granddaughters have taken up quilting as well. When a doctor told her that she needed heart surgery but warned her of the risks of having an operation at her advanced age, Ruth didn't hesitate. "Let's do it," she said. "I'm not done quilting yet!"