Editor's Note: It is with deep regret we announce this will be the last original edition of "Suzy's Fancy" for the foreseeable future. But we will continue to run a column from our archives every two weeks. We want to personally thank Suzanne Labry for her amazing and dedicated work over the past 12 years, and for bringing these touching, informative, interesting, and varied stories of quilts and quilters from all over the world to us.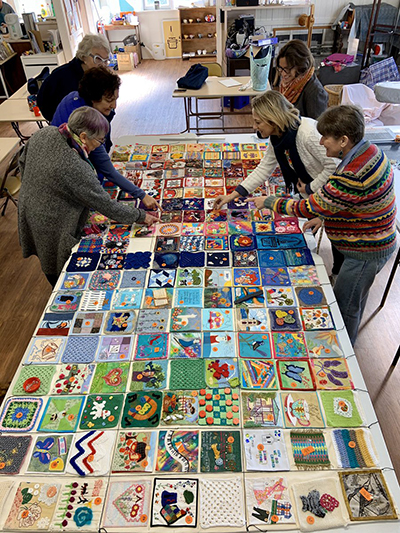 When the Covid-19 pandemic first started locking down the world earlier this year, humans responded with lots of humorous memes. Among those were funny images of fiber artists going overboard during isolation, such as this one: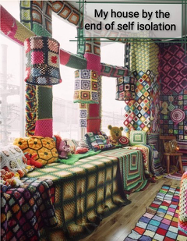 Knowing that needlewomen would use the imposed break from normal activities to be creative (although perhaps not to the extent shown in that meme…), ABC Radio Brisbane in Queensland, Australia asked its listeners to participate in a challenge to design and make a 15 x 15cm finished quilt square that represented "your life in lockdown" in 2020.
Submissions could be done in any medium—for example, knitting, crochet, patchwork, felting, embroidery, appliqué, weaving, dyeing, spinning, lacemaking, or a combination—as long as natural fibers, "joyful, cheerful" subjects, and "bright, bold, happy" colors were used.
More than 200 squares were received from people throughout the state, after which members of the Queensland Spinners, Weavers and Fibre Artists (QSWFA) stitched them all down on a backing of cotton that was not only grown, but also woven, in Queensland, making for a unique record of the state and its people during the pandemic.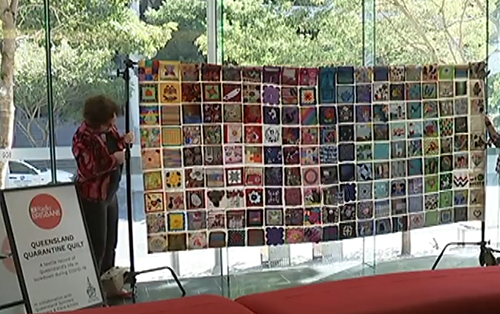 It took the QSWFA members over 100 hours to make the finished quilt, which was then displayed for a time at the radio station's headquarters in Brisbane (in a window to enable physically-distanced viewing) before being moved to become part of the permanent collection of the State Library of Queensland.
"Covid has provided this rare opportunity to stop, pause, and reflect on what's important to us," says Gavin Bannerman of the State Library of Queensland. "I think you couldn't get a better example of a group of people around the state stopping at the same time and expressing what they were thinking and feeling and going through."
And what sort of things did the squares reveal about makers' efforts to keep busy and positive under stay-at-home orders? Each square tells a story, with images of going shoeless and braless, families, various sorts of needlework and fiber art, pizza delivery, jigsaw puzzles, flowers and gardening, books, pets, porch swings, taking walks, cups of tea, nature scenes, swimming, musical instruments, children, and on and on. In short, the quilt captures an unusual moment in time in a particular place, but one that also resonates with the rest of us sharing that same unusual moment all over the world.