Boquillas del Carmen is a tiny, isolated village in the state of Coahuila, Mexico, perched atop the southernmost tip of the "big bend" in the Rio Grande River that separates Texas and Mexico. It takes less than ten minutes to boat across the river to the United States, but the nearest Mexican city of any size, Múzquiz, is a 150-mile journey to the south over precarious mountain roads that takes seven hours by bus.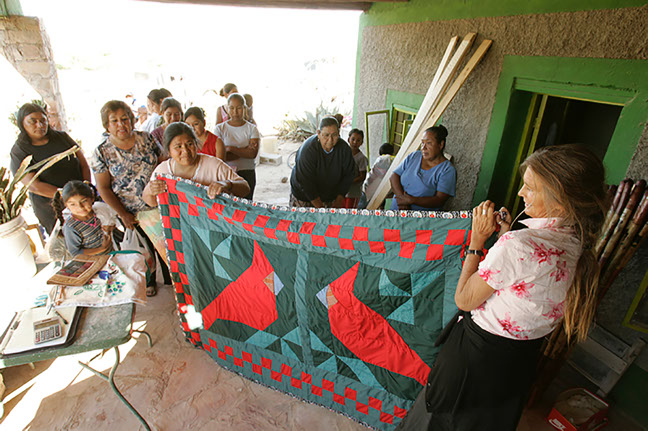 The terrain around Boquillas is not suitable for farming and since mineral mining ceased in 1919, life has been hardscrabble for the villagers. The closest store for supplies is the one operated within Big Bend National Park, on the U.S. side of the river. Only a handful of Boquillas men who have special dispensation to work as temporary firefighters for the U.S. Parks Service have anything resembling a reliable income.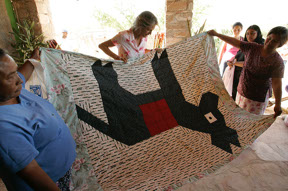 For decades, the village economy relied on visitors to Texas's Big Bend National Park, who enhanced their park experience by paying a few dollars to be ferried across the river into Mexico and ride burros or hike up the mountainside to Boquillas to eat, drink a beer, and shop for handmade souvenirs.
​
​Cardinals, by Diamantina Ureste, who is on the left holding the quilt with Cynta de Narvaez on the right. Photograph by Erich Schlegel and used with permission.Burro, by Sylvia Ureste who is on the right holding the quilt with Cynta de Narvaez. Photograph by Erich Schlegel and used with permission.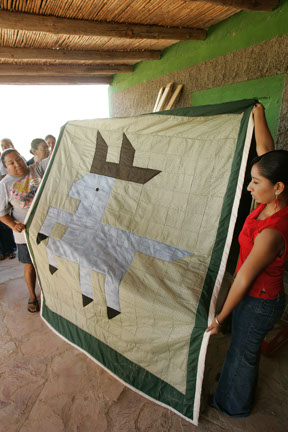 All that came to an end when the events of September 11, 2001 caused the border crossing from Big Bend National Park to Boquillas to be closed. It remained closed for 12 years. When tourist dollars stopped coming, the village economy came to a standstill. Two-thirds of the town's residents were forced to move away and only about 90 people remained.
After the border crossing shut down, Big Bend Park Service staff and numerous other individuals on the U.S. side did their best to help their neighbors in Boquillas, but the village could not survive on donations alone—they needed some way to sustain themselves. Enter a remarkable young woman (22 years old at the time) named Danielle Gallo, a firefighter for the U.S. Parks Service who had worked alongside the firefighters from Boquillas.
Danielle had gotten to know them and their families and even lived in the village for a time working as a teacher there. She started bringing back handicrafts made by the village artisans to sell on the U.S. side, and if no one was crossing back over, she would wade into the Rio Grande and toss the money back over to the Mexicans.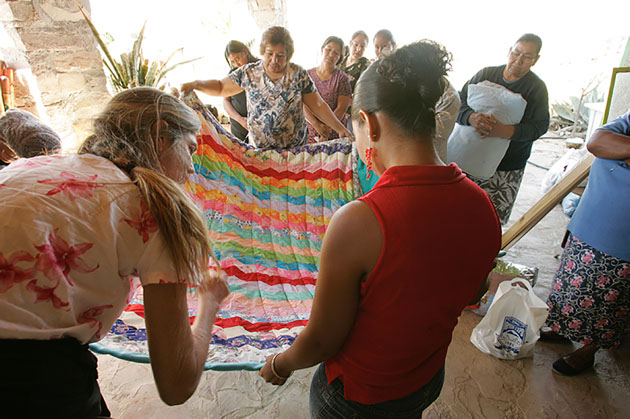 Obviously, this situation was not ideal, however, and when Danielle showed some of the textiles the Boquillas women had made to New York native Cynta de Narvaez, a river/mountain guide living in Terlingua, Texas, Cynta had an idea. She recognized that with some training, better materials, and equipment, the Boquillas women could learn to make something larger that could be sold in the U.S. for more substantial money: quilts.
Neither Danielle nor Cynta was a quilter, but Cynta knew women in the West Texas towns of Terlingua, Marathon, and Alpine and as far away as Houston who were. Thus began an extraordinary effort that involved many people of good will on both sides of the border working together to tackle a serious problem.
Organized by Cynta, quilters from the U.S. would make the trip over to Boquillas and spend days teaching 26 village women how to quilt, bringing with them supplies donated from cities all over West Texas. Hauling in supplies was no easy task. The women would cross the river by boat, which was legal, but sometimes the river was high and dangerous.
At that time, Boquillas had no electricity, and so two hand-crank sewing machines and five treadles that had been repaired by a man in San Angelo, Texas were ferried over to Boquillas via canoe from the Park through rapids on the Rio Grande for the women to use. The village women (all of whom were of descendants of Apache Indians and Spanish soldiers from the Canary Islands) quickly took to quilting, adding their distinctive color sense and imaginative designs to quilts that they created.
In order to bring the finished quilts back to the U.S. legally, Cynta would travel first via Mexican buses (shared with goats) to Múzquiz, transfer to an SUV and drive to Ciudad Acuña before going through U.S. Customs in Del Rio and finally back to Terlingua—a trip of nearly 40 exhausting hours. Her dedication to this project was nothing short of astonishing.
Once back in the States, Cynta would connect with quilters' groups and others who helped sell the quilts in a variety of venues in several West Texas cities and eventually a website was even set up to handle online orders. In all, some 500 quilts were made and sold during the several years that the effort continued. Thousands of dollars went back to the quilters in Boquillas, which not only enabled them to help support themselves, but which also helped raise money to install solar panels in the village for electricity. Underpinning it all was a newfound self-reliance among the Boquillas women.
The border crossing reopened in 2013, and since tourist dollars are once again supporting the families of Boquillas, the population has doubled as children and grandchildren have come back home to live. The governor of the State of Coahuila established a medical clinic, a full range of schools, and installed more than 100 solar panels in the village. The town now has electricity and tourist businesses, including two restaurants and several hotels, so life has definitely improved for the village.
Danielle Gallo has traded in her firefighting career to be mom to her four young children. Cynta de Narvaez, who lost her guide job after becoming disabled, has become a hotelier in Terlingua. And the women of Boquillas? They're still making quilts, but these days they market their creations themselves to buyers in Mexico.
​
This remarkable story is just one more example of the way in which quilts can transform lives. In this case, they overcame borders, language barriers, illiteracy, primitive conditions, and international sanctions in order to forge human connections that rescued a village on the verge of extinction.