In the mid-19th century, the political climate in Central Europe led to large-scale immigration of Czechs and Germans to Texas seeking religious freedom and better economic conditions. The influence of these two groups still can be strongly felt throughout Central Texas and the area of the state known as the Hill Country.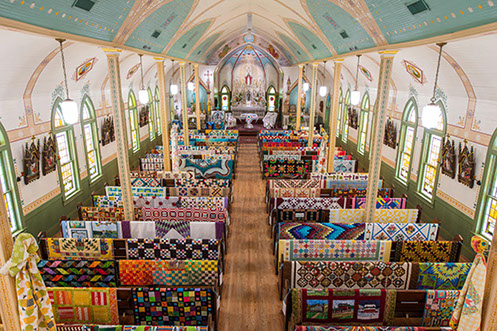 Of the many enduring reminders of their heritage, perhaps the most colorful is what has become known collectively as the Painted Churches of Texas. These churches feature intricate faux-finished interiors that were originally painted by itinerant artists. St. Mary's Catholic Church near Plantersville, built in 1894, is one of these historic sites.
St. Mary's parishioner Lorraine Nilson happened upon a photo on Pinterest of a quilt show in the sanctuary of Eglise Sacre Coeur in Sauinierville, Nova Scotia, Canada. Lorraine, an avid quilter with a seemingly inexhaustible supply of energy, immediately saw the architectural similarities between that church and her own and visualized a colorful array of quilts gracing the painted sanctuary of St. Mary's.
Enlisting fellow quilters Paula Allison and Margee Manning and securing the support of the church pastor, Father Ed Kucera, as well as the entire congregation, Lorraine began organizing what has become known as the St. Mary's Quilt Show. "We weren't looking for a fundraiser," Lorraine explains. "We just wanted to create an exceptional quilt show that would allow people to share the beauty of our church. But the way things have turned out, we've been able to earn money for our Society of St. Vincent de Paul charitable efforts."
The first show was held on a Friday and Saturday in the spring of 2015. "I thought if we had maybe 500 people show up it would be great," recalls Lorraine. "But when over 1,200 came and we had to turn people away because the church is small and there wasn't enough time or room for all of them to get in, we were just amazed. The turnout far exceeded our expectations, and we got so many donations that we knew we were on to something."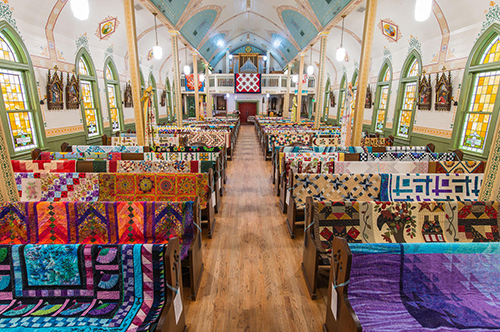 In subsequent years, a third day was added and even though the event is still essentially free, optional tickets for timed admission began being sold so that visitors would be assured entry. Because St. Mary's is a rural church with no restaurants nearby, an on-site café staffed by parishioners in the adjacent activity center on church grounds provides prepared lunches.
Numerous quilt-related vendors offer their wares for sale, and local bands and singers provide entertainment for visitors. Quilts for the show are provided by quilters from various quilt guilds in the area, and while the show is not judged or juried, sponsor awards and people's choice awards are given. Visitors can purchase tickets for a chance to win an "opportunity" quilt, pieced and appliquéd by Lorraine and Paula and quilted by Norma Reel.
Now in its fifth year, the quilt show has become an annual event attended by thousands of visitors from all over Texas and neighboring states. People pour in by the busload, drawn by the opportunity to see quilts in such a quaint, unusual setting and to admire the charming church with its the historic rectory, along with the carefully-tended gardens that surround the property.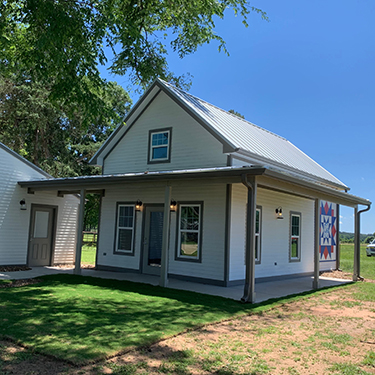 "Members of the church really step up to help out with the show—from setting up the displays, to acting as docents, to cooking meals, to directing traffic, to cleaning up," continues Lorraine. "Because everything is done by volunteers, every dollar raised by the quilt show goes to support our Society of St. Vincent De Paul, which used to office out of an old trailer. With proceeds from the quilt show, we've been able to build a new building exclusively for St. Vincent de Paul work. It has enough room for meetings and even a food pantry. And by the way, did you notice the quilt square painted on the side?"
For details about the next St. Mary's Quilt Show, visit http://www.stmarysquiltshow.com