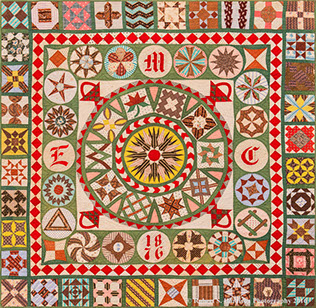 If the 1976 United States Bicentennial can be considered as one of the markers of what has come to be known as the Great American Quilt Revival, then it also can be said that the revival is now entering middle age.
During the decades since the '70s, few aspects of quilting have gone unconsidered. Quilt lovers, historians, collectors, and antique quilt dealers alike have become much more knowledgeable and discerning and it would seem that most of the truly stellar antique quilts have been discovered, studied, and documented.
It is always somewhat surprising, then, when a quilt of remarkable originality turns up, like an overlooked vein of gold in a thought-to-be played out mine. One such quilt, dubbed the 1876 Centennial Quilt because of the date prominently reverse-appliquéd on one of its blocks, has become the basis for an ongoing project that reminds us anew of the extraordinary skill and artistry of quilters past, far too many of whom are known only as "Anonymous."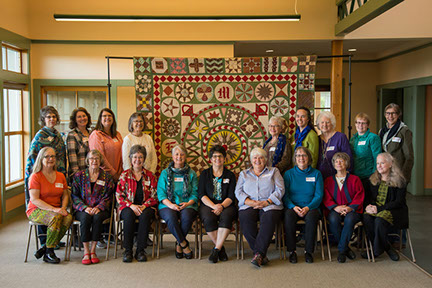 The quilt's current owner, Barbara F. Menasian, bought it at a Manchester, Connecticut estate sale in 1997 for $25, with the intention of using it on a bed. Barbara was pregnant at the time, and the quilt was relegated to storage and forgotten while children and life took precedence. In 2010 with children older and more time on her hands, Barbara had become interested in quilts and quilt history, and she took out the quilt she had bought so many years ago and looked at it with fresh eyes.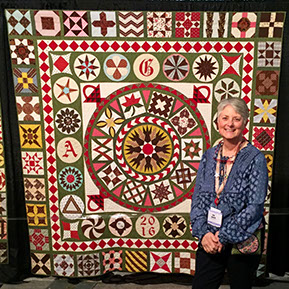 She posted a photo of it to a vintage quilt Facebook group, and that was how in 2015, Karen Alexander, a Lopez Island, Washington-based quilt historian, chanced to see it. Karen told her friend, quilt restorer and teacher, Anne Dawson, about the quilt and encouraged her to recreate it as a teaching tool for a class of interested quilters in a group to which they both belonged on Lopez Island. "When I saw the photo, I thought to myself, 'That is one crazy quilt,'" recalls Anne. "And then when I was asked to teach it, my next thought was, 'They have got to be kidding!'"
Little wonder. The 90-inch square sampler quilt features a veritable catalogue of different techniques, including Y-seams, Z-seams, oddball shapes, fussy cutting, curved seams, reverse appliqué, and foundation paper piecing, to name a few. It contains over 150 different fabrics and the setting is unique and complex. Seventy-four pieced and appliquéd blocks (both traditional and original) separated by three different pieced borders (two of which are circular) surround an intricate center medallion (a Chips and Whetstone variation). All the work is done by hand.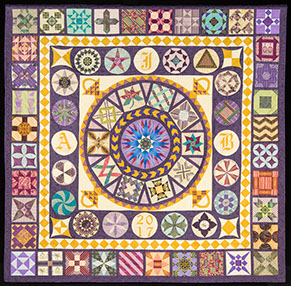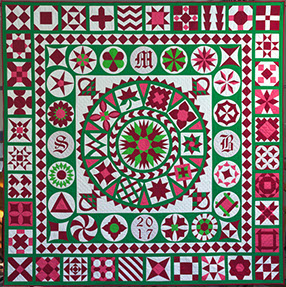 "I've been restoring antique quilts for over 30 years, but I've never seen anything like this one," Anne continues. "Whoever made this quilt had some serious engineering skills in order to figure out how everything fits together. She was a master with a compass and straight edge."
Unfortunately, nothing is known about that master craftsperson's identity. The date on the quilt leads to speculation that it was created for the Centennial International Exhibition of 1876, the first official World's Fair in the United States, which was held in Philadelphia, Pennsylvania to celebrate the 100th anniversary of the signing of the Declaration of Independence.
The initials EMC appear in separate blocks in the quilt, but how those initials are to be read is unknown. Karen Alexander has correlated the initials with one Exposition visitor who lived in Manchester, CT at the time the quilt was made, but it is not even certain that the quilt was made there. Though the original quiltmaker's identity remains a mystery, there does seem to be poetic justice at work on her behalf to assuage that cruel anonymity, because her masterpiece has taken on a new life of its own.
After gaining permission from Barbara to recreate the quilt, Anne set about drafting the blocks, trying to scrupulously maintain the scale and dimensions of the original with only the photo and Barbara's descriptions to guide her. That she was able to do so speaks volumes about Anne's own drafting abilities, because she did not see the quilt "in person" until a year later, when Barbara, who was making her own recreation of the quilt long distance, brought the original to Washington.
"When I first started developing a class around the 1876 Centennial quilt, I thought that perhaps five or six people would be interested in being the pilot group, but to my surprise, 18 people joined and we began making our own reproductions based on the original. It has grown from there and it has now become a full-fledged project, with international interest," Anne says.
Since that pilot group was formed, some 28 quilts have been finished and perhaps 40 more are in the works. One 87-year old quilter, Barbara Gonce, has done no less than four of them. Anne offers the project to quilters in a variety of formats, from retreats and monthly classes as a block-of-the-month program in 15 installments to a subscription-based distance learning option in which Anne provides detailed of step-by-step instructions by mail order.
She continues to revise and refine the patterns and templates based on experience and now those are being computerized. In November of 2018, Anne and 14 members of the pilot group (including that 87-year-old!) came to Houston for the International Quilt Festival, where their versions of the 1876 Centennial Quilt were on display in a special exhibit. That exhibit was so popular among Festivalgoers that it will be traveling to Quilt Festival Chicago this month.
"It doesn't matter whether you're a beginning quilter or an experienced one, I guarantee that by the end of this project you will be a more confident and skillful quiltmaker. I encourage participants to personalize their quilts with their own style, from reproduction to modern, and using whatever fabrics they want," says Anne. "One of the exciting things for me has been to see how people have interpreted the 1876 Centennial quilt in different ways, using it as a springboard for their own individual creativity."
One can't help but feel that EMC (for lack of a better way to refer to the original maker) would be pleased to know that her wildly original design and expert skills are inspiring a whole new group of quilters, all these many years later.
For more on the 1876 Centennial Quilt Project, please visit www.1876quilt.com