"There was just so much fabric!" exclaims Tucson, Arizona-based artist and activist Jody Ipsen of the discarded shirts, jeans, children's clothing, bandanas, bordados (hand-embroidered tortilla covers), and other personal textiles left behind in layup sites used by migrants for rest and shelter while travelling through the Sonoran Desert of Southern Arizona.
In 2007, Jody began volunteering with various humanitarian organizations to clean the layup sites. Bothered at first by the detritus, her feelings changed to sympathy and outrage when she learned that hundreds of migrants—men, women, children—were dying as they attempted to enter the U.S. via the harsh desert terrain.
In their resolute attempt to cross from Mexico and Central America into the United States in the hope of finding better, safer lives for themselves and their families, the migrants had staked their chances on an extraordinarily hazardous route through a remote and unforgiving environment.
At some point on their journey, they had had to lighten their loads as they traveled, and their castoff items told stories of human desperation. In 2000, the Pima County Medical Examiner's Office began documenting the number of deceased migrants in the area known as the Tucson Border Patrol Sector, and by 2018, that tally had reached 3,184 individuals.
"I wanted a way to make people aware of the horrific deaths that were occurring in the desert," Jody says. "I thought of how the NAMES quilt had brought attention to the AIDS crisis, and I decided that making a quilt from the fabric left behind by the migrants could work similarly to convey the message that these people were human beings—someone's father, mother, sister, brother, husband, wife, child—worthy of our compassion and respect. I want people to think about the reasons why people would feel compelled to undertake such a perilous journey and the inhumane policies in our country that have contributed to their decisions."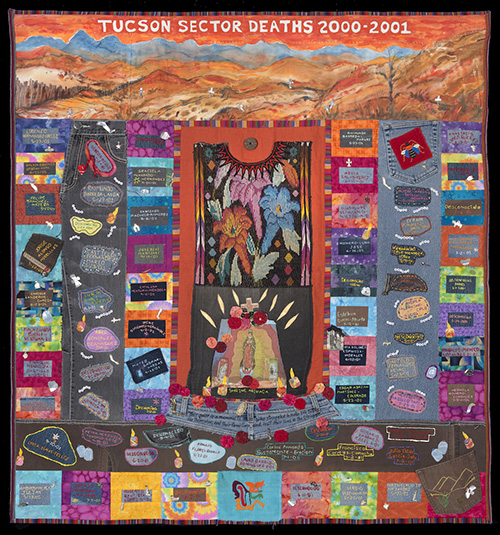 Not a quilter herself, Jody reached out to quiltmakers, artists, and activists she knew to form the Migrant Quilt Project. This grassroots collaboration has a goal of making an annual quilt to commemorate the migrant deaths in the Tucson Border Patrol Sector every year since 2000. Based on U.S. Government records and coinciding with the federal fiscal year, each quilt contains the name (whenever known) of each person who died. For those who cannot be identified, the quilt uses the word "desconocido," which translates as "unknown."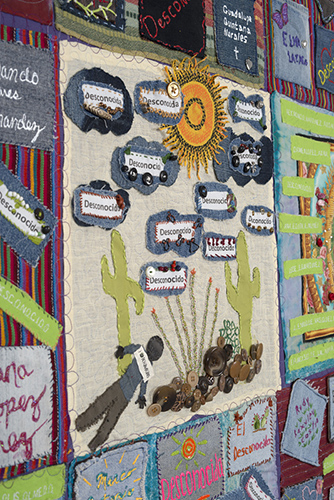 Volunteers do all the work of the Migrant Quilt Project. All recycled textiles are thoroughly cleaned before being incorporated in a quilt. No clothing from a site where someone was found dead is used. Anyone can volunteer to make a quilt for a specific year, and quiltmakers have total control over how the work is designed. Once completed, the quilts are shared at exhibits, at immigration conferences, and on the Migrant Quilt Project's website and Facebook page.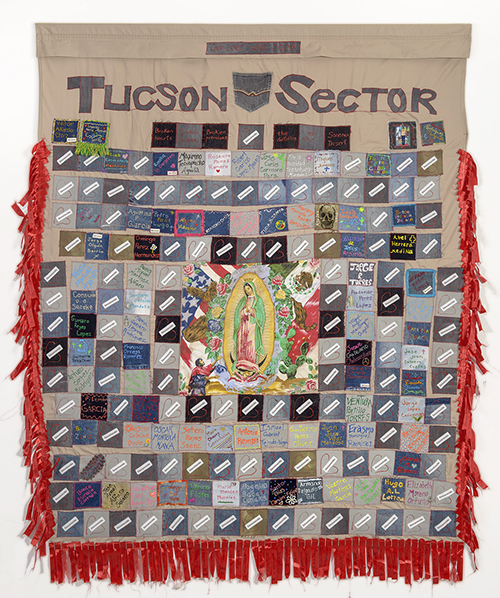 Arizona Quilters Hall of Fame inductee Peggy J. Hazard decided to get involved and collaborate on making a Migrant Quilt when she retired from her job as a curator for the Art Gallery at the Tohono Chul Park in Tucson. She documented the Migrant Quilt Project in a paper she presented at the American Quilt Study Group annual meeting in 2016 (see "What the Eye Doesn't See, Doesn't Move the Heart: Migrant Quilts of Southern Arizona," Uncoverings, volume 37).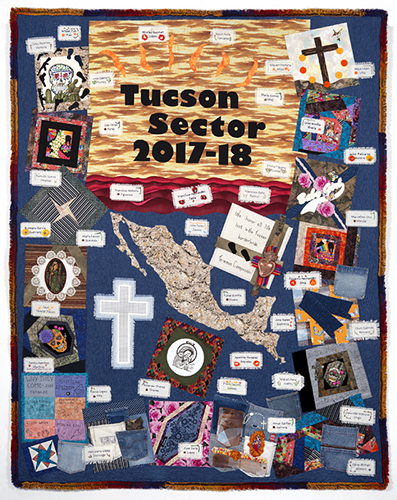 In her statement about making the quilt, Peggy says, "It was a humbling and emotionally-fraught experience to handle the shirts, jeans, bandanas, and embroidered serviettes that were left behind, and then to deconstruct them and reconnect the pieces into the form of a quilt documenting the demise of fellow travelers whose dreams were cut short in the inhospitable deserts surrounding Tucson. I had never worked on such an evocative art object or been involved in such a meaningful act of consciousness-raising."
As for Jody, her voice fills with emotion when she describes the situation that led her to start the project.
"I wish there was some way that I could wrap my arms around each of those families who have lost a loved one who was trying to migrate through the desert. I wish I could give them comfort. To me the essence of a quilt is comfort and that's why I chose quilts as a medium for raising awareness of the tragic loss of life that is occurring here," she says. "These quilts are a symbolic way to convey the sympathy and the heartbreak that those of us involved in the project feel for those who have died and the families they left behind."
The Migrant Quilt Project will be in locations across the country for the following dates:
October 28-December 9, 2019: Migrant Quilts Exhibit, Capitol Hill Arts Workshop, Washington, D.C.
January 14-March 15, 2020: Migrant Quilts Exhibit, The Mathers Museum of World Cultures, Indiana University, Bloomington, Indiana
April-July 2020: Migrant Quilts Exhibit, Lewis & Clark Interpretive Center and the Betty Strong Encounter Center, Sioux City, Iowa