If John (Jack) Morrow could bottle and sell his secret for living a purposeful, active life midway into his ninth decade, his earnings would probably rival a Powerball lottery payout, because the 95-year-old has more energy and persistence than many folks half his age. Gifted with a curious mind, still-agile hands, and a sly sense of humor, he is not one to idle away his time. Jack and his wife, Jackie, live at a senior living apartment complex in Bloomington, Minnesota. "After I retired, I sometimes broke things around the house just so I'd have something to fix," he says. "My wife told me I'd better get a hobby to keep myself busy and stop breaking things, so I took up quilting."
He took a quilting class and never looked back. On the day before his 95th birthday on August 10, 2018, Jack finished making his 500th baby quilt for Bundles of Love Charity, a Minnesota-based nonprofit organization dedicated to assisting families in need throughout the state by providing diapers, baby essentials, and handmade items for newborns.
Clearly, once this man decides to do to something, he doesn't stop until it's done. Just ask his wife. "Some days he would work for ten hours at a time and even miss a meal. It was a little upsetting to find him with his head down on the sewing machine at 1 a.m., fast asleep," Jackie laughs. "He was determined to reach his goal."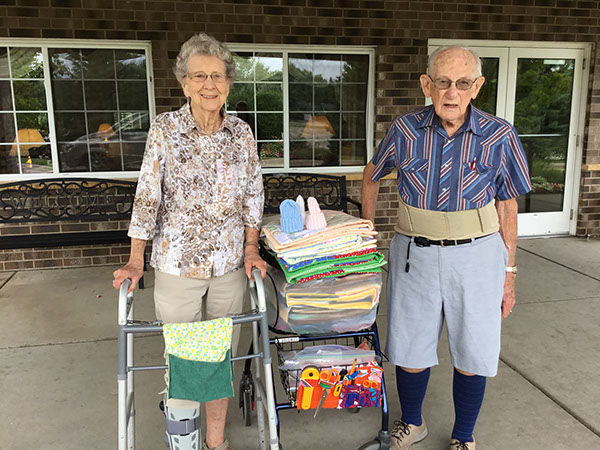 "I wore out a couple of sewing machines doing this," Jack continues. "At one time we had five machines. Bundles of Love gives me plastic bags with 30 pre-cut patches and backing for a 3' x 4' quilt. I had the idea to do 500 quilts for them, but when I finished the first 150 quilts, I got kind of bored with it, and figured I'd be dead before I got there. I lost count of how many I'd done. But then I found a slip of paper with my count on it and I decided to keep going. When I got to 250, I wrote that on the quilt and I did the same for each 50th quilt after that. I finally finished right before my birthday."
Jack grew up in Fargo, North Dakota, and although his mother didn't quilt, she did teach him how to sew on her treadle Singer. "I was always monkeying around with mechanical things. I liked to take things apart and fix them. After I got out of the Army in World War II, I thought I'd probably work as an auto mechanic, but I couldn't find a job doing that. Finally, I started working for Walman Optical, across the river in Minnesota, making eyeglasses. I stayed with the company until I retired in 1990." He worked his way up through the ranks, eventually serving as the company president for seven years.
If you think that reaching his goal of making 500 quilts would cause Jack to stop and rest on his laurels, you'd be wrong. "I finished another one yesterday, as a matter of fact," he says. "A woman I play bridge with here where I live asked me to make one for her great-grandson, so I did. As payment for it, I asked her to make a donation to Bundles of Love."
That's not all. Jack's 30-year-old grandson wants his grandfather to teach him how to quilt. And his daughter is asking him why he hasn't made a quilt for her. It looks like Jack Morrow won't be retiring his sewing machine any time soon.